14 personer under 60 år døde etter vaksinering, ifølge Legemiddelverket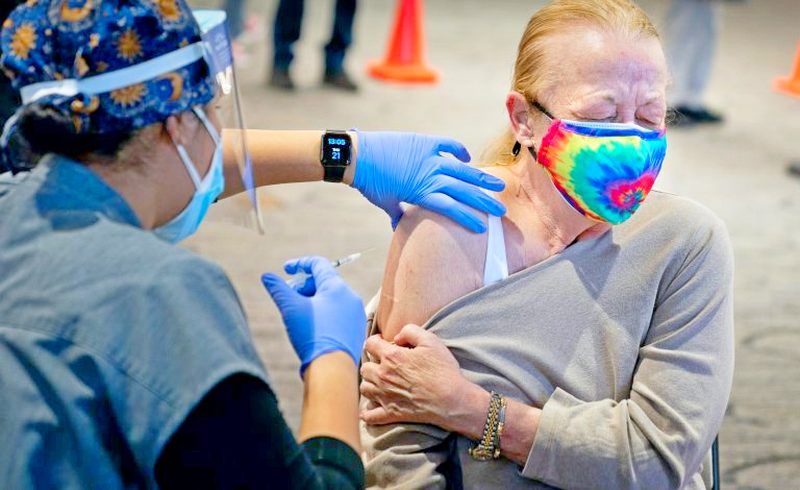 Av Hemali.no 10. desember 2021 Oppdatert: 5 timer siden
Dødeligheten for i år er betydelig høyere enn for fjoråret. Nå får eldre tilbud om dose tre. Men FHI har ikke utført noen analyse av kost/nytte.
Illustrasjonen under viser utviklingen for rapporterte dødsfall etter vaksinering for dem under 60 år. Per 7.12. viser den 14 dødsfall.
Illustrasjonen under viser utviklingen for rapporterte, ukentlige dødsfall for årene 2019, 2020 og 2021. Som det klart fremgår, er dødeligheten mye høyere i år enn i fjor. Her kan du se flere grafer, utviklet av Frode Burdal Klevstul. Kildene er SSB og Legemiddelverket. Sammen med Miriam Ekelund står han også bak Antijantepodden.
Legemiddelverket per 7.12.:
44461 rapporterte meldinger, hvorav 24009 (54.00 %) er behandlet.
De behandlede rapportene viser 231 dødsfall, hvorav 14 personer er under 60 år.
4083 (17.01 %) rapporteringer ble klassifisert som «alvorlig».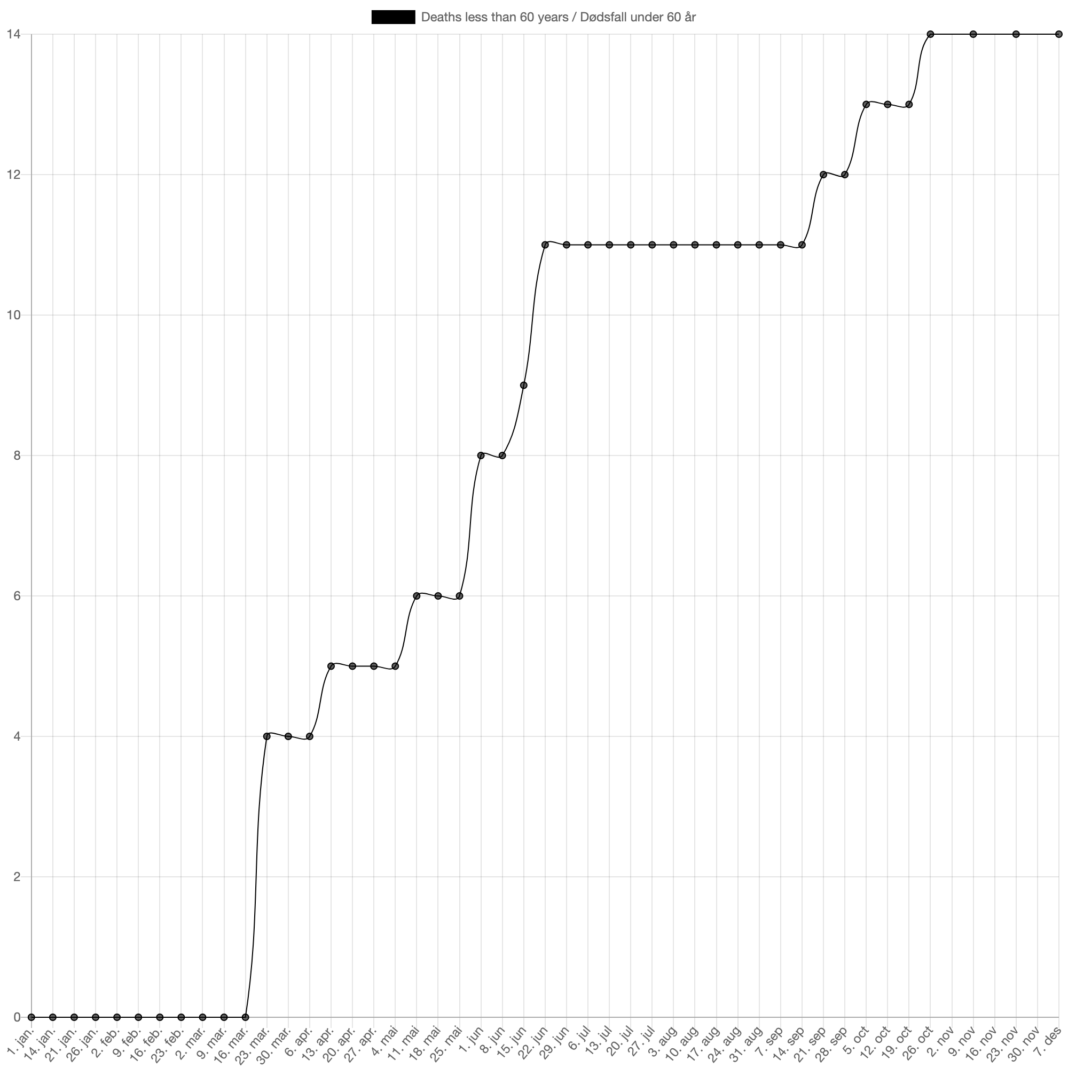 Blant de vanligste bivirkningen er
Betennelse i hjertet – myokarditt og perikarditt
Menstruasjonsforstyrrelser
Blodpropp
Hjerteposebetennelse
Sander Haugrud (24) var norgesmester i kickboksing i 2019, og hadde internasjonale ambisjoner. Etter dose to har han sittet på sofaen med hjerteposebetennelse. Framtiden er uviss. Se videointervju med Sander.
Anafylaktisk sjokk
Line Kyvik (40) fikk allergisk sjokk etter Pfizer:
– Før stikket sa jeg at jeg er allergisk mot Penicillin, og har kronisk elveblest.
– Det går så fint, mente sykepleieren.
FHI: «Alle virksomheter som vaksinerer skal ha gode rutiner for opplæring og det skal være skriftlige prosedyrer for håndtering av anafylaktiske reaksjoner som alle vaksinatører skal kjenne til.»
– Fire minutter etter Pfizer-vaksinen kjenner jeg prikking og bølger i kroppen. Så blir alt svart. Da jeg våkner, kan jeg verken røre hodet eller overkroppen. Jeg trilles i rullestol til observasjon. Først etter en time kommer legen. Plutselig får jeg et anfall av anafylaksi. (Livstruende, allergisk sjokk.) Det har da gått 70 minutter siden stikket. I stedet for å bli utredet for den alvorlige allergien, ville de gi Line dose to av Pfizer.
Marlina mistet førligheten i beinet
Marlina Andersen (35) var skeptisk til vaksinen. Dessuten anså hun den unødvendig fordi hun har hatt Covid-19 to ganger. Få minutter etter stikket begynte hun å miste førligheten i beinet.
– Overlegen sa at han aldri hadde sett liknende: Jeg var helt frisk, røyker ikke, går ikke på p-piller, ingen allergier, ingen medisiner. Jeg er helt sikker på at lammelsen skyldtes vaksinen, men legene ville ikke innrømme det. De bare antydet en mulig sammenheng, og nevnte autoimmun reaksjon.
Etter hvert prøvde legene å skylde på «belastninger jeg hadde i livet».
– Ikke skyld på livet mitt! Dette livet med belastninger har jeg hatt i årevis, og jeg har taklet det med trening og sterk psyke. Min kropp tålte ikke vaksinen, kan dere ikke bare si det? Hemali møtte Marlina i sommer, da intervjuet ble gjort. I november ble hun hasteinnlagt på Aker sykehus med livstruende nyrebetennelse, nyrestein og blodforgiftning. Formen er fortsatt elendig.
«Tom» (46) fikk blodpropp igjen og igjen
Ikke bare har «Tom» (anonymisert) blodpropp i beinet, viser det seg på sykehuset. Ultralyd og CT med kontrastvæske konstaterer blodpropp i begge lunger også.
– Klart man blir redd. Det gikk opp for meg at jeg ville ha omkommet om jeg ikke hadde kommet meg til sykehuset og startet behandling.
Den lyder dobbel dose blodfortynnende i én uke, så skal blodproppen forsvinne. Deretter reduseres medisinering til vanlig dose, standard, står det i tabellene.
Der på sykehuset begynner Tom å undres: Kan blodproppene ha sammenheng med vaksinen?
– Jeg spurte en pleier, men fikk ikke svar. Senere ble jeg hentet til samtale med tre leger på et lite kontor. Det virket som de ikke ville ta praten på fellesrommet. Enhver sammenheng med vaksine ble avvist, det hadde ikke gått lang nok tid siden vaksineringen, sa de. Samme dag var det legevisitt hos pasienten jeg delte rom med. Han var innlagt med hjerteflimmer, men hadde også smerter i foten og ble henvist til utredning for mulig blodpropp. Han spurte en annen lege om mulig sammenheng med vaksinen. «Nei, det har gått for lang tid siden du vaksinerte deg». Det var seks uker mellom våre vaksiner.
---
COPYRIGHTS
Copy & Paste the link above for Yandex translation to Norwegian.
WHO and WHAT is behind it all ? : >
The bottom line is for the people to regain their original, moral principles, which have intentionally been watered out over the past generations by our press, TV, and other media owned by the Illuminati/Bilderberger Group, corrupting our morals by making misbehavior acceptable to our society. Only in this way shall we conquer this oncoming wave of evil.
Commentary:
Administrator
HUMAN SYNTHESIS
All articles contained in Human-Synthesis are freely available and collected from the Internet. The interpretation of the contents is left to the readers and do not necessarily represent the views of the Administrator. Disclaimer: The contents of this article are of sole responsibility of the author(s). Human-Synthesis will not be responsible for any inaccurate or incorrect statement in this article. Human-Synthesis grants permission to cross-post original Human-Synthesis articles on community internet sites as long as the text & title are not modified