Fire dagers frivillig streik for å protestere mot vaksinemandater går inn i andre dag.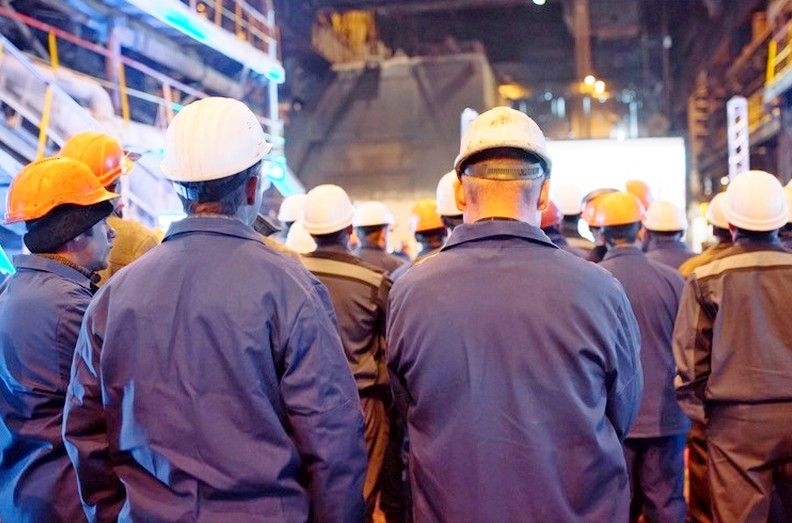 The New American - av Bob Adelmann 9. november 2021
Organisert av Talsmenn for borgernes rettigheter, en non-profit grunnlagt av brannfakkel advokat og borgerrettigheter talsmann Leigh Dundas, den 'Golden Gate Bridge Rally' er i sin andre dag. Dundas har store forhåpninger om at demonstrasjonen vil legge ytterligere press på Det hvite hus for å trekke seg tilbake fra dets grunnlovsstridige krav om at alle skal vaksineres, enten de vil eller ikke.
Dundas fortalte Human Events :
For et par uker siden begynte jeg å få telefoner fra blåsnippfolk. Du vet, folkene som faktisk styrer dette landet...

[De] jobbet i store selskaper som var 40 %, 50 % og ofte så høye som 70 % uvaksinerte – og er villige til å holde linjen.

Disse gutta trekker en strek i sanden og tar et standpunkt for frihet.

Og jeg tror i min kjerne at uken 8. november [torsdag 11. november er veterandagen] vil gå inn i historiebøkene ettersom dagen da friheten steg opp, tyranniske mandater gikk på flukt og historien ble endret for bedre.
Dundas slo seg sammen med Robert Kennedy, Jr.'s, Children's Health Defense, Clay Clark og general Michael Flynn (medverter for Re-Awaken America Tour), Dr. Simone Gold fra America's Frontline Doctors og andre. Arbeidsboikotten blir "spesielt oppmuntret" i produksjons- og transportsektorene i økonomien.
Dundas sa til Epoch Times :
Golden Gate Bridge Rally kommer til å bli et episk og enestående øyeblikk i tid. Det vil markere - på Veterans' Day-kvelden - en 4-dagers landsomfattende walkout, av menige arbeidere overalt, fra blåsnipp til hvitsnipp, svart, hvit, gul, rød, hver tro, hver trosbekjennelse, som er unikt forent til tross for deres forskjeller om én felles sannhet: at vaksinemandater ikke har noen plass i et virkelig fritt samfunn.

Hver gruppe: anti-vaksine, BLM, homofile, hetero, jødiske, muslimske, indianere, asiatiske, latino, kristne, ateister – alle grupper – kommer sammen for dette ene historiske øyeblikket – for å utbasunere ikke bare for vår egen regjering , men faktisk for verdens overvåkende øyne, at vaksinemandater ikke lenger vil bli tolerert.

At i dette landet er VI regjeringen, fordi våre grunnleggende fedre visste denne sannheten: en virkelig fri nasjon er en nasjon av folket, av folket og for folket. At vi er lederne vi har ventet på. Og det i dag markerer dagen da vi pensjonerer vaksinemandater som et konsept som ikke kan leve i et fritt samfunn, og at vi faktisk er det: et fritt samfunn.
Enrico Trigoso fra Epoch Times intervjuet noen av deltakerne i streiken, inkludert Kristen Grace, en systemingeniør i Raytheon i 18 år:
Jeg vil miste levebrødet mitt 8. desember fordi jeg ikke vil tillate at en eksperimentell genterapi injiseres i blodet mitt. Jeg har kommet meg etter COVID, og ​​jeg jobber hjemmefra, men myndighetene har hevdet autoritet over kroppen min og medisinske valg.

Jeg velger naturlig immunitet fremfor regjering.
En annen systemingeniør fra Raytheon er forberedt på å få sparken for ikke å ha tatt vaksinen:
Jeg har sendt inn en melding om religiøs innkvartering. Hvis det ikke blir godkjent, får jeg sparken 8. desember fordi jeg ikke kommer til å krenke min tro eller gi fra meg mine grunnlovsfestede rettigheter for en jobb...

Jeg føler meg forrådt av et selskap jeg har gitt mine beste år. De kunne ha stått opp for oss, men de satte fortjeneste og "våknet"-agenda først.

Jeg er omgitt av fullvaksinerte mennesker med nye og mystiske helseproblemer. Mange har fått covid, men jeg blir behandlet som en uren...

Vitenskap, logikk og sunn fornuft har blitt kastet i COVID-dumperbrannen. Mens jeg elsker landet mitt, skammer jeg meg over selskapet mitt og regjeringen min.

Den eneste gode nyheten er at selv de fullvaksinerte nå innser at løftet om normalitet var løgn. Nå er de nok en gang maskert og blir fortalt at boostere vil være obligatoriske. Og de reiser seg nå også.
Jet (ikke tilbudt etternavn), med Honeywell, vil ikke krenke hans religiøse tro:
Aldri på en million år [hadde] jeg forestilt meg at noe slikt ville skje i USA. Dette er hvordan tyranni ser ut, og det kommer ikke til å stoppe her.

Like skuffende er det å se at Honeywell sammen med resten av store amerikanske selskaper har bestemt seg for å gå med og muliggjøre tyranni.

Jeg får ikke vaksinen. Jeg har søkt om religiøs fritak. Hvis ikke gitt, så får det være. På grunn av dette mandatet kommer vi nå til å bli behandlet som annenrangs borgere. I tilfelle folk har glemt det, er dette definisjonen på tyranni: grusom og urettferdig behandling av mennesker med makt over andre.
John Knox, et medlem av LA Firefighters for Freedom, sa:
Vi kjemper mot disse grunnlovsstridige mandatene fordi alt som er i strid med grunnloven er ulovlig. Disse mandatene går klart utenfor de konstitusjonelle rammene.

Som brannmenn og førstehjelpere må vi ta et standpunkt, og vi må fortelle resten av Amerika at vi vil kjempe og de kan bli med oss.
En sekretær som reiste fra Arizona for å delta i protesten sa til Times :
Hvor ender dette? Hvis de kan tvinge vaksiner i kroppen vår og krenke vår vilje på den måten, hvor går grensen? Vi må slå tilbake og ikke tillate dette.
Golden Gate Bridge Rally har fått oppmerksomheten til TripAdvisor:
Vær oppmerksom hvis du planlegger å besøke Golden Gate Bridge eller nærliggende områder (f.eks. Presidio eller Marina) torsdag 11. november, veterandagen. En koalisjon av anti-vaxxers har valgt denne dagen, når vi hedrer de som har tjent landet vårt i militæret, å holde et møte og marsjere ved GGB Roundhouse.

Det er planlagt fra 15:00 til 18:30, med foredragsholdere fra 15:00 til 17:00 inkludert helsekommentator Stella Immanuel og TV-spiller Robert Schuller.

Det ser ut til at høyttalerne vil bli fulgt av en marsj på broen. Dersom det er pendlertrafikk denne dagen, vil dette falle sammen med ettermiddagens nordgående pendling.

Hvor stor innvirkning det vil ha kan avhenge av om 40 000 eller 14 personer møter opp.
---
COPYRIGHTS
Copy & Paste the link above for Yandex translation to Norwegian.
WHO and WHAT is behind it all ? : >
The bottom line is for the people to regain their original, moral principles, which have intentionally been watered out over the past generations by our press, TV, and other media owned by the Illuminati/Bilderberger Group, corrupting our morals by making misbehavior acceptable to our society. Only in this way shall we conquer this oncoming wave of evil.
Commentary:
Administrator
HUMAN SYNTHESIS
All articles contained in Human-Synthesis are freely available and collected from the Internet. The interpretation of the contents is left to the readers and do not necessarily represent the views of the Administrator. Disclaimer: The contents of this article are of sole responsibility of the author(s). Human-Synthesis will not be responsible for any inaccurate or incorrect statement in this article. Human-Synthesis grants permission to cross-post original Human-Synthesis articles on community internet sites as long as the text & title are not modified