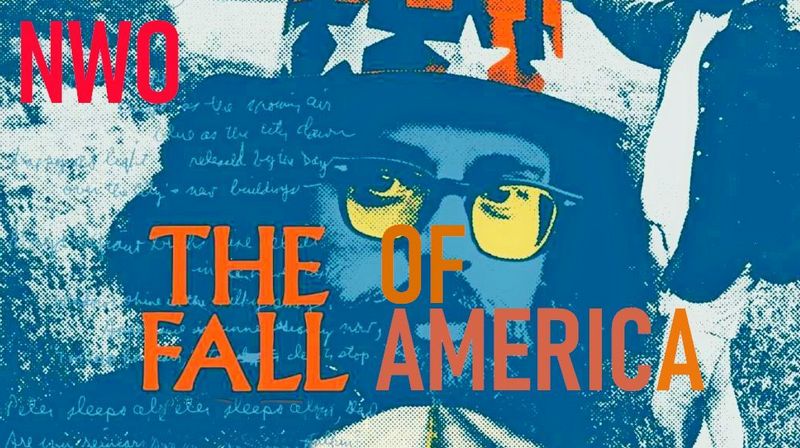 Lagt ut 5. november 2021 av State of the Nation.   (eller EPUB)
For å overleve, må de konservative statene som er befolket med et kritisk antall patrioter raskt NULLIFTE
USAs føderale regjering for godt!
av Lenestolens politiske filosof - SOTN Exclusive
Med andre ord, uansett hvor den nye verdensordenens globalister har tatt over som California og New York, er det rett og slett ikke noe å bringe dem tilbake til den amerikanske republikken slik den ble unnfanget av våre grunnleggere og kodifisert av den amerikanske grunnloven. De har allerede tatt ned statuene av de usedvanlig store mennene som Jefferson, Washington, Lincoln, Lee, etc.
Derfor er den eneste veien videre, for de statene som respekterer rettsstaten og grunnleggende dokumenter, å løsrive seg fra unionen av 50 stater. NWO-globalistkabalen eier og driver i hovedsak den amerikanske føderale regjeringen; og den vil aldri villig gi fra seg den rå politiske og militære, finansielle og økonomiske, sosiale og religiøse makten den har over det amerikanske folket.
Derfor har Patriot-bevegelsen bare ett alternativ. Føderal makt projisert fra innsiden av Beltway kan ikke effektivt bekjempes, men den kan ignoreres. De røde statene som Florida og Texas kan klippe navlestrengen til Washington, DC som er en grunnlovsstridig og tyrannisk bystat som absolutt ikke har noen legitimitet i en konstitusjonell republikk/representativt demokrati.
Det er det, folkens!
De røde statene må forlate USA og danne sin egen union fullstendig adskilt fra det hensynsløse amerikanske selskapet som nå terroriserer det amerikanske borgerskapet ved enhver anledning. Det kan ikke være noe forlik i denne tungtveiende saken. Den rene brutaliteten og ondskapen til NWO-kabalen er slik at de aldri kan gjøre opp for forbrytelsene de har begått mot det amerikanske folket gjennom mange tiår.
I vårt spesielt vanskelige tilfelle kan du rett og slett ikke kjempe mot rådhuset (aka den amerikanske regjeringen). Det er fordi det har blitt en totalt ute av kontroll globaliststyrt leviathan som foretrekker fullstendig lovløshet og grusom despoti fremfor rettsstaten. Det samme gjelder for alle andre store globalistkontrollerte institusjoner, selskaper, NGOer, universiteter, tenketanker, hemmelige samfunn osv. som har kommet til å dominere USA fullstendig.
Den snikende totalitarismen har snikende forvandlet den amerikanske republikken til en dystert mislykket nasjon. Faktisk er den amerikanske regjeringen nå en fascistisk-kommunistisk statlig enhet som ikke ligner på det grunnleggerne modig innviet med uavhengighetserklæringen og USAs grunnlov. For mye skade er gjort av veldig rike og mektige krefter som ikke har tenkt å trekke seg tilbake.
Biden-administrasjonen fungerer nå som den sterke armen til NWOs globalistiske maktstruktur. POTUS Bedrager Joe Biden ble kriminelt installert fordi han alltid har blitt både bestukket og utpresset for å implementere New World Order- agendaen uten spørsmål og med slavisk underkastelse. Gitt at den manchuriske kandidaten Barack Obama allerede hadde tilbrakt to perioder i et kontorbygg den degenererte Obamanasjonen , er Deep State nå så gjennomgripende og mektig at den ikke kan utfordres i praksis.
Hva dette egentlig betyr er at selv borgerkrig ikke vil gi et gunstig resultat for den rettferdige patriotbevegelsen som bare ønsker en sammenhengende union av lovlydige 50 stater. Det amerikanske samfunnet er rett og slett alt for komplisert og innviklet til å iscenesette en revolusjon mot de forræderiske elementene som eksisterer … … … OVERALT.
Dette er nøyaktig hvordan de forræderske bankerne satte opp den nåværende knipen med Federal Reserve Act av 1913. Ja, barbarene har vært innenfor porten i godt over 100 år; og i virkeligheten i mange tiår før det. Og, kabalen har utført dette innviklede kriminelle konspirasjonskomplottet for å kollapse Amerika så lenge, stort sett uten oppdagelse. Deres utallige agenter for kulturmarxisme har allerede lyktes i å uopprettelig rive stoffet i det amerikanske samfunnet.
Hva må gjøres?
Vi har det virkelig dårlig som nasjon, uansett hvordan du ser på det.
Selv en "vellykket" voldelig revolusjon mot de tallrike og ulike forræderske elementene over hele landet vil ikke gi det ønskede resultatet. Tross alt, hva gjør vi med dem etter en "seier". Hva gjør vi med NYC og Philly, LA og San Fran, Chicago og Detroit, Seattle og Portland, Denver og Atlanta, Houston og Austin, Miami og Broward County, Baltimore og Charlotte? Overalt hvor du ser er det et "Sodoma og Gomorra".
Hvordan regjerer vi i de fullstendig depraverte Oscar-utdelingene i Hollywood og maktgale Sultans of Silicon Valley i California alene?!?! Hvordan stenger noen de krigshærende bankfolkene på Wall Street eller straffeforfølger de uforbederlige grifters i Washington, DC? Tross alt fungerer FBI og DoJ, sammen med CIA og NSA som en åpenbar beskyttelsesracket for NWO-kabalen. Hva kan egentlig gjøres når den største uerklærte fienden til det amerikanske Intel-samfunnet er det amerikanske folket?
Dette betyr at hele stater som New York, Connecticut, New Jersey, California, Oregon og Washington og andre ultraliberale bastioner er tapt for alltid. De aller fleste av innbyggerne deres er rett og slett for langt borte. Hjernevasket i flere tiår av det kommunistkontrollerte demokratiske partiet og RINO-er og sinnskontrollert av CIAs Mockingbird Media, hva kan realistisk gjøres med dem?!
Har ikke den NWO-iscenesatte Covid Plandemic avslørt USAs sanne tilstand? At så mange foreldre over hele landet ikke kan vente med å gi sine tillitsfulle barn de ekstremt farlige og dødelige COVID-19-vaksinene sier alt. Når en kritisk masse av både voksne og barn har blitt covid-vaksinert, vil skjebnen til den amerikanske republikken bli irreversibelt beseglet.
Nøyaktig hva er den skjebnen?
En oppdeling av den amerikanske republikken i forskjellige unioner av stater som deler nøkkelverdier, prinsipper og idealer.
Det er ingen annen måte på dette tidspunktet.
Begge sider av denne verdslige og åndelige slagmarken er altfor nedgravd til å gi opp minst mulig bakke.
Høyre handler om Gud, familie og land. Venstresiden handler om gudløshet, ingen kjernefamilie og globalisme.
Hvordan kan disse polare motsetningene forenes?
Det stemmer – det kan de ikke være!
Dette er nettopp grunnen til at SOTN har lagt ut denne svært sterke, men nøyaktige fremstillingen av "nasjonens sanne tilstand".
Vi folket har et desperat behov for en seriøs realitetssjekk … slik at vi kan komme videre med det vi alle må gjøre for å overleve og trives.
Nasjonens tilstand – 5. november 2021
---
COPYRIGHTS
Copy & Paste the link above for Yandex translation to Norwegian.
WHO and WHAT is behind it all ? : >
The bottom line is for the people to regain their original, moral principles, which have intentionally been watered out over the past generations by our press, TV, and other media owned by the Illuminati/Bilderberger Group, corrupting our morals by making misbehavior acceptable to our society. Only in this way shall we conquer this oncoming wave of evil.
Commentary:
Administrator
HUMAN SYNTHESIS
All articles contained in Human-Synthesis are freely available and collected from the Internet. The interpretation of the contents is left to the readers and do not necessarily represent the views of the Administrator. Disclaimer: The contents of this article are of sole responsibility of the author(s). Human-Synthesis will not be responsible for any inaccurate or incorrect statement in this article. Human-Synthesis grants permission to cross-post original Human-Synthesis articles on community internet sites as long as the text & title are not modified