DET ER TO STORE POLITISKE KRIGER SOM PÅGÅR – KUN EN KAN VINNES AV FOLKET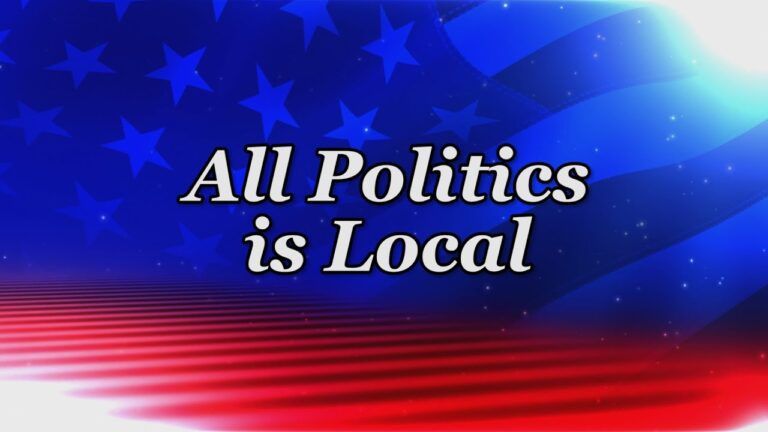 Lagt ut 1. november 2021 av State of the Nation

Hele kosmoset er ordnet på to primære nivåer – det makrokosmiske og det mikrokosmiske. "Som over, så under."   Så har også hele den planetariske sivilisasjonen blitt organisert av The Powers That Be som for tiden kontrollerer menneskenes anliggender via den godt skjulte Global Control Matrix. Det er analogt med det makrokosmiske nivået.
Men på det mikrokosmiske nivået - det lokale nivået - utøver ikke TPTB på langt nær så mye kontroll eller makt eller innflytelse.
For eksempel kan POTUS Imposter Joe Biden ulovlig utstede executive orders fra Oval Office, men statene, fylkene og byene kan bestemme seg for å håndheve dem eller ikke.
Det er nettopp derfor den verdslige virkeligheten alltid har vært: "all politikk er lokal". Med denne korrekte forståelsen er det bare én vei fremover i denne pågående episke krigen mot menneskeheten. Hver viktig kamp må utkjempes hardt på lokalt nivå – mot byrådene, fylkeskommisjonene, skolestyrene osv.
Spesielt i de røde statene må innbyggerne reise seg som aldri før og legge gudsfrykten inn i de småtyrannene som nå uforholdsmessig befolker disse byrådene, fylkeskommisjonene og skolestyrene. Når de først føler vreden til Vi folket, vil de krype seg før de bokstavelig talt driter buksene sine.
Du kan ikke kjempe mot Biden. Når barbarene er innenfor porten, som de er inne i Beltway, er alt du kan gjøre å ignorere dem. Du kan ikke bekjempe dem med hell, så hvorfor kaste bort din dyrebare tid og energi. Tross alt er Biden omgitt av kommunistiske forrædere og utenlandske agenter og globalistiske bankstere og demokratiske bolsjeviker som til sammen nå kontrollerer alle armene til føderal makt.
Påkallelse av statens rettigheter
Guvernør Ron DeSantis har slått en ny vei i Florida som burde fungere som en mal for alle andre republikanske guvernører å følge. For på delstatsnivå er motstand mot det føderale tyranni en svært effektiv måte å kaste av seg åket til den evig lovbrytende amerikanske føderale regjeringen.
Alt guvernør DeSantis trenger å gjøre er å påberope seg statenes rettigheter til å motstå hver eneste form for Biden-despotisme. Det er imidlertid like viktig for byene og fylkene i Florida å støtte hans statlige initiativ, som virkelig er designet for å beskytte alle innbyggere.
Skulle en kritisk masse av røde stater i betydelig grad følge gjennom på denne måten, vil det nåværende totalitære regimet i Washington, D.C. være tannløst. Team Biden kan umulig vinne en krig mot halvparten av statene på en gang, spesielt når de har blitt avfanget.
Det denne proaktive tilnærmingen imidlertid krever, er at hver stat bestemmer seg for å kutte navlestrengen, når det er nødvendig, med den amerikanske regjeringen. Selv om dette vil føre til mange ofre, er det den ENESTE måten å garantere uavhengigheten til statlig styring.
Den grunnleggende rettigheten til hver stat er å beskytte sin suverenitet, og hver guvernør er bemyndiget av både statens charter og folket til å forsvare seg mot føderal overrekkelse. Mer enn noen gang avskyr et økende antall innbyggere i alle de 50 delstatene absolutt mobbingen fra kjeltringene som utgjør den nakent korrupte og kriminelle Biden-administrasjonen.
Vårt beste håp hviler på de lokale suverenitetsbevegelsene

Lokalpolitikk
Det er imidlertid på det mest lokale nivået vi folket virkelig kan gjøre opprør mot tyrannene.
Når en bjørnemamma dukker opp på et skolestyremøte og river hodet av en skamløs kulturmarxistisk skolestyrepresident, betyr det virkelig noe – STORT!!!
Først av alt, hvis alle skolestyrer skulle bli overkjørt av bjørnemødre og deres våpenutsatte ektemenn, ville AG Merrick Garland ha et stort tap for hvilke krangel å svare på. DoJ og FBI ville rett og slett bli overveldet av å samle disse urettmessig merket "hjemmeterroristene" som dukker opp over hele landet.
På samme måte, når innbyggerne begynner å storme sine bystyre- og fylkeskommisjonsmøter, vil FED-ene være enda mer ute av stand til å håndheve deres åpenbart grunnlovsstridige diktater.
Så mens den nye verdensordenens globalistiske kabal effektivt kontrollerer kloden på et makrokosmisk nivå, kan Vi Folket sakte men sikkert ta tilbake makten vår på lokalt nivå, på disse måtene, på bakken.
Det er umulig for globalistene å utøve fast kommando og kontroll over hver by og fylke, by og landsby, distrikt og jurisdiksjon. Det kan praktisk talt ikke gjøres uten samtykke fra en kritisk masse av innbyggere.
De vet det; de håper bare at vi, folket ikke finner ut av det med det første.
Konklusjon-1:  Først når de lokale politiske lederne, folkevalgte, myndighetspersoner og store påvirkere forstår at de jobber for oss, ikke NWO-kabalen, vil ting endre seg for alvor. Sagt på en annen måte, bare når de betalte dukkene og bønderne er MYE mer redde for We the People enn de er for Deep State-behandlerne deres HANDLINGSPLAN

Nå for den mest effektive og presserende "handlingsplanen" som borgere og lensmenn i alle fylker i Amerika kan implementere etter hastverk: Et åpent brev til alle fylkesheriffer og innbyggere . Men hvorfor er det så viktig for innbyggerne å ta tilbake makten deres – POST-HASTE – fra den tyranniske føderale regjeringen som snikende har stjålet den fra dem gjennom mange tiår? Her er hvorfor! COVID-19-VAKSINEMANDATER: Pålagt av POTUS-tyrannen for å uopprettelig ødelegge den Amerikanske republikken.

Konklusjon-2  Det vi alle er vitne til er den siste kampen i den siste krigen mellom lysets krefter og mørkets krefter – over hele verden. Hvis det er én stor forskjell mellom de som står for rettferdighet og de som står for det onde, er det troen på det Høyeste Vesen. Den liberale venstresiden har gang på gang vist seg å være fullstendig gudløs og uten samvittighet. I det store og hele tilber demokratene staten, ikke Gud. De søker mer og mer statsmakt, ikke guddommelig nåde. De handler med total ignorering av rettsstaten, og foretrekker tyrannernes styre. Dette er selve naturen til alle ismene som demokratene nå abonnerer på – sosialisme, kommunisme, bolsjevisme, anarkisme og nihilisme. Den NWO Globalist Cabalen er overveldet til å ta over Florida via politisk bolsjevisme.

Den konservative Høyre, derimot, hadde tradisjonelt vært gudfryktig og respektert grunnleggende rettigheter. USA har i bunn og grunn vært et kristent land – og det ble grunnlagt som EN NASJON UNDER GUD – som Patriotbevegelsen har som mål å bevare. Derfor, med den allmektige Gud på vår side, kan vi ikke tape, for det gode seier alltid over det onde til slutt.

Vel, dette er slutten, folkens – selve slutten! Så alle burde lese dette vise rådet slik at seieren blir vår:
Det er kun EN vei ut!!

Nasjonens tilstand 30. oktober 2021
---
COPYRIGHTS
Copy & Paste the link above for Yandex translation to Norwegian.
WHO and WHAT is behind it all ? : >
The bottom line is for the people to regain their original, moral principles, which have intentionally been watered out over the past generations by our press, TV, and other media owned by the Illuminati/Bilderberger Group, corrupting our morals by making misbehavior acceptable to our society. Only in this way shall we conquer this oncoming wave of evil.
Commentary:
Administrator
HUMAN SYNTHESIS
All articles contained in Human-Synthesis are freely available and collected from the Internet. The interpretation of the contents is left to the readers and do not necessarily represent the views of the Administrator. Disclaimer: The contents of this article are of sole responsibility of the author(s). Human-Synthesis will not be responsible for any inaccurate or incorrect statement in this article. Human-Synthesis grants permission to cross-post original Human-Synthesis articles on community internet sites as long as the text & title are not modified