Historien om hvordan Jonas Gahr Støre kom i pengene - og om hvor de er plassert i dag.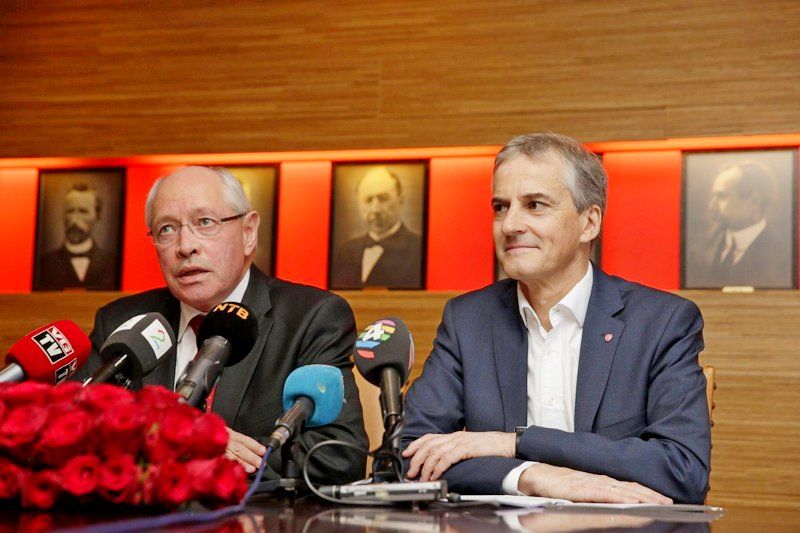 Nettavisen - Niels Ruben Ravnaas - 19.05.14 11:41
Jonas Gahr Støre er en formuende mann, en formue han arvet fra sin skipsmeglerfar Ulf Jonas. Jonas Gahr Støre og hans families formue stammer i hovedsak fra salg av eierandelene i peis- og ovnselskapet Jøtul.
Jøtul ble etablert som Kværner Jernstøberi i 1853. I 1920 ble Jøtul skilt ut fra Kværner-konsernet og familien til Jonas Gahr Støre overtok i 1927. Gjennom 1930-tallet ble støperiet Norges største. I 1977 ble selskapet solgt ut av Gahr-familien til industribedriften Norcem.
Ap-karriere
Han var tidligere statsminister Gro Harlem Brundtlands gullgutt og var en kort stund spesialrådgiver på statsmininsterens kontor på slutten av 1980-tallet og begynnelsen av 1990-tallet.
Han ble også med landsmoderen til Verdens helseorganisasjon i 1998 da hun ble toppsjef der.
Han var utenriksminister fra 2005 frem til at tidligere statsminister Jens Stoltenberg plasserte han som helseminister i 2012.
Støre kommer fra beste vestkant i Oslo og har mange venner høyt opp i finans- og næringslivet. Blant annet har han i siden ungdomsårene pleiet nær omgang med Gro Harlem Brundtlands sønn Knut Brundtland. Det samme gjelder Jens Stoltenberg, som han har kjent i en årrekke.
Jonas Gahr Støre (53)
Født 25. august 1960 i Oslo
Påtroppende leder i Arbeiderpartiet

Gift med Marit Slagsvold, tre barn
Utdannet ved Sjøkrigsskolen i Bergen og eliteuniversitetet Institut d'études politiques de Paris
Tidligere rådgiver for Gro Harlem Brundtland, generalsekretær i Norges Røde Kors, statsråd i Utenriksdepartementet og Helsedepartementet

- Ikke inhabil
For to år siden måtte Støre gå kanossagang overfor Stortinget da Utenriksdepartementet - hvor han var statsråd - bevilget seks millioner kroner til en stiftelse som Felix Tschudi tok initiativet til. Støre erklærte seg ikke inhabil, med begrunnelsen at han og Tschudi ikke var nære venner.
- Jeg vurderte ikke min habilitet i den saken, da jeg ikke anså det som relevant, sa Støre først.
Da det ble mediebråk og senere åpen høring i Stortinget, var tonen en annen.
- Jeg kjenner Felix Tschudi. Han er en venn og en viktig aktør i nordområdene, sa utenriksminister Jonas Gahr Støre.
Titalls millioner i aksjer
Store deler av arven har Støre plassert i investeringsselskapet Femstø.
Eiendelene her var på cirka 40 millioner kroner i 2012, der 25 millioner var investert i aksjer og fire millioner var saltet ned i banken. Selskapet hadde et årsresultat på vel 1,2 millioner kroner
I fjor hadde Støre en skattelignet formue på 52 millioner kroner og en inntekt på 3,3 millioner kroner.
Investerer med Hagen
Norge er et av få land som har skatt på formue, og denne ble til og med skjerpet av Stoltenberg-regjeringen. Et av de vanligste triksene for å slippe unna skatten er ved å investere i eiendom. Også Jonas Gahr Støre og hans familie har nytt godt av dette.
Setter man pengene i eiendom, vil ofte den skattemessige verdsettelsen være langt lavere enn den reelle verdien av eiendomsmassen.
Deler av formuen ble nemlig plassert i selskapet Trestø, der en større eierandel var i eiendommen Grenseveien 97.
Denne eiendommen ble for et par år siden solgt for 170 millioner kroner, hvorav 26 millioner gikk til Aps nye leder. Fire millioner skal ha blitt satset videre i utviklingen av eiendommen, der planen er å bygge en rekke leiligheter.
Kjøperne var blant annet Stein Erik Hagen, Tove Kvammen Midelfart, Erik Bøhler og RS Platou Real Estate.
Støres eierandel i Trestø ble i 2012 fusjonert inn i Femstø.
Les flere saker om Støre og hans formue og økonomi her:
Her er Jonas Gahr Støres hemmelige fond. Støre snur - og selger likevel
Støre: - Har penger i ikke-etiske fondSkatteekspert: - Støre nyter godt av skattefordelen
Tjente nesten dobbelt så mye som Erna Solberg
Tømte banken og kjøpte aksjer for 20 mill.
Støre tapper selskapet for å betale skatt
---
COPYRIGHTS
Copy & Paste the link above for Yandex translation to Norwegian.
WHO and WHAT is behind it all ? : >
The bottom line is for the people to regain their original, moral principles, which have intentionally been watered out over the past generations by our press, TV, and other media owned by the Illuminati/Bilderberger Group, corrupting our morals by making misbehavior acceptable to our society. Only in this way shall we conquer this oncoming wave of evil.
Commentary:
Administrator
HUMAN SYNTHESIS
All articles contained in Human-Synthesis are freely available and collected from the Internet. The interpretation of the contents is left to the readers and do not necessarily represent the views of the Administrator. Disclaimer: The contents of this article are of sole responsibility of the author(s). Human-Synthesis will not be responsible for any inaccurate or incorrect statement in this article. Human-Synthesis grants permission to cross-post original Human-Synthesis articles on community internet sites as long as the text & title are not modified