Chloroquine is a potent inhibitor of SARS coronavirus infection and spread

NIH - HUMAN SYNTHESIS -  02 Oct 2021   (or EPUB)
Background: Severe acute respiratory syndrome (SARS) is caused by a newly discovered coronavirus (SARS-CoV). No effective prophylactic or post-exposure therapy is currently available.
Results: We report, however, that chloroquine has strong antiviral effects on SARS-CoV infection of primate cells. These inhibitory effects are observed when the cells are treated with the drug either before or after exposure to the virus, suggesting both prophylactic and therapeutic advantages. In addition to the well-known functions of chloroquine such as elevations of endosomal pH, the drug appears to interfere with terminal glycosylation of the cellular receptor, angiotensin-converting enzyme 2. This may negatively influence the virus-receptor binding and abrogate the infection, with further ramifications by the elevation of vesicular pH, resulting in the inhibition of infection and spread of SARS CoV at clinically admissible concentrations.
Conclusion: Chloroquine is effective in preventing the spread of SARS CoV in cell culture. Favorable inhibition of virus spread was observed when the cells were either treated with chloroquine prior to or after SARS CoV infection. In addition, the indirect immunofluorescence assay described herein represents a simple and rapid method for screening SARS-CoV antiviral compounds.
Figures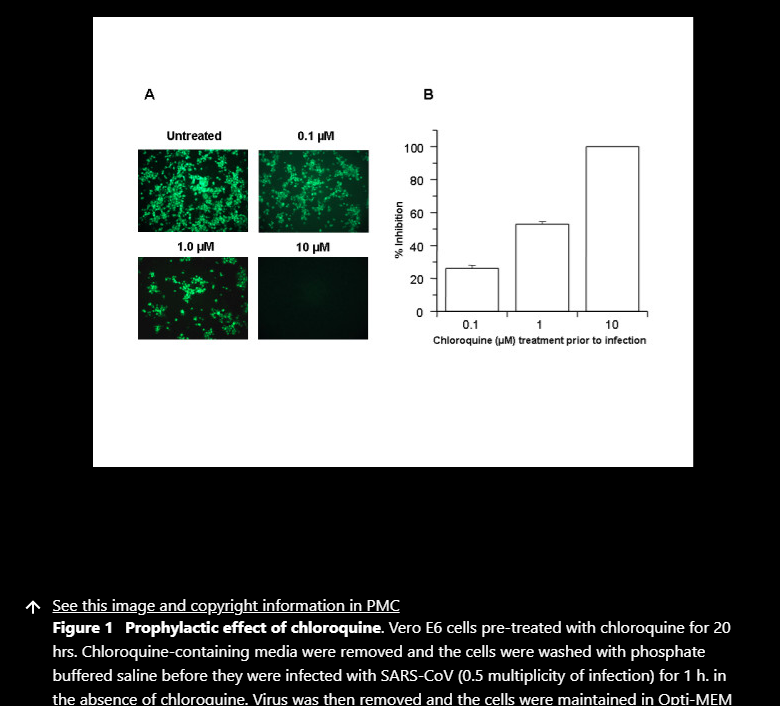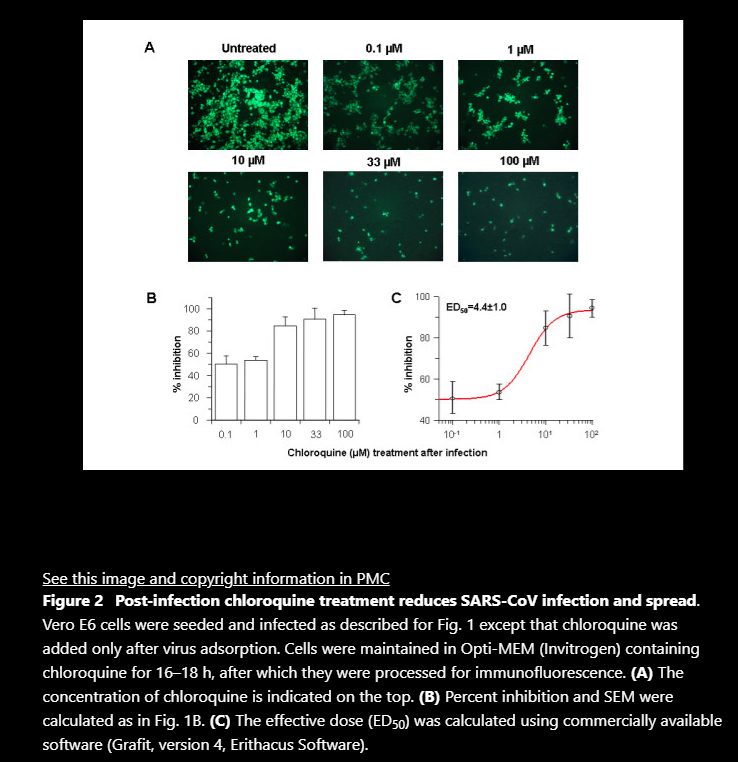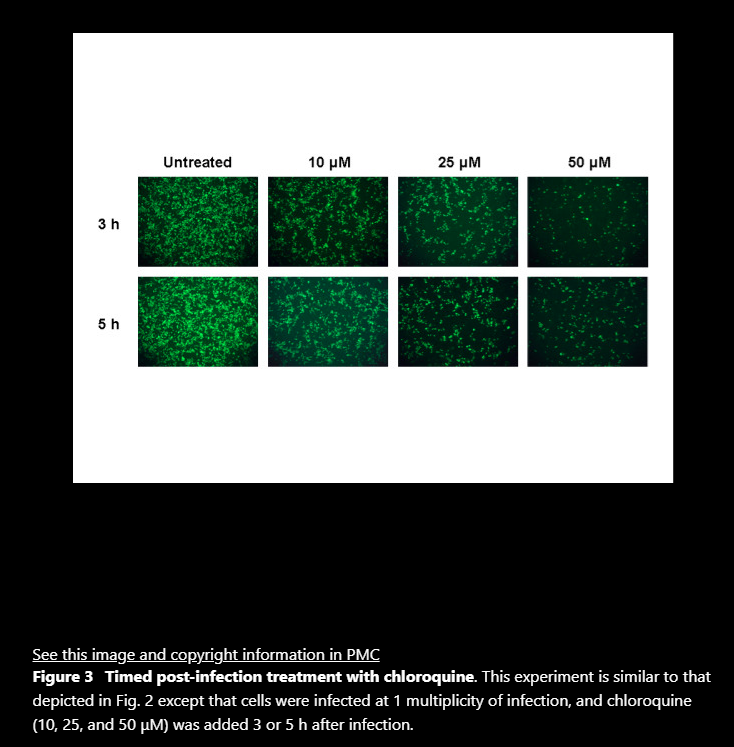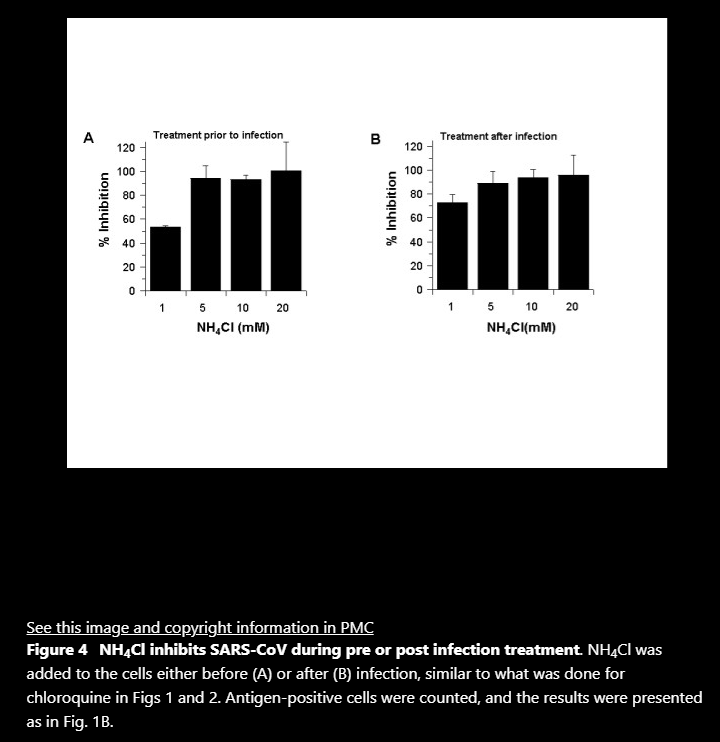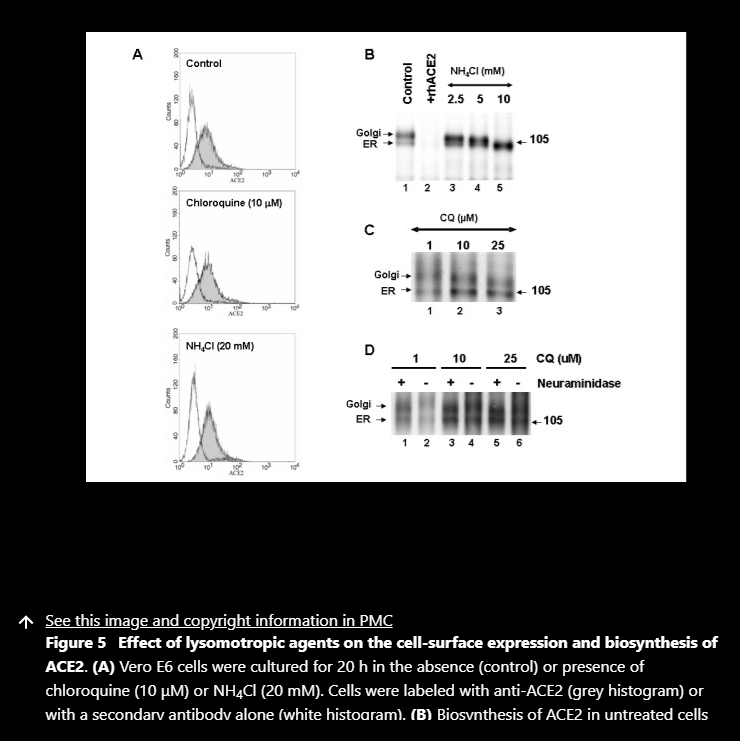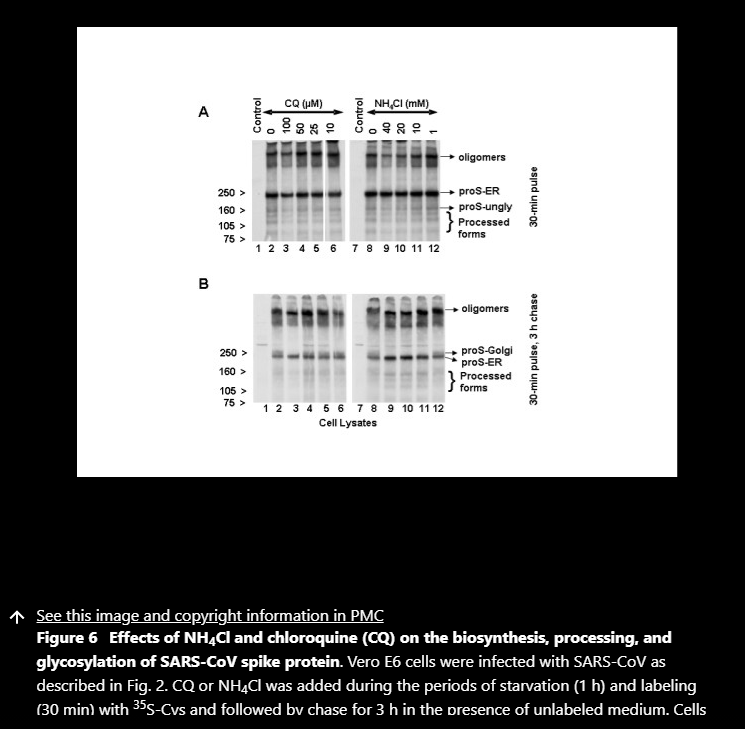 Cited by 801 articles
References
Publication types
Research Support, Non-U.S. Gov't
MeSH terms
Ammonium Chloride / pharmacology
Angiotensin-Converting Enzyme 2
Animals
Antiviral Agents / pharmacology*
Chlorocebus aethiops
Chloroquine / pharmacology*
Fluorescent Antibody Technique, Indirect
Glycosylation
Membrane Glycoproteins / metabolism
Peptidyl-Dipeptidase A / metabolism
SARS Virus / drug effects*
Severe Acute Respiratory Syndrome / drug therapy*
Severe Acute Respiratory Syndrome / metabolism
Severe Acute Respiratory Syndrome / prevention & control
Severe Acute Respiratory Syndrome / virology
Spike Glycoprotein, Coronavirus
Vero Cells
Viral Envelope Proteins / metabolism
Substances
Antiviral Agents
Membrane Glycoproteins
Spike Glycoprotein, Coronavirus
Viral Envelope Proteins
spike glycoprotein, SARS-CoV
Ammonium Chloride
Chloroquine
Peptidyl-Dipeptidase A
Angiotensin-Converting Enzyme 2
Related information
LinkOut - more resources
Full Text Sources
Other Literature Sources
Medical
Miscellaneous
---
COPYRIGHTS
Copy & Paste the link above for Yandex translation to Norwegian.
WHO and WHAT is behind it all ? : >
The bottom line is for the people to regain their original, moral principles, which have intentionally been watered out over the past generations by our press, TV, and other media owned by the Illuminati/Bilderberger Group, corrupting our morals by making misbehavior acceptable to our society. Only in this way shall we conquer this oncoming wave of evil.
Commentary:
Administrator
HUMAN SYNTHESIS
All articles contained in Human-Synthesis are freely available and collected from the Internet. The interpretation of the contents is left to the readers and do not necessarily represent the views of the Administrator. Disclaimer: The contents of this article are of sole responsibility of the author(s). Human-Synthesis will not be responsible for any inaccurate or incorrect statement in this article. Human-Synthesis grants permission to cross-post original Human-Synthesis articles on community internet sites as long as the text & title are not modified