Here's everything we know about the September 18 right-wing rally in DC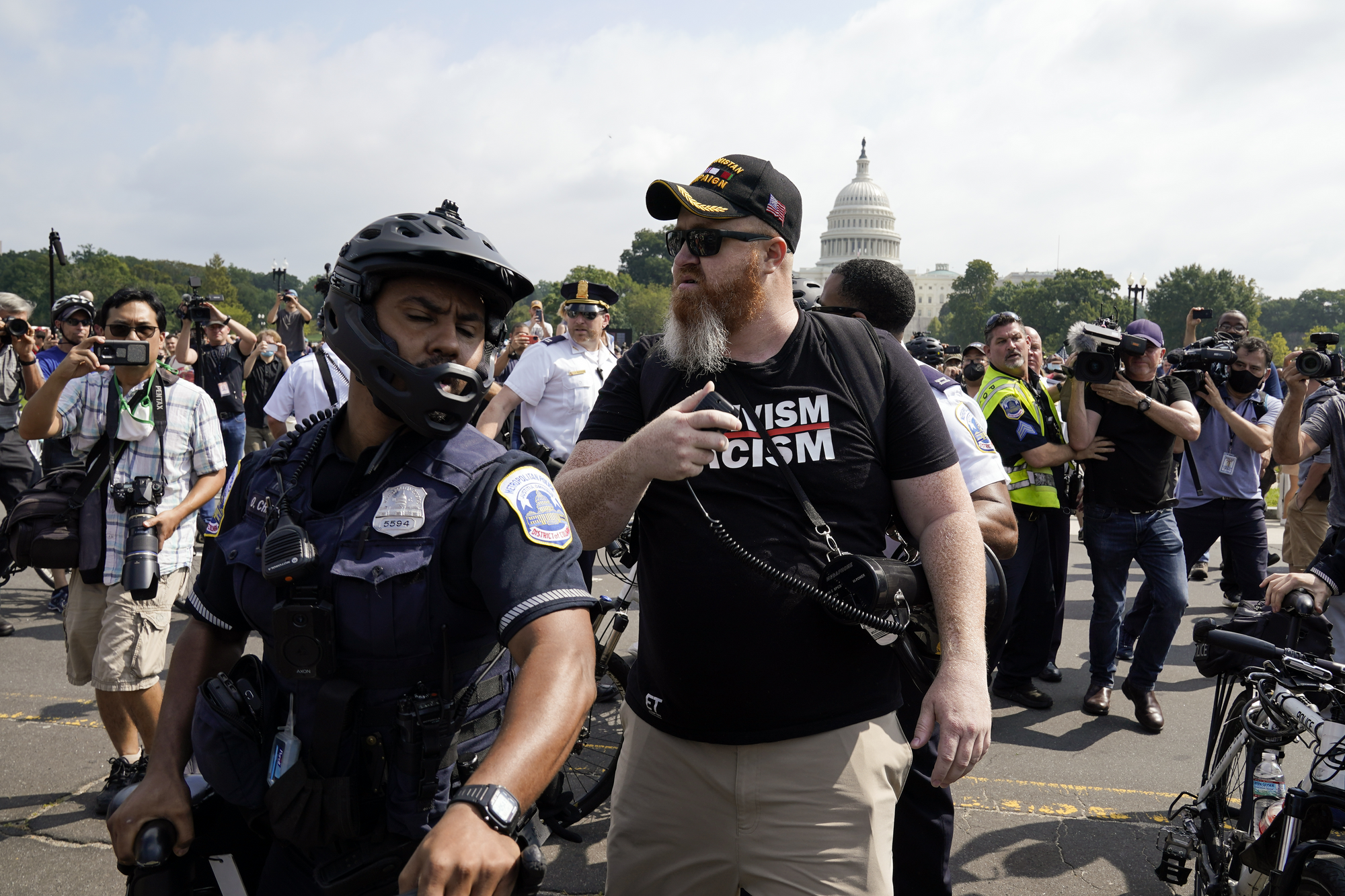 Cops and protesters gather at US Capitol for 'Justice for J6' rally25 mins agoLast Updated: September 18, 2021
A massive police response mobilized outside a fenced-off U.S. Capitol Saturday morning to greet a group of right-wing protesters who insist their noon demonstration won't descend into violence.
Advocates at the "Justice for J6" rally in Washington, D.C., plan to denounce what they call the "inhumane treatment" of dozens of Jan. 6 rioters who remain jailed while awaiting trials that are still months away.
Two hours ahead of the rally, a fleet of District of Columbia-owned dump trucks lined up to block the city's streets off from roaming demonstrators, and an olive-green Humvee from neighboring Prince George's County, Maryland, was stationed outside the Capitol's Botanic Garden Conservatory.
CAPITOL POLICE BRACING FOR 'JUSTICE FOR J6' RALLY IN SUPPORT OF JAN. 6 ALLEGED RIOTERS
Counter-protesters arrived early, bearing giant flags in support of Black Lives Matter and trans rights, and a banner mimicking Trump's signature campaign branding that read "Loser." A hand-lettered sign identified the bearer as "proud Antifa scum."
Capitol Police, nervous about a reprise of the January chaos that led to five deaths, requested reinforcements from the Pentagon this week to fend off any attacks from rally-goers. A company of 100 National Guard troops was expected to patrol the event.
On Wednesday, federal workers reinstalled the tall, black security fencing that had been removed in July.
"We've cooperated with the Capitol Police, Park Police, Metropolitan Police," Matt Braynard of Look Ahead America, the rally's main sponsor, told Fox5 this week. "We've got … a diplomatic security team to help make the event be smooth."
The group issued a statement Friday to "condemn political violence in all its forms, especially violence perpetrated on January 6."
"This is a rally in support of those who have been charged with nonviolent offences to protest of their disparate treatment at the hands of the Department of Justice and the Judiciary," the statement read.
Demonstrators hold signs near members of the media before a rally near the U.S. Capitol in Washington, Saturday, Sept. 18, 2021. The rally was planned by allies of former President Donald Trump and aimed at supporting the so-called "political prisoners" of the Jan. 6 insurrection at the U.S. Capitol. (AP Photo/Brynn Anderson)
(AP Photo/Brynn Anderson)
CAPITOL POLICE ARREST MAN WITH KNIVES IN TRUCK PAINTED WITH SWATSITKA NEAR DNC HEADQUARTERS IN WASHINGTON
Braynard's group claims that 67 of the 595 people who have been charged with assault, obstruction, trespassing and other crimes in connection with the Capitol incursion remain behind bars — many in solitary confinement — as their trial dates are repeatedly delayed.
Two GOP congressional candidates — Joe Kent of Washington state and Mike Collins of Georgia — were set to address the crowd.
Braynard, a former Trump campaign strategist who boosted his public profile with allegations of voting anomalies during the 2020 presidential election, instructed rally-goers not to bring any political gear — either in favor of former President Donald Trump or in opposition to President Biden — to the event.
"Anyone not honoring this request will be assumed to be an infiltrator," he tweeted this week.
CLICK HERE TO GET THE FOX NEWS APP
Trump on Thursday dismissed the demonstration as "a setup."
"If people don't show up they'll say, 'Oh, it's a lack of spirit,'" he told The Federalist. "And if people do show up they'll be harassed."
But he also expressed support for "the people being persecuted so unfairly relating to the January 6th protest" in a statement issued by his Save America PAC this week.
"In addition to everything else, it has proven conclusively that we are a two-tiered system of justice," Trump wrote. "In the end, however, JUSTICE WILL PREVAIL!"
https://washingtonnewspost.com/news/usa/los-angeles/missing-hiker-found-4-days-after-going-missing-on-snowy-mt-whitney/
https://washingtonnewspost.com/news/entertainment-arts/celebrity-news/selfies-pda-and-more-must-see-candid-moments-from-the-2021-billboard-music-awards-e-online/
https://washingtonnewspost.com/news/health/khn-journalists-comment-on-abortion-case-wasted-covid-doses/
https://washingtonnewspost.com/news/tech/instagram-now-shows-creators-how-well-their-live-videos-and-reels-are-doing-engadget/
Related Posts:
---
Here's everything we know about the September 18 right-wing rally in DC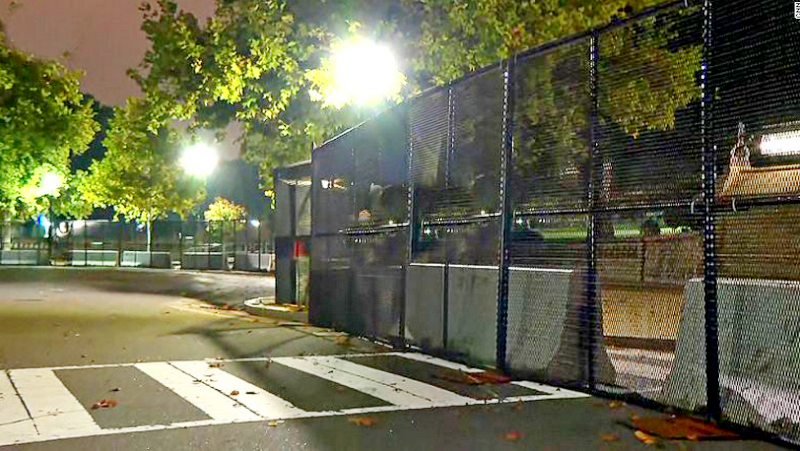 By Paul LeBlanc, CNN - Updated 1132 GMT September 18, 2021
Washington (CNN)The September 18 right-wing rally in Washington, DC, has brought a new wave of concern about more potential violence on Capitol Hill as law enforcement prepares for a variety of scenarios.But it remains unclear how many protesters plan to attend. And the rally is taking place on a Saturday, when both chambers of Congress will be on recess, meaning far fewer lawmakers or staff will be in the area.US Capitol Police Chief Tom Manger told reporters Friday that the department has a "strong plan in place to ensure" the event "remains peaceful, and that if violence does occur that we can stop it as quickly as possible."
Here's what you need to know:
What is the rally for?The "Justice for J6" rally aims to support insurrectionists charged in the deadly January 6 Capitol riot. Organizers say it is scheduled to start at noon ET on Saturday.
Who are the organizers?The rally is being planned by "Look Ahead America," a nonprofit led by former Trump campaign staffer Matt Braynard. The group is "dedicated to standing up for patriotic Americans who have been forgotten by our government," according to their website.In interviews with CNN, Braynard has insisted the event will be peaceful and that "no one is going to be bringing a weapon who's going to be part of our crowd."
Baynard has also encouraged attendees not to wear any candidate or election-related gear.Still, at least one Proud Boys leader has encouraged followers from across the country to show up, though others online have discouraged attendance and warned it might be a false flag operation designed to trap supporters.Meanwhile, "White Lives Matter" is advertising global demonstrations for September 18 and has been supportive of the January 6 insurrectionists online, but it does not have a DC chapter.
Who's expected to attend?Manger said Friday that Capitol Police still do not know how many people to expect, but that event organizers secured a permit for 700 attendees in Washington.Around 500 people have indicated they plan to attend, though an internal Capitol Police memo reviewed by CNN notes that past recent events organized by Look Ahead America had significantly lower attendance than expected.No sitting member of Congress is scheduled to appear at the rally.
But the speaker lineup includes two Republican congressional candidates -- Mike Collins, who's running for a House seat in Georgia, and Joe Kent, who is running to unseat Rep. Jaime Herrera Beutler of Washington state, a Republican who voted to impeach Trump.The lawyer representing the family of Ashli Babbitt, who died while participating in the Capitol riot, was also invited to speak but has yet to confirm attendance, according to the DHS brief.
What are law enforcement officials expecting?Law enforcement officials are bracing for potential clashes and unrest during the rally, according to an internal Capitol Police memo reviewed by CNN.The intelligence report on the event notes that online chatter in support of the rally started increasing after the officer who fatally shot Babbitt went public with his identity in a recent interview with NBC's Lester Holt.There's been a noticeable uptick in violent rhetoric around the event and heated discussions centered on Babbitt's shooting on social media and discussion boards, according to the memo.
The document warns that many individuals may also see September 18 as a "Justice for Ashli Babbitt" rally, which could be cause for concern, and it's not unreasonable to plan for violent altercations.There have been additional discussions of violence associated with the event, with one online chat suggesting violence against Jewish centers and liberal churches while law enforcement is distracted that day.In its intelligence brief Thursday, DHS warned about the potential for violence from people involved in or opposed to the "Justice for J6" rally, saying that a "counter-rally is scheduled to take place on the same day at Freedom Plaza in Washington, DC, heightening the potential for violence between perceived ideological opponents."
Capitol Police is aware of three separate groups that may counter protest on Saturday, Manger said Friday, adding, "Two of the groups haven't had much of a history of violence, one of them has had some clashes before."DHS also warned of potential violence on the day before the rally.The department said an additional challenge for law enforcement is the likely use of encrypted or closed communication platforms by those seeking to commit violence.
What security steps will be in place?Officials have taken steps to ensure there will be a significant security presence and additional help will be on standby -- in contrast to what happened in the lead-up to January 6.CNN has learned that DC police will be fully activated Saturday, and the DC National Guard will be ready to provide assistance in case of an emergency, a source familiar with security conversations around the event told CNN.The US Capitol Police reinstalled new temporary fencing Wednesday night around the Capitol complex ahead of the rally.Fencing had been erected around the Capitol following the January 6 riot but was eventually pared back and removed over the summer.Several road closures will be in effect around the Capitol and Constitution Avenue, with a possibility for additional intermittent closures, DC Metropolitan Police Chief Robert Contee told reporters Friday.
Additionally, Capitol Police said in a statement Monday that its board had "issued an emergency declaration, which will go into effect about the time of the demonstration and allow the Department to deputize outside law enforcement officers as United States Capitol Police Special Officers.""We want to reassure everyone these are temporary measures to ensure everyone's safety," Manger said in the statement. "We are extremely grateful for the support we continue to receive from the local community and our Congressional stakeholders as we carry out our critical mission."TSA is also ramping up security at Ronald Reagan Washington National Airport, telling travelers to expect to see more security officers and K-9s at the airport over the weekend.
What are lawmakers saying about the security preparations?After Manger briefed the top four congressional leaders about security preparations for the rally, House Speaking Nancy Pelosi told reporters the planning "seems much better."But Pelosi also noted she doesn't "have anything to compare it to, because we weren't briefed before," referring to the January 6 insurrection. "So it's not like I can compare it to before but ... I'm sure we'll have ongoing communication," she added after leaving the briefing.
Senate Majority Leader Chuck Schumer similarly said he believes Capitol Police are "well prepared, thorough, professional, and I think they're better prepared than people were before January 6."This story has been updated with additional information.
CNN's Melanie Zanona, Jessica Schneider, Whitney Wild, Geneva Sands, Zachary Cohen, Pete Muntean and Veronica Stracqualursi contributed to this report.
---
Police Ready For Right-wing Rally At US Capitol
Last Updated: 18th September, 2021 15:53 IST
"Written ByAssociated Press Television News
After being criticized as unprepared during the Jan. 6 insurrection, U.S. Capitol police are "taking no chance" with a right-wing rally on Saturday September 18 that is trying to rebrand the people facing charges in the deadly riot as "political prisoners.
After being criticized as unprepared during the Jan. 6 insurrection, U.S. Capitol police are "taking no chance" with a right-wing rally on Saturday September 18 that is trying to rebrand the people facing charges in the deadly riot as "political prisoners."
About 60 people are being held behind bars and more than 600 are facing federal charges in connection to the riot that injured dozens of officers and sent lawmakers into hiding.
Five people eventually died during the attack, and several police officers later took their own lives.
Hundreds of people were charged with misdemeanors for entering the Capitol illegally, but hundreds of others are facing more serious felony charges including assault, obstruction of an official proceeding or conspiracy.
The repeated attempts to rewrite the narrative of the violence and panic of the day, and the persistent volatility around the politics of the 2020 election have made it impossible to predict what may happen this weekend.
After all, law enforcement was only expecting a free speech protest the day Trump supporters stormed the Capitol in an effort to disrupt the certification of Joe Biden's victory.
Intelligence suggested that extremist groups such as the Proud Boys and Oath Keepers would turn up, but some prominent members of the groups have sworn they aren't going and have told others not to attend.
"The chatter that we heard prior to January 6th... many of those threats turned out to be, in fact, credible. And so we're not taking any chances," said U.S. Capitol Police Chief Tom Manger during a press conference a day before the event.
Chief Manger stressed that their mission with every demonstration in Washington DC is "to protect everyone's rights to free speech" regardless of their political afilliation and beliefs.
"We have a strong plan in place to ensure that it remains peaceful and that if violence does occur, that we can stop it as quickly as possible," Chief Manger said. "We're not going to tolerate violence and we will not tolerate criminal behavior of any kind."
The operational plan for the protest started on Wednesday, when overnight a temporary fence was installed around the Capitol complex.
Police are preparing for the possibility that some demonstrators may arrive with weapons, and are also aware of three groups planning to carry out counter protests in the city with the possibility of clashes.
"Any demonstration the one at Union Square or any of the counter demonstrators, if they decide they want to breach the fence, if they decide they want to attack law enforcement we'll be ready for those kinds of violence. I think they're less likely," Chief Manger said. "I think the biggest concern that many of us have are the counter demonstrators making sure that things stay safe with them as well."
The D.C. police department is fully activated, and U.S. Capitol Police have requested assistance from nearby law enforcement agencies, and have a contigency plan in place to call in support from the D.C. National Guard if the event runs longer than anticipated.
(Disclaimer: This story is auto-generated from a syndicated feed; only the image & headline may have been reworked by www.republicworld.com)
---
COPYRIGHTS
Copy & Paste the link above for Yandex translation to Norwegian.
WHO and WHAT is behind it all ? : >
The bottom line is for the people to regain their original, moral principles, which have intentionally been watered out over the past generations by our press, TV, and other media owned by the Illuminati/Bilderberger Group, corrupting our morals by making misbehavior acceptable to our society. Only in this way shall we conquer this oncoming wave of evil.
Commentary:
Administrator
HUMAN SYNTHESIS
All articles contained in Human-Synthesis are freely available and collected from the Internet. The interpretation of the contents is left to the readers and do not necessarily represent the views of the Administrator. Disclaimer: The contents of this article are of sole responsibility of the author(s). Human-Synthesis will not be responsible for any inaccurate or incorrect statement in this article. Human-Synthesis grants permission to cross-post original Human-Synthesis articles on community internet sites as long as the text & title are not modified