Biden Adviser Says President "Will Run Over" GOP Governors Who Resist Vaccine Mandate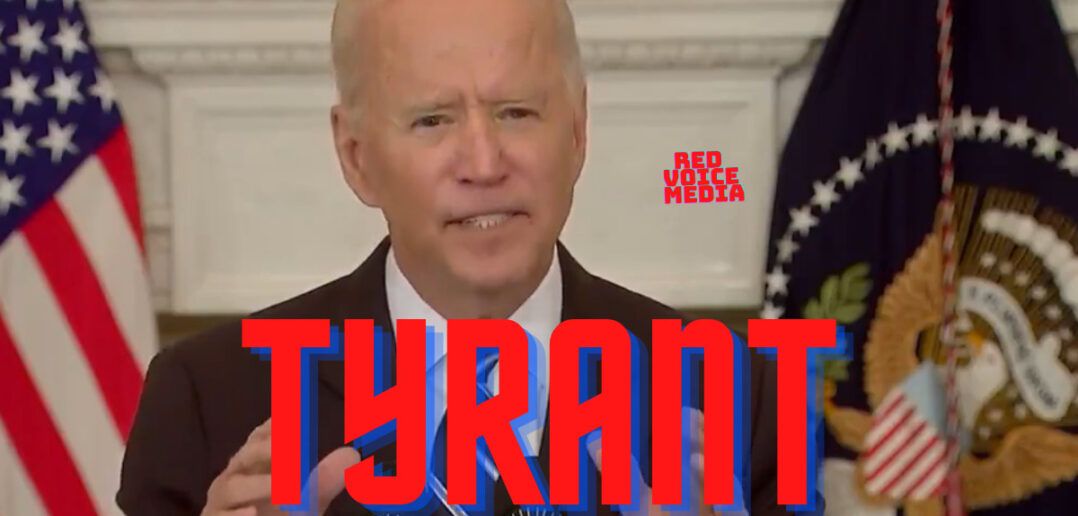 ZeroHedge - BY  TYLER DURDEN - FRIDAY, SEP 10, 2021 - 06:54 PM
Update (1650ET): Following Thursday's threat from President Biden to "use my power as president" against GOP governors "to get them out of the way," White House senior adviser Cedric 'boy' Richmond said that Biden is willing to "run over" the governors.
"The one thing I admire about this president is the fact that we are always going to put people above politics. And we're going to fight for those who really need our help," Richmond told CNN in response to a question about governors resisting the mandate. "And those governors that stand in the way, I think, it was very clear from the president's tone today that he will run over them," he added.
"And it is important. It's not for political purposes. It's to save the lives of the American people. And so, we won't let one or two individuals stand in the way. We will always err on the side of protecting the American people."
Cedric might want to get with the times - it's way more than 'one or two individuals.'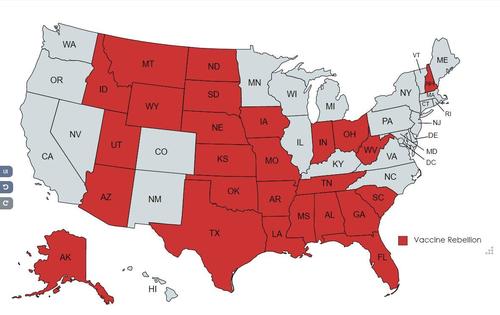 More via The Epoch Times' Jack Phillips:
Richmond's comment, however, raises questions about how the federal government plans to "run over" states, as the United States government is federalist and combines the central government with state and local governments.
A number of Republican governors on Thursday, following Biden's speech, said they would resist the vaccine mandate. Should the federal government direct the Occupational Safety and Health Administration to impose testing or vaccine mandates on private employees, Biden will face an avalanche of lawsuits.
"My legal team is standing by ready to file our lawsuit the minute Joe Biden files his unconstitutional rule," South Dakota Gov. Kristi Noem, a Republican, wrote in a Twitter post. "This gross example of federal intrusion will not stand."
Georgia Gov. Brian Kemp, also a Republican, wrote that his administration will "pursue every legal option available" in order to halt what he called a "blatantly unlawful overreach."
And Gov. Doug Ducey of Arizona said his state will "push back" against federal mandates, saying "Biden-Harris administration is hammering down on private businesses and individual freedoms in an unprecedented and dangerous way. This will never stand up in court."
He wrote: "This dictatorial approach is wrong, un-American, and will do far more harm than good. How many workers will be displaced? How many kids are kept out of classrooms? How many businesses were fined? The vaccine is and should be a choice."
Other than an order targeting private businesses, Biden also said he would mandate that all federal workers and contractors get the shot, mandate Medicare and Medicaid hospital staff to get vaccinated, and other mandates.
*  *  *
Republicans clapped back over the Biden administration's unprecedented 'jab or your job' Executive Order for federal workers and contractors, and a 'jab or test' mandate for corporations with over 100 employees. 600,000 postal workers are oddly exempt.
The sweeping new vaccine requirements, which completely ignore tens of millions in America who have recovered from Covid-19 and have natural immunity, will affect as many as 100 million Americans.
In response, the Republican National Committed (RNC) vowed to sue Biden once the mandate goes into effect, with President Ronna McDaniel tweeting that Biden lied.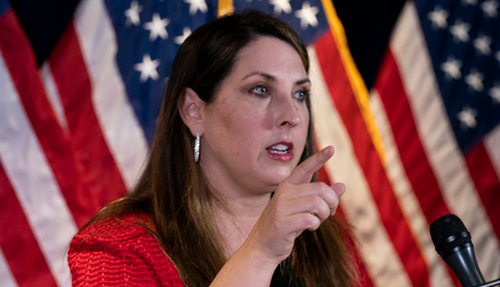 "Joe Biden told Americans when he was elected that he would not impose vaccine mandates. He lied," McDaniel said in a statement, adding "Now small businesses, workers, and families across the country will pay the price."
"President Biden is so desperate to distract from his shameful, incompetent Afghanistan exit that he is saying crazy things and pushing constitutionally flawed executive orders. This is a cynical attempt to pick a fight and distract from the President's morally disgraceful decision to leave Americans behind Taliban lines on the 20th anniversary of 9/11," Sen. Ben Sasse (R-NE) told the Daily Caller.
Meanwhile, Republican governors across the country have issued statements vowing to sue, or otherwise oppose, the vaccine mandate after Biden threatened them during Thursday's announcement.
"Let me be blunt," said Biden. "My plan also takes on elected officials in states that are undermining you in these life-saving actions. Right now local school officials are trying to keep children safe in a pandemic while their governor picks a fight with them and even threatens their salaries or their jobs. Talk about bullying the schools."
"If they'll not help, if these governors won't help us beat the pandemic, I will use my power as president to get them out of the way," he added.
Not so fast, say the governors
As Becker News reports:
Republican governors have begun to issue their responses to the federal government's overreach and the president's threats.
"South Dakota will stand up to defend freedom," Noem wrote. "JoeBiden see you in court."
Georgia's Governor Brian Kemp also responded to Biden's remarks.
"I will pursue every legal option available to the state of Georgia to stop this blatantly unlawful overreach by the Biden administration," Kemp tweeted.
"Oklahoma Gov. Kevin Stitt says as long as I am governor, there will be no government vaccine mandates in state," Josh Caplan reported.
"Texas Gov. Greg Abbott announces the state already working to halt Biden's vaccine mandate 'power grab'," Election Wizard reported.
Alabama Governor Key Ivey also released a statement declaring her intention to fight the mandate.
Wyoming Governor Mark Gordon also issuing a statement saying: "Not now, and not ever."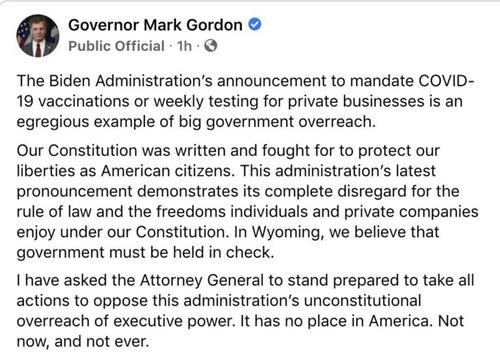 Tennessee's Governor Bill Lee also stated his broad opposition to the federal mandate.
"The Constitution won't allow this power grab, and in the meantime, I will stand up for all Tennesseans," Gov. Lee wrote.
Read more governors' statements here.
Cover illustration via Mother Jones, Getty
---
COPYRIGHTS
Copy & Paste the link above for Yandex translation to Norwegian.
WHO and WHAT is behind it all ? : >
The bottom line is for the people to regain their original, moral principles, which have intentionally been watered out over the past generations by our press, TV, and other media owned by the Illuminati/Bilderberger Group, corrupting our morals by making misbehavior acceptable to our society. Only in this way shall we conquer this oncoming wave of evil.
Commentary:
Does it not ring a bell when we see what desperate efforts the democrats are making to coerce ALL the people to have that jab? They have never shown any particular interest of this kind in the people's welfare otherwise. All kinds of punishments and attempted segregation of the non-vaccinated are being perpetrated.
First of all, there is a large number of farmaceutical as well as other companies who are benefiting grossly from the sale of these Covid-19 related vaccines, who probably want this to go on indefinitely.  To maintain assistance in this fraud, they are paying thousands of pharmaceutical companies, doctors, medical schools, manufacturers of medical equipment, and, not at least, the POLITICIANS!
The second, but the most important reason is their fear of not reaching their planned number of fully vaccinated people before their evil intent starts to show up within the next 2-3 years, which will FINALLY make ALL people understand the real truth of the global elites plan to reduce the world's population by 95%.   If at this time there will still be a substantial number of unvaccinated people, they will no doubt see the ELIMINATION of the perpetrators of this horrific crime against humanity.
And thirdly, the ongoing wave of Covid versions with prolonged close-downs will eventually destroy smaller and middle-class businesses, and in so doing, destroying the entire middle-class.  
Administrator
HUMAN SYNTHESIS
All articles contained in Human-Synthesis are freely available and collected from the Internet. The interpretation of the contents is left to the readers and do not necessarily represent the views of the Administrator. Disclaimer: The contents of this article are of sole responsibility of the author(s). Human-Synthesis will not be responsible for any inaccurate or incorrect statement in this article. Human-Synthesis grants permission to cross-post original Human-Synthesis articles on community internet sites as long as the text & title are not modified