Rand Paul Calls on Americans to Resist "Anti-science" COVID-19 Mandates and Restrictions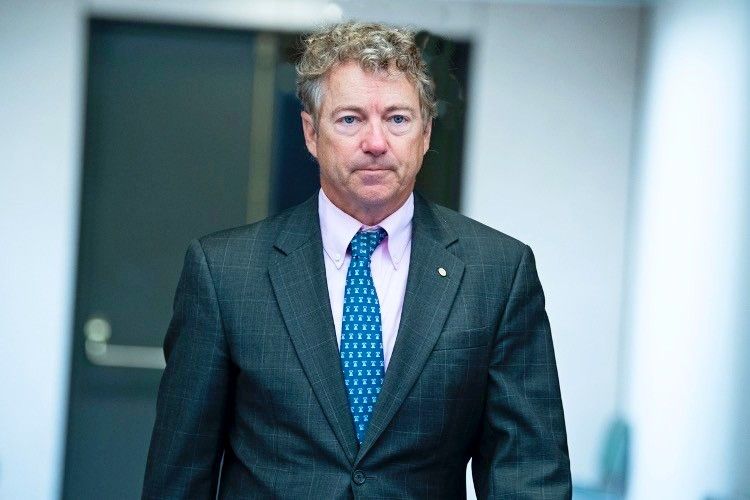 TheNewAmerican - by Veronika Kyrylenko August 9, 2021
Senator Rand Paul (R-Ky.) urged Americans to "resist" any future lockdown attempts and other "anti-science" COVID-19 mandates.
Paul opened his video statement released on Sunday with the words,
It's time for us to resist. They can't arrest all of us. They can't keep all of your kids home from school. They can't keep every government building closed. Although, I've got a long list of ones they might keep closed or might ought to keep closed.
Paul went on to remind people that it is in their power to "simply say no" to the mandates, lockdowns, and harmful policies of the "petty tyrants and feckless bureaucrats," as he went on to call some of them.
First, he took aim at House Speaker Nancy Pelosi, who, in addition to enacting a mask mandate in Congress and ordering the Capitol Police to arrest staff and visitors who dare to defy it, has indicated she's open to a vaccine mandate for lawmakers once the jabs get full approval by the Food and Drug Administration (FDA) — a move expected as soon as early September. Pelosi's recent statement that the mandate is on the table is a dramatic about-face from her April statement, when she argued she cannot require Congressmen to be vaccinated, since "it is a matter of privacy to know who is or who isn't [vaccinated]."
"Speaker Nancy Pelosi — you will not arrest or stop me or anyone on my staff from doing our jobs," said Paul, who added, "We will make our own health choices. We will not show you a passport, we will not wear a mask, we will not be forced into random screening and testing so you can continue your drunk-with-power rein over the Capitol," Paul said. He is not alone in his firm stance against the coercive measures imposed by Pelosi, since she is facing a lawsuit brought by three Republican lawmakers over the arguably unconstitutional fines imposed on them for not complying with the speaker's order.
Next, Senator Paul addressed President Joe Biden, saying the federal agencies' mandates will not be accepted, nor will any future lockdowns, the possibility of which are now reportedly being considered by the administration. "No one should follow the CDC's anti-science mask mandates," said Paul, who has been a vocal critic of facemask usage by the general population for preventing COVID-19 spread. Paul's claims were backed, among others, by the study released in March 2021 by the Centers for Disease Control and Prevention (CDC) that showed the mask mandates were associated with a meager 0.5-1.8-percent drop in COVID-19 cases over 21-100 days since the mandates were imposed, meaning "daily case and death growth rates before implementa­tion of mask mandates were not statistically different from the reference period."
"And if you want to shut down federal agencies again — some of which aren't even back to work fully — I will stop every bill coming through the Senate with an amendment to cut their funding if they don't come to work," Paul continued.
"Local bureaucrats and union bosses — we will not allow you to do more harm to our children again this year," Paul stated further while adding children are not at any more risk from COVID than they are for the seasonal flu, a statement also supported by the CDC's own data. At the same time, since every teacher and school staff member has either taken a vaccine, or had an opportunity to do so, "there is no reason for mask mandates, part-time schools, or any lockdown measures," said Senator Paul.
Paul also observed the mask mandates hurt the physical as well as psychological well-being of children, who also suffered academically due to the school lockdowns. Paul pledged to amend every bill with the provisions to defund the pro-lockdown schools and to "allow parents the choice of where the money goes for their child's education."
In conclusion, Paul said it was not just him being fed up with bureaucratic power-grab:
I think the tide has turned, and more and more people are willing to stand up…. We are at a moment of truth and a crossroads. Will we allow these people to use fear and propaganda to do further harm to our society, economy, and children? Or will we stand together and say, absolutely not. Not this time. I choose freedom.
While Paul's statement was admired by his supporters on social media, left-wing users were outraged over the message. "Rand Paul is advocating for chaos and death. Not freedom" tweeted Democrat activist and political commentator Chris Hahn. Washington Post columnist Brian Klaas opined that "Everyone says Armageddon was unrealistic, but for the wrong reasons. In reality, if an asteroid was going to hit Earth and scientists came up with a way to stop it, Fox News would call it a hoax and Rand Paul would talk about 'personal responsibility while Earth got obliterated."
While the measures restricting people's freedoms were widely promoted by the CDC and corporate media in the Land of the Free, real-world data have shown conclusively that widespread lockdowns not only don't mitigate the spread of the virus, but actually create a fertile ground for more deaths than the pandemic alone would cause (The New American has covered the issue here and here). Unemployment associated with business lockdowns is also proven to take a deadly toll on Americans and their families. At the same time, countries that have not been closed down, such as Sweden, are excelling in containing the virus.
Similarly, data from the official sources show no correlation between the strength of a state's mask and lockdown measures and total COVID-19 deaths. In fact, the 10 states with the highest rate of mask usage have been doing worse in both cases and deaths than the 10 states with the lowest rate of mask usage.
---
COPYRIGHTS
Copy & Paste the link above for Yandex translation to Norwegian.
WHO and WHAT is behind it all ? : >
The bottom line is for the people to regain their original, moral principles, which have intentionally been watered out over the past generations by our press, TV, and other media owned by the Illuminati/Bilderberger Group, corrupting our morals by making misbehavior acceptable to our society. Only in this way shall we conquer this oncoming wave of evil.
Commentary:
Administrator
HUMAN SYNTHESIS
All articles contained in Human-Synthesis are freely available and collected from the Internet. The interpretation of the contents is left to the readers and do not necessarily represent the views of the Administrator. Disclaimer: The contents of this article are of sole responsibility of the author(s). Human-Synthesis will not be responsible for any inaccurate or incorrect statement in this article. Human-Synthesis grants permission to cross-post original Human-Synthesis articles on community internet sites as long as the text & title are not modified