Pennsylvania's election audit moves follow the partisan playbook
© Getty Images
BY CHRIS DELUZIO, OPINION CONTRIBUTOR — 07/01/21
In the wake of the 2020 presidential election, across the country, we saw radical efforts to spread lies about voter fraud, attack voting rights and overturn the results of the presidential election.
These attempts are grounded in dishonesty and naked partisan self-interest, often relying on bad faith, pretextual arguments about election security. Pennsylvania Republicans' latest bid to create a new partisan bureau of election audits is much of the same. And it's bad policy for Pennsylvania, as it would be for the rest of the nation.
The truth is this: Pennsylvania's 2020 election was a success. It was more secure than prior years, owing to the transition away from aging paperless machines. Record numbers turned out to exercise their right to vote, despite the pandemic, thanks in part to the commonsense mail voting option. And the courts batted down the frivolous lawsuits and their conspiracy-tinged fraud allegations that aimed to invalidate our votes.
Yet some in the state are persisting in trying to politicize election audits, pointing to the very electoral doubts they encouraged as a basis for their campaign to create a new partisan audit office under the auditor general. That is wrongheaded, and we should instead be looking to institute better post-election audits (like risk-limiting audits) in a bipartisan fashion.
Under current Pennsylvania law, counties are responsible for conducting post-election audits. Through bipartisan boards of elections, counties perform these traditional audits, which require a recount of a random sample of the lesser of 2000 ballots or 2 percent of votes cast. The Pennsylvania Department of State provides guidance and support to counties. The utility of such audits increased dramatically following the transition to paper-based voting systems. As recently as 2018, more than 80 percent of Pennsylvania voters had been voting on paperless machines, which deprived officials of the ability to meaningfully audit results.
Despite these security improvements, the GOP,  intent on further politicizing post-election audits, attempted to create a new Bureau of Election Audits through a now-failed bill. The bureau would have fallen under the auditor general, a partisan elected official whose office has no experience in running elections or audits of them.
Additionally, the proposed powers for the bill (which Pennsylvania Governor Tom Wolf (D) wisely vetoed this week) are foolishly vast and would open the door for the kind of reckless audit undertaken by the Arizona Senate. Such wide-ranging fishing expeditions—conducted incompetently and rigged to throw doubt on elections without evidence — will only further undermine trust in the process and weaken good faith efforts to secure votes.
Despite the demise of the Pennsylvania bill, its backers have argued that the auditor general can nonetheless create this new bureau and usurp audit powers from the counties and the state. That view is inconsistent with Pennsylvania's Election Code, the auditor general's own understanding of his office's powers, and Wolf's veto of funding to create the new bureau.
Republican legislators in all states should be focused on bipartisan risk-limiting audits, not partisan antics, to foster confidence in elections. Risk-limiting audits are growing in popularity across the country, as they should: They rely on principles of statistics to confirm electoral outcomes with greater efficiency than other audits.
I urge policymakers in Pennsylvania and across the nation to institute mandatory risk-limiting audits after every election. And that mandate should ensure that election officials complete these audits before certifying results.
To be sure, some may balk at imposing more duties (and costs) on local officials. But we should not avoid measures that will bolster trust in elections to save a few bucks. Besides, risk-limiting audits will likely be more efficient than the traditional audits they would replace in many cases, alleviating some post-election burdens.
If legislators in Pennsylvania and other states were serious about trust in elections, they would back off the partisan power plays and instead work to fund and implement risk-limiting audits in a bipartisan fashion. Election officials (and bipartisan boards of elections) already know how to run and audit elections, and it would be a mistake to ignore that experience. Just as it would be a mistake to charge an inexperienced and partisan office with the solemn duty of auditing an election. Our democracy deserves better.
Chris Deluzio is an attorney and the policy director of The University of Pittsburgh Institute for Cyber Law, Policy, and Security. He previously staffed the Blue Ribbon Commission on Pennsylvania's Election Security.
---
Pennsylvania Senate Chairman Initiates Forensic Probe of 2020, 2021 Elections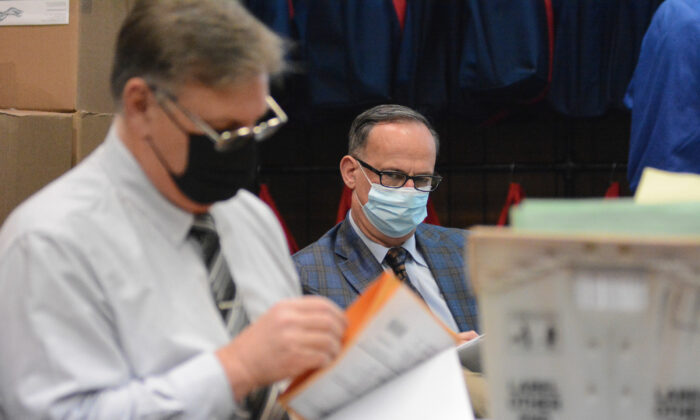 Democrat poll watcher Edward Brennan, center, observes Election Bureau Director Albert L. Gricoski, left, open provisional ballots at the Schuylkill County Election Bureau in Pottsville, Penn. on Nov. 10, 2020. (Lindsey Shuey/The Republican-Herald via AP
The Epoch Times - BY ZACHARY STIEBER - Updated: July 7, 2021
A Pennsylvania senator announced on July 7 that he has triggered a forensic investigation of the 2020 and 2021 elections.
State Sen. Doug Mastriano, a Republican, issued letters to several counties requesting information and materials that he said would enable an investigation.
"It's distinct from an audit or forensic audit. It's a big deep dive like we saw in Arizona, but even deeper," Mastriano told The Epoch Times.
"It takes a hard look at software, machine, scanners, in addition to looking at all the ballots themselves to see if they were hand-filled-in or copied by a machine. So a scientific approach to get to the bottom of what happened, what went right, what went wrong in an election. It takes out all bias."
Philadelphia County received a letter, as did two that lean Republican: York and Tioga counties.
They were asked to send over hard copies of ballots and other election materials. Mastriano expects a court battle to play out and is ready to go to his committee and request subpoena power if the counties don't comply or indicate their willingness to comply by July 31.
A deputy for Philadelphia Commissioner Omar Sabir, a Democrat, told The Epoch Times that Sabir believes the elections were run freely and secure. He said that the commissioners are consulting with the city's law department on the request from the state Senate. Nick Custodio, a deputy for Philadelphia Commissioner Lisa Deeley, a Democrat, said that her office is reviewing the requests.
"We do want to be clear, however, that Senator Mastriano's letter reiterates claims about the November 2020 election that have been resoundingly rejected by courts. The repetition of baseless claims by elected officials poses a real challenge to our democratic processes. We are committed to continuing the hard work of ensuring that Philadelphians are able to exercise their right to vote," he said in an email.
A York County official acknowledged receipt of Mastriano's requests but declined to comment. Tioga County did not respond to a request for comment by press time.
In an op-ed sent to news outlets, Mastriano charged that there's a strong case for an investigation, noting that 2.7 million mail-in ballots were counted in the 2020 election, compared to just 263,000 in the prior presidential election. He also noted that many of the ballots were counted without signature verification.
"It would defy logic to assume that an election with the kinds of drastic changes we saw in 2020 was run perfectly with zero errors or fraud," he said.
Federal law mandates that counties keep records like those being sought, for 22 months after an election. The counties were told to produce the information by July 31.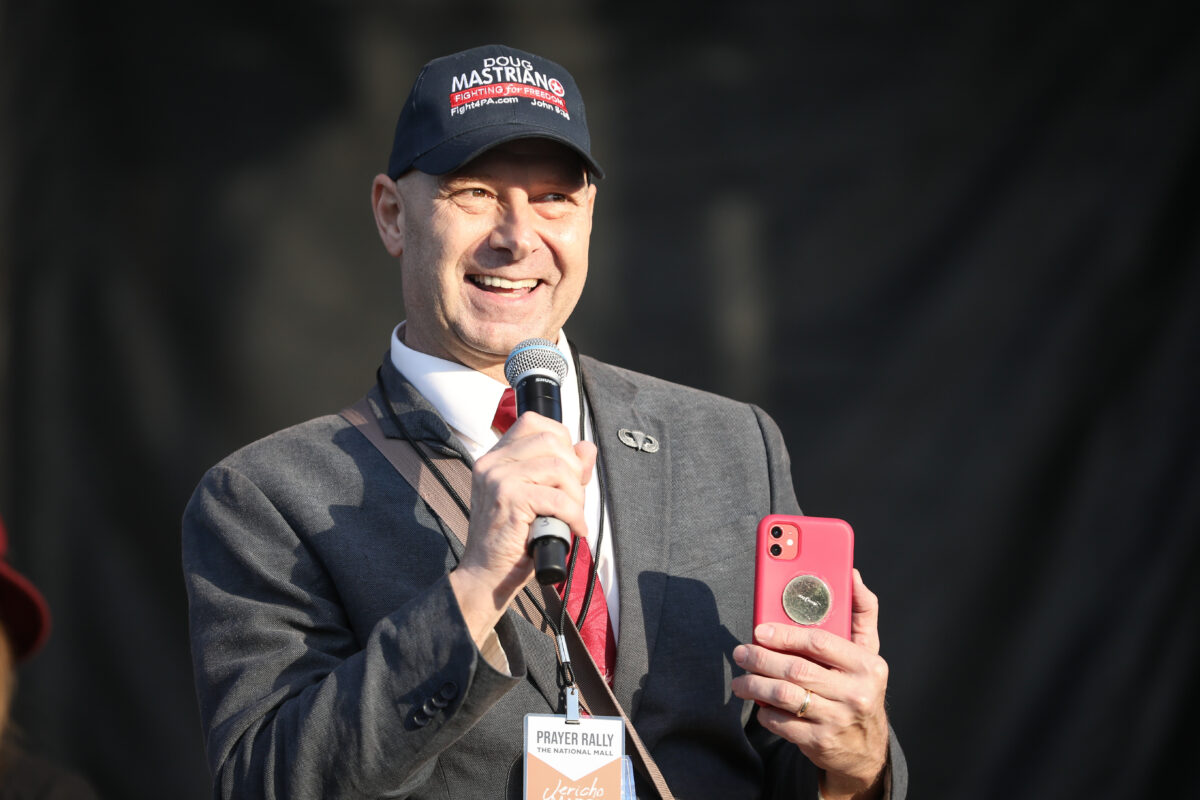 The Pennsylvania Department of State, which said a risk-limiting audit of the 2020 election has confirmed the election results, didn't respond to a request for comment by press time.
Pennsylvania Attorney General Josh Shapiro vowed during an appearance on MSNBC this week that he would fight back if lawmakers tried to trigger an Arizona-style election review in Pennsylvania.
"I'm absolutely confident," Shapiro said when asked if he could stop an audit or probe.
Pennsylvania Senate Minority Leader Jay Costa said on July 7 that he opposes the investigation for a number of reasons. He alleged that Mastriano's panel doesn't have authority over election activity and that even if it did, such an investigation would be redundant because "the 2020 election has been audited and reviewed extensively."
"The results of the 2020 election have been challenged in the courtrooms of 86 judges and upheld initially in 85 of them; the 86th was ultimately decided against former President Trump as well. The Pennsylvania Department of State has also already completed statistical sampling as required in Title 25 and a pilot risk-limiting audit," he said in a statement.
An election assessment conducted in Fulton County, Pennsylvania, uncovered several major issues, but the team that performed the review alleged that the election was well-run and that there were no signs of fraud despite the problems.
Mastriano hasn't yet chosen firms to carry out the new probe but told The Epoch Times that he would prefer to hire the companies conducting the audit in Maricopa County, Arizona.
Mastriano joined two other Pennsylvania Republicans in a trip to Phoenix last month to observe firsthand the audit taking place in the county. The delegation expressed hope for a similar review in their state after the trip, and a different committee chairman has said he supports carrying out an audit, though he hasn't initiated a review.
"The only way I could see ahead of this, [to put] this all to rest and let the cards fall where they may, [is to] do a scientific forensic audit, like Arizona. I don't see any other way to address this," Mastriano told The Epoch Times after visiting the audit.
He said he would prefer a statewide audit but would settle for a review of several counties.
Mastriano has said the effort wouldn't seek to overturn the election results. Democrat Joe Biden beat former President Donald Trump by about 80,000 votes in the 2020 election.
Follow Zachary on Twitter: @zackstieber
---
COPYRIGHTS
Copy & Paste the link above for Yandex translation to Norwegian.
WHO and WHAT is behind it all? : >
The bottom line is for the people to regain their original, moral principles, which have intentionally been watered out over the past generations by our press, TV, and other media owned by the Illuminati/Bilderberger Group, corrupting our morals by making misbehavior acceptable to our society. Only in this way shall we conquer this oncoming wave of evil.
Commentary:
Administrator
HUMAN SYNTHESIS
All articles contained in Human-Synthesis are freely available and collected from the Internet. The interpretation of the contents is left to the readers and do not necessarily represent the views of the Administrator. Disclaimer: The contents of this article are of sole responsibility of the author(s). Human-Synthesis will not be responsible for any inaccurate or incorrect statement in this article. Human-Synthesis grants permission to cross-post original Human-Synthesis articles on community internet sites as long as the text & title are not modified