Fauci will be gone in 90 days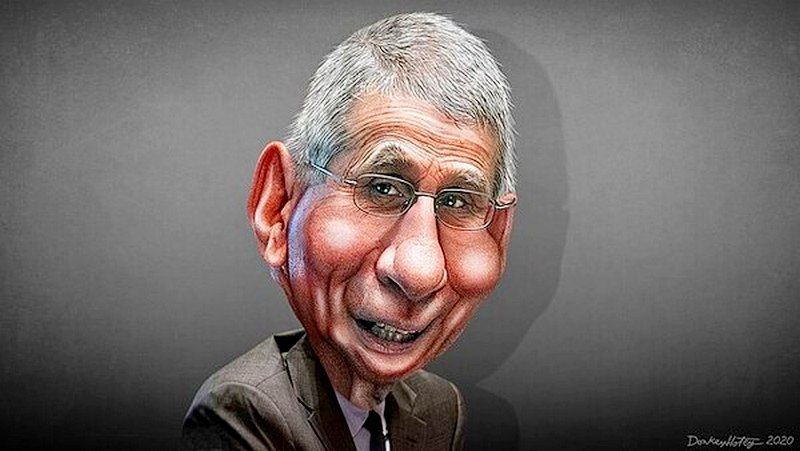 AmericanThinker - By Peter Barry Chowka - June 1, 2021
A lot has happened in the last two weeks that may result in the retirement of Dr. Anthony Fauci. The face of the government's Covid-19 response may have finally met his Waterloo. The way things are going, a forced retirement at age 80 may be the best outcome that "Dr. Doom" can expect.
It turns out that all roads to Covid-19 – even more than we expected – lead back to Fauci. Finally, after a year of stonewalling and obfuscation, the news about Fauci's apparent role in directing U.S. government funding to the notorious Wuhan Virology Lab – and the identification of that facility as the source of the worldwide Covid-19 pandemic – has gone incredibly mainstream. Previously, reporting and analysis on these issues had been the province of political outliers like Stephen K. Bannon and the guests on his six-day-a-week War Room Pandemic internet program – which is now getting renewed attention.
As I reported here in "Dr. Fauci Finally Unmasked" on May 17, the cat was coming out of the bag – and "inevitably the truth will out." But I could not have imagined how quickly the tide against Fauci would turn.
The new bottom line was articulated by Dr. Peter Navarro, who was a top assistant to President Trump during POTUS 45's entire four years in the White House. Since last fall, Navarro has been indefatigable in his probing of last November's election fraud and the equally monstrous frauds, cover-ups, and PsyOps surrounding the Covid-19 Plandemic.
Last week, speaking on an episode of Bannon's War Room Pandemic where he is a frequent guest, Navarro said out loud "Fauci will be gone in 90 days." This prediction seems like less of a pipe dream every day as the mainstream media does a 180 degree turn on their previous disinterest in the stories of Covid-19's origin and Fauci's possible role in it – not only in failing miserably to control the virus but in being an accomplice to its creation in the first place.
Baltimore Propaganda: So Bad It's Laughable
A sign of the sea change was reflected in a New York Times page one headline on May 27: "Biden Orders Intelligence Inquiry Into Origins of Virus." It's obvious that this order was not a result of effective common sense leadership, rather because of mounting political and media pressure to do something.
The same day, May 27, the Times sent an email to tens of millions of people on its list, titled "The lab-leak theory is everywhere. We have an explainer."
Two days earlier, the Washington Post published a lengthy article titled "Timeline: How the Wuhan lab-leak theory suddenly became credible." This was a de facto mea culpa for the paper's previous pathetic and politically-driven coverage without calling it an apology. It omitted mention of many sources including Steve Bannon and Red China refugee whistleblower Dr. Li-Meng Yan. It did take note of a scientific paper posted on February 6, 2020, by Botao Xiao, a molecular biomechanics researcher at South China University of Technology. The title of Xiao's paper was "The possible origins of 2019-nCoV coronavirus." It states that "the killer coronavirus probably originated from a laboratory in Wuhan."
Leading the charge to bring these developments to the mainstream, building on the reporting and analysis of many others during the past year, has been Fox News. Last week, for example, Fox featured a variety of reports about the Wuhan Virology Lab being the source of Covid-19 on multiple programs – not only opinion shows but on hard news programs. For a number of days continuing to the present time, it seemed like every Fox News program was featuring reports on these subjects, often as the lead stories. This reporting was accompanied by accounts that Fauci allegedly directed at least $600,000 in National Institutes of Health research funds to the Wuhan lab where – evidence suggests – the funds may have been employed to support gain of function research.
Gain of function is the label put on the controversial work that some scientists do to enhance and weaponize natural animal viruses, making them deadly to humans. During the period between 2014 and 2017 when Fauci allegedly engineered this funding (through a third party), gain of function research was banned in the United States by order of the Obama administration.
The day before the reports that the Biden administration had started an investigation into Covid-19's source, it was reported – by CNN, of all places – that the same administration had shut down an investigation started by the State Department in the closing days of the Trump administration to determine the source of Covid-19.
President Joe Biden's team shut down a closely-held State Department effort launched late in the Trump administration to prove the coronavirus originated in a Chinese lab over concerns about the quality of its work, according to three sources familiar with the decision.

The existence of the State Department inquiry and its termination this spring by the Biden administration – neither of which has been previously reported – comes to light amid renewed interest in whether the virus could have leaked out of a Wuhan lab with links to the Chinese military. The Biden administration is also facing scrutiny of its own efforts to determine if the Chinese government was responsible for the virus.

Those involved in the previously undisclosed inquiry, which was launched last fall by allies of then-Secretary of State Mike Pompeo, say it was an honest effort to probe what many initially dismissed: that China's biological weapons program could have had a greater role in the pandemic's origin in Wuhan, according to two additional sources.
Indeed, on May 27 and May 28, David Asher, the former lead investigator on the federal government's Covid-19 origins probe that was started under President Trump but shut down by the Biden administration, was interviewed on Fox News. Asher defended the research, and according to Fox News:
Former State Department official David Asher said Friday the coronavirus was "optimized for transmission between humans" in a way no bat-borne coronavirus ever had been, leading him to believe an animal-based origin of the disease was almost impossible.
In March, former Centers for Disease Control and Prevention Director during the Trump administration Robert Redfield said that he believed the virus most likely escaped from a lab
All of this circles back to Dr. Anthony Fauci. It has recently been reported and confirmed that the NIAID which he heads – the National Institute of Allergy and Infectious Diseases -- has granted at least $600,000 – and maybe several million dollars, according to Sen. Rand Paul – to the Communist Chinese scientists at the Wuhan lab for virus research! The first question is: Why is our National Institutes of Health doing this?
It looks even worse thanks to reports that starting in 2014 Fauci used his position to circumvent the prohibition of gain of function research by funneling NIH funds to Communist Chinese researchers at the Wuhan lab via a third party.
This is the stuff of a Tom Clancy spy novel, but it's happening here right now.
By the way, a lot of other research funded by the NIH – and Fauci's NIAID in particular – is extremely questionable.
Last month, for example, David Daleiden, the founder of the pro-life activist group Center for Medical Progress, said on Fox News that Fauci should testify before Congress about the nearly $500,000 grant his agency awarded to the University of Pittsburgh to conduct research using aborted babies' scalps grafted on to lab rats.
The Christian Post quoted Daleiden:
At the University of Pittsburgh, they were doing a study where they were taking the scalps of 5-month-old aborted babies, and they were grafting them onto lab rats and lab mice to see how much longer they could keep them growing for. You can actually see the photographs in the published study of little baby scalps grafted onto the backs of lab rats growing little baby hairs.

This study was funded by. . . multiple grants from the NIAID office, which is run by Dr. Anthony Fauci.
Fauci, Daleiden contended, owns "every bit of this study."
On May 26, Sen John Kennedy of Louisiana had the opportunity to question Fauci at a U.S. Senate hearing on Covid-19. Fauci again denied under oath that his agency ever funded gain of function research at the Wuhan Lab. But when Sen. Kennedy pressed Fauci, there was an interesting admission.
Sen. John Kennedy: "Dr. Fauci, I believe you have testified that you didn't give any money to the Wuhan lab to conduct gain-of-function research. Is that right?"

Dr. Anthony Fauci: "That is correct."

Kennedy: "How do you know they didn't lie to you and use the money for gain-of-function research anyway?"

Fauci: "Well, we've seen the results of the experiments that were done and that were published—and that the viruses that they studied are on public data bases now. So, none of that was gain-of-function, so—"

Kennedy: "How do you know that they didn't do the research and not put it on their website?

Fauci: "There's no way of guaranteeing that [emphasis added], but in our experience with grantees, including Chinese grantees, which we have had interactions with for a very long period of time, they are very competent, trustworthy scientists."
As a result of this and other statements, Tucker Carlson last week called Fauci a "liar." Sen. Paul has also called Fauci a liar.
Taking his analysis of Fauci even further, Carlson added, "Fauci, in fact, has known from the beginning that the virus may well have come from that lab. Many people have known that. But Fauci lied about it for more than a year." On May 10, Carlson asked in his opening monologue "Anthony Fauci let the coronavirus pandemic happen, why isn't there a criminal investigation?"
The coverage on Fox News and in the mainstream media has encouraged a number of Republicans to finally grow some backbone and target Fauci for questioning. It was reported on Tuesday, May 25, for example, that:
Republican lawmakers [are] demand[ing] Dr. Anthony Fauci be terminated from his role as the nation's top infectious disease expert after he was accused of flip-flopping on key COVID-related topics like mask-wearing and the origins of the coronavirus.

House Rep. Warren Davidson, a Republican from Ohio, on Tuesday May 25th proposed the "FIRED Act" -- whose acronym stands for "Fauci Incompetence Requires Early Dismissal."
Appearing on Steve Bannon's War Room Pandemic, Navarro and Bannon both recalled that in January 2020 they knew the virus came from the Wuhan lab. They noted that the "Bat lady" – the nickname for Shi Zhengli, the director of the Wuhan lab – thanked Fauci publicly for his support for the lab's controversial research.
But all last year, with the connivance of the media, Fauci was positioned as a hero. More accurately, Navarro said, "This man is a sociopath."
There were indications from Fauci's earlier role and actions as NIAID director of how he would act during the Covid-19 pandemic – intended to be the crowning achievement of his five-decade-long career in the government bureaucracy.
That's some of what I reported in my first article on Fauci and Covid over 14 months ago on March 21, 2020, at American Thinker. I'd been reporting on Fauci since 1985 and his role in HIV-AIDS and he didn't fool me for a minute. Meanwhile, the medical press in this country, including in their decades-long hysterical reporting on HIV-AIDS, has been corrupt even longer than the entire mainstream media. Fauci's questionable direction of the War on AIDS has never been adequately examined by the Fourth Estate except in a handful of independent reports and books.
Basically, Fauci and his colleagues rewrote the book of science when they contended that AIDS was the result of a virus, HIV. Over time, they changed their stories repeatedly. (Sound familiar?) In the late 1980s, the powers that be were crying wolf and predicting that up to one-quarter of Americans could be expected to die of AIDS. The real death toll over four decades turned out to be about 0.5 percent of what was predicted. Based on these grossly exaggerated estimates, Fauci and his colleagues wanted to test everyone on the planet for HIV and to prescribe expensive – and toxic -- prophylactic drugs if an individual tested positive for HIV and not for AIDS itself. These insane ideas could not gain traction, however. That didn't stop Fauci et al from spending hundreds of billions of tax dollars on a useless search for an AIDS vaccine that has never been developed. Meanwhile, the cause of AIDS has been known since day one: so-called unsafe sex as practiced primarily by gay men and sharing unsterile needles used to inject illegal drugs.
Fauci and his colleagues also presided over the creation of a monstrous government-influenced and government-run medical establishment. Thanks to Covid-19, this behemoth bureaucracy is now in the driver's seat for most aspects of our lives – the final dream come true for control freaks like Fauci.
Meanwhile, this news that China's military discussed weaponizing coronaviruses (which I first reported on fifteen days ago at AT here) has yet to make it to the mainstream, but it can't lie dormant for too much longer.
The Australian, a leading nationally circulated paper there, published an article on May 7 headlined "'Virus warfare' in China military documents."
Chinese military scientists discussed the weaponisation of SARS coronaviruses five years before the COVID-19 pandemic, outlining their ideas in a document that predicted a third world war would be fought with biological weapons.
In its article "New Era' May Be Upon Us," the Daily Telegraph, another leading Australian newspaper, reported:
Forget the prospect of war with China. We may already be at war – but simply failed to recognise the weaponry.
---
THE ROCKEFELLER INSTITUTE, NYC HAVE BEEN FUNDING CHINESE LABS SINCE WWI AND WAS RESPONSIBLE FOR THE SPANISH FLU-IN 1914
Rockefeller Foundation Bankrolling COVID Commission Formed by Pro-China Economist
The Rockefeller Foundation reportedly has contributed $300,000 to a coronavirus commission formed by a pro-China economist who has called the United States the "greatest threat" to global peace.
The Lancet COVID-19 Commission is a collaboration between the British medical journal and Jeffrey Sachs, a prominent liberal economist who previously advised the Chinese government.
The commission says its goal is to develop recommendations for fighting coronavirus and addressing the economic fallout from the pandemic. The presence of Sachs and others, however, has raised alarms about the possibility of China influencing the panel as it advises governments and United Nations institutions, The Washington Free Beacon reported Tuesday.
Progressive groups advocated for Beijing-friendly Sachs to get a spot in the Biden administration. The commission's chairman and a Columbia University professor, Sachs also maintains ties to the World Health Organization and U.N., for which he served as an adviser through 2018.
Some of the world's most prominent officials in the health community are taking part in the Lancet COVID-19 commission. Lancet is considered one of the premier medical journals internationally.
The Rockefeller Foundation's $5 billion endowment funds numerous global health initiatives, including the Lancet COVID-19 commission.
The commission also receives funding from the Nizami Ganjavi International Center, an Azerbaijan-based think tank that has been praised by a Chinese ambassador for its "close cooperation" with Beijing.
Sachs has a long track record of defending China and criticizing U.S. foreign policy.
Columbia University President Lee Bollinger was the recipient of a February letter from a network of advocacy groups accusing Sachs of downplaying China's genocide against Uyghur Muslims and criticizing democracy movements in Hong Kong and Taiwan.
Sachs had accused the U.S. of trying to "stir unrest" by promoting democracy protests in Hong Kong.
The advocacy groups said Sachs' comments were "in line with [People's Republic of China] state propaganda."
An adviser to China's State Development Planning Commission from 2001-2002, Sachs appeared numerous times on Chinese state media to lambaste America, including in 2020 when he accused some in the Trump administration of waging an "unholy crusade" against the Communist country.
After American officials pushed for an international investigation against Chinese tech giant Huawei in 2018, Sachs called the U.S. government the "greatest threat" to international law and global peace.
He also defended China at a September event about the pandemic held by the Nizami Ganjavi International Center and the China Public Diplomacy Association.
"I do not believe that China is the root of the current problems; I believe that the tensions have arisen mainly from the United States side," said Sachs, who said conservatives were seeking a cold war with China.
Sachs, in a column for CNN last May, said Republicans were being "reckless and dangerous" by suggesting that coronavirus started in a Wuhan lab before it escaped. The "escape theory," however, has emerged as the most plausible way the virus spread, given new evidence and analysis about the virus' makeup and characteristics.
Meanwhile, Lancet Editor Richard Horton has developed bonds with Chinese state and media officials.
Horton and Sachs announced the formation of the COVID-19 Commission in a Lancet article on July 9.
© 2021 Newsmax. All rights reserved.
---
Emails Show Anthony Fauci Scrambled at Beginning of Pandemic to Determine Potential U.S. Role in Funding Coronavirus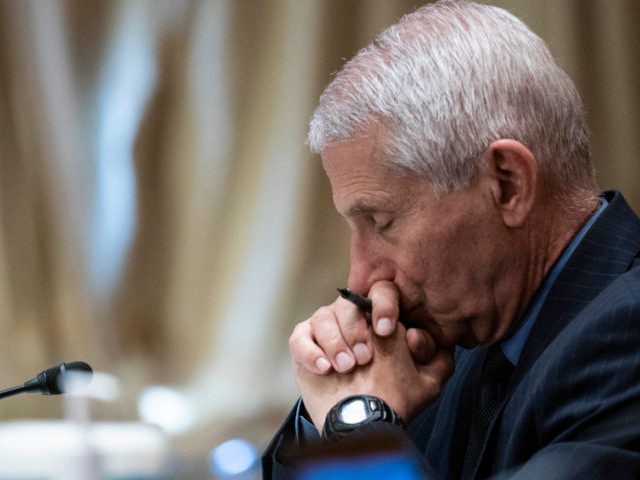 Breitbart - WENDELL HUSEBØ - 2 Jun 20211
Emails show Dr. Anthony Fauci scrambled February 1, 2020, to determine if the United States had any potential role in funding coronavirus research "abroad."
National Institute of Allergy and Infectious Diseases (NIAID) Principal Deputy Director Hugh Auchincloss responded to an email from Fauci, writing it is "essential" the two speak together about a scientific paper about "experiments… performed before the gain of function pause."
"The paper you sent me says the experiments were performed before the gain of function pause but have since been reviewed and approved by NIH," Auchincloss responded to Fauci. "Not sure what that means since Emily is sure that no Coronavirus work has gone through the P3 framework. She will try to determine if we have any distant ties to this work abroad."
"It is essential that we speak this AM. Keep your cell phone on," Fauci initially wrote t0 Auchincloss. "I have a conference call at 7:45 AM with Azar. It likely will be over at 8:45 Am. Read this paper as well as the e-mail that I will forward to you now. You will have tasks today that must be done."
A couple months later, the man responsible for steering U.S. government funding to the Wuhan Institution of Virology, Peter Daszak, the president of the EcoHealth Alliance, thanked Dr. Anthony Fauci on April 18, 2020 for publicly dismissing the theory coronavirus may have leaked from the lab.
"I just wanted to say a personal thank you on behalf of our staff and collaborators, for publicly standing up and stating that the scientific evidence supports a natural origin for COVID-19 from a bat-to-human spillover, not a lab release from the Wuhan Institute of Virology," Daszak emailed.
Breitbart News reported March 29, 2020, Daszak would be in Wuhan personally leading a World Health Organization (W.H.O.) team nearly 12 months earlier charged with investigating the theory of an accidental laboratory leak being behind the origin of coronavirus.
Daszak even told CBS's Lesley Stahl shortly after there was "no evidence" to back the theory that a leak led to the virus.
But Kevin J. Olival, a researcher for the same company, EcoHealth Alliance, received a letter dated April 19, 2020 from Dr. Michael Lauer, the NIH's deputy director for extramural research, informing Olival the potentiality of a lab leak is under investigation:
EcoHealth Alliance, Inc. is the recipient, as grantee, of an NIH grant entitled 'Understanding the Risk of Bat Coronavirus Emergency'

"It is our understanding that one of the sub-recipients of the grant funds is the Wuhan Institute of Virology ('WIV'). It is our understanding that WIV studies the interaction between corona viruses and bats. The scientific community believes that the coronavirus causing COVID-19 jumped from bats to humans likely in Wuhan where the COVID-19 pandemic began.

There are now allegations that the current crisis was precipitated by the release from WIV of the coronavirus responsible for COVID-19. Given these concerns, we are pursuing suspension of WIV from participation in Federal programs.

…

It is in the public interest that NIH ensure that a sub-recipient has taken all appropriate precautions to prevent the release of pathogens that it is studying.

This suspension of the sub-recipient does not affect the remainder of your grant assuming that no grant funds are provided to WIV following receipt of this email during the period of suspension.
President Joe Biden has since canceled former Attorney General Bill Barr's Department of Justice investigation into the matter, while asking his intelligence apparatus May 26 to look into the matter.
Biden's Director of National Intelligence (DNI) said May 27 that coronavirus originating from a Chinese lab exists within the realm of possibility.
Meanwhile, Fauci said May 25 the National Institutes of Health (NIH) funded the Wuhan lab, but he still denies gain of function research support in relation to the origin of the flu.
Sen. Rand Paul (R-KY) declared May 25 that Dr. Fauci committed perjury May 12 over his gain of function comments related to Communist China's lab.
Paul was questioned on Real America's Voice, "Do you believe he [Fauci] perjured himself?"
"Absolutely," Paul said. "He lied to the American people."
Paul expressed May 26 that Fauci should be "made to testify under oath" about if the NIAID funded the Wuhan Institute of Virology's gain of function research.
---
As per the article above, Rockefeller Institute, NYC has been funding Chinese labs since 1913.
Founded by oil baron John D. Rockefeller in 1913, The Rockefeller Foundation has long held ties with China, creating the China Medical Board in 1914 to fund medical research at universities there.
The Rockefellers have other ties to China, too. The Rockefeller Brothers Fund, another charitable foundation affiliated with the family, financially supports multiple Chinese environmental groups with links to the Communist Party.
The Rockefeller Brothers Fund also bankrolls the Quincy Institute, whose fellows have denied the Uyghur genocide and been accused of repeating anti-Semitic talking points.
---
Email Shows Researcher Who Funded Wuhan Lab, Admits Manipulating Coronaviruses, Thanked Fauci For Dismissing Lab-Leak Theory

ZeroHedge - BY TYLER DURDEN -WEDNESDAY, JUN 02, 2021
Authored by Steve Watson via Summit News,
Dr Fauci's emails have been released via a Freedom of Information Act request, and there is some pretty interesting stuff in them, particularly one email where a researcher who funded the Wuhan Institute of Virology thanks Fauci for publicly dismissing the lab leak theory early on during the pandemic.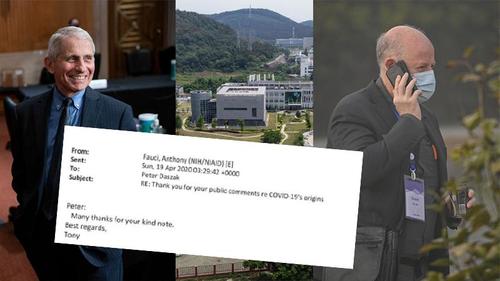 The email from Dr. Peter Daszak, President of the EcoHealth Alliance, a group that has extensive ties to the Wuhan lab gain of function research, sent the email to Fauci on April 18, 2020, roughly six weeks after the outbreak had taken hold.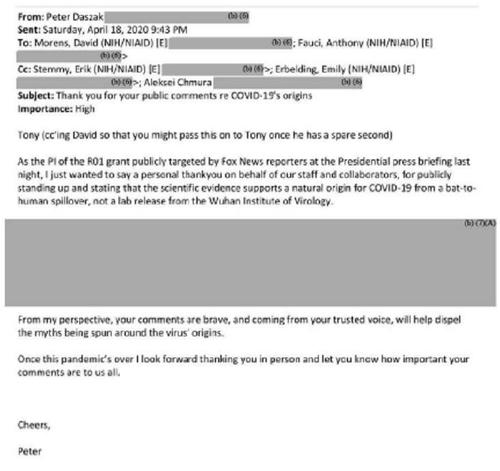 The email states:
"As the Pl of the ROl grant publicly targeted by Fox News reporters at the Presidential press briefing last night, I just wanted to say a personal thank you on behalf of our staff and collaborators, for publicly standing up and stating that the scientific evidence supports a natural origin for COVID-19 from a bat-to-human spillover, not a lab release from the Wuhan Institute of Virology.

From my perspective, your comments are brave, and coming from your trusted voice, will help dispel the myths being spun around the virus' origins. Once this pandemic's over I look forward thanking you in person and let you know how important your comments are to us all."
Fauci responded to the email the day after, writing
"Peter:

Many thanks for your kind note.

Best Regards,

Tony"
Daszak, who also works for the World Health Organisation, is on record admitting that he was involved with manipulating coronaviruses. Here is a video of him talking in DECEMBER 2019 about how 'good' the viruses are for messing around with in a lab:
Daszak notes that "coronaviruses are pretty good… you can manipulate them in the lab pretty easily… the spiked proteins drive a lot about what happens. You can get the sequence you can build the protein, we work with Ralph Baric at UNC to do this, insert into the backbone of another virus and do some work in a lab."
Elsewhere, the emails show that Fauci also knew very early on, before the WHO even declared a pandemic, that researchers suspected the virus had been 'potentially engineered' in a lab, as this exchange with Kristian G. Andersen of the Scripps Research Institute from January 2020 shows:
The emails with Fauci show that Daszak had already dismissed the lab leak notion nearly a year before that 'investigation' began, and despite other researchers saying it looked potentially engineered.
Perhaps the most disturbing aspect of this is that Daszak was one of the lead "investigators" on the WHO panel tasked with looking into the origins of the pandemic.
Is it any surprise that this guy, whose organisation has shovelled at least $600,000 to the Wuhan Institute of Virology in the past few years to play around with coronaviruses inside the lab, determined within 3 hours of visiting the lab in February 2021 that there was 'nothing to see here'?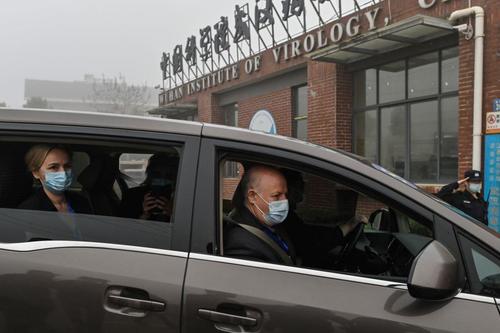 Peter Daszak (R), Thea Fischer (L) and other members of the World Health Organization (WHO) team investigating the origins of the COVID-19 coronavirus, arrive at the Wuhan Institute of Virology in Wuhan in China's central Hubei province on February 3, 2021. (Photo by Hector RETAMAL / AFP) (Photo by HECTOR RETAMAL/AFP via Getty Images)
Daszak, like Fauci, has also since denied that there was any gain of function research being conducted at the Wuhan lab, and that it wasn't being funded by EcoHealth Alliance or via the NIH with US tax dollars.
These are blatant lies, as there is mountains of evidence that confirms this was exactly the case.
Why would they deny it when it can be so easily proven the research was being conducted?
Another interesting factoid about Daszak is that he was employed as an 'expert fact checker' by Facebook when it was monitoring and removing 'misinformation' about the origins COVID on its platform.
If all of that doesn't scream coverup then what does?
*  *  *
Brand new merch now available! Get it at https://www.pjwshop.com/
---
COPYRIGHTS
Copy & Paste the link above for Yandex translation to Norwegian.
WHO and WHAT is behind it all ? : >
The bottom line is for the people to regain their original, moral principles, which have intentionally been watered out over the past generations by our press, TV, and other media owned by the Illuminati/Bilderberger Group, corrupting our morals by making misbehaviour acceptable to our society. Only in this way shall we conquer this oncoming wave of evil.
Commentary:
Administrator
HUMAN SYNTHESIS
All articles contained in Human-Synthesis are freely available and collected from the Internet. The interpretation of the contents is left to the readers and do not necessarily represent the views of the Administrator. Disclaimer: The contents of this article are of sole responsibility of the author(s). Human-Synthesis will not be responsible for any inaccurate or incorrect statement in this article. Human-Synthesis grants permission to cross-post original Human-Synthesis articles on community internet sites as long as the text & title are not modified