Ex UN-CLAIRE EDWARDS - THE COVID-19 GENOCIDE OF 2020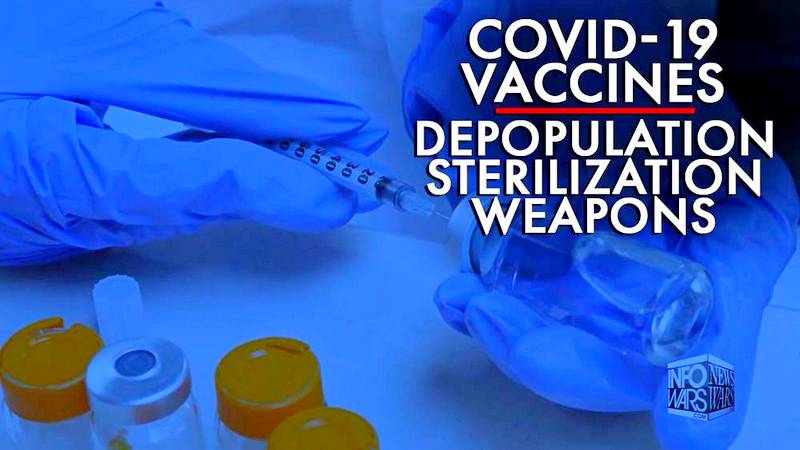 Bitchute - CLAIRE-EDWARDS - Published at 08:46 UTC on May 6th, 2021.
In this video, former UN staff member Claire Edwards reads the paper entitled 'The COVID-19 Genocide of 2020'. This message might be hard for some people to believe because the truth is being suppressed as demonstrated by the fact that this video and many others like it are not allowed on YouTube or other major social media sites. While the facts are being suppressed, the public is being indoctrinated with lies from the mainstream news media to deceive us on the fake Covid-19 plandemic.
This video is for all the disbelievers in the supposed Conspiracy Theory that they're out to depopulate the world. The truth always comes out in the end. Covid-19 shots are not vaccines, but deadly bioweapons designed to kill human beings. The Covid-19 hoax is a long planned agenda that has been put in place and orchestrated by the psychopathic Governments around the world, to destroy our lives, take away our freedoms and control us forever. If people don't wake up now and refuse to take these vaccines, it could be what really ends up destroying civilization all together, which is exactly what Governments want to happen..
Covid-19 does not exist, there is no scientific proof or the existence of the Covid19 virus, as it has NEVER been isolated, purified in a laboratory using Kochs Postulates or demonstrated under an electron microscope. PCR test shows only an RNA sequence COMPUTER model of the virus, not a real virus. No one has seen how this "virus" looks in reality. The problem is what they are showing in "positive" PCR tests is our body's own harmless exosomes which look exactly like Covid-19. The scientist who invented the PCR (Polymerase Chain Reaction) test Kary B. Mullis.
According to Mullis himself, PCR should never be used as a tool in "the diagnosis of infectious diseases." These tests do not detect viruses or infectious diseases, but RNA which we all have. Anyone who takes a test, will test positive for Covid-19 because of harmless exosomes and something called amplification. They increase amplification for more positive cases and decrease it for more negative cases. They can have as many or as little cases they like to push the Covid-19 agenda. And that is how they pull of the great Covid-19 plandemic hoax. Its all smoke, mirrors, deceptions and lies!!!.
The Covid vaccine injects strange nano-particles into our bloodstream.
THE COVID VACCINE CONTAINS METAL!!   **
Have you been marked and chipped when you took the vaccines? A magnet sticks to the injection point right after the vaccine is injected.
Covid-19 vaccination INCREASED the death rate. (world statistics)
Former Pfizer VP: 'Your government is lying to you about Covid in a way that could lead to your death

Vaccine impact covers the real truth regarding vaccine safety, side effects and the impact vaccines have on individual and families.

The Covid-19 PCR swabs are sterilized with cancer causing agent Ethylene Oxide

MODERNA, PFIZER VACCINES CAUSE BLOOD CLOTS, BRAIN INFLAMMATION AND HEART ATTACKS

THE mRNA CORONAVIRUS VACCINES WILL LIKELY CAUSE IMMUNE CELLS TO ATTACK PLACENTA CELLS, CAUSING FEMALE INFERTILITY(STERALIZATION), MISCARRIAGE OR BIRTH DEFECTS

CANADIAN PUBLIC HEALTH OFFICIALS HAVE NO RECORD OF SARS-COV-2 ISOLATION/PURIFICATION PERFORMED ANYWHERE. EVER

10 REASONS THAT SARS-CoV-2 IS AN IMAGINARY AND THEORETICAL VIRUS

CLININCAL LAB SCIENTIST PROVES COVID-19 IS FAKE, THERE IS NO VIRUS

THE DECEPTION OF VIROLOGY & VACINES WHY CORONAVIRUS IS NOT CONTAGIOUS

The COVID-19 RT-PCR Test: How to Mislead All Humanity. Using a "Test" not testing for the virus but RNA we all have

COVID-19 HAS NEVER BEEN ISOLATED IN A LAB OR PROVEN TO EXIST THROUGH A KOCHS POSTULATES

CORONAVIRUS: THE TRUTH ABOUT THE PCR TEST KIT FROM THE INVENTOR

FACE MASKS CAUSE BRAIN DAMAGE THAT CAN NOT BE REVERESED

DR ANDREW KAUFMAN AND THE EXOSOMES (CORONAVIRUS TRUTH)
---
METALLIC NANOPARTICLES USED IN VACCINES **
Metallic nanoparticles have fascinated scientist for over a century and are now heavily utilized in biomedical sciences and engineering. They are a focus of interest because of their huge potential in nanotechnology.
Today these materials can be synthesized and modified with various chemical functional groups which allow them to be conjugated with antibodies, ligands, and drugs of interest and thus opening a wide range of potential applications in biotechnology, magnetic separation, and preconcentration of target analytes, targeted drug delivery, and vehicles for gene and drug delivery and more importantly diagnostic imaging.
Moreover, various imaging modalities have been developed over the period of time such as MRI, CT, PET, ultrasound, SERS, and optical imaging as an aid to image various disease states.
In general, nanoparticles used in the field of biotechnology range in particle size between 10 and 500 nm, seldom exceeding 700 nm. The nanosize of these particles allows various communications with biomolecules on the cell surfaces and within the cells in way that can be decoded and designated to various biochemical and physiochemical properties of these cells.
---
COPYRIGHTS
Copy & Paste the link above for Yandex translation to Norwegian.
WHO and WHAT is behind it all ? : >
The bottom line is for the people to regain their original, moral principles, which have intentionally been watered out over the past generations by our press, TV, and other media owned by the Illuminati/Bilderberger Group, corrupting our morals by making misbehaviour acceptable to our society. Only in this way shall we conquer this oncoming wave of evil.
Commentary:
Administrator
HUMAN SYNTHESIS
All articles contained in Human-Synthesis are freely available and collected from the Internet. The interpretation of the contents is left to the readers and do not necessarily represent the views of the Administrator. Disclaimer: The contents of this article are of sole responsibility of the author(s). Human-Synthesis will not be responsible for any inaccurate or incorrect statement in this article. Human-Synthesis grants permission to cross-post original Human-Synthesis articles on community internet sites as long as the text & title are not modified.