Prof. Kevin McHugh-Sugar micro needles for transdermic delivery of drugs.
Kevin McHugh
Assistant Professor of Bioengineering
CPRIT Scholar in Cancer Research

CONTACT
BRC Suite 421 | kevin.mchugh@rice.edu
WEBSITE(S)| McHugh Lab | Google Scholar Profile
Kevin McHugh's primary research interest is in the development of biomaterial microdevices for drug delivery and tissue engineering. His laboratory combines cutting edge manufacturing techniques (e.g. multi-photon 3D printing) at the nano- and microscale with favorable material properties to facilitate device behavior. By using polymers' well-understood structure-function relationships, McHugh aims to rationally design constructs that demonstrate predictable behavior and can be customized for a variety of applications. New research in the McHugh Lab, which is supported by a $2 million grant from the Cancer Prevention and Research Institute of Texas (CPRIT), aims to apply the controlled-release technology he has developed for vaccines to cancer immunotherapy for the treatment of hepatocellular carcinoma.
Prior to arriving at Rice, McHugh's research focused on the use of microfabrication, 3D printing and soft lithography to generate drug delivery platforms aimed at improving global health. As a postdoctoral fellow in the laboratory of Robert Langer at the Massachusetts Institute of Technology, McHugh developed two technologies focused on improving vaccination rates in the developing world.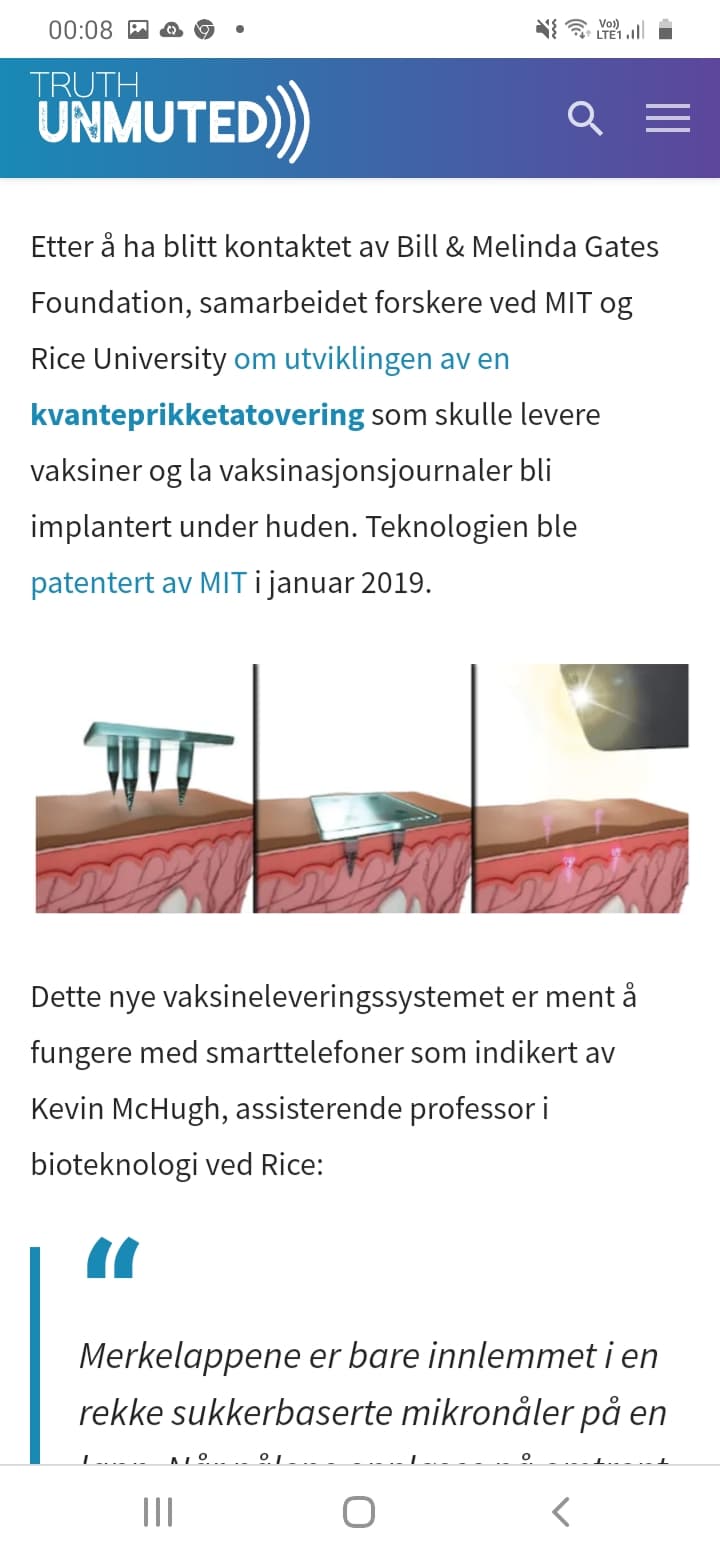 ---
Abstract
We designed and fabricated an array of sugar micro needles of the length ranging from 150 μ m to 2 mm for transdermic delivery of drugs. Micro needles were molded out of maltose mixed with pharmaceutical material, being expected bio-degradable in the human skin. To test basic tolerance to the healthy human skin, a clinical experiment was carried out for 10 healthy adult volunteers. 500 μ m-needles containing 5 wt% of ascorbate-2-glycoside were inserted into the skin of the forearm and snapped off to be left in the skin. They spontaneously dissolved by hydrolysis to release ascorbate in the epidermis and the dermis. No dermatological problems were observed in terms of the International Contact Dermatitis Research Group criteria. These observations indicate that the present system is a novel approach to achieve transdermic drug delivery.
---
The first created a pulsatile drug delivery platform that could to eliminate the need for multiple injections prior to full immunization. As part of this effort, McHugh and colleagues developed a novel process termed the stamped assembly of polymer layers which enabled the fabrication of polymeric microparticles with a core-shell structure. By controlling the composition of the polymeric shell, he demonstrated the ability to tune drug release from days to months. He then showed that this controlled-release system to achieve an immune response that was more robust after a single injection of microparticles than the response to multiple injections of the antigen. His other postdoctoral project developed an invisible, microneedle-based platform for determining vaccination status in areas of the developing world that lack proper medical recordkeeping.
All of McHugh's research is focused on developing technologies with the potential to be translated to the clinic. His work has resulted in patents for technology ranging from advanced microscale manufacturing techniques to predictive computational modeling of disease and led to the founding of an early-stage startup company.
---
Research Statement
The McHugh Lab has three major research thrusts:
Drug Delivery: Pharmaceutical interventions have demonstrated an enormous benefit in preventing, treating, and curing disease; however, many drugs are limited by toxic off-target effects, complex dosing regimens, and low potency. Efforts in the McHugh Lab focus on achieving favorable release profiles and/or targeting key anatomical sites to improve the safety, efficacy, and convenience of drugs. The lab is particularly interested in the delivery of vaccines, prophylactics, and drugs for chronic disease.
Cancer Immunotherapy: Engaging the immune system to fight cancer has changed treatment paradigms and improved outcomes for many patients. Unfortunately, existing therapies do not work for all types of cancers, can be associated with harmful systemic immune responses, and are often very expensive. The McHugh Lab is taking a multidisciplinary approach to overcome these issues with drug delivery of immunostimulatory molecules and in vivo cell therapy.
Tissue Engineering: Despite the demand for healthy replacement organs, such as hearts, kidneys, and livers, the production of bioengineered tissues that fully mimic the behavior and function of native organs has yet to be achieved. The McHugh Lab is developing bioinstructive materials and scaffolds that direct the organization of multiple cell types in 3D to create functional tissues for regenerative medicine.
Research Areas
Biomaterials, Biofabrication & Mechanobiology and Cellular, Molecular and Genome Engineering & Synthetic Biology applied to Immunoengineering & Cancer; Tissue Engineering & Regenerative Medicine; Global Health Technologies; Drug Delivery; Gene & Cell Therapies; and Nanomedicine.
Education
Postdoctoral Research Fellow, Langer Lab, Koch Institute for Integrative Cancer Research, MIT (2014-2019)
Ph.D., Biomedical Engineering, Boston University (2014)
M.S., Biomedical Engineering, Boston University (2012)
B.S., Biomedical Engineering, Case Western Reserve University (2009)
---
COPYRIGHTS
Copy & Paste the link above for Yandex translation to Norwegian.
WHO and WHAT is behind it all ? : >
The bottom line is for the people to regain their original, moral principles, which have intentionally been watered out over the past generations by our press, TV, and other media owned by the Illuminati/Bilderberger Group, corrupting our morals by making misbehaviour acceptable to our society. Only in this way shall we conquer this oncoming wave of evil.
Commentary:
Administrator
HUMAN SYNTHESIS
All articles contained in Human-Synthesis are freely available and collected from the Internet. The interpretation of the contents is left to the readers and do not necessarily represent the views of the Administrator. Disclaimer: The contents of this article are of sole responsibility of the author(s). Human-Synthesis will not be responsible for any inaccurate or incorrect statement in this article. Human-Synthesis grants permission to cross-post original Human-Synthesis articles on community internet sites as long as the text & title are not modified.