DOJ Raises Concerns About Maricopa County Election Audit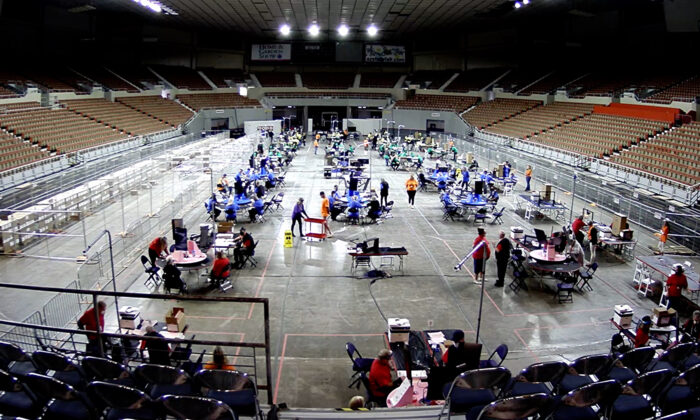 Real-time camera footage of Maricopa County's large-scale audit of the 2020 election, Maricopa County, Ariz. (Screenshot/The Epoch Times)
The Epoch Times - BY IVAN PENTCHOUKOV - Updated: May 6, 2021
The U.S. Department of Justice on May 5 raised concerns about the ongoing 2020 election audit in Maricopa County, Arizona.
In a letter (pdf) to Arizona Senate President Karen Fann, DOJ Principal Deputy Assistant Attorney General Pamela Karlan cited news reports to inquire about the custody of the ballots currently under review by a group of private contractors. Karlan also complained that a portion of the audit work that involves canvassing the addresses on the ballots may amount to "voter intimidation."
"The first issue relates to a number of reports suggesting that the ballots, elections systems, and election materials that are the subject of the Maricopa County audit are no longer under the ultimate control of state and local elections officials, are not being adequately safeguarded by contractors at an insecure facility, and are at risk of being lost, stolen, altered, compromised, or destroyed," Karlan wrote, citing a pair of news articles as the source for her allegations.
Related Coverage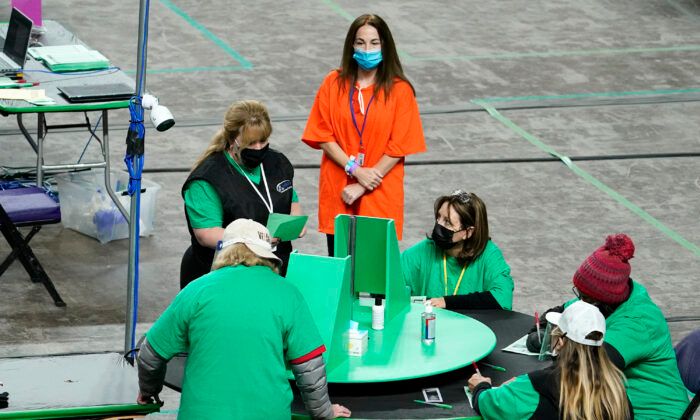 Arizona Elections Chief Alleges Problems in Maricopa County Audit of 2020 Election  ( Kathie Hobbs letter of complaint .pdf)
One of the articles Karlan cited, alleged that there were security lapses in the audit process. The only evidence the article offered for the claim are the opinions of a local Democrat politician and a security expert, both of whom formed their opinions based on a video prepared by a local news channel. The second and third articles Karlan cited were published in January and February, before the venue and the contractors for the audit were selected.
Karlan also raised concerns about a plan by one of the audit contractors, Cyber Ninjas, to verify the validity of certain voter registrations with questionable addresses by dispatching people to verify whether the voter lived at the address on the registrations.
"This description of the proposed work of the audit raises concerns regarding potential intimidation of voters. The Department enforces a number of federal statutes that prohibit intimidation of persons for voting or attempting to vote," Karlan wrote, citing a section of the Voting Rights Act which prohibits voter intimidation.
"Past experience with similar investigative efforts around the country has raised concerns that they can be directed at minority voters, which potentially can implicate the anti-intimidation prohibitions of the Voting Rights Act," Karlan added. "Such investigative efforts can have a significant intimidating effect on qualified voters that can deter them from seeking to vote in the future."
Fann's office did not respond to a request for comment.
Arizona Secretary of State Katie Hobbs, a Democrat who opposes the audit, wrote on Twitter that she's "glad to finally see an enforcement agency ready to protect Arizona voters."
"On the heels of my letter highlighting security shortfalls at the 'audit' and potential for voter intimidation, DOJ is raising those same concerns, including that ballots aren't properly safeguarded," Hobbs said.
Arizona State Senator Wendy Rogers, a Republican, issued on Twitter late on May 5 what appeared to be a warning in response to the DOJ letter. "'Justice' Department – you need to stay in your lane. Do not touch Arizona ballots or machines unless you want to spend time in an Arizona prison," she wrote.
The Brennan Center for Justice think tank and two other groups asked the DOJ last week to send monitors to observe the audit, relaying concerns that auditors were violating federal law.
"Specifically, we believe that the senate and its agents, including Cyber Ninjas, are 1) violating their duty under federal law to retain and preserve ballots cast in a federal election, which are and have been in danger of being stolen, defaced, or irretrievably damaged, and 2) preparing to engage in conduct which will constitute unlawful voter intimidation in violation of the Voting Rights Act and other federal laws," Wendy Weiser, Elizabeth Howard, and Hannah Klain from the center at the New York University School of Law said.
But former Arizona Secretary of State Ken Bennett, a Republican tapped by Fann as the audit's liaison, told The Epoch Times that the letter's fundamental assertions were "completely unfounded."
"We will be sending a rebuttal letter I guess for lack of a better word to the same people they sent it to. We welcome DOJ or anyone else to come see what's really happening, because the ballots are secure, and there's no risks or any of the things that claim there are," he said.
The audit is taking place at the Arizona Veterans Memorial Coliseum in Phoenix.
Mimi Nguyen Ly and Zachary Stieber contributed to this report.
---
Viewer comment:  
Erline Iacaboni
5/6/2021 at 3:13 PM
−
Riiiggghhhhhtttt!!!! The only concerns the DOJ has is Maricopa County coming out as fraudulent and then they're BUSTED!!!! The weaponization of our Constitution, FBI, DOJ, & THE OFFICE OF PRESIDENT OF THE UNITED STATES! Being used against Americans!!!
Where is the accountability that our elected officals are to be held to eh?! I'll tell ya!!  They've wheedled themselves into positions of power so that they make & enact laws to persecute people whose only crime is being the wrong color!!
If this is a glimpse of the future we should ALL BE AFRAID VERY VERY AFRAID!!
---
05 May 2021
U.S. Department of Justice Civil Rights Division
May 5, 2021 - VIA EMAIL
The Honorable Karen Fann President, Arizona State Senate 1700 West Washington Street, Room 205 Phoenix, AZ 85007U.S. Department of Justice Civil Rights Division

28 APRIL 2021
California Officials, Biden-Linked Firm Coordinated With Big Tech to Censor Election Posts
6 MAY 2021
Biden Supports Big Tech Cracking Down on 'Disinformation
---
COPYRIGHTS
Copy & Paste the link above for Yandex translation to Norwegian.
WHO and WHAT is behind it all ? : >
The bottom line is for the people to regain their original, moral principles, which have intentionally been watered out over the past generations by our press, TV, and other media owned by the Illuminati/Bilderberger Group, corrupting our morals by making misbehaviour acceptable to our society. Only in this way shall we conquer this oncoming wave of evil.
Commentary:
Administrator
HUMAN SYNTHESIS
All articles contained in Human-Synthesis are freely available and collected from the Internet. The interpretation of the contents is left to the readers and do not necessarily represent the views of the Administrator. Disclaimer: The contents of this article are of sole responsibility of the author(s). Human-Synthesis will not be responsible for any inaccurate or incorrect statement in this article. Human-Synthesis grants permission to cross-post original Human-Synthesis articles on community internet sites as long as the text & title are not modified.