Breivik gråt av egen propagandavideo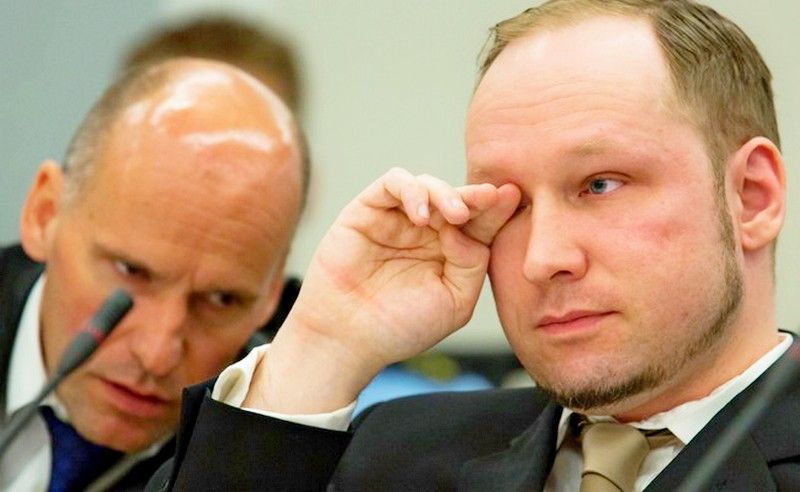 SAL 250 (NRK.no) Da aktor Svein Holden spilte av videoen som Breivik selv la ut på nettet før terrorangrepet begynte tiltalte å gråte i rettssalen.
Øyvind Bye SkilleJournalistCamilla WernersenJournalistSiv SandvikJournalistAmund Aune NilsenJournalistAnders BrekkeJournalistSu Thet MonJournalistPublisert 16. apr. 2012 kl. 06:51 Oppdatert 16. apr. 2012 kl. 15:34
Etter å først ha gått gjennom hvordan Breivik planla sine terrorhandlinger spilte statsadvokaten av videoen som den terrortiltalte 33-åringen publiserte på nettet kort tid før 22. juli i fjor.
Filmen er et sammendrag av det såkalte manifestet Breivik sendte ut på e-post til drøyt 1000 mottakere om morgenen 22. juli.
Da det ble klart at videoen skulle spilles av virket Breivik først svært tilfreds med at retten skulle få se videoen han selv har laget. Men halveis ut i filmen begynte 33-åringen plutselig å gråte.
Den tiltalte tørket tårene, og ble tydelig beveget av sin egen propagandavideo.
Dette er første gang Breivik viser sterke følelser under rettssaken.
Videoen inneholder ulike bilder og tekster om ideologien som tiltalte mener han står for. Bildene ledsages av en pompøs musikk.
Pårørende så bort
Musikken til videoen skapte en spesiell stemning i rettssal 250. Noen etterlatte så bort, mens andre valgte å følge med på skjermene.
Etter å tydelig ha måttet tørke tårer tar Breivik seg litt sammen, og ser resten av videoen.
Ved bruk av tettskrevet, nærmest uleselig tekst ga Breivik sine definisjoner av kulturell marxisme, islam og nazisme. Filmen viser deretter hvordan Breivik mener den påståtte organisasjonen «Knights Templar» skal redde Europa fra den sikre undergang.
Ledsaget av bilder av korsfarere oppfordrer videoen andre til å bidra i kampen mot det Breivik mener er Europas fiender.
Psykiatriekspert Kjersti Narud sier til NRK at Breiviks reaksjon kan ha en dypere mening:
– Han har ikke vist evne til empati overfor ofrene i denne saken. Men det kan være at at han nå ser at det han trodde han skulle fått til, er gått tapt, det kan være dette som gjør at han reagerer, sier Narud.
– Produserte bomben selv
Visningen av videoen var avslutningen på aktoratets gjennomgang av Breiviks forberedelser.
Statsadvokat Svein Holden ga retten en innføring både i Breiviks manifest og hvordan han la ut propagandafilmen på nettet.
Før aktoratet gikk gjennom de ideologiske sidene ved planleggingen var temaet innkjøp av våpen, utrustning og deler til bomben.
Før lunsj gikk aktoratet også gjennom hvordan Breivik laget bomben i detalj. Mye av forklaringen ble illustrert av tiltaltes egne bilder og tegninger, blant annet fra Vålstua gård.
Statsadvokaten startet gjennomgangen av Breiviks bombeproduksjon med å slå fast at alt i Breiviks forklaringer til politiet tyder på at han har laget bomben selv, slik han også har forklart politiet.
– Breivik begynte å leie Vålstua gård fra 1. mai 2011, og flyttet inn den 4. mai, sa Holden i retten.
– Til politiet har Breivik beskrevet i detalj hvordan han satte sammen bomben. Forklaringen er nøye gått gjennom av politiet, og konklusjonen er at bomben er laget slik Breivik beskriver, forklarte statsadvokaten.
Politiet har ved hjelp av Breiviks anvisninger laget en lignende bombe og prøvesprengt den.
Ifølge aktor Svein holden består bomben av fire deler:
Primær sprengstoff
Sekundær sprengstoff
Hovedsprengstoff
Forsterkning
– Ingen tvil
Alle delene ble til slutt satt sammen til en over 900 kilos tung bombe i Breiviks varebil.
I retten fikk tilhørere og parter se bilder fra både politiets prøvespregning, og bilder Breivik selv tok under produksjonen på Vålstua gård.
Breivik og hans forsvarere fulgte nøye med når Holden viste bilder fra politiets prøvesprenging.
Aktoratet mener det er klart at Breivik leide Vålstua gård med hovedhensikt om å produsere bomben der.
Se kart med bilder: Vålstua gård ute og inne
VIDEO - Se en oppsummering av hendelsene i retten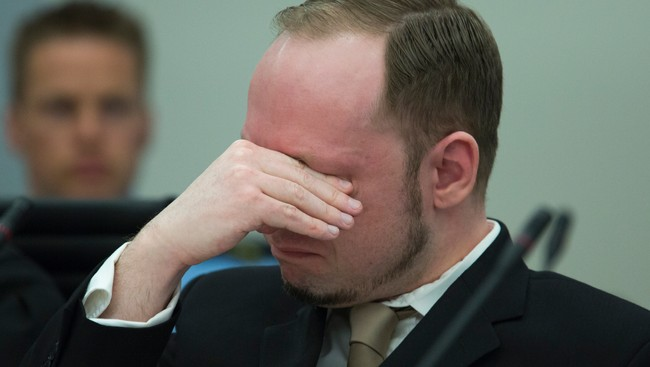 Publisert 16. apr. 2012 kl. 06:51 Oppdatert 16. apr. 2012 kl. 15:34
---
Ole Dammegård 'When Terror Struck Norway' - Julie Patchouli • Jan 16, 2017
---
ANDERS BEHRING BREIVIK MANIFESTO 2083
---
COPYRIGHTS
Copy & Paste the link above for Yandex translation to Norwegian.
WHO and WHAT is behind it all ? : >
The bottom line is for the people to regain their original, moral principles, which have intentionally been watered out over the past generations by our press, TV, and other media owned by the Illuminati/Bilderberger Group, corrupting our morals by making misbehaviour acceptable to our society. Only in this way shall we conquer this oncoming wave of evil.
Commentary:
Administrator
HUMAN SYNTHESIS
All articles contained in Human-Synthesis are freely available and collected from the Internet. The interpretation of the contents is left to the readers and do not necessarily represent the views of the Administrator. Disclaimer: The contents of this article are of sole responsibility of the author(s). Human-Synthesis will not be responsible for any inaccurate or incorrect statement in this article. Human-Synthesis grants permission to cross-post original Human-Synthesis articles on community internet sites as long as the text & title are not modified.