500 migrant girls transported from Houston holding facility after reported incident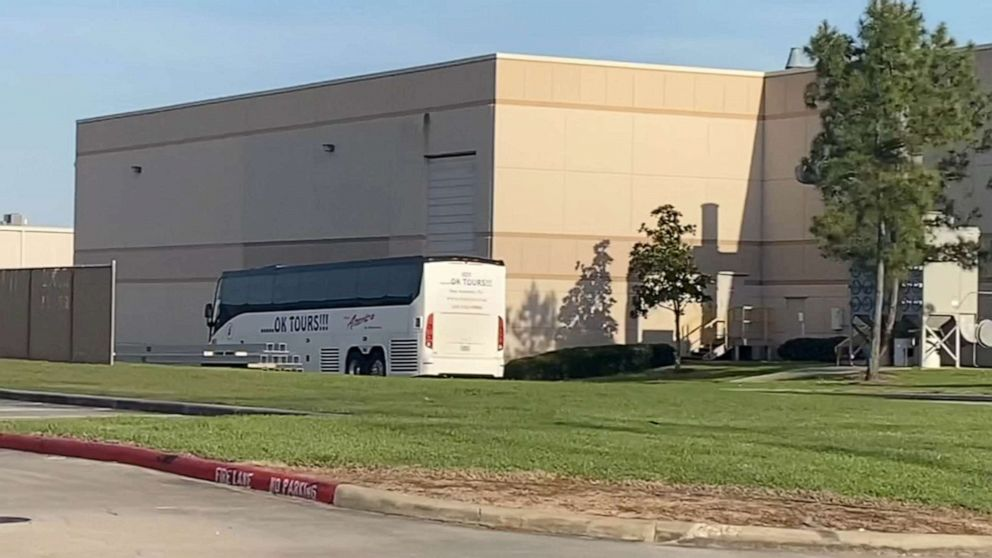 ABC13 - By Roxie BustamanteSunday, April 18, 2021 8:58AM
HOUSTON, Texas (KTRK) -- Immigrant led organizations are searching for answers as to why officials abruptly closed a Houston-area shelter which was housing hundreds of young migrant girls on Saturday. Representatives aiming to help the migrant girls said they want answers regarding the heavy law enforcement presence on Friday night before agencies shut the facility down.


A flurry of activity was seen at the shelter just before the U.S. Department of Health and Human Services announced the teens would be transferred or reunited with family or sponsors, more than two weeks after the facility opened.

Buses were seen leaving and arriving at the shelter, and boxes and computers were being moved by workers Saturday.
"Today, HHS announced that all of the children in HHS Office of Refugee Resettlement (ORR) care at the Emergency Intake Site (EIS) for Unaccompanied Children at the National Association of Christian Churches site in Houston, Texas (NACC Houston) will be immediately unified with sponsors or transferred to an appropriate ORR facility," agency officials said in a statement released Saturday.

Nearly 130 of the reported 450 girls at the site already have plans to be united with a sponsor, HHS officials said.

Representatives from local non-profit, FIEL Houston, said Saturday afternoon the conditions inside the facility were not appropriate for the girls being kept there.

Immigration activist are working to find out why exactly officials decided to abruptly shut down a Houston-area facility holding 500 migrant girls on Saturday.

FIEL executive director Ceaser Espinosa said the conditions inside the warehouse were 'inappropriate for anyone, especially young girls', who range in age from 13-17 years old. He added that employees of the facility would only let the teens get out of their cots a few times a day to shower and use the restroom.

Fiel member Alan Cisnero said while he was out with his family Friday night, he noticed a large amount of first responders arriving to the facility. He said he then proceeded to see what the issue was. Cisnero said officials told him they couldn't share much information regarding who was involved in the incident.

U.S. Rep. Sheila Jackson Lee said Saturday a federal employee who was volunteering at the facility had a medical emergency and died.

"That was the only reason that there were ambulances there the night before," Jackson Lee said.

While the medical incident may not have been related to the facility's conditions, Espinosa said 500 girls were on the roster at the time, meaning it was at capacity. Due to the amount of girls, he said they were unable to properly social distance inside the warehouse.

"The NACC Houston EIS and other Emergency Intake Sites are intended for use as a temporary measure," DHS officials said.

The reason for the transfers Saturday weren't immediately clear, though the agency cited "continuity of care under conditions that meet our strict standards of care in ORR state licensed shelters, the Carrizo Springs Influx Care Facility or Emergency Intake Sites where beds have become available."

The unaccompanied migrant children began arriving at the Houston location, which is not being disclosed for security reasons, on April 2, a day after it opened.

Federal authorities, community and faith leaders worked together to prepare the 500-bed shelter that was operated by the National Association of Christian Churches.

The additional buses arrived Saturday at a north Houston facility where community and faith leaders are working together to house 500 or more migrant girls.

"I spoke to a child who had been in the desert for 12 days. Every child that I spoke to, these were girls, and they were under 14, had crossed the Rio Grande at night," U.S. Rep. Sheila Jackson Lee said on April 1. "Every one of them had that frightening experience."

Congresswoman Sheila Jackson Lee gives update on the 300 migrant girls who arrived in Houston on Friday night. Jackson Lee says the children will have access to medical care, food services and warm beds while they wait for a family member.

Community and faith leaders are working together to house 500 or more migrant girls at a holding facility in north Houston.

There are 10 migrant housing facilities total; nine are in Texas and one is in San Diego.

Here are the details for all nine Texas centers: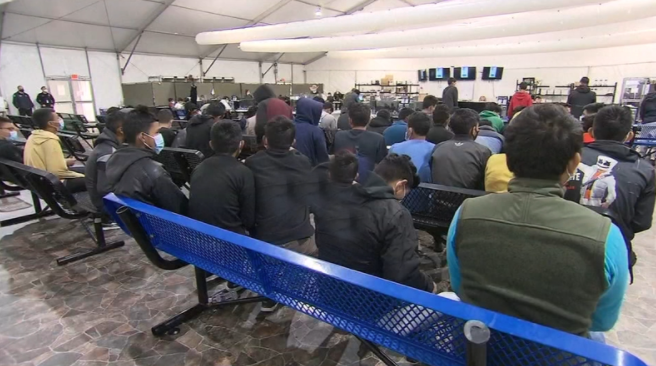 A tour revealed a severely overcrowded tent structure where more than 4,000 migrants were crammed into a space intended for 250.
---
Bus carrying unaccompanied migrant girls arrives at Houston shelter
ABCNews - ByMarlene Lenthang3 April 2021, 11:35•
The facility has capacity for 500 beds and medical equipment.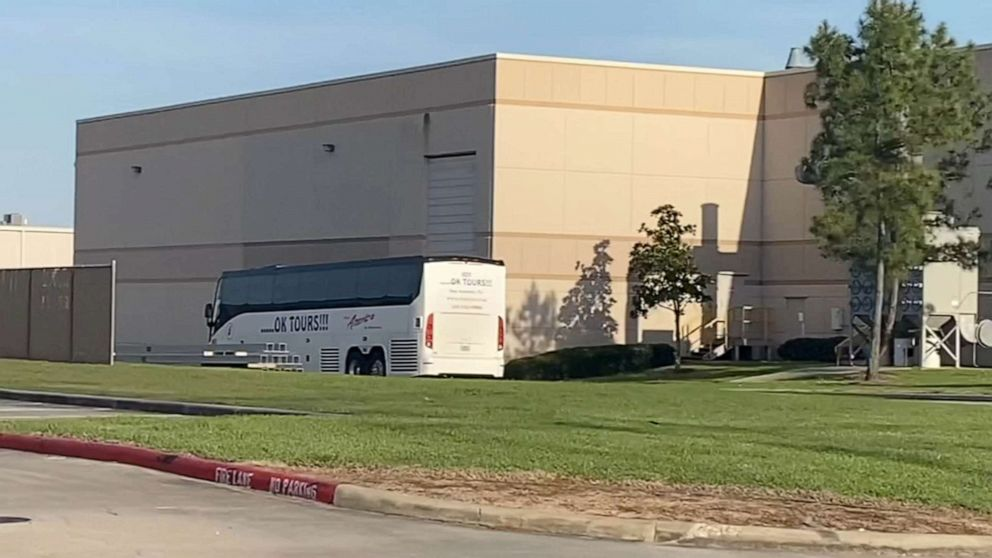 Human smuggling spotted at the borderTwo young children can be seen being dropped over the border wall. ABC News' Megan Tevrizian...
The first bus carrying unaccompanied migrant girls arrived at a Houston shelter Friday evening, amid a surge of children entering the country and growing concern for their well-being.
The shelter, run by the National Association of Christian Churches, has a capacity for 500 beds.
Rep. Sylvia Garcia toured the facility on Friday and tweeted Houston "has always been a welcoming region," promising to monitor the shelter and "do whatever it takes to ensure that children are protected, treated with dignity and respect."
Garcia said the facility will have beds, medical facilities and equipment to properly house and process the children, per local ABC station KTRK.
The Biden administration has differed from former President Donald Trump's in that it stopped using a public health policy called "Title 42" to turn away unaccompanied minors at the border. Instead, unaccompanied minors are being taken to their own facilities, tested for COVID-19, and connected to family or sponsors in the country.
The arrival of the girls in Houston comes amid rising concerns for the well-being of young children crossing into the U.S.MORE: Video shows smugglers dropping 2 children from 14-foot border fence into US, authorities say
Last week, startling video emerged showing smugglers dropping two children, a 5-year-old girl and a 3-year-old girl from Ecuador, over a 14-foot border fence on the U.S.-Mexico Border.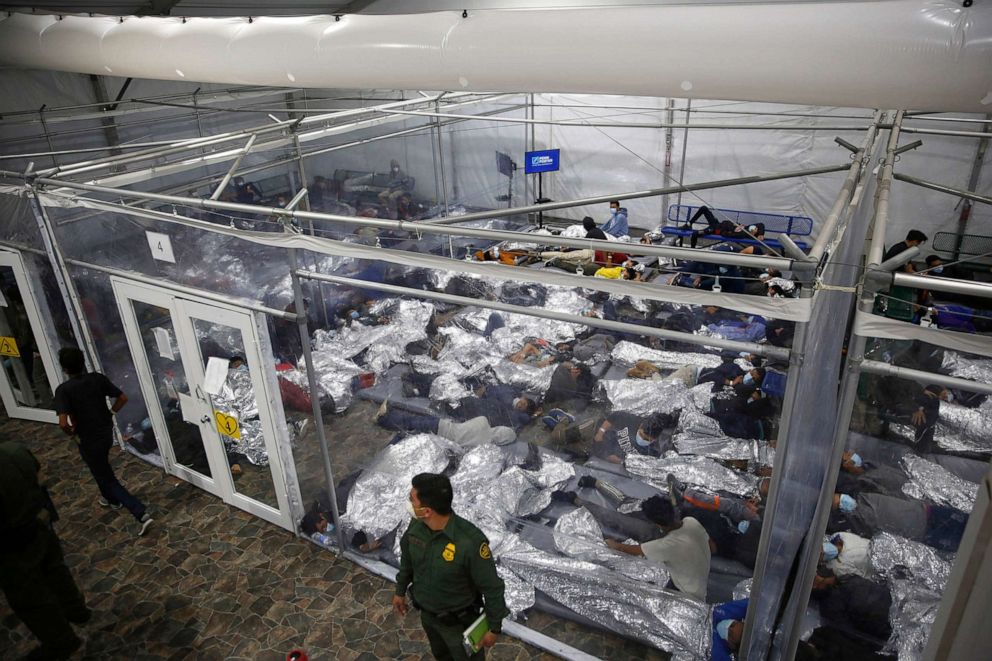 The influx of migrants and Biden's policy to allow unaccompanied minors to stay has led to overcrowding at border facilities as well as concern over COVID-19 infections among the newcomers due to cramped conditions.
On Friday Texas Department of Health and Human Services told ABC News that from March 1 to March 30, there has been a total of 647 COVID-19 cases in 40 out of 50 Texas HHSC Office of Refugee Resettlement operations. These are self-reported positive COVID-19 cases in migrant children in care.
As of an April 2 the Department of Homeland Security and Department of Health and Human Services report there are a total of 19,236 children in Customs and Border Patrol custody and HHS care, officials told ABC News.MORE: Scared and hungry: Young boys cross the border alone
There are nine migrant housing facilities located in Texas, according to KTRK. They are located in Carrizo Springs, Dallas, Houston, Midland, Pecos and San Antonio and Fort Bliss, which is the largest and holds 5,000 beds.
The United States has been grappling with a surge in migrants arriving at its southern border in recent months.
The number of children and families attempting to cross the border increased by more than 100% between January and February. Meanwhile, the amount of children trying to cross the border alone jumped by 61% to over 9,400, the highest monthly total since the spring of 2019, according to statistics released last month by CBP.
---
ALL RESULTS OF BIDENS INSANE DESICIONS
---
COPYRIGHTS
Copy & Paste lenken øverst for Yandex oversettelse til Norsk.
WHO and WHAT is behind it all ? : >
The bottom line is for the people to regain their original, moral principles, which have intentionally been watered out over the past generations by our press, TV, and other media owned by the Illuminati/Bilderberger Group, corrupting our morals by making misbehaviour acceptable to our society. Only in this way shall we conquer this oncoming wave of evil.
Commentary:
Administrator
HUMAN SYNTHESIS
All articles contained in Human-Synthesis are freely available and collected from the Internet. The interpretation of the contents is left to the readers and do not necessarily represent the views of the Administrator. Disclaimer: The contents of this article are of sole responsibility of the author(s). Human-Synthesis will not be responsible for any inaccurate or incorrect statement in this article. Human-Synthesis grants permission to cross-post original Human-Synthesis articles on community internet sites as long as the text & title are not modified.