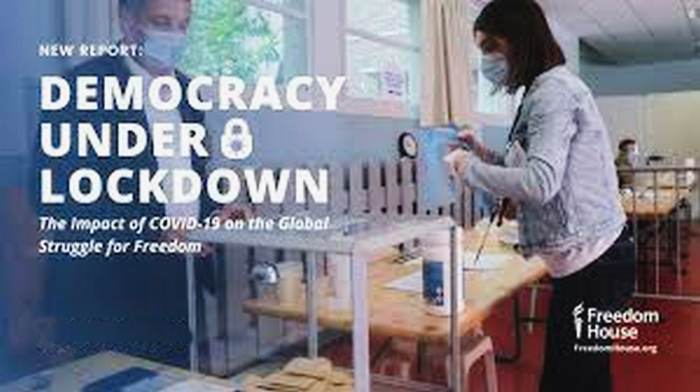 Freedom House - PRESSEMELDING oktober 2, 2020
COVID-19 pandemiet har utviklet en krise for demokrati i verden, og gir dekning for myndighetene til å avbryte valget, stillhet kritikere og presse, og undergrave ansvarlighet er nødvendig for å beskytte menneskers rettigheter, så vel som offentlig helse, i henhold til Demokrati under Lockdown, en ny Freedom House rapporten er produsert i samarbeid med undersøkelse fast GQR.
Siden coronavirus utbruddet begynte, tilstanden av demokrati og menneskerettigheter har forverret i 80 land, med spesielt kraftig svekkelse i sliter demokratier og svært undertrykkende stater, ifølge ekspertene undersøkt av prosjektet. Mer enn 60 prosent av respondentene spådd en pandemi innvirkning på politiske rettigheter og sivile friheter i sine land av fokus ville være mest negativ for de neste tre til fem årene.
"Det som begynte som en global helse krisen har blitt en del av den globale krisen for demokrati," sa Michael J. Abramowitz, president of Freedom House. "Regjeringer i alle deler av verden har misbrukt sin makt i navnet av offentlig helse, gripe muligheten til å undergrave demokrati og menneskerettigheter."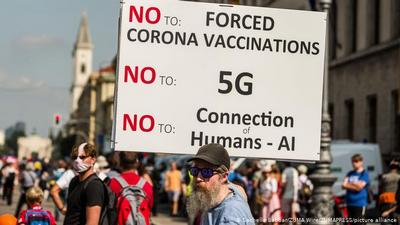 "Den nye COVID-epoken lover og praksis vil være vanskelig å reversere," sa Sarah Repucci, vice president for forskning og analyse på Freedom House og medforfatter av rapporten. "Av skade på grunnleggende menneskerettigheter vil vare lenge utover pandemi."
Landet eksperter kartlagt som en del av prosjektet identifisert fire problemer som den mest akutt i løpet av COVID-19 pandemi: mangel av regjeringens åpenhet og informasjon på coronavirus, korrupsjon, mangel på beskyttelse av sårbare befolkningsgrupper, og regjeringen misbruk av makt.
Pandemien er akselererende en global nedgang i ytringsfriheten. Restriksjoner på nyheter medier som en del av responsen til COVID-19 skjedde i minst 91 land. Regjeringer som er vedtatt ny lovgivning mot å spre "falske nyheter" om viruset. De har også begrenset uavhengig avhør på pressekonferanser, suspendert trykking av aviser, og blokkerte nettsteder.
Denne rapporten er den mest dyptgående forsøk på å date for å undersøke tilstanden til demokrati under pandemien. Freedom House gjennomført sin forskning fra januar til September 2020. Arbeidet inngår en undersøkelse av GQR, som ble gjennomført fra 29. juli til August 15, 2020, som 398 eksperter rapportert på staten demokrati i 105 land og territorier. I tillegg, Freedom House konsultert sitt globale nettverk av analytikere, bringe det totale antall land undersøkt for å 192.
"Vår undersøkelse fant at regjeringenes svar til pandemi er å bryte ned pilarer av demokrati rundt om i verden," sa Repucci. "Åpenbar obfuscation av fakta av regjeringer er alltid farlig, men det er spesielt skjerpende i en tid da så mange menneskers liv står på spill."
Autoritær og demokratisk valgte ledere som både har mislyktes i å være ærlig om effekten av coronavirus. I undersøkelsen, 62 prosent av respondentene sa at de mistillit hva de hører om pandemien fra den nasjonale regjeringen i sitt eget fokus. Blant eksperter på land at den årlige Freedom House rapporten Frihet i Verden klassifiserer som Ikke er Gratis, 77 prosent mistillit slik informasjon, noe som indikerer at mangel på åpenhet er mest vanlig i land med svakt vern mot maktmisbruk.
Regjeringer er også ved hjelp av utbruddet som en begrunnelse for å gi seg selv spesielle krefter utover det som er nødvendig for å beskytte folkehelsen. De har utnyttet ny krise myndighet til å gripe inn i rettssystemet, innføre enestående begrensninger på politiske motstandere, og sidelinjen avgjørende lovgivende funksjoner.
Som en respondent sa i Tyrkia, "Coronavirus ble brukt som en unnskyldning for allerede undertrykkende regjeringen til å gjøre ting som det har lenge planlagt å gjøre, men hadde ikke vært i stand til."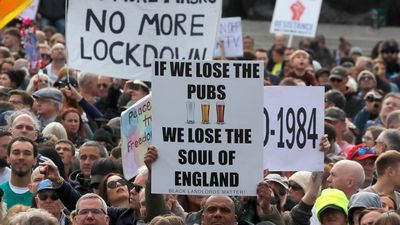 Noen regjeringer har søkt lockdown tiltak i et åpent diskriminerende måte eller brukt marginaliserte befolkningsgrupper som scapegoats. Muslimer i India og Sri Lanka ble anklaget for å være "superspreaders," mens i Serbia, en respondent sa: "innvandrere ble fremstilt som mulige bærere av viruset." I Kuwait, myndigheter pålagt strengere restriksjoner på noncitizen nabolag.
På samme tid, parlamenter har vært hemmet på grunn av helse restriksjoner og beredskap lover, og til tider at de har blitt manipulert for politiske formål. En respondent på Singapore bemerket at det mest urovekkende utvikling har vært "passering av lover som fortauskanten frihet, men hevder å dempe viruset."
Regjeringen misbruk er også påvirke valgene. Myndighetene forsinket eller på annen måte forstyrret nasjonale valg i ni land, samt et større antall regionale og lokale stemmer i andre sammenhenger, mellom januar og August 2020. Noen av disse verv endringer unnlatt å oppfylle demokratiske standarder, enten fordi de nye valgene ikke var planlagt umiddelbart, eller fordi tjenestemenn sette nye datoer uten å gjøre tilstrekkelige forberedelser for trygg og sikker stemme.
Problemet strekker seg til Usa. Lokale valg myndigheter over hele landet ser ut til å være dårlig forberedt for landsomfattende balloting i November, gitt økt etterspørsel etter stemmegivning ved e-post, sannsynligvis bemanning mangler, og siste-liten endring å electoral regler—alle knyttet til pandemi.
Trump administrasjon har skapt en tåke av feilinformasjon rundt pandemi, regelmessig å lage falske eller misvisende uttalelser som kan sette liv i fare, og det undergraver bredere myndighetenes respons. "Den AMERIKANSKE administrasjonen er dessverre ikke alene i sin unnlatelse av å være ærlig om effekten av coronavirus," sa Sarah Repucci, vice president for forskning på Freedom House. "Ledere rundt i verden som frykter offentlig fordømmelse for sin håndtering av krisen har viderekoblet oppmerksomhet ved scapegoating marginaliserte grupper, angripe sine kritikere, eller nedtoner alvorlighetsgraden av helse situasjon."
I Hong Kong, regjeringen sitert pandemi som en grunn til å utsette valget til den lovgivende forsamlingen av et helt år, men farten ble i stor grad sett på som en del av en bredere innsats av Beijing for å sementere sin eliminering av Hong Kongs gjenværende frihet og autonomi.
Utholdenhet av protest bevegelser er en mulig lyspunkt. Om 158 land har satt nye restriksjoner på demonstrasjoner, betydelige protester har funnet sted i minst 90 land siden utbruddet startet, viser forskning.
"Den vedvarende offentlige protester, under hver type regime, viser at innbyggerne være villig til å utfordre myndighetene, selv som regjeringer bruke krisen til å prøve å øke sin egen makt," sa Amy Slipowitz, research manager i Freedom House og medforfatter av rapporten. "Erosjon av politiske rettigheter og sivile friheter begynte lenge før pandemien, men folk i alle regioner av verden er klart forpliktet seg til å gjenvinne sin frihet."
Viktige funn og data poeng:
Siden coronavirus utbruddet begynte, tilstanden av demokrati og menneskerettigheter har vokst verre i 80 land. Forfallet er spesielt akutt i sliter demokratier og svært undertrykkende stater.
64 prosent av eksperter enige om at effekten av COVID-19 på demokrati og menneskerettigheter i land som fokus vil bli for det meste negativ i løpet av de neste tre til fem år.
De fire spørsmålene eksperter mener har vært mest påvirket av COVID-19 er åpenheten av informasjon om pandemi, korrupsjon, vern for sårbare befolkningsgrupper, og regjeringen misbruk av makt.
Minst 91 av 192 land under evaluering (47 prosent) har hatt restriksjoner på nyheter medier som en del av responsen til coronavirus utbrudd.
Protestene har vært begrenset, men ikke stoppet, av pandemien. Om 158 land har fått nye restriksjoner på protester, en betydelig protest har funnet sted i minst 90 land siden utbruddet startet.
---
COPYRIGHTS
Copy & Paste lenken øverst for Yandex oversettelse til Norsk.
WHO and WHAT is behind it all ? : >
The bottom line is for the people to regain their original, moral principles, which have intentionally been watered out over the past generations by our press, TV, and other media owned by the Illuminati/Bilderberger Group, corrupting our morals by making misbehaviour acceptable to our society. Only in this way shall we conquer this oncoming wave of evil.
Commentary:
Administrator
HUMAN SYNTHESIS
All articles contained in Human-Synthesis are freely available and collected from the Internet. The interpretation of the contents is left to the readers and do not necessarily represent the views of the Administrator. Disclaimer: The contents of this article are of sole responsibility of the author(s). Human-Synthesis will not be responsible for any inaccurate or incorrect statement in this article. Human-Synthesis grants permission to cross-post original Human-Synthesis articles on community internet sites as long as the text & title are not modified.
The source and the author's copyright must be displayed. For publication of Human-Synthesis articles in print or other forms including commercial internet sites. Human-Synthesis contains copyrighted material the use of which has not always been specifically authorized by the copyright owner. We are making such material available to our readers under the provisions of "fair use" in an effort to advance a better understanding of political, economic and social issues. The material on this site is distributed without profit to those who have expressed a prior interest in receiving it for research and educational purposes. If you wish to use copyrighted material for purposes other than "fair use" you must request permission from the copyright owner.