Official cause of death for Antonin Scalia released
Dallas News - By Hannah Wise - 4:32 PM on Feb 23, 2016 CST
By David Warren, The Associated Press
Antonin Scalia suffered from coronary artery disease, obesity and diabetes, among other ailments that probably contributed to the justice's sudden death, according to a letter from the Supreme Court's doctor.
Presidio County District Attorney Rod Ponton cited the letter Tuesday when he told The Associated Press there was nothing suspicious about the Feb. 13 death of the 79-year-old jurist. He said the long list of health problems made an autopsy unnecessary.
Ponton had a copy of a letter from Rear Adm. Brian P. Monahan, the attending physician for members of Congress and the Supreme Court. The letter was to county Judge Cinderela Guevara, who conducted a death inquiry by phone and certified Scalia's death.
The letter dated Feb. 16 said Scalia's many "significant medical conditions led to his death," Ponton said.
In the letter, Monahan listed more than a half-dozen ailments, including sleep apnea, degenerative joint disease, chronic obstructive pulmonary disease and high blood pressure. Scalia also was a smoker, the letter said.
Ponton declined to provide a copy of the letter, saying an open-records request must be made to Guevara, who did not respond to a phone message Tuesday.
Scalia was found dead in his bed at a Texas ranch, where he had gone on a hunting trip.
Guevara, who as county judge is the top administrator in the area, previously told the AP that she conferred by phone with Presidio County Sheriff Danny Dominguez and a U.S. marshal before certifying his death. On the day he died, she also conferred with Monahan by phone before determining the cause of death.
In rural Texas, justices of the peace investigate deaths, among other duties, but the two justices in the region were out of town and unavailable. Guevara was also out of town, more than 60 miles away, but agreed to conduct the death inquiry by phone.
The Supreme Court does not provide regular reports about the justices' health. It is left to each court member to decide how much to make public about medical conditions.
Some justices, including Ruth Bader Ginsburg, have released detailed reports of hospital stays and surgeries. The Supreme Court's press office could find just one release in 29 years pertaining to Scalia's health, a report of surgery in 2003 to repair a torn rotator cuff in his right shoulder.
Original death report...
Antonin Scalia Was with Members of Secretive Society of Elite Hunters When He Died
The elite hunting group linked to Antonin Scalia is a "true knightly order in the historical tradition," according to its website
By Tierney McAfee Updated February 25, 2016 06:05 PM
CREDIT: CHARLES OMMANNEY/GETTY
This was no ordinary hunting trip.
When Supreme Court Justice Antonin Scalia was found dead at a West Texas ranch on Feb. 13, he was on a getaway with high-ranking members of an elite hunting fraternity whose origins date back to 1695.
Even after the high-profile judge's death, the names of the 35 other guests at the remote Cibolo Creek Ranch that weekend – some of them confirmed members of a secretive Austrian society called the International Order of St. Hubertus, according to a review of public records conducted by The Washington Post – remain largely unknown.
Members of the worldwide, male-only organization had gathered at the ranch at least once before, The Post reports. The hunters, some of whom hold titles like Grand Master, Prior and Knight Grand Officer, wear dark-green robes inscribed with a large cross and the motto "Deum Diligite Animalia Diligentes," or "Honoring God by honoring His creatures," according to the group's website. The Order, named after Hubert, the patron saint of hunters and fishermen, was founded in 1695 in modern-day Czech Republic. It is a "true knightly order in the historical tradition," according to its website.
It's unclear what Scalia's connection was to the group, but Cibolo Creek Ranch owner John Poindexter, and C. Allen Foster, a prominent Washington lawyer who flew to the ranch with Scalia on a private plane, where both leaders in the society.
Poindexter told The Washington Post in an email that he is not aware of any association between Scalia and the group.
"There is nothing I can add to your observation that among my many guests at Cibolo Creek Ranch over the years some members of the International Order of St. Hubertus have been numbered," he wrote.
A Scalia family attorney did not respond to The Post's requests for comments.
Poindexter told reporters after Scalia's death that he met the justice at a "sports group" gathering in Washington, D.C. The U.S. branch of the Order of St. Hubertus, founded in 1966 at the Bohemian Club in San Francisco, now lists its headquarters as a suite on M Street NW in D.C. – but the address is only a mailbox in a UPS store.
The ranch owner told The Post that Scalia traveled to Houston with his friend, the lawyer Foster, and U.S. marshals. Foster and Scalia then broke off from the marshals and chartered a plane to the ranch.
According to the Presidio County Sheriff s Office incident report obtained by The Post, Poindexter told the sheriff that he and Scalia "had supper and talked for a while" on the eve of his death, before the judge "said that he was tired and was going to his room for the night." When Scalia wasn't at breakfast the following morning, Poindexter said he went looking for the justice and found him dead in his bed.
Law enforcement officials told The Post they didn't know of the International Order of St. Hubertus or its connection to Poindexter or any of the guests at the ranch the weekend Scalia died.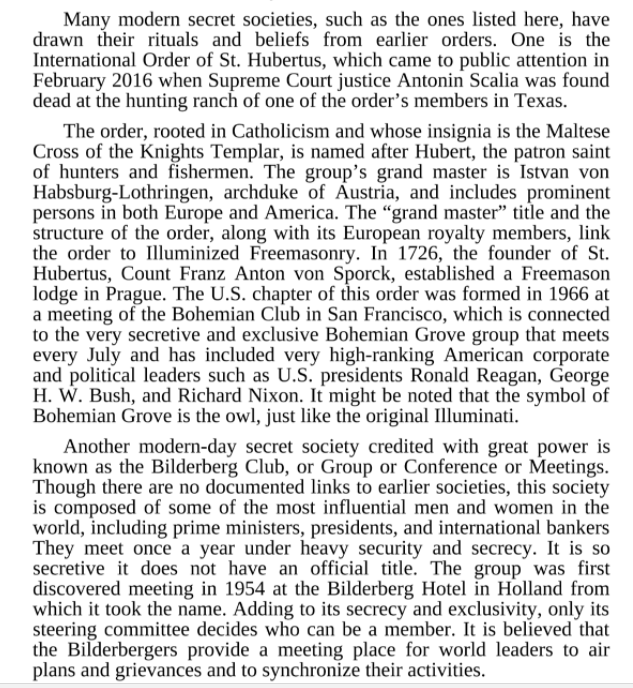 ---
The chaotic hours after Antonin Scalia's death
The Washington Post-By Lana Straub, Eva Ruth Moravec, Sari Horwitz and Jerry Markon ,February 14, 2016, 4:41 p.m.
MARFA, Texas — Inside the cloistered chambers of the Supreme Court, Justice Antonin Scalia's days were highly regulated and predictable. He met with clerks, wrote opinions and appeared for arguments in the august courtroom on a schedule set months in advance.
Yet as details of his sudden death trickled in Sunday, it appeared that the hours afterward were anything but orderly. The man known for his elegant legal opinions and profound intellect was found dead in his room at a hunting resort by a ranch owner.
It then took hours for authorities in remote West Texas to find a justice of the peace, officials said Sunday. When they did, she pronounced Scalia dead of natural causes without seeing the body and decided not to order an autopsy. A second justice of the peace, who was called but couldn't get to Scalia's body in time, said she would have ordered an autopsy.
''If it had been me . . . I would want to know,'' Juanita Bishop, a justice of the peace in Presidio, Texas, said in an interview Sunday about the chaotic hours after Scalia's death at the Cibolo Creek Ranch, a luxury compound less than an hour from the Mexican border and about 40 miles south of Marfa.
The US Marshals Service has not issued a statement about the events surrounding the death on Saturday of Scalia, who had recently returned from a trip to the Far East, where his last public event was a book signing in Hong Kong. And as official Washington tried to process what the justice's death means for politics and the law, some details of his final hours remained opaque.
As late as Sunday afternoon, there were conflicting reports about whether an autopsy would be performed, though officials later said Scalia's body was being embalmed and there would be no autopsy. One report, by WFAA-TV in Dallas, said the death certificate would show the cause of the death was a heart attack.
One thing was clear: Scalia had died in his element, doing what he loved at the ranch that has played host to movie stars and European royalty and is famous for bird hunts and bigger game, such as bison and mountain lions.
''Other than being with his family or in church, there's no place he'd rather be than on a hunt,'' said Houston lawyer Mark Lanier, who accompanied Scalia on hunting trips seeking wild boar, deer and even alligators. Lanier said he first learned of Scalia's love for hunting through former Supreme Court Justice Sandra Day O'Connor. ''He'll do anything if you take him hunting,'' Lanier recalled O'Connor saying.
John Poindexter, who owns the ranch, said Sunday that Scalia and a friend arrived Friday by chartered aircraft after first traveling to Houston, accompanied by US marshals. About 35 people were in his party; Poindexter declined to name the other guests.
Scalia went out with the group that day to hunt blue quail, but ''he did not exert himself. He got out of the hunting vehicle, and walked around some,'' Poindexter said.
Although law enforcement officials said Scalia left a private party that night, attended by about 40 people, to go to bed early, Poindexter said that didn't seem unusual. All of the guests were tired from traveling to the remote ranch and the day's other activities, with everyone going to bed by 10 p.m., he said.
According to law enforcement officials, who spoke on the condition of anonymity because they were not authorized spokespeople, Scalia did not show up for breakfast the next morning. People at first thought he might be sleeping in, but they eventually grew concerned, the officials said.
Poindexter and one other person knocked on his room door, didn't get an answer, and went inside.
"Everything was in perfect order. He was in his pajamas, peacefully, in bed,'' Poindexter said, adding that Scalia had been his usual affable self at the ranch and that ''his behavior was entirely natural and normal.''
After emergency personnel and officials from the US Marshals Service were called to the scene, two local judges who also serve as justices of the peace were called, Presidio County Judge Cinderela Guevara said in an interview Sunday. Both were out of town, she said - not unusual in a remote region where municipalities are spread far apart.
Guevara also was out of town, but she said she declared Scalia dead based on information provided by officials at the scene, citing Texas laws that allow a justice of the peace to declare someone dead without seeing the body.
Guevara declined to comment further, but told WFAA that Scalia's death certificate would list myocardial infarction — a heart attack — as the official cause of death.
Chris Lujan, manager of the Sunset Funeral Home in El Paso, where Scalia was taken, did not question the television report but said he had not seen paperwork confirming the cause of death. Other officials declined to comment.
Guevara told the station that she planned to drive to the ranch but changed her mind when a US marshal told her by phone: ''It's not necessary for you to come, judge. If you're asking for an autopsy, that's what we need to clarify.''
Guevara said she asked the marshals whether there were ''any signs of foul play. And they said, 'Absolutely not,' " she told the station. After talking with Scalia's personal physician, she said, she pronounced him dead and declined to order an inquest.
Scalia's body was taken to the Sunset Funeral Home by a procession of about 20 law enforcement officers. It arrived there about 2:30 a.m. Sunday, according to Lujan. The funeral home is about 3½ hours from the ranch where Scalia died.
Lujan said that Scalia's family did not request an autopsy and that the body is being prepared for the funeral and will be transported back to Washington on Monday. It is under guard by six law enforcement officials, including US marshals and Texas state troopers, Lujan said.
''An autopsy was declined at about 3:30 a.m.,'' Lujan said. ''The justice of the peace said there was no indication of foul play and that he died in his sleep from natural causes.''
More coverage of the death of Justice Antonin Scalia:
---
COPYRIGHTS
Copy & Paste lenken øverst for Yandex oversettelse til Norsk.
WHO and WHAT is behind it all ? : >
The bottom line is for the people to regain their original, moral principles, which have intentionally been watered out over the past generations by our press, TV, and other media owned by the Illuminati/Bilderberger Group, corrupting our morals by making misbehaviour acceptable to our society. Only in this way shall we conquer this oncoming wave of evil.
Commentary:
Administrator
HUMAN SYNTHESIS
All articles contained in Human-Synthesis are freely available and collected from the Internet. The interpretation of the contents is left to the readers and do not necessarily represent the views of the Administrator. Disclaimer: The contents of this article are of sole responsibility of the author(s). Human-Synthesis will not be responsible for any inaccurate or incorrect statement in this article. Human-Synthesis grants permission to cross-post original Human-Synthesis articles on community internet sites as long as the text & title are not modified.
The source and the author's copyright must be displayed. For publication of Human-Synthesis articles in print or other forms including commercial internet sites. Human-Synthesis contains copyrighted material the use of which has not always been specifically authorized by the copyright owner. We are making such material available to our readers under the provisions of "fair use" in an effort to advance a better understanding of political, economic and social issues. The material on this site is distributed without profit to those who have expressed a prior interest in receiving it for research and educational purposes. If you wish to use copyrighted material for purposes other than "fair use" you must request permission from the copyright owner.