Writ of Quo Warranto: How the election can be corrected AFTER the Inauguration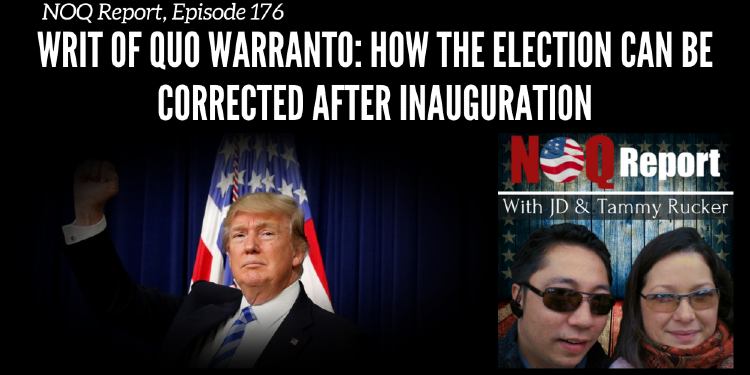 NoqReport - by JD Rucker - January 20, 2021 in Election 2020
It's Inauguration Day, which means the last batch of hopeful Trump-supporters grasping at straws are likely going to give up. But there's another pathway to correct the results of the election that only came available AFTER Joe Biden was officially inaugurated. Let's talk about a writ of quo warranto.
It's Inauguration Day, which means unless a miracle drops on us immediately, Joe Biden is the 46th President of the United States. Once he's inaugurated, it's essentially over for any hopes that President Trump can continue into a second term, right? Hold your horses. There's another avenue to expose voter fraud that only became available AFTER Biden's inauguration.
This play is called a writ of quo warranto. Before I talk about that, let's make something perfectly clear. For the past several weeks I've talked about the "MOAB"—the Mother Of All Bombshells—as being the way for a miracle to manifest and finally force mainstream media, Big Tech, Democrats, Establishment Republicans, and the judiciary to pay full attention to the voter fraud that stole the election on behalf of Joe Biden. In retrospect, I was too limiting in how I described God's sovereignty. If He wills that President Trump is to win, who am I to declare how I believe it will come about?
A writ of quo warranto isn't necessarily a MOAB because it doesn't require a new piece of bombshell evidence. It takes the accumulated bombshells, affidavits, videos, and other pieces of evidence and consolidates them into one legal case. There are a few things that make this play completely different from what Rudy Giuliani, Sidney Powell, and others have attempted through our corrupt judiciary.
With a writ of quo warranto, the clock starts AFTER inauguration because it challenges a sitting government official's authority to be in office based on actions, such as voter fraud, that aided in that situatio Leo Donofrio, who I admittedly know very little about, has been talking about this maneuver for a month. On his site, he has been calling on President Trump and his team to prepare to file this writ. He has also laid out the groundwork on which they can challenge the election and "show the receipts," as he declared on his latest post:
THE MAGA COUNTERPUNCH IS QUO WARRANTO IN DC DISTRICT COURT: Show The Receipts Of Election Fraud
QAnon, or simply Q, is a disproven and discredited far-right conspiracy theory alleging that a secret cabal  plotted against former U.S. president Donald Trump while he was in office.
Shadow Gate - Full Documentary•Jan 26, 2021QAnon, or simply Q, is a disproven and discredited far-right conspiracy theory alleging that a secret cabal  plotted against former U.S. president Donald Trump while he was in office.
Shadow Gate - Full Documentary • Jan 26, 2021
See my previous reports for case law and analysis of the federal quo warranto statute. The bottom line is that SCOTUS has held that an election of any United States official can be challenged based on fraud or error by a writ of quo warranto. And the 9th Circuit Court of Appeals recently held that the proper venue to challenge the election of a sitting President is the D.C. District Court. We have a statute. We have a venue. Bring the receipts, President Trump.
ll in or all out. There's no other options left. This must be done. You have to give the proper law in the proper venue a chance. If you quit now, it will be broadcast as an admission that there was no fraud, error, or lawlessness by election officials.
Furthermore, because of the widespread persecution of politicians who supported an investigation of the election, such as Georgia State Senators Brandon Beach and Burt Jones, alternative standing as interested persons under the quo warranto statute has been created for them to bring quo warranto actions too.
Beach and Jones were both stripped of their committee chairs. Therefore, they now have standing to petition the D.C. District Court to try the case before a jury, because that is the only way they can now prove their innocence and justification.
Simply put, the anti-MAGA conspirators have overplayed their hand in persecuting stop the steal politicians and patriotic citizens. In doing so, they caused very real injuries that need adjudication. These parties now have an interest in quo warranto which is unique and particular to them as opposed to the general public at large. Such particular injuries create unique standing.
Nobody right now is talking about quo warranto other than at this blog.
That will change soon. We are a nation of laws. And we have an established means of testing elections. Those means, laws, cases, etc. have existed from the very start of our nation.
On the latest episode of NOQ Report, I broke down my takeaways from Donofrio's assertions, explored what this could mean if it's initiated by President Trump or others, and engaged in speculation of how this could all be the proper play we've been seeking all along. We've watched in utter frustration as mainstream media ignored evidence of voter fraud while Big Tech suppressed it. We've seen the expected attacks from Democrats and the semi-shocking betrayals from the Republican Establishment.
Over the last few weeks, I've held back on talking about the majority of theories, strategies, and observations that have come my way. It's not because I ignored them, but most simply didn't pass the "smell test" of credibility and likelihood. What Donofrio is proposing does pass this smell test. That's not to say I consider it likely, and I hate to be perceived as a peddler of false hope, but the potential here is actually higher than any of the lawsuits I discussed prior. Those seemed doomed to fail. A writ of quo warranto is as close to ironclad as we've seen presented.
It's conspicuous that practically nobody has talked about this play. A writ of quo warranto appears to have all of the legs necessary for President Trump and his supporters to be vindicated. Will his team act on this? Are they quietly acting on it already?
Kudos to "Linda" for bringing this to my attention.
---
Sharon Rondeau- THE POST & EMAIL - 23 JAN 2021
Trump must bring Quo Warranto action to undo election fraud.
QUO WARRANTO
Quo warranto actions are common law actions, now frequently codified in statute, that challenge the winning office holder's right to the elective office52 because of her purported failure to meet the necessary qualifications. Quo warranto actions differ from—and serve different purposes than—election contests.53 Election contests vindicate personal rights and are brought by or on behalf of unsuccessful candidates54 who claim they are the true winner or that the true winner is unascertainable.55
Quo warranto, on the other hand, protects the public from an unqualified office holder and is brought by or on behalf of the public.56 Because it is meant to protect the public, statutory authority that grants a legislative body exclusive authority to determine election contests for its seats does not preclude citizens from filing quo warranto actions.57 Quo warranto may be the exclusive statutory means of challenging the office holder's entitlement to office.58 Because a quo warranto action seeks to oust the usurper from office, it is only brought after the purported winner takes office.
Losing an election is insufficient by itself to sustain a quo warranto action. Either the losing candidate must plead and prove his own rightful title to the office,59 or he must be able to bring the quo warranto action in his capacity as an interested citizen and taxpayer.60 Quo warranto actions are not barred by failure to bring a timely pre-election challenge to the candidate's qualifications as long as legitimate grounds exist to believe that the office holder remains unqualified to hold office.61 Successful quo warranto actions oust the office holder and leave the office either vacant or vested in the person in whose name the suit was brought.  As an extraordinary writ, quo warranto actions require the unavailability of an adequate alternative remedy. In some instances, quo warranto actions have been possible when state statutes did not support an election contest under the circumstances that tainted the election.
For example, although a jammed voting machine that stopped counting votes cast for one city council candidate after the first thirty-nine was not a sufficient irregularity to call a new election, it did support a quo warranto action brought by the state attorney general in which the certified winner was found to not be the true winner.62
A quo warranto action brought by the attorney general was used to challenge a tied mayoral election in which irregularities, including malfunctioning voting equipment, occurred.63 Quo warranto was also used to dislodge a judicial appointee when the judicial office remained on the ballot and another candidate won the election.64
---
COPYRIGHTS
Copy & Paste lenken øverst for Yandex oversettelse til Norsk.
WHO and WHAT is behind it all ? : >
The bottom line is for the people to regain their original, moral principles, which have intentionally been watered out over the past generations by our press, TV, and other media owned by the Illuminati/Bilderberger Group, corrupting our morals by making misbehaviour acceptable to our society. Only in this way shall we conquer this oncoming wave of evil.
Commentary:
Administrator
HUMAN SYNTHESIS
All articles contained in Human-Synthesis are freely available and collected from the Internet. The interpretation of the contents is left to the readers and do not necessarily represent the views of the Administrator. Disclaimer: The contents of this article are of sole responsibility of the author(s). Human-Synthesis will not be responsible for any inaccurate or incorrect statement in this article. Human-Synthesis grants permission to cross-post original Human-Synthesis articles on community internet sites as long as the text & title are not modified.
The source and the author's copyright must be displayed. For publication of Human-Synthesis articles in print or other forms including commercial internet sites. Human-Synthesis contains copyrighted material the use of which has not always been specifically authorized by the copyright owner. We are making such material available to our readers under the provisions of "fair use" in an effort to advance a better understanding of political, economic and social issues. The material on this site is distributed without profit to those who have expressed a prior interest in receiving it for research and educational purposes. If you wish to use copyrighted material for purposes other than "fair use" you must request permission from the copyright owner.