Important Memories of Failed Impeachments of President Donald Trump by the Democrats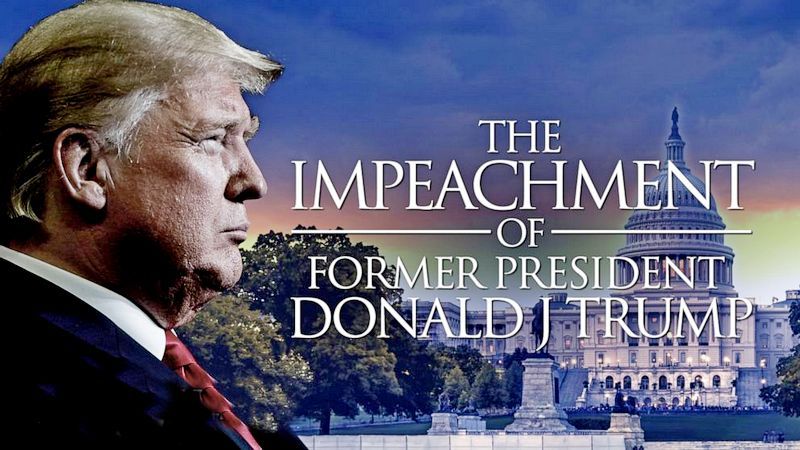 The New York Times - Uploaded 14 Feb. 2021
OK, THANK GOD, COMMON SENCE PREVAILED, TRUMP WAS ACQUITTED!!!
Former President Donald Trump made a statement after the Senate voted to acquit him in his second impeachment trial with a vote of 57-43.
Read the full statement here:
"I want to first thank my team of dedicated lawyers and others for their tireless work upholding justice and defending truth.
My deepest thanks as well to all of the United States Senators and Members of Congress who stood proudly for the Constitution we all revere and for the sacred legal principles at the heart of our country.
Our cherished Constitutional Republic was founded on the impartial rule of law, the indispensable safeguard for our liberties, our rights and our freedoms.
It is a sad commentary on our times that one political party in America is given a free pass to denigrate the rule of law, defame law enforcement, cheer mobs, excuse rioters, and transform justice into a tool of political vengeance, and persecute, blacklist, cancel and suppress all people and viewpoints with whom or which they disagree. I always have, and always will, be a champion for the unwavering rule of law, the heroes of law enforcement, and the right of Americans to peacefully and honorably debate the issues of the day without malice and without hate.
This has been yet another phase of the greatest witch hunt in the history of our Country. No president has ever gone through anything like it, and it continues because our opponents cannot forget the almost 75 million people, the highest number ever for a sitting president, who voted for us just a few short months ago.
I also want to convey my gratitude to the millions of decent, hardworking, law-abiding, God-and-Country loving citizens who have bravely supported these important principles in these very difficult and challenging times.
Our historic, patriotic and beautiful movement to Make America Great Again has only just begun. In the months ahead I have much to share with you, and I look forward to continuing our incredible journey together to achieve American greatness for all of our people. There has never been anything like it!
We have so much work ahead of us, and soon we will emerge with a vision for a bright, radiant, and limitless American future.
Together there is nothing we cannot accomplish.
We remain one People, one family, and one glorious nation under God, and it's our responsibility to preserve this magnificent inheritance for our children and for generations of Americans to come.
May God bless all of you, and may God forever bless the United States of America."
---
Here are some highlights from the 4th day of President Trump's second Senate impeachment trial.
Trump's Team Begins Defense, Calling the Charge Against Him a 'Monstrous Lie'
Final day of the Trump impeachment 13 Feb. Two hours each for the D. and R. to throw more circus and chaos on each other before the final vote count as to whether or not to impeach Trump.
The defense team channeled former President Donald J. Trump's own combative style and embrace of falsehoods to claim, contrary to facts, that he consistently called for peace during the Capitol rampage. A verdict in the trial could come as soon as Saturday. The trial is on a short break.
After two days of the prosecution's oral arguments, former President Donald J. Trump's lawyers are expected to argue that he did not encourage violence at the Capitol and that his speech before the riot was protected by the First Amendment.CreditCredit...Anna Moneymaker for The New York Times
---
Remarks.
Trump had already given permission to the transfer of all power except the military, long before the Capitol break-in, why had Biden not ensured adequate security? Instead there were only a small numer of police guards present, some had even been given leave that morning. The police called their superiors several times asking for enforcements. All prepared for the 3 militant groups to un-hindered walk right in.  All points to a plannet setup to blame Trump.
During the question time at the end, it was obvious that they had been prepared well in advance as the replies from the Democrat representatives were already typewritten.
---
COPYRIGHTS
Copy & Paste lenken øverst for Yandex oversettelse til Norsk.
WHO and WHAT is behind it all ? : >
The bottom line is for the people to regain their original, moral principles, which have intentionally been watered out over the past generations by our press, TV, and other media owned by the Illuminati/Bilderberger Group, corrupting our morals by making misbehaviour acceptable to our society. Only in this way shall we conquer this oncoming wave of evil.
Commentary:
Administrator
HUMAN SYNTHESIS
All articles contained in Human-Synthesis are freely available and collected from the Internet. The interpretation of the contents is left to the readers and do not necessarily represent the views of the Administrator. Disclaimer: The contents of this article are of sole responsibility of the author(s). Human-Synthesis will not be responsible for any inaccurate or incorrect statement in this article. Human-Synthesis grants permission to cross-post original Human-Synthesis articles on community internet sites as long as the text & title are not modified.
The source and the author's copyright must be displayed. For publication of Human-Synthesis articles in print or other forms including commercial internet sites. Human-Synthesis contains copyrighted material the use of which has not always been specifically authorized by the copyright owner. We are making such material available to our readers under the provisions of "fair use" in an effort to advance a better understanding of political, economic and social issues. The material on this site is distributed without profit to those who have expressed a prior interest in receiving it for research and educational purposes. If you wish to use copyrighted material for purposes other than "fair use" you must request permission from the copyright owner.