Live Updates: Impeachment Managers Call on Trump to Testify in Trial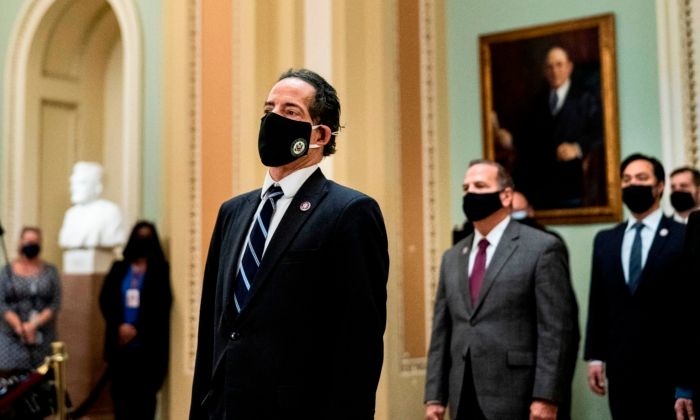 The New York Times - 04 Feb 2021
The House impeachment managers asked former President Donald J. Trump to testify in the trial, but it was far from clear the invitation would result in his appearance. The House is set to vote on removing Representative Marjorie Taylor Greene from her committee assignments.On Thursday the House of Representatives will vote on whether to remove Marjorie Taylor Greene from committees after the freshman congresswoman made defamatory statements.CreditCredit...Anna Moneymaker for The New York Time
The House impeachment managers on Thursday called on Donald J. Trump to testify before or during his Senate trial next week, making an unexpected attempt to question the former president on record under oath about his actions on Jan. 6, when he is accused of inciting the riot by a mob of his supporters at the Capitol.
In a letter to Mr. Trump, Representative Jamie Raskin, Democrat of Maryland and the lead House impeachment prosecutor, said the president's response this week to the House's "incitement of insurrection" charge had challenged "incontrovertible facts" about his conduct as the assault unfolded, and demanded further explanation.
Read the Letter Calling on Trump to Testify
In a letter to former President Donald J. Trump, the lead House impeachment prosecutor, said Mr. Trump's response this week to the House's charge had challenged "incontrovertible facts" about his conduct as the assault unfolded, and demanded further explanation.
In a filing on Tuesday, Mr. Trump's lawyers denied that he incited the attack or meant to disrupt Congress's counting of electoral votes to formalize President Biden's victory, which was underway at the Capitol. They denied that when the former president told his followers to go to Capitol Hill that it "had anything to do with the action at the Capitol." They also rejected that Mr. Trump had spread falsehoods about election fraud, asserting that because he believed that he "won it in a landslide," he was merely exercising his First Amendment right.
"In light of your disputing these factual allegations, I write to invite you to provide testimony under oath, either before or during the Senate impeachment trial, concerning your conduct on January 6, 2021," Mr. Raskin wrote. He proposed conducting an interview "at a mutually convenient time and place" between Monday and Thursday. The trial is scheduled to get underway on Tuesday.
It was far from clear the invitation would result in testimony by the former president, who is now residing in Florida. It was a voluntary request, and though the Senate could vote to subpoena Mr. Trump's testimony, doing so would present thorny legal and political issues.
Mr. Trump has never shied from defending himself, but it was unlikely that his lawyers would allow him to go on record in a case they already believe is headed for acquittal. Earlier on Thursday, an adviser to Mr. Trump, Jason Miller, said "no" when asked if the former president planned to testify.
"I do not expect the 45th president to be in Washington next week," Mr. Miller told Newsmax — but he boasted that he thought Mr. Trump could "knock it out in about 15 minutes" if he did.
One of Mr. Trump's leading Senate allies, Lindsey Graham of South Carolina, quickly derided the invitation as a "showboat move" and said he hoped the president would not come.
"I don't think that would be of anybody's interest," he said. "It's just a nightmare for the country to do this."
Mr. Raskin asked the president to answer his request by Friday afternoon. He noted that the managers could use his refusal to testify to draw an "adverse inference" about his actions on Jan. 6, meaning that they would cite his silence as further proof that their allegations were true.
The request also seeks to directly address one of the biggest evidentiary holes in the managers' case: how precisely Mr. Trump conducted himself when it became clear the Capitol was under assault on Jan. 6. The president sent several tweets sympathizing with the mob and calling for peace during that time, but media reports and accounts by lawmakers who desperately tried to reach him to send in reinforcements suggested he was "delighted" by the invasion.
Hailey Fuchs and Glenn Thrush contributed reporting.
House Republicans will be forced to go on record on Thursday over the conduct of Representative Marjorie Taylor Greene of Georgia, with Democrats scheduling a vote over whether to strip the freshman lawmaker of her committee assignments.
The vote presents the latest fork in the road for Republicans as they try to navigate the aftermath of former President Donald J. Trump's re-election defeat and grapple with the future of their party.
It will take place at a particularly fraught moment for Republicans in the House, coming one day after their leader, Representative Kevin McCarthy of California, released a statement that condemned Ms. Greene's past comments endorsing violent behavior and conspiracy theories — but made clear that the party did not intend to punish her.
Another sign of the party's post-Trump turbulence came on Wednesday night, when House Republicans voted in a secret ballot on whether to strip Representative Liz Cheney of Wyoming, the No. 3 House Republican, of her leadership post after she voted to impeach Mr. Trump. Ms. Cheney survived by a wide margin, but the vote nonetheless put a spotlight on the party's divisions.
On Thursday, the Democrat-led House will take a step unprecedented in the modern history of Congress, voting on a resolution to remove Ms. Greene from her two committees — the Budget Committee, and the Education and Labor Committee — citing the "conduct she has exhibited." While expelling a lawmaker from the chamber requires a two-thirds vote, the move requires only a simple majority.
"You would think that the Republican leadership in the Congress would have some sense of responsibility to this institution," Speaker Nancy Pelosi said at a news conference on Thursday. "For some reason, they've chosen not to go down that path."
Mr. McCarthy had tried to shield his members from taking such a vote, and spoke with Representative Steny H. Hoyer of Maryland, the No. 2 House Democrat, by phone on Wednesday to try to strike a compromise. Mr. McCarthy later told reporters that he had offered to remove Ms. Greene from her committees and put her on a panel overseeing small businesses instead. Mr. Hoyer declined the offer, he said, insisting that Ms. Greene should not sit on any committees.
Republicans have argued that voting in favor of the resolution would set a dangerous precedent because it would in effect allow the majority party to dictate which lawmakers in the minority party are fit to serve on committees, a crucial pipeline for members to advance legislation. Committee assignments have traditionally been the prerogative of the party leaders, who have only rarely acted on their own to remove members from their panels. She would be the only current member of Congress not to serve on any committees.
The step is usually reserved for lawmakers who are facing indictments or criminal investigations or who have otherwise broken with their party in a particularly egregious way. Mr. McCarthy in 2019 stripped then-Representative Steve King of Iowa of his committee posts after an interview with The New York Times in which he questioned why the term "white supremacist" language was considered offensive.
Some Republicans have argued that Ms. Greene should not face punishment for her remarks because she made them before she was elected. But Democrats said they were comfortable establishing a new set of rules whereby statements like those Ms. Greene had made would prompt banishment from committees.
"A member of this House is calling for assassinations — that's the new precedent," said Representative Jim McGovern, Democrat of Massachusetts and the chairman of the Rules Committee. "If that's the standard that we remove people from committees, I'm fine with that."
— Catie Edmondson, Nicholas Fandos and Thomas Kaplan
---
The Epoch Times - Democrats Ask Trump to Testify at Impeachment Trial BY IVAN PENTCHOUKOV - February 4, 2021

Trump Attorney: Congressional Democrats Trying to 'Rush' Impeachment Trial - BY JACK PHILLIPS February 4, 2021
---
COPYRIGHTS
Copy & Paste lenken øverst for Yandex oversettelse til Norsk.
WHO and WHAT is behind it all ? : >
The bottom line is for the people to regain their original, moral principles, which have intentionally been watered out over the past generations by our press, TV, and other media owned by the Illuminati/Bilderberger Group, corrupting our morals by making misbehaviour acceptable to our society. Only in this way shall we conquer this oncoming wave of evil.
Commentary:
Administrator
HUMAN SYNTHESIS
All articles contained in Human-Synthesis are freely available and collected from the Internet. The interpretation of the contents is left to the readers and do not necessarily represent the views of the Administrator. Disclaimer: The contents of this article are of sole responsibility of the author(s). Human-Synthesis will not be responsible for any inaccurate or incorrect statement in this article. Human-Synthesis grants permission to cross-post original Human-Synthesis articles on community internet sites as long as the text & title are not modified.
The source and the author's copyright must be displayed. For publication of Human-Synthesis articles in print or other forms including commercial internet sites. Human-Synthesis contains copyrighted material the use of which has not always been specifically authorized by the copyright owner. We are making such material available to our readers under the provisions of "fair use" in an effort to advance a better understanding of political, economic and social issues. The material on this site is distributed without profit to those who have expressed a prior interest in receiving it for research and educational purposes. If you wish to use copyrighted material for purposes other than "fair use" you must request permission from the copyright owner.