South Carolina Lawyer Butch Bowers is the Lead Attorney In Trump's Impeachment Trial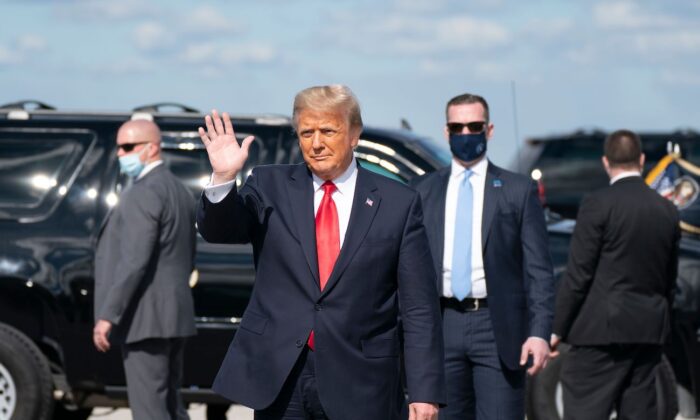 Outgoing President Donald Trump waves after landing at Palm Beach International Airport in West Palm Beach, Florida, on Jan. 20, 2021. (Alex Edelman/AFP via Getty Images
The Epoch Times - BY KATABELLA ROBERTS January 22, 2021
South Carolina-based lawyer Butch Bowers will be a lead attorney in former President Donald Trump's Senate impeachment trial over a charge that he incited insurrection. "Butch is well respected by both Republicans and Democrats and will do an excellent job defending President Trump," adviser Jason Miller said in a tweet.
Sen. Lindsey Graham (R-S.C.) said Trump is still pulling together a legal team but that Bowers would act as the "anchor."
Trump will have a good legal team, Graham told reporters in Washington, adding: "Butch Bowers I think will be sort of the anchor tenant. I've known Butch for a long time, solid guy. And I think, you know, over time, they'll put the team together."
Bowers, also known as Karl Smith Bowers Jr., is a graduate of Tulane University's law school, has his own law firm, Bowers Law Office, and is associated with the Miller Law Group.
He has represented former Republican governors in North and South Carolina and served in the U.S. Justice Department under Republican former President George W. Bush, according to his website.
In 2012, Bowers represented then-Governor Nikki Haley in an ethics hearing over allegations that she engaged in illegal lobbying while she was a state representative. Haley was cleared of wrongdoing.
In 2009, he represented then-Governor Mark Sanford in an ethics hearing over his use of a state aircraft for a secret five-day trip to Argentina to see a woman with whom he was having an extramarital affair. Sanford agreed to pay $74,000 to settle charges that his personal travel and campaign spending violated state ethics laws, but he continued to deny wrongdoing.
The House voted on Jan. 13 to impeach Trump for a second time during his tenure. The article accuses him of inciting insurrection; they blame him for the Jan. 6 breach of the U.S. Capitol.
This is despite Trump urging his supporters to act "peacefully" ahead of the protests.
Following the unrest, Trump condemned the violence in a video posted by the White House's official Twitter account, noting that those involved in the riot "will be brought to justice."
"I want to be very clear. I unequivocally condemn the violence that we saw last week. Violence and vandalism have absolutely no place in our country, and no place in our movement," Trump said.
Meanwhile, Speaker Nancy Pelosi (D-Calif.) has not sent the article of impeachment over to the Senate yet.
However, the House of Representatives will likely send the article to the Senate by the end of this week, Senate Majority Whip Dick Durbin (D-Ill.) said during a virtual appearance on MSNBC's "Morning Joe" on Jan. 21.
Senate Minority Leader Mitch McConnell (R-Ky.) has proposed that the impeachment pre-trial begin in February.
---
Lawyer Butch Bowers will present an EXPLOSIVE ammount of certified proof and multiple sworn affidavits from vitnesses to the ELECTION SCAM.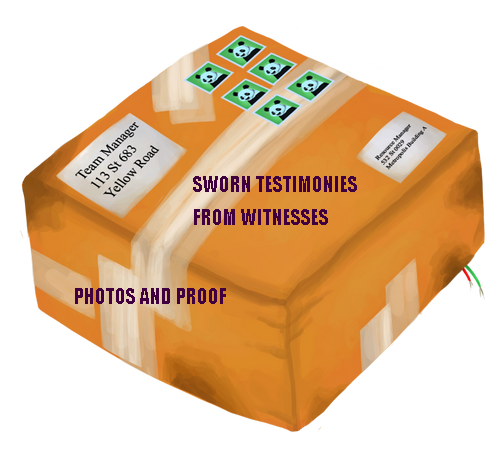 ---
Pelosi To Deliver Impeachment Articles To Senate On Monday

BY TYLER DURDEN - FRIDAY, JAN 22, 2021 - 10:21
Update (1015ET): Senate Democrat Leader Schumer has just confirmed that House Speaker Pelosi will deliver the Trump impeachment resolution to the Senate on Monday 26th January.
Yes, @SenSchumer said what you think he said. pic.twitter.com/E9LE8IjEVs— Andrew Feinberg (@AndrewFeinberg) January 22, 2021
This is slightly ahead of McConnell's plan - which had hoped for delivery on January 28th - but as far as the rest of the timeline is concerned, there is no apparent change yet.
The apparent rush seems to signal that Democrats are more keen to stop Trump from ever being able to run for office again than they are for providing stimulus to Americans?
While the left is split between wanting to hammer the final nail in Trump's coffin (through the Senate impeachment trial) and tending to its aggressive agenda of new laws, spending, and government control, U.S. Senate Republican Leader Mitch McConnell (R-KY) issued a statement today regarding his proposed timeline for the first phases of an impeachment trial of former president Trump.
"I have sent a proposed timeline for the first phases of the upcoming impeachment trial to Leader Schumer and look forward to continuing to discuss it with him.
"Senate Republicans are strongly united behind the principle that the institution of the Senate, the office of the presidency, and former President Trump himself all deserve a full and fair process that respects his rights and the serious factual, legal, and constitutional questions at stake. Given the unprecedented speed of the House's process, our proposed timeline for the initial phases includes a modest and reasonable amount of additional time for both sides to assemble their arguments before the Senate would begin to hear them.
"At this time of strong political passions, Senate Republicans believe it is absolutely imperative that we do not allow a half-baked process to short-circuit the due process that former President Trump deserves or damage the Senate or the presidency."
Specifically, Leader McConnell shared the following proposed pre-trial timeline with the Republican Conference today:
When the articles arrive, the House Managers would exhibit (read) the articles to the Senate, Senators would be sworn in the Members as the Court of Impeachment, and would issue a summons to former President Trump.  While we do not know what day the Managers will choose, Leader McConnell has asked for this to occur on Thursday, January 28.
Former President Trump would have one week from that day to answer the articles of impeachment (February 4).  The House's pre-trial brief would also be due then.
The President would then have one week from the day he submits his answer to submit his pre-trial brief (February 11). That means former president Trump has fourteen total days from when we issue the summons to write his pre-trial brief.  The House would also submit its replication on this date.
The House would then have two days to submit their rebuttal pre-trial brief (February 13).
This approach tracks the structure of the Clinton and Trump pre-trial processes.
The periods between due dates are longer than in 1999 or 2020, but this is necessary because of the House's unprecedented timeline.
So far we have not seen any response from Senate Democrat Leader Schumer, but we do note the timing is ironic as (in what appears to be more PR stunt than anything else) freshman Rep. Marjorie Taylor Greene announced via Twitter video Thursday that she's filed articles of impeachment on President Joe Biden.
I just filed Articles of Impeachment on President @JoeBiden. pic.twitter.com/mcwEEkKiHL— Rep. Marjorie Taylor Greene (@RepMTG) January 21, 2021
As SaraACarter.com's Jennie Taer reports, Rep. Greene earlier pledged on Newsmax on January 13 to do so on the first day of Biden's presidency, as reported.
"We cannot have a President of the United States that is willing to abuse the power of the office of the presidency and be easily bought off by foreign governments, foreign Chinese energy companies, Ukrainian energy companies. So on January 21st, I will be filing articles of impeachment on Joe Biden," said Rep. Greene.
"On behalf of the American people - on January 21st I will be filing articles of impeachment on Joe Biden."

"We have to make sure our leaders are held accountable," says @mtgreenee. https://t.co/VlT7z8drtO pic.twitter.com/aOh9GOdN1E— Newsmax (@newsmax) January 14, 2021
As w3e noted, while this is unlikely to proceed, that did not stop Democratic Reps such as Al Green from incessantly posting articles during Trump's term (as early as May 2017).
---
COPYRIGHTS
Copy & Paste lenken øverst for Yandex oversettelse til Norsk.
WHO and WHAT is behind it all ? : >
The bottom line is for the people to regain their original, moral principles, which have intentionally been watered out over the past generations by our press, TV, and other media owned by the Illuminati/Bilderberger Group, corrupting our morals by making misbehaviour acceptable to our society. Only in this way shall we conquer this oncoming wave of evil.
Commentary:
Administrator
HUMAN SYNTHESIS
All articles contained in Human-Synthesis are freely available and collected from the Internet. The interpretation of the contents is left to the readers and do not necessarily represent the views of the Administrator. Disclaimer: The contents of this article are of sole responsibility of the author(s). Human-Synthesis will not be responsible for any inaccurate or incorrect statement in this article. Human-Synthesis grants permission to cross-post original Human-Synthesis articles on community internet sites as long as the text & title are not modified.
The source and the author's copyright must be displayed. For publication of Human-Synthesis articles in print or other forms including commercial internet sites. Human-Synthesis contains copyrighted material the use of which has not always been specifically authorized by the copyright owner. We are making such material available to our readers under the provisions of "fair use" in an effort to advance a better understanding of political, economic and social issues. The material on this site is distributed without profit to those who have expressed a prior interest in receiving it for research and educational purposes. If you wish to use copyrighted material for purposes other than "fair use" you must request permission from the copyright owner.