Top Medical Inventor: COVID mRNA "Vaccine" Not A Vaccine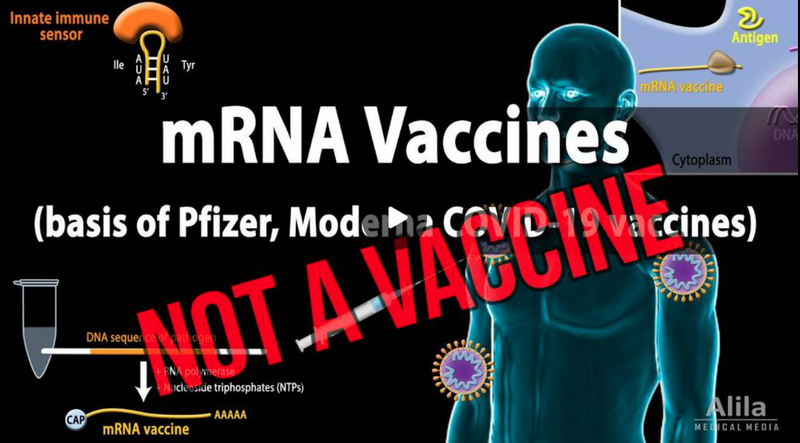 Medical inventor and author David Martin proves that the Pfiser and Moderna mRNA vaccines are not vaccines by medical definition and how Big Pharma is using national and state emergency authorizations to force these untested gene therapies onto the population.
References • It is unlawful under the FTC Act, 15 U.S.C. § 41 et seq., to advertise that a product or service can prevent, treat, or cure human disease unless you possess competent and reliable scientific evidence, including, when appropriate, well-controlled human clinical studies, substantiating that the claims are true at the time they are made.
Immunity: Protection from an infectious disease. If you are immune to a disease, you can be exposed to it without becoming infected. 
 • Vaccine: A product that stimulates a person's immune system to produce immunity to a specific disease, protecting the person from that 
disease. Vaccines are usually administered through needle injections, but can also be administered by mouth or sprayed into the nose.
"The primary endpoint is the prevention of symptomatic COVID-19 disease. Key secondary endpoints include prevention of severe COVID- 19 disease and prevention of infection by SARS-CoV-2."
"As of this writing, no correlate of protection for SARS-CoV-2 has been established."
"No existing vaccines have been shown to be effective against infection with any betacoronavirus, the family that includes SARS-CoV-2, which causes Covid-19." Polack FP, Thomas SJ, Kitchin N, et al. Safety and efficacy of the BNT162b2 mRNA Covid-19 vaccine. N Engl J Med 2020;383:2603-2615.
In Jacobson v. Massachusetts, 197 U.S. 11 (1905), the court held that the context for their opinion rested on the following principle:
"This court has more than once recognized it as a fundamental principle that 'persons and property are subjected to all kinds of restraints and burdens in order to secure the general comfort, health, and prosperity of the state…"
The Moderna and Pfizer "alleged vaccine" trials have explicitly acknowledged that their gene therapy technology has no impact on viral infection or transmission whatsoever and merely conveys to the recipient the capacity to produce an S1 spike protein endogenously by the introduction of a synthetic mRNA sequence. Therefore, the basis for the Massachusetts statute and the Supreme Court's determination is moot in this case.
From Iowa Code
Vaccine means a specially prepared antigen which, upon administration to a person, will result in immunity
"Vaccine" means a specially prepared antigen administered to a person for the purpose of providing immunity.
Pursuant to the authority of Iowa Code section 147.76, the Board of Pharmacy hereby gives Notice of Intended Action to amend Chapter 8, "Universal Practice Standards," and to adopt new Chapter 39, "Expanded Practice Standards," Iowa Administrative Code.
Section 5(a) of the FTC Act, 15 U.S.C. § 45(a), prohibits "unfair or deceptive acts or practices in or affecting commerce." Further, misrepresentations or deceptive omissions of material facts constitute deceptive acts or practices prohibited by this section of the Act. Notably, Section 12(a) of the FTC Act, 15 U.S.C. § 52(a), prohibits the dissemination of any false advertisement in or affecting commerce for the purpose of inducing, or which is likely to induce, the purchase of food, drugs, devices, services, or cosmetics. Supple is a "drug" as "drug" is defined in Section 15(c) of the FTC Act, 15 U.S.C. § 55(c).
David's book, Lizards Eat Butterflies, is now available on Amazon and Barnes and Noble:
https://www.amazon.com/Lizards-Eat-Bu...
https://www.barnesandnoble.com/w/liza...
Visit www.davidmartin.world for more of David's content.
Our Turn Back The Globalist Storm Sale is now live! Shop now and get prepared while you still can!gene therapycovid-19mrnaWT6210 minutes agoe PCR test are being amplified to give false positives and why Positive People are not sick and thus have T-Cell immunity already and Dr.Reiner Fuellmich and Lawyers with him and Robert Kennedy jr. have filed suits against some of these Corp. Frauds and their Fact checkers and they have scientific evidence too t it also appears their is imposters running the courts blocking the evidence but they continue to fight and many that already taken this poison have become disabled and many have died days after receiving it and it is being exposed like the NY Nursing Home 34 of just over 100 died after their vaccine and a doctor in Miami got a rare disease 3 days after his vaccination and died  and they call they are calling it just allergic reactions  and we are all under attack.
---
COPYRIGHTS
Copy & Paste lenken øverst for Yandex oversettelse til Norsk.
WHO and WHAT is behind it all ? : >
The bottom line is for the people to regain their original, moral principles, which have intentionally been watered out over the past generations by our press, TV, and other media owned by the Illuminati/Bilderberger Group, corrupting our morals by making misbehaviour acceptable to our society. Only in this way shall we conquer this oncoming wave of evil.
Commentary:
Administrator
HUMAN SYNTHESIS
All articles contained in Human-Synthesis are freely available and collected from the Internet. The interpretation of the contents is left to the readers and do not necessarily represent the views of the Administrator. Disclaimer: The contents of this article are of sole responsibility of the author(s). Human-Synthesis will not be responsible for any inaccurate or incorrect statement in this article. Human-Synthesis grants permission to cross-post original Human-Synthesis articles on community internet sites as long as the text & title are not modified.
The source and the author's copyright must be displayed. For publication of Human-Synthesis articles in print or other forms including commercial internet sites. Human-Synthesis contains copyrighted material the use of which has not always been specifically authorized by the copyright owner. We are making such material available to our readers under the provisions of "fair use" in an effort to advance a better understanding of political, economic and social issues. The material on this site is distributed without profit to those who have expressed a prior interest in receiving it for research and educational purposes. If you wish to use copyrighted material for purposes other than "fair use" you must request permission from the copyright owner.