'Father of the internet' concerned for its future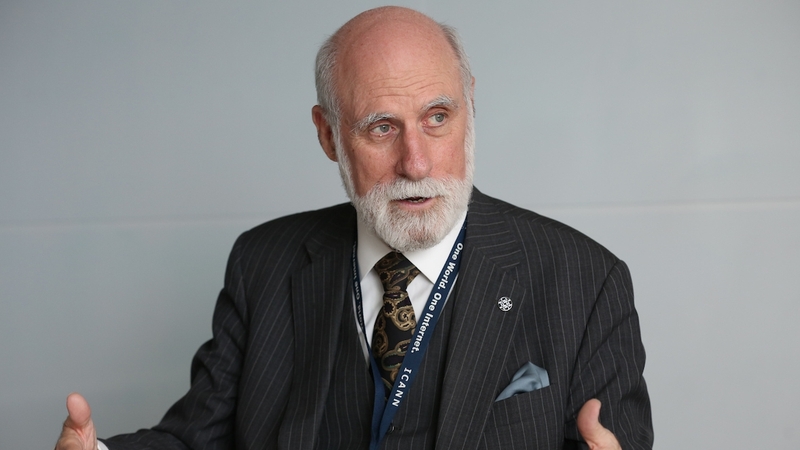 Updated / Tuesday, 20 Jun 2017
A man considered to be one of the "fathers of the internet" has expressed concern about the damage abuse of the platform is doing to it.
Vint Cerf, who is one of a number of people credited with establishing the internet in the 1970s, said its openness is being threatened by people who wish to use it for nefarious purposes.
"This megaphone that everybody has access to has also induced people whose interests are not necessarily aligned with everyone's to use that same megaphone to spread malware, to spread misinformation, to commit various and sundry harms on the net, botnets for example attacking targets," the veteran technologist said.
"So now we have this challenge, which I believe we must meet, to figure out how to preserve all of the very evident benefits of this online open environment and protect people from the abuses that some people insist on visiting."
Mr Cerf, who is currently Vice-President and Chief Internet Evangelist at Google, is in Dublin to speak at the government organised Data Summit which takes place today and tomorrow.
The 73 year old American said his speech tomorrow morning will focus on the unfinished business of the internet, including the need to prevent it being damaged through a variety of means.
As well as tools to stop those spreading malware, fake news and other damaging content, agreements on an international or global scale to assist with apprehending these individuals are also required, he said.
He also suggested wider society should be empowered to say such activities are not acceptable any more, as such peer pressure can be powerful.
Another unfinished area Mr Cerf will talk about is defending against what he describes as the Digital Dark Ages - the danger that people think digital information is immortal.
"You are inclined to think it is as it is just bits, and bits don't have a natural way of wearing out," he said.
"But the medium in which they are stored may not last or you can't find a reader for that medium. So I worry about preserving digital content over literally hundreds of years."
Mr Cerf also thinks there is work to be done in spreading the benefits of the internet to the remaining billions of people around the world who don't have access to it.
"Eric Schmidt told me I wasn't allowed to retire because I am only half done," he said jokingly, referring to the Google Executive Chairman.
"The internet evangelist has 3.5bn more people to convert."
Mr Cerf met yesterday with the Minister for Communications, Climate Action and the Environment and discussed plans for the National Broadband plan which he described as a fabulous initiative.
"I think it would be highly beneficial to the people who have high speed internet," he claimed.
"But also, you are working one of the hardest problems we know about. Highly distributed, highly rural, low density population....So your success in this will be a real beacon for other populations that have this similar sort of rural population."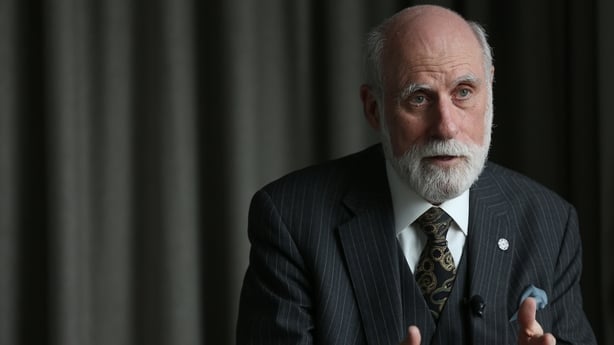 Although many technologists have warned about the threat of artificial intelligence and automation to people's jobs and to society, the former Stanford professor isn't concerned.
He pointed to the industrial revolution which brought many benefits, including new jobs.
And although he acknowledged that some jobs were lost to automation, many new jobs were created, he said.
The key to ensuring the people who lose jobs get new ones is an ongoing cycle of education and training, he claimed.
"It's a good bet that over 80 years technology is going to change, jobs are going to change," he said.
"You need to learn new things as your career proceeds. So instead of go to school, go to work, retire it is sort of go to school, go to work, go to school, go to work, go to school, go to work."
"Education becomes a need not a requirement to sustain your ability to work."
However, although he is not concerned about the threat from artificial intelligence, he remains sceptical about it.
"We should be a little sceptical about how general artificial intelligence is able to be," he told RTE News.
"If you look at the deep learning mechanisms we see today like the ones coming from Google's Deep Mind, where you see the spectacular results...you realise this is very impressive, but it is also very narrow.
"And so a lot of the really spectacular AI things have tended to have a very narrow focus."
Mr Cerf is involved in a huge number of advisory roles, including with Nasa in the development of an interplanetary internet protocol.
He said it is necessary because the big distances and planetary rotation means the traditional TC/IP internet protocol wouldn't work.
The Bundle Protocols that he helped developed are now actively being used in space and was recently used to operate a rover on Earth from the International Space Station.
"Our hope is that for each new scientific mission that gets launched, if they carry the protocols on board, then when the mission is done from a scientific point of view we can repurpose that spacecraft to be a node in the interplanetary backbone."
---
We Need to Change How We Share Our Personal Data Online in the Age of COVID-19
Getty Images
Time Magazine - BY TIM BERNERS-LEE JULY 15, 2020 3:57
Sir Tim Berners-Lee is the CTO and co-founder of Inrupt and inventor of the world wide web.
A few months into the coronavirus pandemic, the web is more central to humanity's functioning than I could have imagined 30 years ago. It's now a lifeline for billions of people and businesses worldwide. But I'm more frustrated now with the current state of the web than ever before. We could be doing so much better.
COVID-19 underscores how urgently we need a new approach to organizing and sharing personal data. You only have to look at the limited scope and the widespread adoption challenges of the pandemic apps offered by various tech companies and governments.
Think of all the data about your life accumulated in the various applications you use – social gatherings, frequent contacts, recent travel, health, fitness, photos, and so on. Why is it that none of that information can be combined and used to help you, especially during a crisis?
It's because you aren't in control of your data. Most businesses, from big tech to consumer brands, have siphoned it for their own agendas. Our global reactions to COVID-19 should present us with an urgent impetus to rethink this arrangement.
For some years now, I, along with a growing number of dedicated engineers, have been working on a different kind of technology for the web. It's called Solid. It's an update to the web – a course-correction if you will – that provides you with a trusted place or places to store all your digital information about your life, at work and home, no matter what application you use that produces it. The data remains under your control, and you can easily choose who can access it, for what purpose, and for how long. With Solid, you can effectively decide how to share anything with anyone, no matter what app you or the recipient uses. It's as if your apps could all talk to one another, but only under your supervision.
I think of all the possibilities this new relationship to our data could unlock, especially in the case of a pandemic.
Take virus infection detection and contact tracing apps: the pandemic hits and there is a call for people to share specific parts of their health data. These apps would be swift to develop and deploy, and more trusted by everyday citizens. Once the crisis passes, people would simply revoke permission for their data and the app would no longer have access to it.
There's even more that could have been done to benefit the lives of people impacted by the crisis – simply by linking data between apps. For example:
What if you could safely share photos about your symptoms, your fitness log, the medications you've taken, and places you've been directly with your doctor? All under your control.
What if your whole family could automatically share location information and daily temperature readings with each other so you'd all feel assured when it was safe to visit your grandfather? And be sure no-one else would see it.
What if health providers could during an outbreak see a map of households flagged as immuno-compromised or at-risk, so they could organize regular medical check-ins? And once the crisis is over, their access to your data could be taken away, and privacy restored.
What if grocery delivery apps could prioritize homes based on whether elderly residents lived there? Without those homes or the people in them having their personal details known by the delivery service.
What if a suddenly unemployed person could, from one simple app, give every government agency access to their financial status and quickly receive a complete overview of all the services for which they're eligible? Without being concerned that any agency could pry into their personal activity.
None of this is possible within the constructs of today's web. But all of it and much more could be possible. I don't believe we should accept the web as it currently is or be resigned to its shortcomings, just because we need it so much. It doesn't have to be this way. We can make it better.
My goal has always been a web that empowers human beings, redistributes power to individuals, and reimagines distributed creativity, collaboration, and compassion.
Today, developers are creating exciting new applications and organizations are exploring new ways to innovate. The momentum for this new and vibrant web is already palpable, but we must not let the crisis distract us. We must be ready to hit the ground running once this crisis passes so we are better prepared to navigate the next one. To help make this a reality, I co-founded a company, called Inrupt, to support Solid's evolution into a high-quality, reliable technology that can be used at scale by businesses, developers, and, eventually, by everyone.
Let's free data from silos and put it to work for our personal benefit and the greater good. Let's collaborate more effectively and innovate in ways that benefit humanity and revitalize economies. Let's build these new systems with which people will work together more effectively. Let's inspire businesses, governments, and developers to build powerful application platforms that work for us, not just for them.
Let's focus on making the post-COVID-19 world much more effective than the pre-COVID-19 world. Our future depends on it.
---
The father of the web is redefining the internet, and he's not asking for permission
The creator of the world wide web, Sir Tim Berners-Lee, has built a new product geared towards returning the power of data back to the general population.
In response to the growing threat of data-hungry internet enterprises, Sir Tim Berners-Lee's new initiative, Inrupt, is aiming to decentralize the web and rewrite the rules of online business with its new open-source project, Solid.
The web "has evolved into an engine of inequity and division; swayed by powerful forces who use it for their own agendas." Berners-Lee explained in a blog post, adding:
"Today, I believe we've reached a critical tipping point, and that powerful change for the better is possible — and necessary"
At the recent Techonomy conference in Half Moon Bay, Berners-Lee announced that the project is already available to developers and highlighted the potential for journalists who may need enhanced privacy and data security to protect their sources.
Berners-Lee described Solid as an alternative to Big Tech data centers, allowing users to instead store their information in personal online data stores, or "pods." which would allow companies access only when the user granted permission.
Solid's "pods" are just one piece of the Solid ecosystem, however. In addition to independent data storage, Berners-Lee envisions a much larger environment including decentralized applications built using tools from the Inrupt website.
One of Berner-Lee's ideas is to build a new version of Amazon's Alexa which he calls Charlie. For Berner-Lee, Charlie will provide all of the benefits of the e-commerce giant's digital assistant, except users will remain in control of data obtained by Charlie. This means users will be able to trust Charlie with their financial and health records, private events, and more.
Berner-Lee hopes that these apps will shake-up the power dynamics between consumers and the tech behemoths that currently rule the web:
"Solid changes the current model where users have to hand over personal data to digital giants in exchange for perceived value. As we've all discovered, this hasn't been in our best interests. Solid is how we evolve the web in order to restore balance — by giving every one of us complete control over data, personal or not, in a revolutionary way."
Perfect Timing
Sir Tim Berner-Lee's timing couldn't be better. The tension between the average consumer and Big Tech is becoming increasingly palpable. With high-profile breaches becoming more frequent and larger in scale and severity, consumers are looking for alternatives.
From cryptocurrencies and blockchain technology to the outright deletion of social media apps, it's clear that users are tired of being 'the product,' and the general negligence from Big Tech towards data security that comes with it.
According to a new report by digital security specialists Gemalto, over 4.5 billion records have been compromised in the first half of 2018.
Though healthcare networks account for the largest amount of breaches, social media and the financial services industry follow closely behind. Between Twitter and Facebook alone, over 2.5 billion records were compromised, the report noted.
From January to July, Gemalto estimates that the equivalent of 291 records were stolen every second, including financial records, medical records and personal information, putting 2018 on track to be one of the most hacked years on record. The most shocking detail, however, is that only one percent of this data was encrypted, raising questions about how both the companies involved and regulators value the security of consumers' data.
A Commercial Endeavour
Though Sir Tim Berner-Lee's vision for Solid is to protect the consumer, he realized that he would need a commercial mindset to succeed.
With that in mind, Berner-Lee recruited British engineer and ex-vice president of Synmantec John Bruce as CEO of Inrupt. Bruce accepted the position and resigned from IBM to fill the position, telling TechCrunch "The world we've created on the web [is] not the right one," adding, "maybe, just maybe, we can put it in the place it was originally intended to be."
The duo's goal is clear; they have set out on a mission to reshape the internet as we know it, and they don't care how it might impact the powers that be.
Berners-Lee stated: "We are not talking to Facebook and Google about whether or not to introduce a complete change where all their business models are completely upended overnight."
"We are not asking their permission."
Conclusion
The current state of data security is surprisingly poor. And not just for the average consumer. Attacks on companies and even critical infrastructure are becoming more frequent, and a change in behavior is necessary moving forward.
Cybersecurity firms have noted time and time again how dangerous the game has become, and now users are finally waking up to this fact.
Whether or not the 'new web' will be built on Berners-Lee's latest endeavor remains to be seen, but when the 'Godfather of the web' leaves MIT to pursue such a project, it's worth taking note.
John Bruce shared, "We are at the stage of the new web that Tim was at when he first started the World Wide Web."
---
Read also:  A Review of Blockchain in Internet of Things and AI
---
COPYRIGHTS
Copy & Paste lenken øverst for Yandex oversettelse til Norsk.
WHO and WHAT is behind it all ? : >
The bottom line is for the people to regain their original, moral principles, which have intentionally been watered out over the past generations by our press, TV, and other media owned by the Illuminati/Bilderberger Group, corrupting our morals by making misbehaviour acceptable to our society. Only in this way shall we conquer this oncoming wave of evil.
Commentary:
Administrator
HUMAN SYNTHESIS
All articles contained in Human-Synthesis are freely available and collected from the Internet. The interpretation of the contents is left to the readers and do not necessarily represent the views of the Administrator. Disclaimer: The contents of this article are of sole responsibility of the author(s). Human-Synthesis will not be responsible for any inaccurate or incorrect statement in this article. Human-Synthesis grants permission to cross-post original Human-Synthesis articles on community internet sites as long as the text & title are not modified.
The source and the author's copyright must be displayed. For publication of Human-Synthesis articles in print or other forms including commercial internet sites. Human-Synthesis contains copyrighted material the use of which has not always been specifically authorized by the copyright owner. We are making such material available to our readers under the provisions of "fair use" in an effort to advance a better understanding of political, economic and social issues. The material on this site is distributed without profit to those who have expressed a prior interest in receiving it for research and educational purposes. If you wish to use copyrighted material for purposes other than "fair use" you must request permission from the copyright owner.