Far-right Trump supporters breach Capitol during electoral vote count. (Continuous report)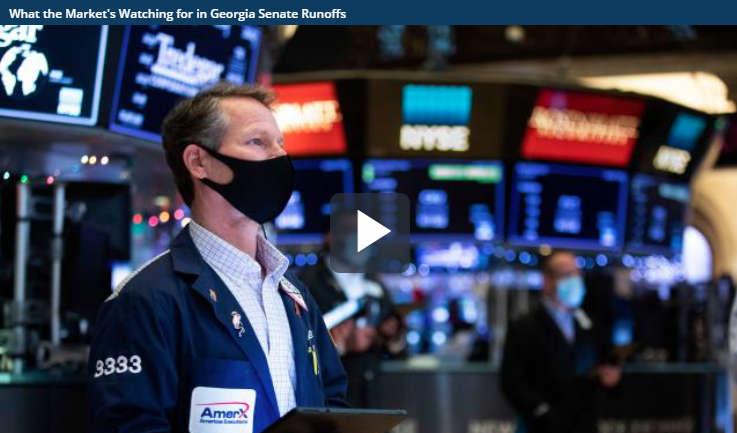 By CHRIS SOMMERFELDT - NEW YORK DAILY NEWS  JAN 06, 2021
Vice President Mike Pence was evacuated from the Senate chamber on Wednesday after throngs of far-right Trump supporters, some touting confederate battle flags, stormed into the U.S. Capitol as lawmakers prepared to certify President-elect Joe Biden's election victory.
The unsettling situation unfolded after President Trump, still refusing to admit that he lost the 2020 election, told supporters at a massive rally outside the White House that they should "never give up" and "fight harder" to overturn Biden's win.
Before Pence was abruptly shuttled out of the chamber by Secret Service agents, he had informed Congress that he would not attempt to single-handedly throw out electoral votes certified Biden, indirectly rebuffing Trump's demand that he do so.
As his supporters breached the security perimeter at the U.S. Capitol, Trump started attacking his vice president over Twitter.
"Mike Pence didn't have the courage to do what should have been done to protect our Country and our Constitution, giving States a chance to certify a corrected set of facts, not the fraudulent or inaccurate ones which they were asked to previously certify," he tweeted. "USA demands the truth!"
This is a breaking story. Please check back for updates.
Watch live coverage: Congress meets to count Electoral College votes•Started streaming 62 minutes ago
---
Shots fired inside U.S. Capitol, lawmakers evacuated after Trump supporters storm building during electoral count
By CHRIS SOMMERFELDT - NEW YORK DAILY NEWS |JAN 06, 2021 AT 3:29
Throngs of far-right Trump supporters, some armed, stormed the U.S. Capitol on Wednesday in a violent attempt to disrupt the congressional certification of Joe Biden's election, forcing lawmakers and Vice President Mike Pence to evacuate as gunfire reportedly rang out inside the halls of Congress.
The deeply unsettling situation unfolded after President Trump, still refusing to admit that he lost the 2020 election, told supporters at a massive rally that they should "never give up" and "fight harder" to overturn Biden's victory.
"We will never concede," Trump shouted to roars from the crowd gathered in the ellipse park in front of the White House.
After Trump's incendiary speech, thousands of Trump supporters marched to the U.S. Capitol. Dozens of them, some touting guns and confederate battle flags, managed to breach the security perimeter and enter the Capitol.
Photos posted to social media from reporters showed some Trump supporters managed to break into the Senate and House chambers. One aggressor took the seat of the Senate presiding officer and yelled into the microphone, "Trump won that election," according to reporters on the scene.
Capitol Police officers were seen drawing guns, and House Minority Leader Kevin McCarthy (R-Calif.) said shots were fired.
"This is unacceptable," McCarthy, who has supported Trump's unfounded attempt to overturn Biden's election, said on Fox News. "People are being hurt. This is unacceptable."
Police did not immediately report injuries, though TV crews outside the Capitol captured emergency personnel carrying out a woman on a stretcher who appeared to be bleeding from her neck.
As chaos raged in the halls of Congress, lawmakers and Pence were evacuated to safe, undisclosed locations by Secret Service agents and Capitol Police officers.
Before Pence was abruptly shuttled out of the chamber by Secret Service agents, he had informed Congress that he would not attempt to single-handedly throw out electoral votes certified for Biden, indirectly rebuffing Trump's demand that he do so.
As his supporters stormed the building, Trump started attacking his vice president over Twitter.
"Mike Pence didn't have the courage to do what should have been done to protect our Country and our Constitution, giving States a chance to certify a corrected set of facts, not the fraudulent or inaccurate ones which they were asked to previously certify," he tweeted. "USA demands the truth!"
This is a breaking story. Please check back for updates.
---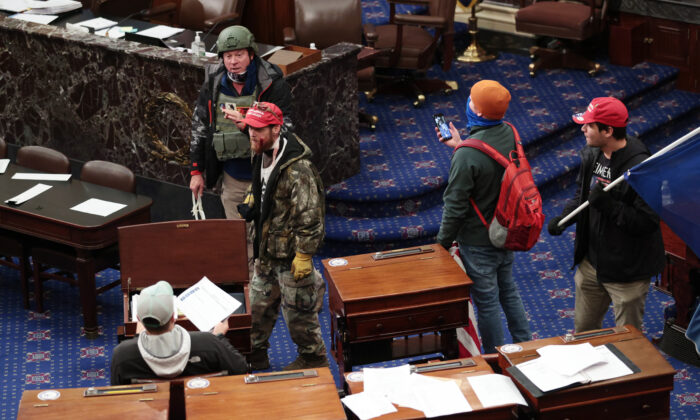 Protesters enter the Senate Chamber in Washington on Jan. 6, 2021. (Win McNamee/Getty Images)
National Guard en Route to Capitol on Orders From Trump
The Epoch Times - BY ZACHARY STIEBER January 6, 2021
The National Guard and other forces are on their way to the U.S. Capitol after people dressed in pro-Trump apparel stormed the building on Wednesday, interrupting a joint session of Congress.
At President Donald Trump's direction, "the National Guard is on the way along with other federal protective services," White House press secretary Kayleigh McEnany said in a statement.
"We reiterate President Trump's call against violence and to remain peaceful," she added.
After the protesters entered the building, triggering the evacuation of members of Congress, at least one person appeared to have been shot.
U.S. Capitol police were making arrests but appeared overwhelmed. They had barricaded the House chambers, and some were pointing guns at the doors as Trump supporters peered in.
Trump urged people to "remain peaceful," adding: "No violence!" He also asked supporters to respect the police.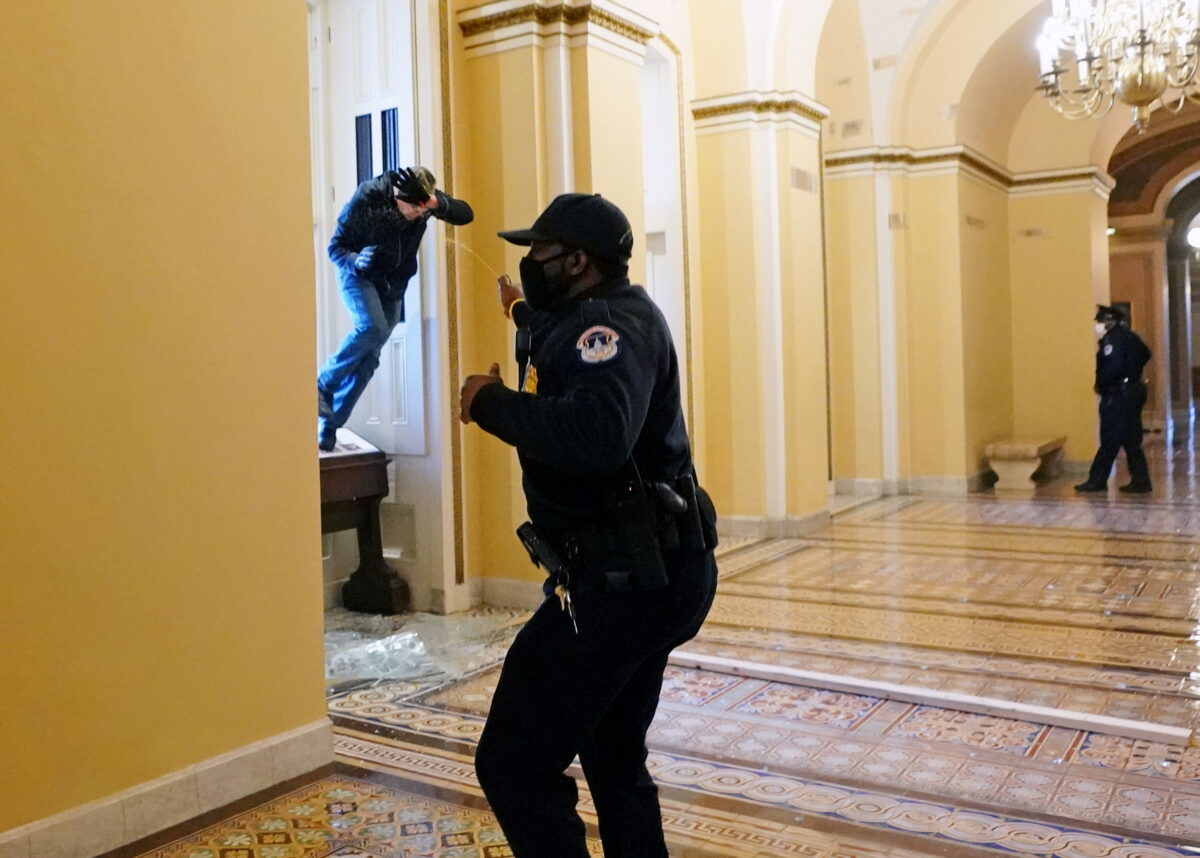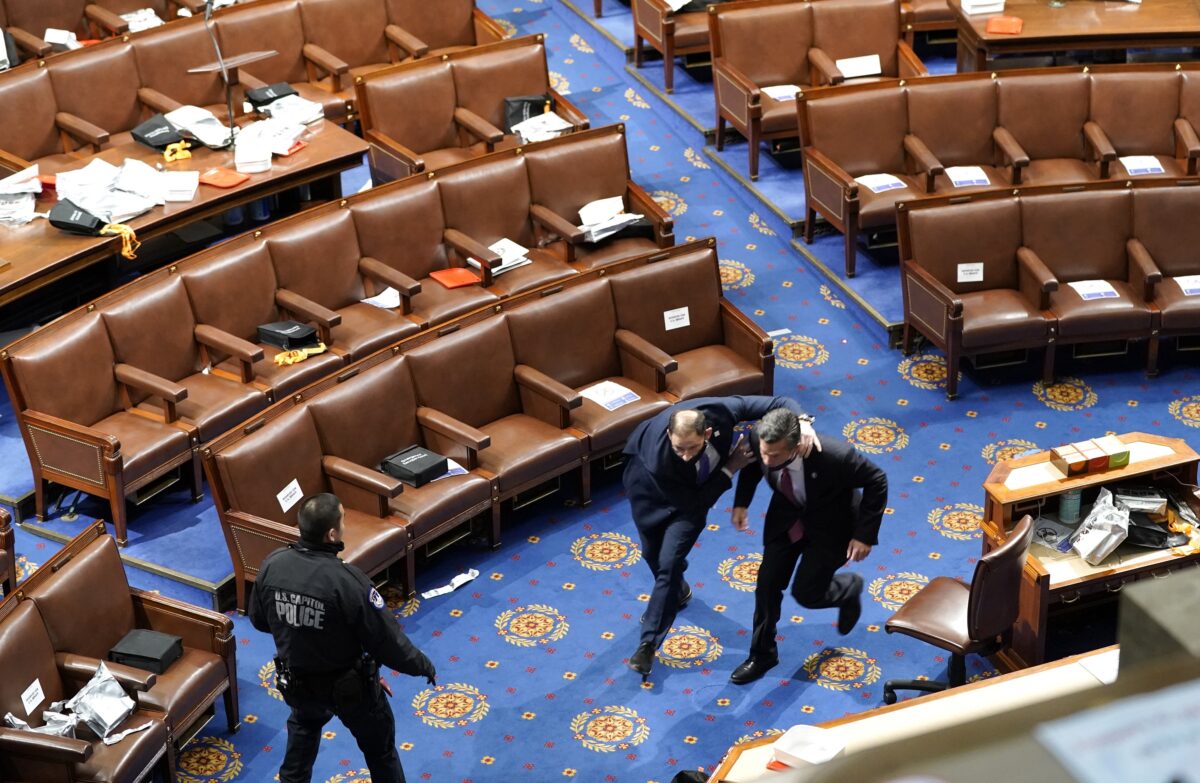 At the request of Washington Mayor Muriel Bowser, a Democrat, approximately 340 D.C. National Guard personnel were activated this week to support police officers as protests in support of Trump carried on in the city.
The personnel were not armed, officials stressed.
The number of National Guard forces on their way wasn't clear. A Department of Homeland Security spokesperson told the Associated Press that officers from the Federal Protective Service and the Secret Service were being deployed to the Capitol, per a request from the U.S. Capitol Police.
Virginia Gov. Ralph Northam, a Democrat, said he was sending members of Virginia's National Guard to Washington, along with 200 state troopers.
Jonathan Hoffman, a Pentagon spokesman, said the law enforcement response to the situation was being led by the Department of Justice. Acting Defense Secretary Christopher Miller has been in touch with congressional leadership.
A huge crowd gathered to protest the results of the 2020 election. Trump and his supporters believe the election was stolen from him, and pressured lawmakers to object to results from states that Democratic presidential nominee Joe Biden won.
The joint session was to count electoral votes. Dozens of GOP legislators objected to votes from Arizona, triggering a separate two-hour debate in each chamber. That was interrupted by protesters entering the building.
Allen Zhong contributed to this report.
---
The Second Revolution? Jan. 6 marks one of this country's darkest days.  
By DAILY NEWS EDITORIAL BOARD  |JAN 06, 2021 AT 4:06 PM
A mob riled up by a demagogue storming the seat of government and forcing elected leaders inside to flee is the stuff of the Third World. It is how Mussolini and Hitler got started. It was not part of the American story. Until Donald Trump. Until Wednesday, Jan. 6, 2021, when thousands of Trump thugs took over the U.S. Capitol as Congress was counting the votes of Joe Biden's victory.
Teach this day of infamy to our children. Teach it so they never forget the depths to which a great democracy can sink when deluded and divided and led by a narcissistic agent of chaos. Teach it so they feel the deep embarrassment, so that they never let it happen again.
It was Trump who delivered us to this day. He invited the crowds, incited them, fed them a steady diet of lies and seething grievance about how their nation was being robbed in an elaborate plot ripped from a fever dream. Then, when the mobs claimed the Capitol, he went silent, letting them run roughshod over the seat of government.
The president is the insurrectionist in chief
Shame on him, and shame on his lawbreaking followers — the very same people who claimed to revere law and order and loathe anarchy have looted the U.S. Capitol, broken down doors and shattered the glass.
They call themselves patriots, then they spit on the American character. They say Make America Great Again, then project an image to the world that this great representative republic has fallen into shambles, incapable of a peaceful transfer of power. Trump and these followers, who once took umbrage at being labeled deplorable, are would-be destroyers of democracy.
Ownership for this deepest disgrace is shared by the House and Senate Republicans who objected to the lawful counting of Joe Biden's electoral college votes; they deliberately encouraged the fantasy of a stolen vote in states that Trump lost. They knew exactly what they were doing.
The beast they created doesn't respond to reason. Even as those lawmakers were debating their nonsensical objection to Arizona's vote, they were forced to evacuate just like their upright GOP and Democratic colleagues when the mob took over the building, breaching the House and Senate chambers.
Trump lost on Nov. 3. His supporters lost. And now the nation is a risk of being lost. This most noble experiment in self-government of free people, begun by a ragged band of farmers and merchants in 1776, must not end with mobs and police and VIPs hustled away to undisclosed secure locations.
To explain how they came up short in state after state after state, the votes counted and recounted and challenges considered and dismissed, Trumpites needed to concoct a grand conspiracy. And so, digging deeper and deeper into the bowels of the internet, they did. The Deep State became the Deep Nation, with sworn enemies in every corner manufacturing votes. Facts connivingly twisted to tell a story. As usual, Democrats were the villains. As usual, Trump was the hero.
The practiced huckster in the White House knows how this works: Bring out bucket after bucket after bucket of lies, pouring them all out, one after the other. The debunkers and factcheckers will be bamboozled, the furious few will have their false preconceptions confirmed. The lies won't matter, because the parallel reality, the dangerous delusion, will be more powerful.
A thousand times no. Joe Biden is president-elect of these United States, duly elected by the people of the 50 states, to be sworn in on Jan. 20. He will lead with decency and dignity. If Trump won't leave the White House standing on his own two feet, drag him squealing.
---
Pelosi: House Will Proceed With Electoral Certification After It's Cleared by Police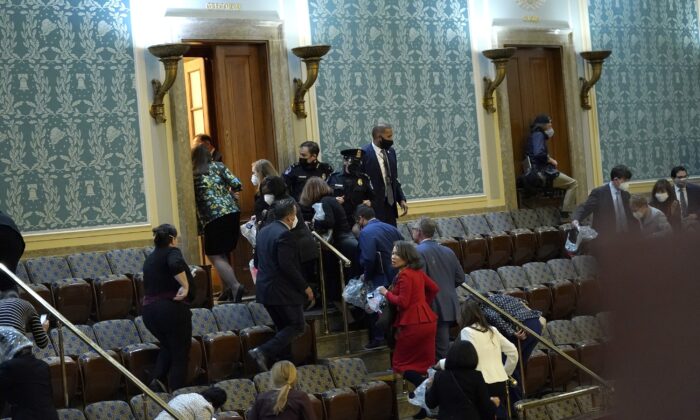 Members of Congress evacuate the House Chamber as protesters attempt to enter during a joint session of Congress in Washington on Jan. 6, 2021. (Drew Angerer/Getty Images)
The Epoch Times - BY JACK PHILLIPS January 6, 2021
House Speaker Nancy Pelosi (D-Calif.) said that after speaking with House leaders and White House officials, the House will proceed at the Capitol in the electoral certification.
"In consultation with Leader Hoyer and Whip Clyburn and after calls to the Pentagon, the Justice Department and the Vice President, we have decided we should proceed tonight at the Capitol once it is cleared for use," Pelosi said in a statement on Wednesday night, referring to Reps. Steny Hoyer (D-Md.) and Jim Clyburn (D-S.C.).
She added that "we always knew this responsibility would take us into the night," adding that members of Congress and staff "should remain on the Capitol complex until they are notified by the United States Capitol Police."
It came after President Donald Trump called on protesters to "go home with love [and] peace" and to "remember this day forever," according to a Twitter post that was later deleted by the social media platform.
Another Twitter post, a video of Trump telling supporters to leave while asserting that election fraud occurred, was also deleted by the company. Facebook appeared to have removed both of Trump's posts as well.
Before that, Trump wrote that the election was "unceremoniously" and "viciously stripped away" from patriots who have been treated "badly [and] unfairly for so long."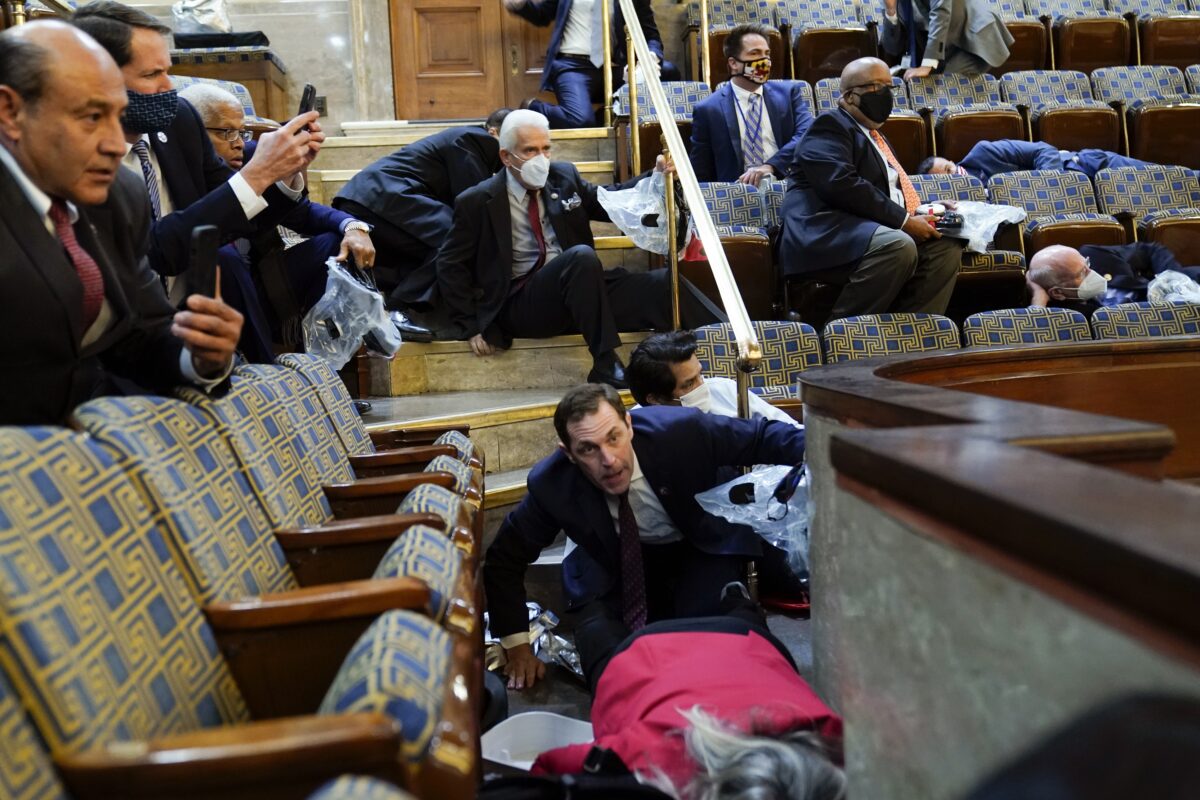 It's unclear whether House GOP representatives and senators will continue their plan to object to the electoral counting efforts. Before the House and Senate chambers were evacuated and put on lockdown, lawmakers were deliberating on the electoral votes for Arizona. Sen. Ted Cruz (R-Texas) and dozens of Republican representatives objected to Arizona's electoral certification.
Rep. Mike Kelly (R-Pa.), among those challenging Biden's win, blamed "both sides" for the chaos at the Capitol. "What do you think was taking place in this country?" he told reporters. "There's been a lot of people during the last four years that have just been getting more and more incensed over what is going on around the country, on both sides. It's just too bad. This is not how we handle things in America."
Vice President Mike Pence, who was presiding over the session, was evacuated from the Senate as protesters and police shouted outside the doors. Police evacuated the chamber at 2:30 p.m., ushering senators to the first of what would be several undisclosed locations.
Clerks grabbed boxes of electoral college certificates as they left, before protesters began entering the halls, with one getting on the dais of the Senate.
End of this day
---
Pence Chief of Staff Blocked From Entering White House Grounds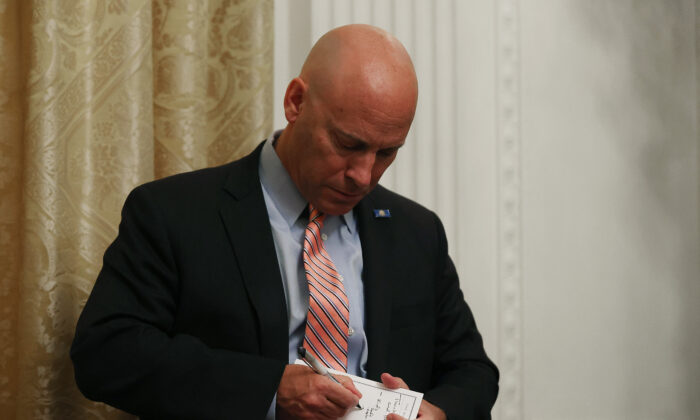 Marc Short, chief of staff to Vice President Mike Pence, in the East Room at the White House in Washington on July 7, 2020. (Chip Somodevilla/Getty Images)
The Epoch Times  - BY ISABEL VAN BRUGEN  - January 7, 2021
Vice President Mike Pence's chief of staff Marc Short has claimed that he was denied entry back on White House grounds on Wednesday night amid rising tensions between President Donald Trump and Pence, according to reports.
Short reportedly told Real Clear Politics that he is not allowed back into the White House because the president is "blaming him" for his advice to Pence.
The White House didn't immediately respond to a request for comment by The Epoch Times.
The vice president had earlier said that he lacked the authority to reject disputed electoral votes under the U.S. Constitution, prompting Trump to say that Pence didn't have the courage to do what was right.
"Mike Pence didn't have the courage to do what should have been done to protect our Country and our Constitution, giving States a chance to certify a corrected set of facts, not the fraudulent or inaccurate ones which they were asked to previously certify," Trump wrote on Twitter Wednesday. "USA demands the truth!"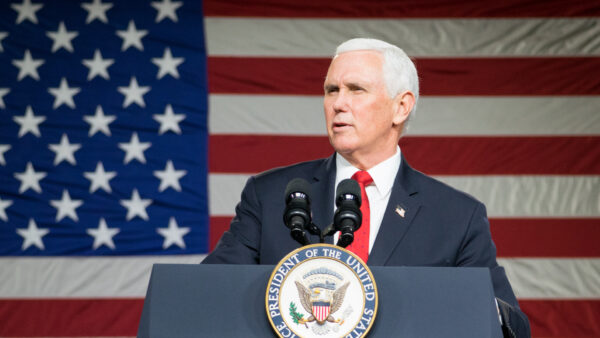 Shortly before the Jan. 6 joint session of Congress to certify the Electoral College votes, Pence issued a statement saying that it was "my considered judgement that my oath to support and defend the Constitution constrains me from claiming unilateral authority to determine which electoral votes should be counted and which should not."
"Given the controversy surrounding this year's election, some approach this year's quadrennial tradition with great expectation, others with dismissive disdain," Pence wrote. "Some believe that as vice president, I should be able to accept or reject electoral votes unilaterally. Others believe that electoral votes should never be challenged in a joint session of Congress.
"After a careful study of our Constitution, our laws, and our history, I believe neither view is correct," Pence said.
In the days leading up to the joint session, the president had been urging Pence to discard electoral votes from battleground states where the integrity of the election is being questioned.
"If Mike Pence does the right thing, we win the election," Trump said an hour before the count in Congress was to begin. "All Vice President Pence has to do is send it back to the states to recertify, and we become president and you are the happiest people."
The joint session was forced to suspend following acts of violence on Capitol grounds that took place during demonstrations over election integrity. Swarms of protesters, many dressed in pro-Trump apparel, stormed the Capitol building at around 2:15 p.m, shattering building windows to enter.
It is unclear who instigated the breach of the building.
Washington, D.C. police confirmed during a press briefing in the early hours of Thursday morning that four people had died on the grounds, including a female gunshot wound victim, who has since been identified by family members as as Ashli Babbitt, an Air Force veteran from California and Trump supporter.
The causes of death for the other three individuals remain unclear. Robert J. Contee, chief of the Metropolitan Police Department, told reporters that more information will be released when the individuals are seen by a medical examiner, but noted that "there was some type of medical emergency for each of them."
GQ Pan contributed to this report.
---
Pence obviously have other plans!
---
"I Don't Know If She's Alive Or Dead.": Witness Describes Scene At U.S. Capitol Building Protest - 242,183 views • Jan 6, 2021
It is completely unacceptable that the people themselves had to make their way into the Capitol to ask for acceptance into a proper investigations of the biggest electoral fraud that has ever taken place in the United States.
Up til then, all the delegates had been such cowards that they had instead gone under cover and were not available for questions. However, the riot police arrived and managed to kill an unarmed woman with one shot in the neck.
A witness to the murder said that no one in here cared, whether they were Democrats nor Republicans they did not support the American people and that SOMETHING had to be done to be able to keep the Republic in accordance with the Constitution.
Brave guy who with all his like-minded people has been totally betrayed by their representatives and politicians on both sides and must be FURIOUS! (video)
---
Kaos i Washington – støttespillere forlater Trump
Av Resett.no - 7. januar 2021 | 05:43
Stormingen av kongressbygningen i Washington har skapt et sjokk i den politiske dynamikken i USA. Flere av Trumps tidligere støttespillere tar avstand fra ham.
Politiet sier fire personer mistet livet, blant annet en kvinne som ble skutt inne i kongressbygningen da den var beleiret.
Kvinnen som ble skutt av politiet forsøkte å ta seg gjennom en barrikadert dør da politiet åpnet ild mot henne.
Det skal være Trump-tilhengeren Ashli Babbitt, som tjenestegjorde i luftforsvaret i 14 år som er drept, skriver Fox News.annonse
Kongressbygningen i USA ble stengt etter at folk tok seg inn i Capitol-bygningen. Visepresident Mike Pence og de tilstedeværende delegatene ble eksortert bort under stor dramatikk mens politiet forsøkte å få kontroll på situasjonen.
Twitter, Facebook og Instagram har stengt av Donald Trumps mulighet til å poste nye innlegg. Det gjelder midlertidig, men de truer med permanent utestengelse.annonse
Føere sentrale medarbeiderer i Det hvite hus leverte sine oppsigelser etter stormingen av Capitol Hill, melder Fox News.
Nestlederen i Det nasjonale sikkerhetsrådet til Det hvite hus, Matt Pottinger, er den siste som melder sin avgang.
Det var liten grunn til å nøle, sier han ifølge CNN. Kanalen melder også at den nasjonale sikkerhetsrådgiveren Robert O'Brien, som er en av Trumps toppmedarbeidere, vurderer å trekke seg, ifølge NTB.
Tidligere trakk pressesekretær i Det hvite hus, Sarah Matthews. Trolig vil også visestabssjef Chris Liddel gjøre det samme.
– Som en som har jobbet i Kongressens haller, var det svært urovekkende å se det jeg så i dag. Jeg vil trekke meg fra min rolle med umiddelbar virkning. Nasjonen trenger en fredelig maktoverføring, sier Matthews i en uttalelse ifølge Fox News.
Ifølge Alex Ward, en korrespondent i Det hvite hus for Vox, vil også visestabssjef Chris Liddel trekke seg torsdag.annonse
Tidligere har stabssjefen til førstedame Melania Trump, Stephanie Grisham, trukket seg.
Godkjenning av Biden
Da bygningen var sikret onsdag kveld amerikansk tid, gjenopptok Kongressen den formelle prosessen med å telle opp og godkjenne valgmannsstemmene fra delstaten.
Joe Biden er lovmessig valgt til president, sier den republikanske lederen Lindsey Graham.
– Jeg og Donald Trump har vært på litt av en reise, men nok er nok, sa Graham i sluttinnlegget før Senatet stemte over innsigelsene mot at Joe Biden kunne sertifiseres som valgvinner i Arizona, skriver NTB.
– Jeg vil si, og kanskje er det viktigere at det kommer fra meg enn noen andre: Joe Biden og Kamala Harris er rettmessige vinnere av valget, sa Graham.
Også flere andre republikanere distanserte seg fra demonstrantene, men også fra Trump.
– Jeg forstår smerten deres
Trump ble oppfattet som halvhjertet i sine uttalelser om demonstrasjonene som utartet til stormingen av Kongressen.
Ifølge Wall Street Journal la Donald Trump ut følgende beskjed onsdag kveld etter at Kongressbygningen ble stormet.
– Jeg forstår smerten deres. Jeg vet dere er såret. Valget ble stjålet fra oss. Det var en brakseier, og alle vet det – spesielt den andre siden. Men dere må gå hjem nå. Vi må ha fred. Vi må ha lov og orden, begynte Trump.
Les hele talen på engelsk under.
I know your pain. I know you're hurt. We had an election that was stolen from us. It was a landslide election, and everyone knows it–especially the other side. But you have to go home now. We have to have peace. We have to have law and order.
We have to respect our great people in law and order. We don't want anybody hurt. It's a very tough period of time. There's never been a time like this where such a thing happened where they could take it away from all of us–from me, from you, from our country.
This was a fraudulent election but we can't play into the hands of these people. We have to have peace, so go home. We love you. You're very special. You've seen what happens. You see the way, others are treated that are so bad and so evil. I know how you feel. But go home and go home in peace.
På amerikanske medier er det flere som kritiserer beskjeden for å være halvhjertet. Mange ønsker en sterkere fordømmelse og mener Trump har fyrt opp demonstrantenes sinne.
---
8 JANUARY 2021
Trump Supporters Take Stock of Jan. 6, Feel Mischaracterized by Media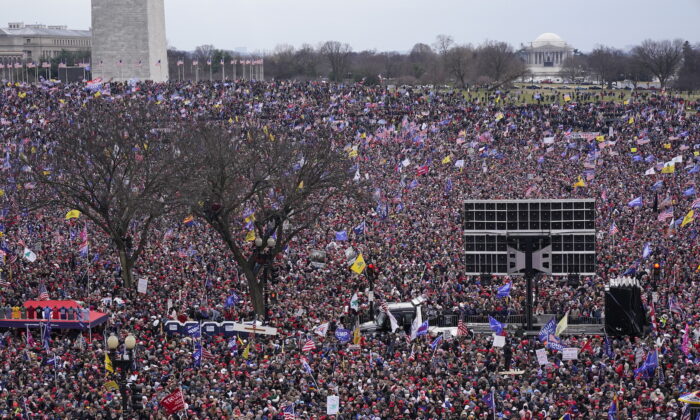 With the Washington Monument in the background, people attend a rally in support of President Donald Trump near the White House on Jan. 6, 2021, in Washington. (Jacquelyn Martin/AP Photo)
BY CHARLOTTE CUTHBERTSON January 7, 2021
WASHINGTON—Empty streets and a subdued atmosphere characterized Washington on Jan. 7 as Trump supporters processed the events of the previous day and the certification of the Electoral College votes by Congress overnight. Many were packing up to go home, at the same time a fence was being erected around the Capitol; the National Guard presence was obvious.
Marine veteran Tony Good traveled from Florida and walked to the Ellipse to hear President Donald Trump speak in the morning. He said Trump didn't incite violence in his speech.
"No, absolutely not. There's a line between inciting to riot and standing on convictions," Good told The Epoch Times. "He wasn't telling anybody to riot, he was just telling them it's our right to protest. That's a right we have in America."
Good became separated from his group and returned to his hotel to regroup after the speech. He didn't go to the Capitol, but said he wishes he had.
"I call yesterday the first day in the 10-year war," he said. "It's going to be 10 years before this gets turned around. It's going to take that long. War in the sense of … getting things to where they should be in America, as far as fair and free elections, election integrity.
"It's not going to happen overnight, because the powers that be don't want it to be. They want to rule. They want to be the ruling class."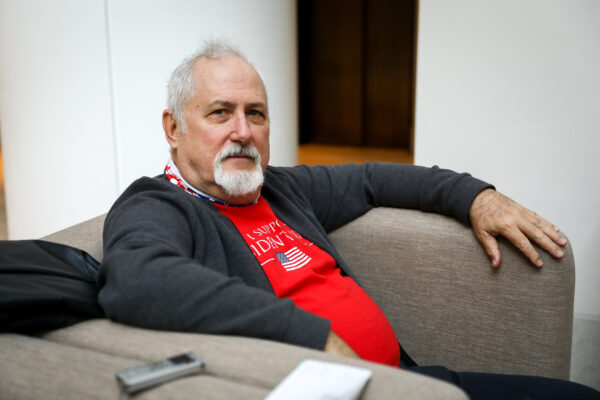 Good said he isn't surprised by what happened yesterday, but is feeling a little sad today "because there's going to be a change going on."
"We just got to regroup. We're fighting an evil system. When you have all the mainstream media against you and you have all the money going against you, it's not going to be that easy," he said.
'Stand Up for This Country'
Elizabeth Rowell flew alone from Fort Lauderdale, Florida, to join the protests. She found Trump's speech to be "passionate," but not to the point of incitement to riot.
"I never once felt unsafe. I met a lot of great patriots on the way. The entire time we were there, we chanted 'U-S-A' and sang the national anthem," she said.
Today, however, Rowell said she's feeling "kind of bummed, because I don't like the way we were portrayed."
"I feel like the media makes it look like the … people that went inside have now made the rest of us outside look like we're a bunch of hoodlums. But we didn't do anything. We were all there just to be patriotic and support our president," she said.
"I came here to stand up for this country. I think it was ripped off, stolen from us. I'm not going to accept Biden as president, and I do feel like the world's getting ready to go to crap because of him."
She said she continues to stand with Trump.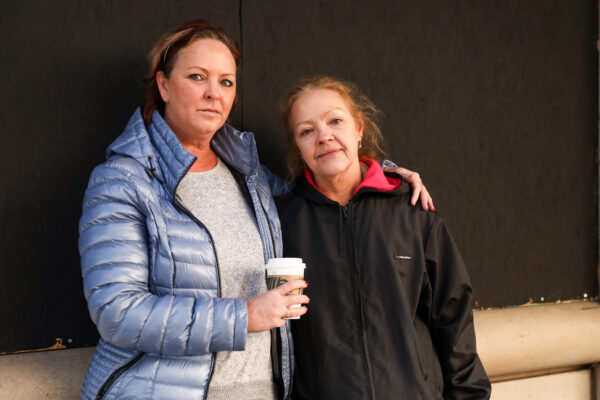 'Very Disillusioned'
Martha Todd, a retiree from Lynchburg, Virginia, said she felt good about the Jan. 6 protest rally, but didn't hear about the fatal shooting of Ashli Babbitt or the storming of the building until after she left.
"I feel bad about the way things worked out, and I really feel bad the way the media is portraying everything.  Of course they're making it all sound terrible … we're mobsters and mobs and violent. That's not true," she said.
"I'm very disillusioned. But I do not support Biden. His family is a crime family. I just feel like we're screwed. I don't feel like I've lost hope—there's always hope. There's so many people out there that are so against Trump. They lie and cheat and steal—how are you going to fight against that—when they cheat? And they all support each other."
'On the Verge'
Self-described conservative Carol Logreco traveled from New Orleans and was at both the Ellipse and the Capitol. She said she wanted to be there to support freedom and the ability to have free and fair elections.
"[We] feel like we're losing a lot of our rights, and that we're on the verge of becoming more of a socialist or Marxist society," she said. "You can see the indoctrination of our children and students and in our communities, and I really felt like this was the last real stance to speak up before we don't have a chance to do that anymore."
She said yesterday felt festive in general, but she saw some agitators within the crowd, which she believes infiltrated the protest.
"I feel disappointed. Disheartened. I feel like it's a war. And I think this was a battle within the war. And I don't mean that like a physical battle in war but more of a philosophy, and where do we stand as Americans, and where are our rights and our freedoms," Logreco said.
"People can go to Portland and Seattle and burn buildings down and take over police stations and everything else, and it's called Summer of Love."
Going forward, she said, "we have to regroup and figure out what's the best way to still be heard."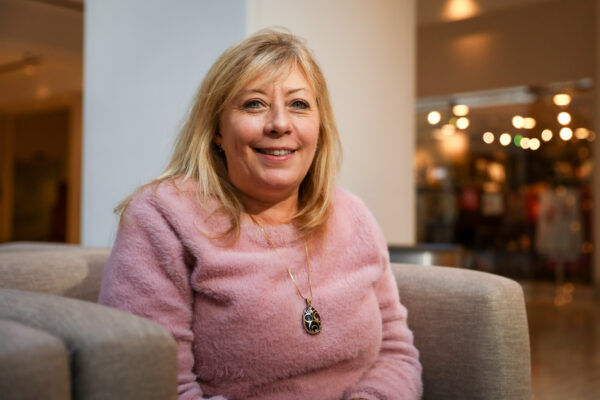 'This Is a Bad Situation'
Mike Morejon, a self-employed Floridian, said he feels "broken" today.
"Because of what my parents lived, I understand the gravity of this—this is a bad situation," he said.
Morejon said his parents lived in Cuba as Fidel Castro took power and lived a difficult life until their escape in the early 1970s.
"They made [my mother] work in agriculture and work her way out of Cuba for four years. She had to go cut sugar cane and pick fruit and vegetables for 14 hours a day as a 17-year-old woman … away from her family. They would put maggots in their food and rats in their water supply," he said.
Morejon said he fears a similar future is possible in the United States under the control of the globalist elites and the Chinese communist regime. He said Trump has stood up to the Chinese regime, after it got a pass for decades under previous U.S. presidents.
"It's the globalists, it's the elitists, and it's China. They want to tax us, they're going to raise our taxes, they want to vaccinate us, they want to keep us under government control. And that's where I see it going," Morejon said.
He came to support the Constitution, "because without a Constitution, we have no rights," he said. "I'm here for every Democrat. I'm here for every regular person."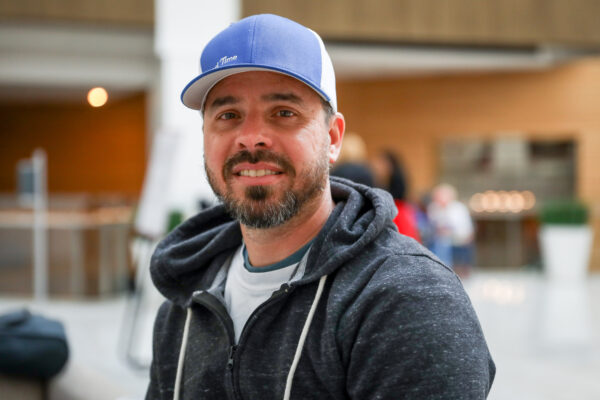 'Fight Not Over'
Kim Kramer flew in from New Orleans to join what she said was a "very upbeat, very enlightening" day with "people who want to support one another, support our country, support our president."
Today, she said she has mixed feelings.
"I knew this was a demonstration of the people to show our representatives how we do support our president. Other than that, I wasn't expecting or anticipating anything else," she said.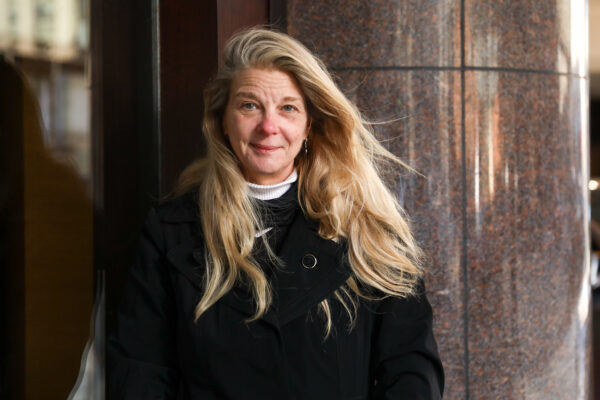 "The fight's still not over. But I don't get over excited about it. And I don't get depressed about any of it, because I think it's all in the right hands, it's in good hands—whether it's exposing those who are correct and those who aren't.
"I have strong faith in God, and I do believe that with all our prayers, and with God looking out … I believe there's just some really good people that do have faith."
---
COPYRIGHTS
Copy & Paste lenken øverst for Yandex oversettelse til Norsk.
WHO and WHAT is behind it all ? : >
The bottom line is for the people to regain their original, moral principles, which have intentionally been watered out over the past generations by our press, TV, and other media owned by the Illuminati/Bilderberger Group, corrupting our morals by making misbehaviour acceptable to our society. Only in this way shall we conquer this oncoming wave of evil.
Commentary:
Administrator
HUMAN SYNTHESIS
All articles contained in Human-Synthesis are freely available and collected from the Internet. The interpretation of the contents is left to the readers and do not necessarily represent the views of the Administrator. Disclaimer: The contents of this article are of sole responsibility of the author(s). Human-Synthesis will not be responsible for any inaccurate or incorrect statement in this article. Human-Synthesis grants permission to cross-post original Human-Synthesis articles on community internet sites as long as the text & title are not modified.
The source and the author's copyright must be displayed. For publication of Human-Synthesis articles in print or other forms including commercial internet sites. Human-Synthesis contains copyrighted material the use of which has not always been specifically authorized by the copyright owner. We are making such material available to our readers under the provisions of "fair use" in an effort to advance a better understanding of political, economic and social issues. The material on this site is distributed without profit to those who have expressed a prior interest in receiving it for research and educational purposes. If you wish to use copyrighted material for purposes other than "fair use" you must request permission from the copyright owner.