Trump Oppfordrer Amerikanerne til å "Stoppe Tyveriet av Presidentvalget'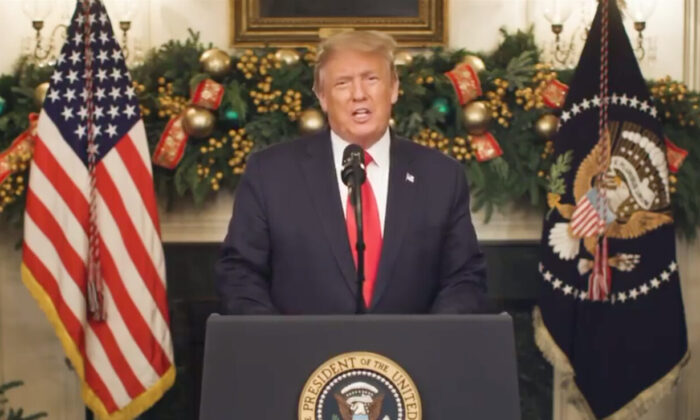 President Donald Trump i en video adresse på Des. 23, 2020. (White House video)
The Epoch Times - AV MIMI NGUYEN LY desember 23, 2020
President Donald Trump i en tale til nasjonen sent tirsdag forsøkte å forklare hvorfor han er fast bestemt på å ivareta alle legale og konstitusjonelle muligheter for å "stoppe tyveri av presidentvalget," og kalte på det Amerikanske folk til å "heve stemmen" og behovet for å korrigere urettferdighet.
"Amerikanerne må være i stand til å ha full tro i tillit av sine valg. Skjebnen til vårt demokrati er avhengig av det," sa han i en video uttalelse. "Nå er det tid for det Amerikanske folket til å løfte sine stemmer og kreve at denne urettferdigheten umiddelbart bli korrigert. Våre valg må være rettferdig, må de være ærlig, de må være transparent, og de må være 100 prosent fri for svindel.
"Vi har vunnet dette valget av en fantastisk og ras, og folk i USA vet det. Alle over, de er å demonstrere, de er sinte, de er engstelige. Vi kan ikke tillate en helt falske valget å stå."
Trump sa at en av hans mest høytidelige plikter som president er å beskytte integriteten av Amerikanernes "hellig rett til å stemme."
Han anklaget Demokratiske tjenestemenn i key swing states av å ha brukt CCP (Kinesiske Kommunistpartiet) - viruset, som forårsaker sykdommen COVID-19, som et påskudd til å angivelig ulovlig bryter statlige lover å "aktivere, oppmuntre og legge til rette for svindel" på et enestående omfang i landet.
Trump har tidligere påstått at det var en utbredt stemme uregelmessigheter og svindel over hele landet, men dette er første gang han har gjort en lang adresse om valget oppfordret Amerikanerne til å være vokale om situasjonen.
Det kommer etter at han nylig kalt for sine tilhengere til å delta i et planlagt protest i Washington, D.C., på Jan. 6, 2021. "Vær der, vil være vill!" presidenten skrev. Jan. 6 er når medlemmer av Kongressen er satt til å møtes i en felles sesjon for å telle valgmannsstemmer.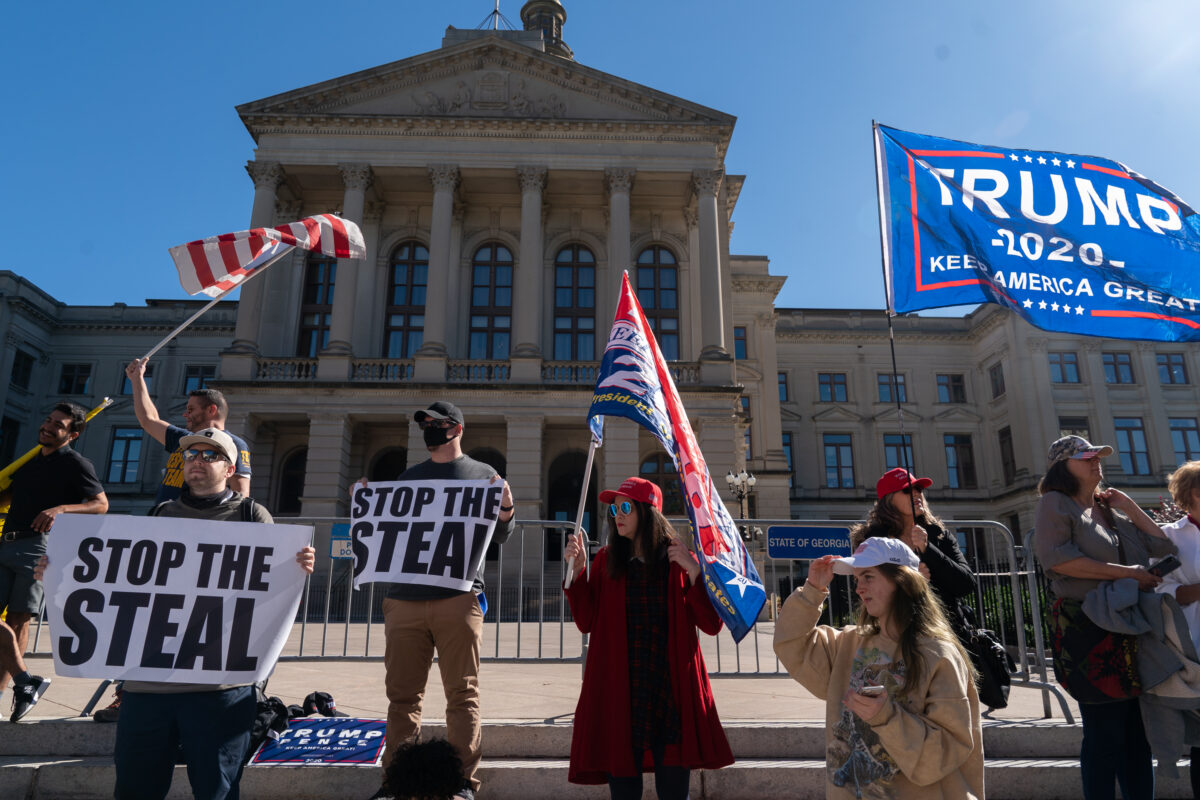 Hundrevis av tusenvis av Trump støttespillere har holdt flere protester over hele landet siden valget, ringer for et fritt og rettferdig valg, og for ledere til å iverksette tiltak.
Demokraten Joe Biden har erklært seier i valget. Trump og andre Republikanere er bestrider valgresultatet i domstolene i viktige stater. Den Epoken Ganger er ikke kalle løp på denne tiden.
'Fakta Alle Amerikanere Trenger å Vite"
Presidenten brukte de fleste av hans Hvite Hus adresse tirsdag kveld forklarer hvorfor han mener det var en utbredt svindel mens gjentatte ganger for å hevde at han var den virkelige vinneren av valget.
"Sannheten er at vi vant valget av et skred. Vi vant den store," sa Trump. "I dag skal jeg gi deg fakta som enhver Amerikansk trenger å vite."
På natten av Nov. 3, swing stater, inkludert Michigan, Wisconsin, Georgia, og Pennsylvania så en leder for Trump. Imidlertid stemme teller stoppet brått i de tidlige timer av dagen, og en serie av "massiv og statistisk utenkelig stemme dumper" i midten av natten, veltet resultatene, Trump er angitt.
"Disse gigantisk latterlig ensidig toppene ble på mirakuløst vis akkurat nok til å presse Joe Biden i ledelsen i alle de key swing states. Disse åpenbare avvik er bare toppen av isfjellet," sa han.
Presidenten delte også hvordan han hadde vunnet i Ohio, Florida, og Iowa "av historiske marginer," og vant 18 av 19 "fylker" som har for de siste 40 årene har gjettet riktig vinner av presidentvalget.
"[Dette betyr at] Biden ville bli den første kandidaten siden 1960 og bare den andre kandidaten i Amerikansk historie til å vinne det Hvite Hus mens tapte alle tre av de store statene, og det var ikke engang i nærheten," sa Trump.
Han pekte på at Demokratene hadde mistet 25 av 46 toss-up Huset sitteplasser, og bemerket at Demokratene endte opp med å ha et netto tap på 14 seter, selv om de ble anslått til å få 15 seter, som var, i henhold til Trumf, på grunn av sin suksess og ned-stemmeseddelen effekt.
Trump sa at hans presidentvalget tjent om lag 75 millioner stemmer, som er om lag 12 millioner flere stemmer i forhold til 2016 valg—den største stemme øke registrert for en sittende president. Til tross for dette, motstander Joe Biden "liksom mottatt 11.7 millioner flere stemmer enn Barack Obama, og han slo Barack Obama over hele landet," sa Trump.
"Det er historisk, matematisk, politisk, og logisk umulig. Det skjedde ikke. Han gjorde ikke vinne. Vi vunnet av et skred." sa han.
Trump kampanjen har i løpet av de siste syv uker bevis påstand stemme uregelmessigheter og svindel. President fortalt Amerikanerne at kampanjen har vist at Demokratene har brutt sine egne statlige lover ved å endre prosedyrene i forkant av valget uten å ha gått gjennom den statlige lovgivere.
Slike endringer inkludert suspendere alle signaturer krav, flom en stat med absentee stemmeseddelen programmer, og distribusjon av hundrevis av ubemannede stemmeseddelen slipp bokser. Disse endringene ble angivelig gjort for å "ulovlig fordel" Biden, sa Trump.
Han har også påstått at de utrolig lave fraværende stemmeseddel avvisning  "beviser at hundrevis av tusenvis av illegitim stemmesedler ble regnet med i den viktige stater", og at det ikke var noen "meningsfylt forsøk på å kontrollere statsborgerskap, bosted, identitet eller berettigelse for post-i valg."
"Potensialet for ulovlig aktivitet er ubegrenset, og det er det vi nettopp har opplevd," sa han.
Trump viste også til vitner som har vitnet om at de selv vært vitne til ulike tilfeller av juks og svindel. Dette inkluderte vitner har sett meningsmåling arbeidere tilbakedatere tusenvis av stemmesedler eller antall porsjoner av samme stemmesedler mange ganger. Andre vitner sier de så tusenvis av uberørte stemmesedler som ikke hadde noen skrukker eller bretter at alle stemte for Biden.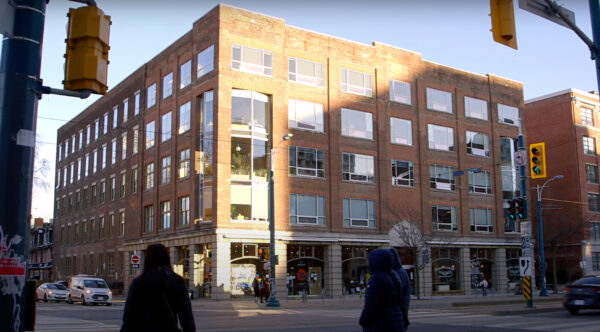 Presidenten også stilt spørsmål involvering av Herredømme Stemme Systemer, en leverandør av å stemme maskinvare og programvare, inkludert stemmegivning maskiner og tabulators. Han sa at Arizona state senatorer nylig utgitt en stevning for en rettsmedisinsk revisjon av de stemmeberettigede maskiner, og at andre stater ved hjelp av Herredømme utstyr og programvare skal også gjennomføre lignende undersøkelser.
"Så jeg har bare lagt ut, vi har avduket overveldende bevis for valg svindel. Ingenting av dette skal noen gang har vært tillatt i de Forente Stater. Det er en parodi på demokrati, det er en skam på vår republikk," sa Trump.
Trump også anklaget Demokrat Parti, media og Store Tech giganter av "åpent samarbeid" for å lure landet. I forkant av valget, media og Store Tech selskaper sensurert historier om hvordan Biden er familien hadde "mottatt millioner av kroner fra det Kinesiske Kommunistpartiet."
"Vårt land ikke lenger har en fri presse. Det er et trykk av undertrykkelse. Det er et trykk der sannheten vil aldri komme ut. Det er den største og mest sjokkerende skandale som involverer en presidentkandidat i moderne historie," sa Trump, senere du legger til, "media og Demokrat Parti løyet til det Amerikanske folk til å prøve å stjele valg."
"Hvis dette grove bedrageri er ikke ferdig etterforsket og rettet 2020 valget vil for alltid bli betraktet som illegitime og mest korrupte valget i historien av vårt land," sa Trump.
Følg Mimi på Twitter: @MimiNguyenLy
Hjelp oss å spre sannheten. Del denne artikkelen med dine venner.
---
COPYRIGHTS
Copy & Paste lenken øverst for Yandex oversettelse til Norsk.
WHO and WHAT is behind it all ? : >
The bottom line is for the people to regain their original, moral principles, which have intentionally been watered out over the past generations by our press, TV, and other media owned by the Illuminati/Bilderberger Group, corrupting our morals by making misbehaviour acceptable to our society. Only in this way shall we conquer this oncoming wave of evil.
Commentary:
Administrator
HUMAN SYNTHESIS
All articles contained in Human-Synthesis are freely available and collected from the Internet. The interpretation of the contents is left to the readers and do not necessarily represent the views of the Administrator. Disclaimer: The contents of this article are of sole responsibility of the author(s). Human-Synthesis will not be responsible for any inaccurate or incorrect statement in this article. Human-Synthesis grants permission to cross-post original Human-Synthesis articles on community internet sites as long as the text & title are not modified.
The source and the author's copyright must be displayed. For publication of Human-Synthesis articles in print or other forms including commercial internet sites. Human-Synthesis contains copyrighted material the use of which has not always been specifically authorized by the copyright owner. We are making such material available to our readers under the provisions of "fair use" in an effort to advance a better understanding of political, economic and social issues. The material on this site is distributed without profit to those who have expressed a prior interest in receiving it for research and educational purposes. If you wish to use copyrighted material for purposes other than "fair use" you must request permission from the copyright owner.