Valget i USA er det viktigste demokratiske valget i verden. Og det er på mange måter også det aller viktigste utenlandske valget for Norge.
Valgresultatet er fremdeles uavklart, og Helge Leikanger mener også at det kunne bli det en god stund videre.
Det burde jo absolutt være i alle som ønsker å støtte opp om og verne om demokratiet sin aller største interesse, å få klargjort i hvilken grad det har foregått valgfusk på noe vis, og eventuelt også omfanget av dette. Slik at man kan være sikker på at den som utropes som USA's president for de neste 4 årene, på Capitol Hill i begynnelsen av Januar, også er den personen som det amerikanske folket rettmessig og på lovlig og demokratisk vis har valgt, ved at alle lovlige stemmer telles, og at alle ulovlige/falske eller urettmessige stemmer, selvsagt forkastes.
Dette må gå sin gang, fullstendig uavhengig av hvordan og i hvilken grad dette eventuelt også påvirker valgresultatet, eller ikke. Alt annet ville være en direkte undergraving av demokratiet, og et enormt tap for både USA og hele den vestlige og demokratiske verden.
Det er jo selvsagt ikke riktig slik som noen innen såkalte faktasjekkere og massemedia fremdeles hevder, at det ikke finnes noe bevis/mistanker, dvs grunnlag for mulig valgfusk, å vurdere. Da ville de forskjellige sakene som omhandler uregelmessigheter og tilsynelatende tilfeller av valgfusk, aldri blitt tatt opp for vurdering og eventuelt også realitetsbehandling, av rettssystemet. Slik som vi nå ser skjer med en lang rekke av tilfellene der man har grunnleggende mistanker og angivelig også reelle bevis om åpenbart valgfusk.
Så får vi etter hvert se om også rettssystemet er enig i at de angivelige bevisene også er reelle og sterke nok til å taes til følge, og i hvilken grad det eventuelt også får påvirkning på valgresultatet, og om det også vil påvirke hvem som skal utropes til president.
Måten noen av de såkalte faktasjekkerne opererer på, og som har gjort til at de endt opp med konklusjonen at det ikke har foregått noe valgfusk, og som dermed også er grunnen til at både øvrige faktasjekkere, massemedia, og Facebook, m.fl., ender opp med å lene seg på disse for å kunne fronte slike påstander, er i både denne og en del andre sammenhenger skremmende avslørende for de såkalte faktasjekkerne sin kredibilitet.
At man kontakter de samme menneskene som har vært ansvarlige for gjennomførelsen av et valg, og eventuelt også dermed er ansvarlige for at det ikke foregår valgfusk, og så bare spør dem hvorvidt det har foregått valgfusk, er jo åpenbart ikke en spesielt troverdig metode for å sjekke ut fakta i en slik sammenheng.
Det blir jo selvsagt "bukken og havresekken" opp og i mente, og viser heller hvor biasbaserte og ukritiske de såkalte faktasjekkerne noen gang opererer, når det kommer til å faktasjekke politisk ladede saker. Noe som mest sannsynlig henger i sammen med at de aller fleste faktasjekkere er både eid og betjent av de samme menneskene innen massemedia som daglig også sprer politisk motivert propaganda, og biasbasert journalistikk.
Hovedeierne i Faktisk.no, er jo bl.a. NRK, TV2, VG, m.fl., og de ansatte kommer da også i fra disse miljøene, med det tankegodset som disse historisk har vist seg å stå for.
At man i det hele tatt synes det er nødvendig med såkalte faktasjekkere som et tillegg til vårt vestlige massemedia, er jo åpenbart en falitterklæring for massemedia selv, da det å operere objektivt, sannferdig og faktabasert, og ikke delta i biaspreget og politisk motivert kampanjejournalistikk, burde være enhver seriøs journalist sitt aller høyeste ansvar.
De av oss som følger saken, har ved flere anledninger blant annet sett angivelige lister over registrerte velgere/stemmegivere, som er født så langt tilbake som til 1850.
Og det er jo selvsagt ikke spesielt troverdig at mennesker som er hele 170 år gamle, fremdeles stemmer i amerikanske valg. Vitnesbyrd om systematisk tilbakedatering av for sent postlagte poststemmer, er et annet eksempel på angivelige grove brudd på valglovene.
Det er svært uforståelig at en del mennesker innen både massemedia, politikken, og Biden-tilhengere, m.fl., ikke synes å være interessert i å klargjøre og komme til bunns i alle de mange påstandene om observasjoner av valgfusk.
Da det selvsagt burde være i absolutt alle sin interesse, at man forsikrer seg om at den demokratiske valgprosessen har foregått på en korrekt og lovlig måte. Og at alle og tverrpolitisk, på denne måten støtter opp om, verner om, og beskytter demokratiet sine aller mest grunnleggende prinsipper. Dette burde jo være helt selvsagt, med mindre man er blant de som føler at man har noe å skjule...!
Alan Jones fra Sky News, kommenterer rundt massemedia, Biden og Trump slik, på denne videolinken:
Se forøvrig også hva utenriksminister Mike Pompeo svarte, på gårsdagens pressekonferanse. Om han allerede nå ser for seg mesteparten av veien videre, vil selvsagt tiden vise. Men se det gjerne også i sammenheng med Nordfjeld sine kommentarer, under.
Og som vanlig så tar jeg også med noen glimrende kommentarer/sitat i anledning temaet, fra en av mine foretrukne "USA-eksperter",
"Når en i disse tider vurderer informasjon fra USA om politikk eller valget, må man også være klar over at vi står midt i en avansert informasjonskrig hvor partene forsøker å eie fortellingen.  Det finnes de som er litt overmodige og deler kunnskap om metodene med andre, slik Demokratenes medierådgiver, David Eichenbaum, gjorde til Washington Post tidlig i mai.  Der forteller han om hvordan Demokratene har tatt i bruk kunstig intelligens (AI) for å detektere meldinger/politiske budskap fra presidenten, generere "motbudskap" som distribueres til 3,5 million frivillige og betalte brukere på sosiale medier. Disse deler det igjen på utvalgte steder og sine egne vegger.
"Det sies ofte at valgkamp er en kamp om ideer, mens det i virkeligheten er en kamp om fortellingen", fortalte Eichenbaum til Washington Post.  For Demokratenes del bringes disse budskapene også ut via mediehusene til deres venner.  De kontrollerer i dag noe sånt som 80% av mediene i USA, inklusive NYT, MSNBC og CNN m.fl.  Alle valg i USA har et visst omfang av juks - uten at det nødvendigvis får så store utslag. Mye tyder imidlertid på at jukset har antatt helt andre dimensjoner i dette valget.  Jeg tror derfor at valget havner i Høyesterett.
Dersom Høyesterett ikke ser muligheter for å komme frem til korrekt valgresultat gjennom omtellinger e.l, kan det ende med at de utløser det 12. grunnlovstillegget, og lar Kongressen avgjøre valget.  Da er Trump president i fire nye år.  Handlingene til begge parter tyder etter min mening på at de forbereder seg på en slik utvikling. Artikkelen i Washington Post er bak betalingsmur.
Nordfjeld fortsetter:
"De selger nå inn fortellingen om at Demokratene har vunnet valget, og at Trump, som den gjenstridige diktatoren han er, nekter å forlate Det hvite hus.  Sistnevnte er forøvrig en fortelling de har solgt inn siden tidlig i vår. Det begynte forsiktig med artikler og innslag, ala "hva skjer om Trump nekter å forlate Det hvite hus", til å ende opp med at han "hadde uttalt at han ikke ville respektere valgresultatet, men at de ville sørge for å få ham båret ut".  Det hjalp ikke at Trump i flere intervjuer uttalte at han selvsagt ville respektere valgresultatet. De selger også inn at presidenten ikke respekterer valgprosessen, og nekter å slippe til Bidens overgangsteam.
Det har de gjort selv om opptellinger og delstatens valgsertifiseringer ikke er klare. Det er helt ukontroversielt at man venter med dette, til valget er avklart.
Jeg har ikke moralisert over at Demokratene tar i bruk slike midler. Jeg bare poengterer at mye av det vi leser om dagen, må ses i lys av dette.
Jeg har sett flere intervjuer med Trump, knyttet til valgresultatet. Det han har sagt i disse er at han vil vurdere gjennomføringen og resultatene, før han aksepterer utfallet.
Dette er ikke kontroversielt. Alle presidenter og presidentkandidater gjør det, og noen ganger bestrides resultatene - slik vi f.eks opplevde det mellom Gore og Bush i 2000."  Sitater slutt.
kommenterer rundt temaet og situasjonen etter valget, slik: "Om «kvalmende» medier – og veien inn i hykleri og dobbeltmoral. Hykleriet og dobbeltmoralen i mediene har vært plagsom lenge. Men det blir dessverre bare verre. En lang rekke av mediene i USA og i Norge har slått fast at Joe Biden er vinner av valget. Det til tross for at marginene er hårfine i en rekke delstater, slik det også var i 2016, den gang i favør av Donald Trump. Totalt leder Joe Biden med kun 276.000 stemmer i disse vippestatene. Det har også vært et rekordhøyt antall poststemmer, som innebærer sine egne utfordringer. Donald Trump og republikanerne er derfor i sin fulle konstitusjonelle rett til å bruke rettssystemet for å utfordre opptellingen og gjennomføringen av valget.
Og innen den tid kan ingen utrope Joe Biden som vinner og kreve lydighet for kravet. Og heller ikke mediene kan ved sine egne påstander skape en politisk virkelighet og seier for «sin» kandidat." Sitat slutt.
Les hele kommentaren/artikkelen, på denne linken her:
kommenterer også rundt temaet og situasjonen etter valget, slik:
"Det strømmer inn med gratulasjoner fra europeiske ledere til presidentkandidat Joe Biden. Allerede tirsdag satte europeiske ledere i gang formelle avtaler med «USAs påtroppende president».  Det er bare ett problem:  Valget er ikke avgjort."
Sitat slutt.
Les hele kommentaren/artikkelen til Mistereggen, på denne linken her:
Tore Kristiansen
kommenterer situasjonen, slik: "USA-valget: Forvaltningsorgan vil ikke godkjenne Biden som vinner. Forvaltningsorganet GSA, som godkjenner overgangsprosessen etter et presidentvalg, har ikke tatt kontakt med Joe Bidens team. Dermed er det ikke gitt grønt lys for at Biden har vunnet valget." Sitat slutt.
Les hele kommentaren/artikkelen, her:
Avslutningsvis kan det også nevnes at store deler av massemedia spådde og varslet store opptøyer, og voldelige reaksjoner fra bevæpnede Trump-tilhengere, ja sågar tilnærmet borgerkrig, dersom ikke Trump vant presidentvalget. Også det kan nå konstateres som fullstendig skivebom, og ukritisk videreformidling av politisk propaganda og kampanje-journalistikk, da Trump-tilhengerne i det store og hele har oppført seg eksemplarisk i denne sammenhengen, i rak motsetning til venstresiden med studenter, BLM og Antifa i spissen, som de seneste månedere har gått fullstendig amok mot sivilbefolkningen i sentrumsgatene, i en rekke av de største byene, og praktisert en utstrakt grad av vandalisme, og i en rekke tilfeller også rasistisk motivert vold, og sågar også drap, på alt i fra kvinner og menn, gamle, unge, voksne, og til og med barn.

Halvor Fosli  kommenterer rundt dette slik:
"Freddy Gray: Absolutt ingen voldelige protester fra Trump-tilhengere etter valg­skuffelsen.
Det har ikke manglet på spådommer om at en Biden-seier med knapp margin ville utløse omtrent borgerkrigslignende tilstander. Men redaktør Freddy Gray, i Spectator USA, skriver at så langt har alle støttemarkering for Trump vært helt og holdent fredlige, og det til tross for at Trump selv har levd opp til forventingen om at han ikke vil anerkjenne valgutfallet uten videre. Dette er nokså oppsiktsvekkende, men faktum så langt er at «the deplorables» ikke ramponerer gater og plyndrer butikker, det er det radikale studenter, BLM-aktivister og Antifa, som har stått for." Sitat slutt.
Les hele artikkelen, på denne linken her:
På forhånd tusen takk til alle Dere som bryr Dere, og liker/reagerer på, og eventuelt også deler innlegget!
Og om Du leser dette innlegget på en gruppeside, og vil være helt sikker på at innlegget som Du eventuelt ønsker å dele ikke skal forsvinne en gang i fremtiden, dersom det skjer noe med gruppesiden, e.l., så gå gjerne direkte inn på min private Facebookvegg (som er offentlig), og del innlegget derifra.
NB! Jeg er i utgangspunktet selvsagt ingen tilhenger av sensur, med mindre noen skriver noe som er ulovlig.
Men endeløse rekker med meningsløse kommentarer/trolling eller ufine person-karakteristikker i kommentarfeltet, etc., vil selvsagt kunne bli slettet. Dette er dessverre tidvis blitt helt nødvendig, rett og slett for å holde kommentarfeltet ryddig for alle dem som ønsker å kommentere og diskutere rundt selve temaet i innlegget på en seriøs måte.
---
HISTORY HAVE A HABIT OF REPEATING ITSELF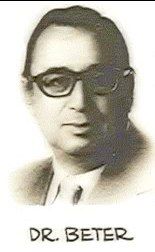 Dr. Beter was General Counsel for the Export-Import Bank of Washington; a candidate for the governorship of West Virginia; cofounded SODESMIR, a mineral exploration company in Zaire; represented American gas utilities building a pipeline the length of Argentina; represented mining interests in underwater manganese nodule exploration in the Pacific; was featured at financial seminars in New York City, Los Angeles, San Francisco, Toronto, Montreal, Geneva, and other international financial centers. As a political and economic commentator, Dr. Beter worked with Wall Street luminaries including Franz Pick, Edward Durell, Colonel Curtis Dall, Norman Dodd, Emmanuel Josephson, and many others. He wrote prolifically, including Conspiracy Against the Dollar (Braziller New York).
Through his tapes, Beter influenced various people such as the 1980s punk band, The Wanderers. In the controversial Crusaders Comic book series published by Jack T. Chick, Double Cross: Alberto, part two, Peter Beter is cited as a reliable authority on why the body count changed in the wake of the Jonestown massacre. These papers are a legacy of great value left by the author, the late Peter D. Beter. They relate the events as they really took place behind closed doors in the theater of politico-military operations in the midst of the Cold War. These are Audio Letters transcribed into texts. They cover the period from the years 1975 to 1982. Monthly reports that gave details of the real occurrences as opposed to the falsified official false versions conveyed by the major media controlled by the Establishment of the international Satanic cabal.
Their reading will give you a clearer idea of what the Geopolitical Strategy is and the danger that this world has faced and continues to encounter in the hands of the different power factions competing for its control.

Topic #1: The Great Election Surprise of 1980
For weeks now Washington has been buzzing about the great election surprise of 1980. Right up to the last minute all the Opinion Polls were saying the same thing– "Too close to call". But when the television networks began their election night coverage, they told a radically different story. Fifteen minutes after the polls closed on the East Coast, NBC declared the entity Ronald Reagan the winner. On the West Coast, polls were still open but voters began drifting away. Even more shocking, the alleged President Carter himself conceded defeat less than two hours later. West Coast polls still had an hour to go at that point, but many remaining voters just gave up. By then, it was fast becoming clear that voting machines nation-wide had registered a landslide in the name of Ronald Reagan. It was an unprecedented state of affairs.

The Republican landslide apparently was enormous, and yet we are told it was a complete surprise. On all sides, political analysts are still rubbing their eyes in disbelief. They're trying out all kinds of excuses to explain why the polls were wrong. "Maybe the pocketbook issue did it", they say; or "Maybe all those undecided voters before the election were really closet Conservatives"; or then again, "Maybe it was just a plain old protest vote"; or, "Would you believe it was Billy Carter maybe?" My friends, last month I reported that there was one issue that could help defeat the present Bolshevik Administration. That was the breakdown of the hostage release ploy just before the election, and it may be that many voters were affected in that way that I mentioned last month.
But the apparently surprise landslide was brought about by entirely different means. My friends, it was not the Opinion Polls that were wrong this time. It was the tally of votes on Election Day. To bring home what I am about to tell you, I would like to tell you a personal story. It's a story of my own race for the governorship of my home state of West Virginia 12 years ago.
The idea that I run for Governor came from a political leader in West Virginia. I was then in my sixth year as Legal Counsel to the United States Export-Import Bank here in Washington. I had been appointed to that position in 1961 by President Kennedy, and apparently there were those who remembered my efforts in helping Kennedy win in West Virginia in 1960. In any case, I decided to accept the suggestion. On May 1, 1967, I resigned from the Export-Import Bank and returned to my native State of West Virginia. For the next year I carried out an exhausting grass-roots campaign throughout the state. My wife Lilly and I went everywhere and spoke to everyone, or so it seemed.
There was not a county we missed and there was hardly a hand that I had not pressed, and from every indication my campaign was going very well. Then one night two weeks before the election, the telephone rang. When I picked up the telephone, a voice said, "This is (so and so)". I asked what I could do for him, and he replied: "Well, you'd like to have your votes counted, wouldn't you?" Still half asleep I said, "Of course. What are you talking about?" His answer was: "Well, you know politics is a business. You'd like to have your votes counted, wouldn't you?" By that time I was wide awake.
I replied that there were plenty of county officials and precinct workers to take care of the vote counting. Then I asked him what he was driving at. He said, "Well, in those precincts which have machines you have to make sure your votes are counted. Don't you understand? This is just how it's done. If you want your votes counted, it'll cost you $250,000." I was flabbergasted and said I would not pay a cent; I didn't do things like that. At that point the caller said, "Well, it looks like we can't do any business then", and hung up. After putting the telephone down I just sat there astonished. My wife Lilly said, "What was that?" and I told her: "We just lost the election".
My friends, in the counties and precincts where old-fashioned paper ballots were used, I did receive votes; but without exception in every location where voting machines were used, I received no votes. Not one single vote! That seemed incredible to me at the time, but I had no evidence--nothing but a telephone call which I could not prove. Then about two weeks after the election I received a phone call from a Baptist minister. He was asking to meet me because something important had come to his attention, so the next day I met the minister in a town near Beckley, West Virginia. He had another man with him. The good minister told me that the man with him had asked him (the minister) to forgive him for something he had done to me. The minister had replied that it was not up to him to forgive the man, but up to Mr. Beter. So I asked the minister's friend what it was that he had done to me, and he said: "Mr. Beter, I fixed the voting machines against you." Then he blurted out the whole thing.
He said that he was known as a repair man for these machines, but he explained that when he went to the factory school in another state, he was also taught other things. He was taught how to adjust the machinery to record whatever is wanted. For example, voters who pulled the lever for me thought that they were voting for me; but inside the machine, the machine was adjusted to transfer the vote to another pre- selected candidate. I could hardly believe my ears. Over a year of grass-rooting the state down the drain!! And all because of a specialized slot machine known as a Voting Machine.
I asked him why he did such a thing. He answered, "For the money, Mr. Beter. I really need the money". Then he added that he was not the only one, that there were others all over the country doing the same thing. Then he broke down and cried. He said he wanted me to know and to decide if I wanted to forgive him. Really I felt no revenge, only sorrow for him; and I knew what poverty could do to a person. By this time all three of us were in tears. I placed my hand on his shoulder and said that I did forgive him.
Later I went to the Frauds section of the United States Department of Justice here in Washington. They told me that a Governor's race was merely a local matter so the federal government could not investigate. I also looked into other avenues for possible redress, through the courts; but throughout the United States there have been many cases taken to court over election rigging, and in the end the courts always do nothing. So ended my governorship race in West Virginia in 1968.
I learned the hard way that politics has become a "business." In every presidential election since voting machines have been used, there have been charges of voting fraud in certain states. Sometimes more votes are counted than there are registered voters. There are people nicknamed "The Lever Brothers" in West Virginia who go around and pull the levers before the actual voting begins. There are others who tamper with the machines in their warehouses before they are delivered to the polling places, and there are corrupt officials who know all these things but keep their mouth shut for fear or for money.

In AUDIO LETTER N° 1, I reviewed some of the background of voting machines. My friends, this is very important. Voting machines are not regulated in any way. They were developed from slot machines, and they were controlled at first by organized crime. But then long ago, they were absorbed into the hands of the Rockefeller Cartel, as I detailed in AUDIO LETTER N° 1. And in the secret struggle over the election, which I reported last month, voting machines were the decisive secret weapon. For the moment they have carried the day for the Rockefeller Oil Cartel. As the voting began on November 4, 1980, the entity President Carter was in Plains, Georgia to vote. Reporters on the scene said later that he almost broke down and cried as he spoke to townspeople, because the outcome was already known before the voting began. That is also the reason for the unprecedented concession an hour before
West Coast polls closed. Word had reached the White House only the day before about what was going to happen. There was massive "fixing" of voting machines in nine states --New York, New Jersey, Pennsylvania, Florida, Ohio, Illinois, Michigan, Texas, and California. The machines were also "fixed" but on a less complete scale in Indiana and Missouri. In addition, there was selective "fixing" of machines in key districts of more than 20 other states. It was all over before it started. The Opinion Polls beforehand were actually far more accurate than the voting tallies on Election Day. Opinion Polls can be "fixed" too, but in this case they were not.
All the Polls found a general apathy about the candidates, dissatisfaction with all of them; and that apathy was reflected by the low turn-out on Election Day. In spite of good weather nation-wide, the turn-out was the lowest in 30 years. That spells apathy, my friends, and apathy does not create landslides. Instead, apathy about candidates leads to a "flip the coin" attitude: Heads, it is candidate "A"; Tails, it's candidate "B". Both candidates, or in this case both major candidates, just about split the vote; so but thanks to fixable voting machines, a landslide was created out of thin air.
Last month I reported some of the factors pointing to a last minute election surprise. As I explained then, it's a mild setback for the Bolsheviks here. Right now Big Oil is preparing to run the country with a free hand. The figurehead called Reagan is being programmed to behave like a new Eisenhower, delegating everything to agents of Big Oil. But the Bolsheviks here are working fast. They're in a hurry to seize control of the so-called Reagan Team themselves. Once that happens, the so-called Reagan era may end abruptly.
The Reagan image is tailored to fit the Corporate Socialist plans of Big Oil, so the Bolsheviks will prefer a new face, a new figurehead to program their own way; and so some day sooner than you think we Americans may be in for a shock. We will be told that the entity President Reagan has met with an unfortunate accident, or a sudden fatal illness. Then we will be seeing a new face, saying new things. The face will seem to be that of George Bush speaking from Washington, but his words will come straight from Bolshevik headquarters in New York City -- and that, my friends,
will be the last and greatest surprise in the stolen election of 1980.
SOUNDS FAMILIAR?
---
COPYRIGHTS
Copy & Paste lenken øverst for Yandex oversettelse til Norsk.
WHO and WHAT is behind it all ? : >
The bottom line is for the people to regain their original, moral principles, which have intentionally been watered out over the past generations by our press, TV, and other media owned by the Illuminati/Bilderberger Group, corrupting our morals by making misbehaviour acceptable to our society. Only in this way shall we conquer this oncoming wave of evil.
Commentary:
Administrator
HUMAN SYNTHESIS
All articles contained in Human-Synthesis are freely available and collected from the Internet. The interpretation of the contents is left to the readers and do not necessarily represent the views of the Administrator. Disclaimer: The contents of this article are of sole responsibility of the author(s). Human-Synthesis will not be responsible for any inaccurate or incorrect statement in this article. Human-Synthesis grants permission to cross-post original Human-Synthesis articles on community internet sites as long as the text & title are not modified.
The source and the author's copyright must be displayed. For publication of Human-Synthesis articles in print or other forms including commercial internet sites. Human-Synthesis contains copyrighted material the use of which has not always been specifically authorized by the copyright owner. We are making such material available to our readers under the provisions of "fair use" in an effort to advance a better understanding of political, economic and social issues. The material on this site is distributed without profit to those who have expressed a prior interest in receiving it for research and educational purposes. If you wish to use copyrighted material for purposes other than "fair use" you must request permission from the copyright owner.