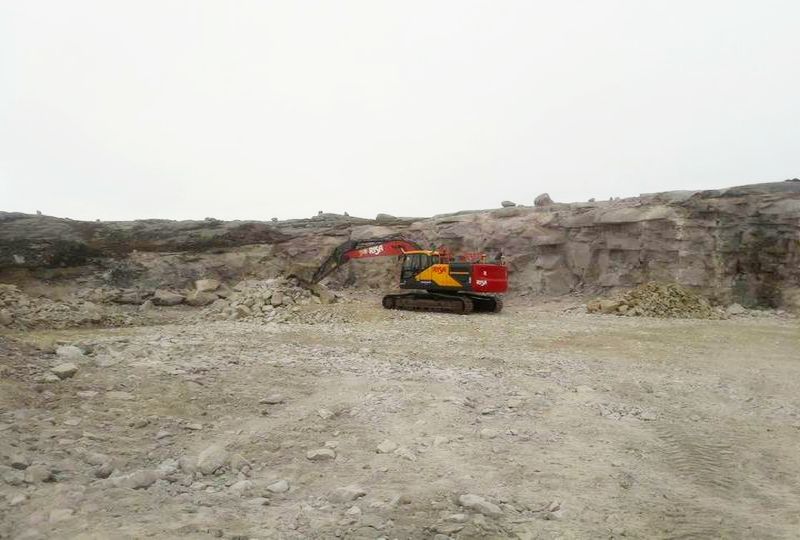 MotVind - Eivind Salen - Visual Storyteller - 16 okt. 2020
Buheii
Se bildet og gråt. Alle som har et forhold til området. Alle som har vært på Knaben. Se gamle bilder fra 70-, 80- og 90-tallet, og nyere bilder også, selvfølgelig. Og se dette. Dette er Norge anno 2020.
Vindkraften med kraftbransjen og entreprenørene tar over. De har fått tilgang på landets arealer, også arealer som tidligere var utilgjengelige og utenkelige, sånn som på Buheii. Hvem kunne i sine fjerneste fantasier forestille seg det skulle bli noe industriområde her?
Her?
Og så står gravemaskinen fra Risa, brutalt ved den sprengte knausen. Det er det grønne skiftet lagt i grus, det er vrengebildet av et grønt skifte, det er løgnen avslørt.
Det er enkeltmennesker som ligger under denne gravemaskinen, som ligger i grusen. Det er folk som har levd livene sine her, har identiteten sin her, har slekt og slektsnavn. Mot seg har de utbygger Nordisk Vindkraft og eier australske MacQuarie-gruppen, det ene selskapet større enn det andre, og ingen av dem kjent for sin menneskelighet og hensyn. Deres verdier måles i penger ut og inn.
Verken lokalt, i Kvinesdal kommune, eller sentralt, i Storting og Regjering, får menneskene som bor her og holder til her og elsker stedet, noen hjelp til å stå i mot maskineriet som velter inn. Vi i Motvind-bevegelsen hjelper så godt vi bare kan, både her og i andre saker, og vi har helt utmerket samarbeid med våre gode venner i Naturvernforbundet, Ornitologisk forening, La Naturen Leve og andre. Det er kun sammen vi er sterke.
Men pengemakten, som her har alliert seg med det offentlige, rett og slett, har tilnærmet ubegrensede midler i advokathjelp. Det er advokatfirmaet Thommesen, som kjører løpet mot oss, først og fremst med å ignorere oss, og bruke tid og tekst på å svare på andre spørsmål enn de vi stiller. Det er et velkjent triks. Når saken står dårlig, snakker man om en annen sak enn det det gjelder.
Jeg skrev om Buheii og skandalen der også i går. Om svindelselskapet MacQuarie, søk på dem og fraud, om pantsettelsen, og om alt det andre. Det er folk med offentlig ansvar som her har gjort så store feil, at håpet må være at det ikke blir kjent. Men Motvind er en folkebevegelse, som reiser seg opp mot urett, og når uretten ikke blir besvart eller rettet opp, vokser den seg bare større og sterkere.

Nå skal jeg skrive i klartekst hva som er problemet, ett av dem, i denne saken, og i kommunens og fylkeskommunens og statens håndtering av den, og i advokatfirmaet Thommesens forsøk på å omskrive og dysse ned. Thommesen skriver: «I henhold til byggeforskriften §4-3 første ledd er imidlertid anlegg for produksjon av energi med konsesjon etter energiloven unntatt fra søknadsplikt etter plan- og bygningsloven kapittel 20, dvs. også unntatt fra søknadsplikten i § 20-1 litra m).»  Så det kan se ut som anlegget ikke har noen søknadsplikt etter pbl kap 20. De har heller ikke søkt.
MEN (mine store bokstaver) ordlyden i byggesaksforskriften (SAK10) § 4-3 er imidlertid: «For tiltak nevnt nedenfor under bokstav a til h OG SOM ER I SAMSVAR MED PLAN- OG BYGNINGSLOVEN § 1-6 ANDRE LEDD (mine store bokstaver), gjelder ikke reglene i plan- og bygningsloven kapitlene 20 osv....»
Problemet for Thommesen, og for kommune, fylkeskommune og stat, og for utbygger, er at vindkrafttiltaket IKKE er i samsvar med pbl § 1-6 andre ledd.
Det er ulovlig igangsatt. Det er energimyndighetene som bløffer, enten mot eller med bedre vitende, det skal ikke jeg spekulere i, men faktum i henhold til lovverket er at vindkraftsystemet ikke kan heve seg over plan- og bygningsloven og reguleringer og forskrifter på den måten de gjør. Det er riktig at Energiloven gjelder for arbeid med vindkraft og el-produksjon, dette er vedtatt og bestemt årevis tilbake, men det er en FORUTSETNING at energiloven og arbeid under den, følger reglene i pbl like godt eller bedre.
Dette gjelder Buheii, der har vi det dokumentert fra start til mål. Og det gjelder veldig, veldig mange andre vindkraftanlegg rundt omkring i landet. De blir bygget ulovlig. Kanskje er det derfor regjeringen med ansvarlige statsråder og helt opp til statsministeren, er så desperat etter å snakke om den kommende Stortingsmeldingen, og kommende konsesjoner? Begynner det å gli inn hva de egentlig er ansvarlige for, og må ordne opp i?
Dette budskapet er det viktig å spre og dele. Det er en lang tekst, dette, med komplisert forvaltningsjuss. Vi har stort sett frivillige som jobber med det. Mot oss har vi et organisert system med tilnærmet ubegrenset ressurser. Vi vil gjerne ha vår egen statsmakt, det offentlige, med over på riktig side, i det minste, over på vår side. I kampen for å rydde opp, og redde landet vårt.

Det er mye som blir lagt i grus om dagen.
Bildet gjelder både i direkte og overført betydning. Hjelp oss. Gjør noe. Støtt opp!
---
Tore Christiansen - Visual Storyteller 12 okt. 2020
Det er noe komplisert og for de fleste av oss, nytt, på gang i Norge som IKKE er til vår fordel.
Bunnlinjen er at Cryptovaluta har virkelig tatt av  som har et mega behov for elektrisitet til å kunne minere forskjellige typer cryptovaluta på 'børsen'.Vår regjering tibyr internasjonale selskaper til å etablere enorme datasentre i Norge med kolossale behov for strøm til crypto mining, høyere enn vårt årsforbruk.Til dette tillater regjeringen ubegrenset utbygging av vindgeneratorer.
FirstForrise 2020 Kryptofabrikk i Norge (video)
Tangen vil benytte Oljefondet til å bygge verdens største vindgenerator/solpanel opplegg for å innhente lønnsomme grønne bonuspoeng på børsene, mens våre husholdninger  betaler vindstrøm til det dobbelte.  Englands statsminister har også nylig uttalt det samme. De vil også bli verdens største. Det ligger mange nye artikler om dette på min side.
Dette er orienterings informasjon om Norges meget risikable og kostbare investering i 'kryptofabrikker', (minerings-sentre) totalt avhengige av  enorm utbygging av vindgeneratorer. Hver kryptofabrikk har et årlig strømforbruk høyere enn hele vårt årsforbruk.  
Dette er en av de største fabrikkene som beskriver systemet utførlig.
Risikoen med denne strømavhengigheten er for det første at kryptokundene kan raskt flytte til andre, billigere kryptofabrikker i utlandet.  Teknologien ved disse små datakortene som i hundrevis plasseres ved siden av hverandre, er slik i dag at de forbruker enormt mye elektrisitet og utvikler stor varme som må kjøles ned med vannanlegg. Denne teknologien som er relativt ny, vil helt sikkert byttes ut i nær fremtid.  Da sitter vi igjen med tusenvis av overflødige vindgeneratorer med kostbart vedlikehold og utbytting hvert 5-6 år.
Mange store selskaper, også fra utlandet, er nå på vei til å opprette 'verdens største' vindparker, inkludert Tangen som vil risikere vårt Oljefond på å opprette Norges største vindgenerator opplegg.
For ett par dager siden underskrev Solberg en avtale med Microsoft/Equinor for å lagre deres CO2 utslipp i tomme oljebrønner i Nordsjøen. For dette blir de påskjønt grønne bonuspoeng de kan legge inn i 'kryptocasinoet.'
Nå vil vi i fremtiden ha skadelig CO2 både over og under oss. Dette vil skade havet for våre fremtidige generasjoner.  DETTE MÅ IKKE FORTSETTE!!
---
COPYRIGHTS
WHO and WHAT is behind it all ? : >
The bottom line is for the people to regain their original, moral principles, which have intentionally been watered out over the past generations by our press, TV, and other media owned by the Illuminati/Bilderberger Group, corrupting our morals by making misbehaviour acceptable to our society. Only in this way shall we conquer this oncoming wave of evil.
Commentary:
Administrator
HUMAN SYNTHESIS
All articles contained in Human-Synthesis are freely available and collected from the Internet. The interpretation of the contents is left to the readers and do not necessarily represent the views of the Administrator. Disclaimer: The contents of this article are of sole responsibility of the author(s). Human-Synthesis will not be responsible for any inaccurate or incorrect statement in this article. Human-Synthesis grants permission to cross-post original Human-Synthesis articles on community internet sites as long as the text & title are not modified.
The source and the author's copyright must be displayed. For publication of Human-Synthesis articles in print or other forms including commercial internet sites. Human-Synthesis contains copyrighted material the use of which has not always been specifically authorized by the copyright owner. We are making such material available to our readers under the provisions of "fair use" in an effort to advance a better understanding of political, economic and social issues. The material on this site is distributed without profit to those who have expressed a prior interest in receiving it for research and educational purposes. If you wish to use copyrighted material for purposes other than "fair use" you must request permission from the copyright owner.