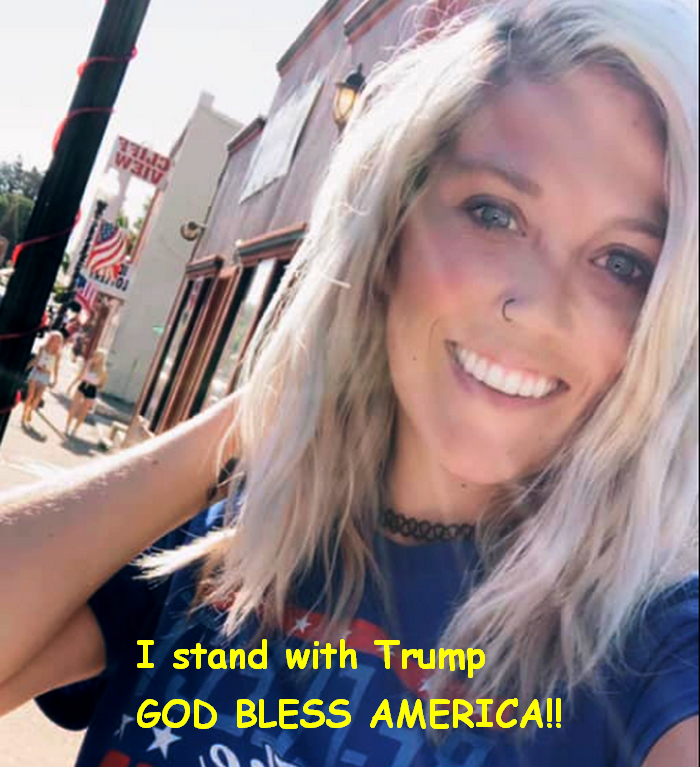 ‎
Skye Christensen‎  - July 10
Many people wonder about what is going on here in America .. with violence, riots and rising number of the China virus. .. we will have an election in 100 days. and the polls are in favor of the loony left. I share this from Skye Christensen so you may hear a voice that the MSM will never cover.

My name is Skye Christensen, I'm 29, born and raised in Utah. I come from a VERY liberal family. They raised me to have no voice, and to follow in the things they believed. During the Trump election I was distraught even cried... I thought Trump was going to ruin this country, I thought HE was the evil one. I voted for Hillary and I was soooo sure that this country would be ruined by Trump.
Ohh boy was I wrong.
I started questioning everything from the impeachment.. then Covid..then "black lives matter" and police brutality. When did ALL this happen??? During an election year.... sketchy but ok... let's break it down.

Why impeach Trump? Because he can destroy all of Hollywood for their Role in child paedophilia. He is in the process of taking down key players in this disgusting ring that I had no clue was happening. I am a mother of two small children, and that makes me SICK to think was happening under our noses...
Covid... God forsaken Covid 19. Yeah sure it's real, it's horrible to get sick. But the numbers are being soooo tampered with it's crazy.. and they are leading this country by FEAR. Making masks mandatory for all. Closed church's but kept liquor stores open? And them trying to keep schools closed? 🤦🏼‍♀️ in their eyes if we keep things closed until the election they can justify mail in ballets and in the Democrats eyes that is easiest way to ensure a democratic leader takes over this country!!
Now let's discuss "Black lives matter"

This. This is when my eyes were opened WIDE. I saw the death of George Floyd, which was so horrible.. no police officer is trained to sit on someone's neck that long.. and all cops agree that was wrong. HOWEVER painting that man to be a hero, giving his family a folded flag that our hero's who give their life for this country was a disgrace!!! I literally couldn't believe the recognition that man got... people lined streets rioting, destroying monuments, targeting white people, and most sickening KILLING INNOCENT POLICE OFFICERS... this is when I drew the line.
I couldn't stand and let black lives matter take down more people... so I stood up, even with a lot of my friends and peers told me to STAND DOWN and SHUT UP... I stood up for what is right.. and that is standing with #AllLivesMatter the Democratic Party is funding Black lives matter to cause a divide in this country because they are all scared to death that our president Donald trump is about to take down Hollywood one by one. They are pulling at every GD string to take down this man..... and they are doing a fine job at it. They are supporting hate, destruction, killings of innocent people, and looting. I'm sorty but that's WRONG!!!
I support All lives matter because every single innocent life MATTERS. Whatever race you are my heart aches for any unjust death our country faces. If #blacklivesmatter to them where is the RIOTS for the little 8 year old girl who was tragically killed for no reason??? Or the black police officers who have been killed in the line of duty?? Or the blacks killing blacks in their neighborhoods due to gangs??? IT DOESNT FIT THE MEDIAS AND DEMOCRATS NARRATIVE!!!!
I have expressed my opinions to my own dad... and you know what he said to me? "You millennials are sure stupid Skye! You have no idea what you're talking about YOURE WRONG"

Now I might not know everything but it seems kind of funny that liberals think they are right about EVERYTHING and our opinions and beliefs don't matter!! Well I'm here to say that his rude remarks and disrespect didn't make me change my mind.... it fueled me to stand even taller, and LOUDER to say enough is enough! I'm walking away from that side in complete pride... I am proud to say I support Donald Trump, I will be casting to vote for the Republican side for the rest of my life! I love this country, and I'll never let my beliefs be hindered again!!!!
I stand with our President. I stand with law enforcement. And I stand with yall.
LETS MAKE OUR VOICES LOUDER!!!!
GOD BLESS AMERICA!!! DONT EVER BE AFRAID TO STAND UP!!
---
COPYRIGHTS
Copy & Paste lenken øverst for Yandex oversettelse til Norsk.
WHO and WHAT is behind it all ? : >
The bottom line is for the people to regain their original, moral principles, which have intentionally been watered out over the past generations by our press, TV, and other media owned by the Illuminati/Bilderberger Group, corrupting our morals by making misbehaviour acceptable to our society. Only in this way shall we conquer this oncoming wave of evil.
Commentary:
Administrator
HUMAN SYNTHESIS
All articles contained in Human-Synthesis are freely available and collected from the Internet. The interpretation of the contents is left to the readers and do not necessarily represent the views of the Administrator. Disclaimer: The contents of this article are of sole responsibility of the author(s). Human-Synthesis will not be responsible for any inaccurate or incorrect statement in this article. Human-Synthesis grants permission to cross-post original Human-Synthesis articles on community internet sites as long as the text & title are not modified.
The source and the author's copyright must be displayed. For publication of Human-Synthesis articles in print or other forms including commercial internet sites. Human-Synthesis contains copyrighted material the use of which has not always been specifically authorized by the copyright owner. We are making such material available to our readers under the provisions of "fair use" in an effort to advance a better understanding of political, economic and social issues. The material on this site is distributed without profit to those who have expressed a prior interest in receiving it for research and educational purposes. If you wish to use copyrighted material for purposes other than "fair use" you must request permission from the copyright owner.