Bill Gates Genmanipulerende Coronavaksinen er Underveis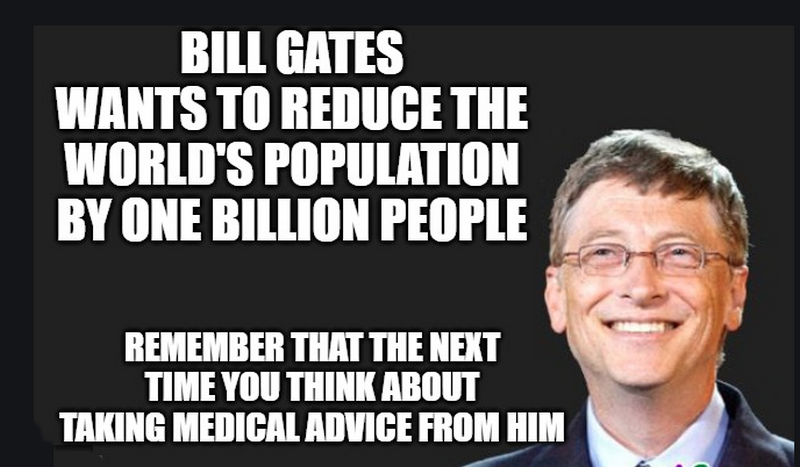 Publisert mai 28, 2020 av Motstrøms
En ærlig blogg om ståa!
Slik banet makta seg vei for den kommende, genmanipulerende koronavaksinen til Bill Gates
Bill Gates er ofte titulert som en filantrop, dvs. menneskeelsker. Han har også bedyret at han akter å donere bort hele sin formidable formue til veldedige formål. I så måte har verdens vaksineprogram vært  et hjertebarn for Gates, hvor han har presset på for å kunne vaksinere en hel verden. Men i hvilken grad stemmer det at dette er ren veldedighet fra hans side? Jeg spør spesielt siden formuen til Microsoft-gründeren Gates har doblet seg i løpet av de siste 10 årene. Hvis han virkelig driver og donerer vekk formuen, burde den vel heller ha minket i løpet av disse årene? Når det kommer til vaksiner spesifikt, la oss ta det rett fra munnen til Gates selv når det gjelder hvor mange penger han så sjenerøst har donert vekk i sine bestrebelser på å kunne tilby vaksiner til oss alle (video på 26 sekunder):

Her sier han altså at han har en sjelden høy fortjeneste på nettopp vaksiner, med en drøy 20-kalkyle.
Men så til poenget med denne artikkelen: Gates og medsammensvorne romsterer nå for å kunne skaffe en koronavaksine til veie så fort som overhode mulig. De er faktisk allerede i gang med uttestingen på mennesker, og dette stadiet har blitt nådd på absolutt rekordtid i forhold til det som er normalt. Er det grunn til å være urolig over dette tilsynelatende hastverket? Det skulle jeg absolutt mene, for denne vaksinen vil etter all sannsynlighet komme med en helt ny mRNA- eller DNA-basert vaksineteknologi.
Med en slik vaksine vil fremmed DNA og RNA integreres inn i den vaksinertes eget arvestoff(!) Sagt med andre ord vil de nå genmodifisere deg – altså støpe deg om til noe annet enn det du ble født som. De vil også gjøre dette, vil jeg påstå, basert på en håpløst «grisete» teknologi, med høyst begrensede kunnskaper om hva de holder på med. Slik sett er det nesten bare fantasien som setter grensene for hvilke konsekvenser dette kan få for den vaksinerte. Autoimmune lidelser og kroniske betennelsestilstander lett kunne bli følgene av å ta denne vaksinen. Muligens vil denne vaksinen kunne forårsake langt verre konsekvenser enn dette også, det er vanskelig å forutse.
I Norge ville bioteknologiloven kunne satt en stopper for denne suspekte vaksinen, men det var før. Nå har kreftene bak den oppkonstruerte koronakrisen og den relaterte kommende vaksinen greid å endre denne loven og gjort den mindre beskyttende. Konsekvensen av lovendringen er at den kommende koronavaksinen nå vil kunne bli sluppet løs på den norske befolkningen. Dette vil i så fall skje uten at vaksinen har vært testet tilfredsstillende med hensyn på trygghet og konsekvenser. Langtidsstudier vil selvfølgelig ikke være gjort i det hele tatt, for det er det jo ikke tid til med trusselen fra «en sånn livsfarlig sykdom», ikke sant? (Ironivarsel). Ikke bare det, men vaksinen vil også med stor sannsynlighet bli såkalt «obligatorisk». Dette ordet er bare søt sjargong ment å skulle tåkelegge at vaksinen vil bli tvunget på deg. Det vil altså ikke nytte å protestere.
Denne tvangen er medisinsk fascisme, hvor myndighetene mener seg å ha råderetten over kroppen din. Vaksinetvang er iverksatt i en rekke andre land, og er for så vidt ikke noe nytt tema her til lands. Arbeiderpartiet tok i 2015 til ordet for en prøveordning med tvungen vaksinasjon av Oslos barnepopulasjon. Personlig antar jeg dette forslaget var et forsøk på å lodde motstanden i befolkningen. Hadde tvangen i Oslo latt seg gjennomføre uten for store protester, ville det medisinske kartellet satt inn et nytt gir og gjort tvungen vaksinasjon landsdekkende. Til slutt ville også den den voksne populasjonen blitt tvunget under nålen. Heldigvis fikk ikke Ap gjennomslag for dette den gang da. Men de rasler stadig vekk med sabelen i håp om å kunne innføre tvangsvaksinering, så hold øyne og ører åpne.
Rent politisk er det Ap som sammen Fremskrittspartiet og Sosialistisk Venstreparti nå har gått til det skritt å «liberalisere» bioteknologiloven. (Bakenfor disse lurer selvfølgelig det medisinske kartellet, med sin enorme pengesekk). Denne loven vil dermed miste betydelig av sin beskyttende kraft, noe som vil kunne medføre at befolkningens helse blir satt på spill når (hvis) den kommende koronavaksinen lanseres. Og hvorfor skal vi nå risikere folkehelsa? Jo, for å skåne befolkningen for Covid-19, en influensalignende sykdom. Tenk litt over det… Da skjønner man kanskje graden av korrupsjon som stikker under.
Forutsatt at den kommende koronavaksinen vil være basert på nevnte genmodifiserende teknologi – og alt tilsier at det vil bli tilfelle – vil dette innebære at myndighetene og de bakenforliggende kreftene, deriblant Bill Gates og det medisinske kartellet, vil tvinge deg til å ta imot en vaksine hvor den vaksinerte utsettes for genmodifikasjon.  Jeg velger å ikke kalle dette for genterapi, for denne teknologien er så umoden og uforutsigbar, at det gjenstår å se om det vil være noe terapeutisk element i det. Den kommende vaksinen, igjen hvis den kommer, vil bli mer enn bare et eksperiment. Jeg vil hevde at den representerer et rent overgrep ovenfor befolkningen, også selv om den ikke blir tvunget på oss.
For det spilles på frykt ved at vi blir forledet til å tro at vaksinen er vår redning fra grusom sykdom og mulig død. Noe lignende fant sted da HPV-vaksinen Gardasil kom på markedet. Vaksinen var i praksis ikke uttestet, men legemiddelgiganten Merck fikk norske myndigheter med på å stille et helt alderssegment av jentepopulasjonen vår til rådighet for denne eksperimentelle vaksinen. Uten å fortelle om den eksperimentelle naturen ved dette. Man fikk den gang bare vite at vaksinen ville sørge for at jentene ikke fikk livmorhalskreft – en påstand man fortsatt ikke har hold for å hevde. Det er derfor ingen grunn til å tro at befolkningen på forhånd vil bli fortalt om den høyst eksperimentelle naturen til den kommende koronavaksinen heller.
Den prosessen som endte med at bioteknologiloven ble endret tidligere denne uken, var såpass «shoddy» at det burde påkalle alles oppmerksomhet. Her har nye lovparagrafer blitt forfattet på bakrommet, og deretter blitt vedtatt uten noen offentlig høring. Det burde settes søkelys på hvilke krefter som stod bak og dro i trådene her, men vi vet vel alle at det ikke kommer til å skje. Stortingsrepresentant og helsepolitisk talsperson for Senterpartiet, Kjersti Toppe, omtaler denne prosessen som høyst tvilsom:
– I mine år som folkevalgt har jeg ikke opplevd maken til useriøs prosess, skriver hun i Morgenbladet.
Et av argumentene som ble lagt til grunn for å endre bioteknologiloven, var at vaksiner er trygge og effektive. Alle noenlunde informerte mennesker vet at det ikke stemmer. Vaksiner er faktisk erkjent å være eksempel på grunnleggende utrygg medisinsk intervensjon, hvor livsødeleggende skader og dødsfall kan bli utfallet. Her har de brukt ren løgn for å kunne gjøre denne viktige lovendringen.
Vær på vakt norske brødre og søstre. Bill Gates er ingen filantrop, og den kommende koronavaksinen kan raskt vise seg å bli en av vår tids største helseskatastrofer!
Du kan lese mer om denne saken hos Foreningen for Fritt Vaksinevalg.
Avslutningsvis vil jeg anbefale deg å gå Bill Gates litt nærmere etter i kortene. Under har du nemlig James Corbetts glimrende presentasjon (3 korte episoder), som forteller hvem denne påståtte filantropen egentlig er. Verdt å se:
Illustrasjon: Copyright by World Economic Forum swiss-image.ch/Photo by Sebastian Derungs / CC BY-SA. Resolution: 750 x 500 px (downscaled)
---
US Copyright Office, USPTO Act to Assist Those Affected by COVID-19
Wednesday, April 8, 2020
Pursuant to the temporary authority granted by the CARES Act, the US Copyright Office and the USPTO have announced that they are taking steps to assist those impacted by the coronavirus (COVID-19) pandemic by extending certain deadlines, provided that the filing or fee payment is accompanied by a statement attesting that the delay was due to the COVID-19 crisis.
Copyright permission was also given to the UK and a Covid-19 vaccine developed in 2016 was given copyright in December 2019.  WHERE IS IT?
---
WHO and WHAT is behind it all ? : >
---
VISIT THE HUMAN SYNTHESIS ACHIVE
The bottom line is for the people to regain their original, moral principles, which have intentionally been watered out over the past generations by our press, TV, and other media owned by the Illuminati/Bilderberger Group, corrupting our morals by making misbehavior acceptable to our society. Only in this way shall we conquer this oncoming wave of evil.
Commentary:
Administrator
HUMAN SYNTHESIS
All articles contained in Human-Synthesis are freely available and collected from the Internet. The interpretation of the contents is left to the readers and do not necessarily represent the views of the Administrator. Disclaimer: The contents of this article are of sole responsibility of the author(s). Human-Synthesis will not be responsible for any inaccurate or incorrect statement in this article. Human-Synthesis grants permission to cross-post original Human-Synthesis articles on community internet sites as long as the text & title are not modified.
The source and the author's copyright must be displayed. For publication of Human-Synthesis articles in print or other forms including commercial internet sites. Human-Synthesis contains copyrighted material the use of which has not always been specifically authorized by the copyright owner. We are making such material available to our readers under the provisions of "fair use" in an effort to advance a better understanding of political, economic and social issues. The material on this site is distributed without profit to those who have expressed a prior interest in receiving it for research and educational purposes. If you wish to use copyrighted material for purposes other than "fair use" you must request permission from the copyright owner.