Politimann: Slår Frimurer-alarm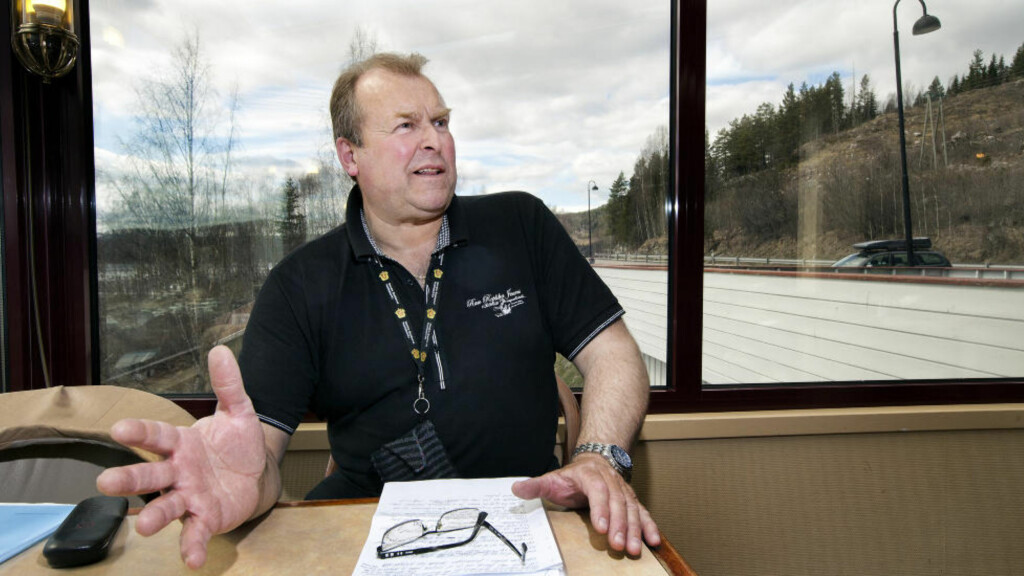 18. MAI 2013 KL. 10.53 Gunnar Hultgreen - 7 år gammel annonse
Etter vel 40 år som politimann slår Roy Riksvold alarm. Han mener det er betenkelig at ansatte i påtalemyndigheten er medlemmer av frimurerlosjen.
HØNEFOSS (Dagbladet): Om åtte måneder går politimannen Roy Riksvold av med pensjon, etter 41 år som politimann. Etter å ha tenkt seg nøye om, velger han nå å stå fram som varsler.
Riksvold oppdaget gjennom en konkret straffesak at det var frimurere på begge sider av loven - både påtaleansvarlig og den anmeldte i en kriminalsak. Forholdet ble etter Riksvolds mening aldri etterforsket ordentlig.
- Derfor begynte jeg å følge med, og oppdaget at flere saker ble liggende i påtalesystemet.
Dette mener Riksvold er årsaken til at han kan stille spørsmål ved rettssikkerheten i Norge.
- I et demokrati skal det ikke være slik at noen slipper «billigere» fra kriminalitet, fordi de kjenner noen, sier den 62 år gamle politiførstebetjenten til Dagbladet.
Vil ha klare regler
Polititjenestemenn må søke politimesteren før de kan ha et bierverv.
- Det er greit. Men samme krav burde vært stilt til ansatte i politi og påtalemyndighet når det gjelder medlemskap i organisasjoner som Frimurerorden.
- Bare det faktum at det kan stilles spørsmål om habiliteten, burde være nok til at det var klare regler, sier politiførstebetjenten.
Mistanken om at noe kunne være galt, fikk Riksvold da han ikke fant ut hva som hadde skjedd med en anmeldelse.
- Jeg etterlyste saken, men fikk ikke ordentlig svar.
- Påtaleleder ved Nordre Buskerud politidistrikt, er frimurer, det er også faren til den anmeldte.
Vold mot politi
Etter Hallingmarken på Nesbyen i juli 2010 ble en ung mann tiltalt for vold mot Roy Riksvold. Politiførstebetjenten var på jobb i uniform da han ble utsatt for vold.
- Jeg ble sparket i skuldera, og deretter sykmeldt i fire måneder. Saken ble levert ferdig etterforsket påtaleansvarlig den første mandagen i juli 2010.
- I dag, snart tre år siden, har saken fortsatt ikke vært for retten. Saken skulle vært for retten med en settedommer for noen uker siden.
- Samme dag som rettsforhandlingene skulle starte, ble jeg oppringt og fortalt at settedommeren var syk. Denne dommeren er også frimurer, og det samme er onkelen til gjerningsmannen. Nå frykter jeg at gjerningsmannen bare får en betinget reaksjon, sier Roy Riksvold.
Settedommeren avviser påstanden, og viser til at han i god tid varslet om sykdom. Han avviser bestemt at utsettelsen har noe med hans medlemskap i Frimurerorden å gjøre.
- Jeg kjenner verken tiltalte eller hans onkel, sier settedommeren.
Ingen etterforskning
Den siste saken Riksvold mener er mistenkelig gjelder en anmeldelse fra advokat Inger A. E. Coll. Hun anmeldte på vegne av Skatt Øst  tre menn for alvorlige skatteforbrytelser.
- To av de tre anmeldt ble for noen år siden dømt til en betinget straff for en ulovlig eiendomstransaksjon med stråmenn i Hallingdal. En forretningsmann som er frimurer og en tidligere politimann fikk ikke fengselsstraff, noe som ville vært naturlig i en slik alvorlig sak.
- Etterforskningen av saken tok uvanlig lang tid, noe som ført til strafferabatt. Nå er forretningsmannen, den tidligere politimannen og en advokat anmeldt av Skatt Øst for alvorlig skattekriminalitet. Denne saken har bare blitt liggende. Påtaleansvarlig ved Nordre Buskerud politidistrikt er også frimurer. Denne saken «lukter det av», sier Riksvold.
- Noe er galt
- Da jeg oppdaget sakene forsøkte jeg å ta opp forholdene med politimester Sissel Hammer i Nordre Buskerud politidistrikt. Hun avviste meg og ba meg gå tjenestevei.
- Jeg gikk tjenestevei, men fikk aldri noen tilbakemelding.
- Min følelse var at politimesteren ikke ville høre på meg. Hammers manglende svar synliggjorde at hun ikke hadde til hensikt å gå videre med mine mistanker, sier Riksvold, som deretter tok kontakt med sin fagorganisasjon - Politiets Fellesforbund
Etter å ha drøftet saken med kolleger og tillitsmannsapparatet valgte politiførstebetjenten å gå til media.
- Først etter at politimester Sissel Hammer forsto at jeg hadde kontaktet Dagbladet, ble det tatt grep fra politiets ledelse, sier Roy Riksvold.
- Jeg er en varsler
- Hvorfor velger du å stå fram og fortelle om dette?
- Loven skal være lik for alle. Sakene jeg stiller spørsmål ved, kan tyde på at det er andre forhold enn straffeloven som har avgjørende betydning, sier politiførstebetjenten.
- Du er ikke redd for at dette skal få negative konsekvenser for deg i politiet?
- Jeg er en varsler. Når ledelsen ved Nordre Buskerud politidistrikt ikke vil høre på meg, hadde jeg ikke noe valg.
- Jeg tror ikke det er tilfeldigheter, når jeg finner flere saker hvor det kan stilles spørsmål om medlemskap i Frimurerordenen har betydning for hvordan påtalemyndigheten behandler sakene, sier Riksvold.
- Alvorlig
Tillitsmann Lill Heidi Tinnholt i Politiets Fellesforbund i Nordre Buskerud tok umiddelbart affære da politiførstebetjent Roy Riksvold kontaktet henne.
- Riksvold opplevde å ikke bli hørt. Derfor tok vi direkte kontakt med politimester Sissel Hammer. Nå avventer vi Spesialenhetens etterforskning, sier Lill Heidi Tinnholt.
Ingen av frimurerne - verken politiinspektøren, dommeren, faren eller onkelen er medlemmer av samme Frimurerlosje.
---
Har alle lest dette?


Anne-Elisabeth Falkevik Hagen - Clairvoyant reading / Psychic predictions 10.01019 by Clairvoyant House "Dimitrinka Staikova and daughters Stoyanka and Ivelina Staikova" - from Europe, Bulgaria, Varna.

I see her alive, but in poor health. She has a problem with the legs - tough movement, a heart problem - pain, her hands are free, but just as swollen. Now she has pain on the right side of her head - teeth, ear, throat.
Mrs. FalkevikHagen is located near water (turbulent water with waves). The water is south of her body. I see from the side of the water (at the South) a Police (security guards) with high rank (hierarchy). The place where she is kidnapped - the South is where she is closed. The place has a western entrance.

On the south, I see the police. Then the place where the kidnappers hold her - the rooms are dark from above. I see a large concrete slab. There are very few trees around the building. Now I see two green trees in succession (like North - South) and a third tree far away. The water I see is also lateral - at the west of the building, and the water also passes in front of the building (slightly wider than it is at the west). On the concrete slab I also see satellite dish (there is green nearby).

She is kept alive and they want to get her back. She's guarded. The person who kidnapped her is close to her high-ranking and uniformed family. Mrs Falkevik Hagen is not the target, not even the money for ransom, but the foreign partners - the kidnappers would rather be rejected, and there is one more goal - politically - then, the money for ransom to be given - it will be the end before she arrives back.

The husband of Mrs. Falkevik Hagen is a member of a group that will gradually be killed ...

Mrs. Falkevik Hagenes health - I see sick liver and bile, strong gases in the stomach, blood pressure, pancreatic disease and left kidney. The reactions to her bones are from the weather, nerves and kidnappers.

In addition - Clear-sighted reading to Mrs. Falkevik Hagen -Jan. 10, 10 019 - by Clairvoyant Ivelina Staikova

I see that kidnapping is intertwined with the police, that's why the investigation is going so slow. She was sick and she is between life and death. The place where she is located is south of the place she was kidnapped and there are four buildings next to each other.

In addition - Clairvoyant reading to Mrs. Falkevik Hagen January 10, 2019 - by Clairvoyant Stoyanka Staikova
-------------------------------------
---
---
WHO and WHAT is behind it all ? : >
---
The bottom line is for the people to regain their original, moral principles, which have intentionally been watered out over the past generations by our press, TV, and other media owned by the Illuminati/Bilderberger Group, corrupting our morals by making misbehavior acceptable to our society. Only in this way shall we conquer this oncoming wave of evil.
Commentary:
Administrator
HUMAN SYNTHESIS
All articles contained in Human-Synthesis are freely available and collected from the Internet. The interpretation of the contents is left to the readers and do not necessarily represent the views of the Administrator. Disclaimer: The contents of this article are of sole responsibility of the author(s). Human-Synthesis will not be responsible for any inaccurate or incorrect statement in this article. Human-Synthesis grants permission to cross-post original Human-Synthesis articles on community internet sites as long as the text & title are not modified.
The source and the author's copyright must be displayed. For publication of Human-Synthesis articles in print or other forms including commercial internet sites. Human-Synthesis contains copyrighted material the use of which has not always been specifically authorized by the copyright owner. We are making such material available to our readers under the provisions of "fair use" in an effort to advance a better understanding of political, economic and social issues. The material on this site is distributed without profit to those who have expressed a prior interest in receiving it for research and educational purposes. If you wish to use copyrighted material for purposes other than "fair use" you must request permission from the copyright owner.