Forskere og leger vil ha moratorium på 5G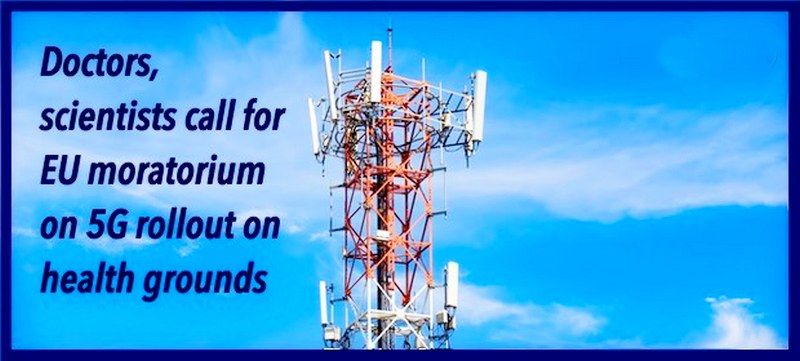 (Örebro, Sverige) Sept. 13, 2017
Forskere Og Leger Etterspørsel Moratorium På 5G Grunnet Helse-Effekter
Over 180 forskere og leger fra 35 land sendt en erklæring til representanter for Eu-Kommisjonen i dag krevende et moratorium på økningen av celle-antenner for planlagt 5G-utvidelsen. Bekymringer over helse-effektene fra høyere stråling inkluderer potensielle nevrologiske virkninger, infertilitet og kreft.
I sitt brev til Eu-Kommisjonen, forskere skriver,
"Vi, de undertegnede, mer enn 180 forskere og leger fra 35 nasjoner, anbefaler et moratorium på rull-ut av femte generasjon, 5G, for telekommunikasjon til potensielle farer for menneskers helse og miljøet er blitt fullt ut undersøkt av uavhengige forskere fra industrien."
"Den trådløse bransjen prøver å implementere teknologi som kan ha noen veldig ekte utilsiktede skadelige konsekvensene, sier en av arrangørene av brevet, Lennart Hardell, MD, PhD, Førsteamanuensis, Avdeling for Onkologi, Fakultet for Medisin og Helse, Örebro Universitet, Örebro, Sverige. "Vitenskapelige studier fra år siden sammen med mange nye studier konsekvent å identifisere skadelig for menneskers helse konsekvenser når bruk av trådløse produkter er testet på riktig måte ved hjelp av forholdene som gjenspeiler faktiske eksponeringer. Med farer på de eksponeringer, vi er veldig bekymret for at den ekstra eksponering for 5G stråling kan føre til tragiske, irreversibel skade."
5G-utvidelsen, som er designet til å bære høyere mengder av data raskere via trådløs overføring, vil kreve bygging av basestasjoner hver 10-20 hus i urbane områder.
University of California, Berkeley offentlige helse forsker Joel Moskowitz, PhD, explains,
"Peer-reviewed forskning har dokumentert industri innflytelse på studier av de helsemessige virkningene av trådløs stråling. Vi er å insistere på et moratorium på 5G til ikke-industri forskning kan gjennomføres for å sikre sikkerheten til publikum".
Moskowitz er en av rådgivere til et tidligere forsøk, den Internasjonale EMF Forsker Anke, begjæring sendt til fn og Verdens helseorganisasjon i 2015. Anken har nå blitt undertegnet av mer enn 230 forskere fra 41 nasjoner—alle har publisert peer-reviewed forskning på biologiske eller helsemessige virkninger av elektromagnetiske felt (EMF).
Siden Klagen ble publisert, verdens største $25 millioner studie, utført av den Nasjonale Toksikologi Program i USA, viser statistisk signifikant økning i forekomsten av hjernen og hjertet kreft hos dyr utsatt for mobiltelefon stråling på nivåer under internasjonale retningslinjer. Dette støtter menneskelige studier på mobiltelefon stråling og hjernesvulst risiko, som demonstrert i mange fagfelle-vurderte vitenskapelige studier.
Den Appell , og denne uken har erklæring identifisere helsefarer ved eksponering for radiofrekvent stråling, inkludert ... "... økt risiko for lungekreft, cellulære stress, økning i skadelige frie radikaler, genetiske skader, strukturelle og funksjonelle endringer av reproduktive system, læring og hukommelse underskudd, nevrologiske lidelser, og de negative virkningene på generell velvære hos mennesker. Skader som går langt utover den menneskelige rase, som det er økende bevis for skadelige effekter på både plante-og dyreliv."
Utrulling av 5G i USA
I USA, den trådløse bransjen er å fremme lovgivning i minst 20 usa for å forenkle utrullingen av 5G i tillegg til å sponse lovgivning på nasjonalt nivå.
I California, byen og fylket regjeringer er motstridende SB 649,en industri-sponset bill som overstyrer lokal kontroll over den trådløse bransjen for å få tilgang til verktøyet polakker og offentlige bygninger for 5G distribusjon. Helse, miljø talsmenn frykt for at eksponering for ekstra stråling fra 5G infrastruktur vil bidra til økte helseproblemer. (Se kompendium av bokstaver og nyheter articleson SB649 på denne linken.)
"Hvis dette lovforslaget går, mange mennesker vil lide sterkt, og unødvendig, som et direkte resultat. Dette høres ut som overdrivelse. Det er det ikke." i henhold til Beatrice Golomb, MD, PhD, Professor i Medisin i medisinstudiet ved Universitetet i California, San Diego. I sitt åpne brev som oppsummerer forskning på effekter av radiofrekvent stråling, konkluderer hun, "La vårt fokus være på tryggere, kablet og godt skjermet teknologi – ikke mer trådløst."
Pressemeldingen, erklæring og en liste over signatarer kan bli funnet på http://bit.ly/5GscienceappealCBS Los Angeles Newsradio (KNX) er rapportering på denne historien i dag.Denne pressemeldingen er fra pressemelding utstedt på siden av Dr. Joel Moskowitz ved University of California i http://bit.ly/5GscienceappealSe California SB 649 kompendium av bokstaver og nyheter artikler
Klikk her for å laste ned en PDF av brev om 5G av forskere og organisasjoner som Sierra Club, AARP-og Environmental Working group.
Se videoer fra foredrag på 5G på denne linken.Se liste av AMERIKANSKE Stater med 5G Liten Celle Effektivisering av Regninger/Nyheter Artikler og Oppdateringer på denne linken.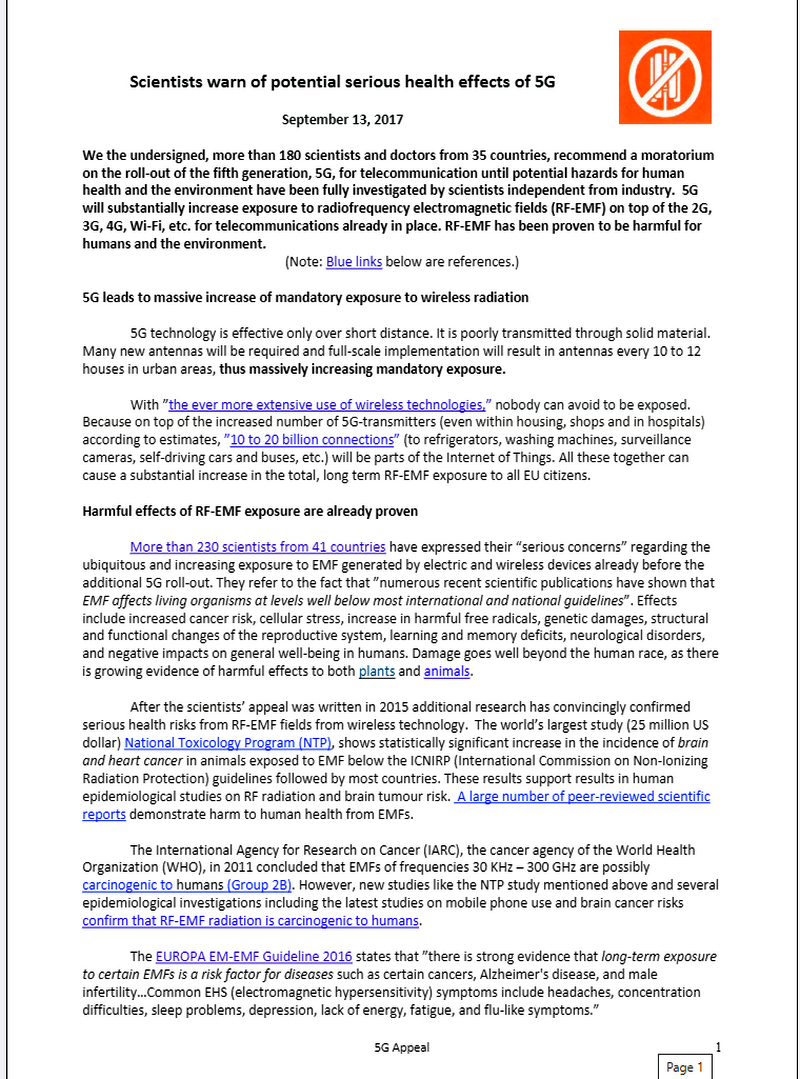 OPPDATERING 10/12 Fra Dr. Moskowitz Blogg Saferemr.com
På oktober 12, den Europeiske Kommisjonen (EC) utstedte sin respons til September 13 erklæring som krever et moratorium på planlagt 5G ekspansjon, femte generasjon av mobil kommunikasjonsteknologi. Til dags dato, erklæring undertegnet av over 180 forskere og leger fra 35 nasjoner.
Kommisjonens svar motsier den grunnleggende påstanden om erklæringen. EU hevder at dagens grenser på elektromagnetiske felt (EMF) eksponering fastsatt av International Commission on Non-Ionizing Radiation Protection(ICNIRP) er tilstrekkelig til å beskytte befolkningen, og at disse grensene gjelder for frekvensene til å bli distribuert til 5G.
Underskrev erklæringen argumentere for at disse grensene er laget for å beskytte befolkningen fra effekter av oppvarmingskyldes kort EMF-eksponering, men var ikke ment for å beskytte folk fra kronisk eksponering for lave intensiteten EMF.
Erklæringen siterer språk fra 2015 Internasjonale EMF Forsker Anken som nå er undertegnet av mer enn 230 forskere som har publisert peer-reviewed forskning på EMF og biologi eller helse. Før dagens uenighet om 5G disse ekspertene er rapportert "alvorlige problemer" om den allestedsnærværende og økende grad av eksponering for EMF. Deres appell refererer til en rekke vitenskapelige publikasjoner som har vist at EMF "påvirker levende organismer på nivåer godt under de fleste internasjonale og nasjonale retningslinjer." Disse effekter er økt risiko for kreft, nevrologiske lidelser, og forplantningsskader. Anken kaller for styrking av EMF retningslinjer og forskriftsmessige standarder.
I tillegg September erklæring siterer International Agency for Research on Cancer ' s klassifisering av radiofrekvent stråling som "mulig kreftfremkallende" i 2011, anbefalinger av 2015 Brussel Kongressen om multippel kjemisk overfølsomhet og elektromagnetisk overfølsomhet, resultater fra det AMERIKANSKE National Toksikologi Program studere i 2016 finne stråling fra mobiltelefoner fører til DNA-skader og kreft hos rotter, og Europa EM-EMF-2016 Retningslinje som langsiktig EMF-eksponering er en risikofaktor for kronisk sykdom og infertilitet.
Erklæringen for en 5G moratorium hevder at ..."gjeldende ICNIRP 'retningslinjer' er foreldet. Alle bevis for skade som er nevnt ovenfor fremkomme selv om strålingen er under ICNIRP-retningslinjene for sikkerhet. Derfor nye standarder for sikkerhet er nødvendig. Grunnen for villedende retningslinjene er at interessekonflikt av ICNIRP-medlemmer på grunn av sine relasjoner med telekommunikasjon eller elektrisk selskaper undergrave upartiskhet som bør styre regulering av Offentlig Eksponering Standarder for ikke-ioniserende stråling...."
EU hevder at det "er ikke klar over eventuelle interessekonflikter av medlemmer av internasjonale organer som for eksempel ICNIRP...."
EF-hevder at "Digital technologies og mobil kommunikasjon-teknologier, inkludert høyhastighets internett, vil være ryggraden i Europas fremtidige økonomi."
EF-brev erkjenner at innbyggerne fortjener egnet beskyttelse mot EMF fra trådløse enheter, og konkluderer med følgende tomt løfte,
"Du kan være trygg på at Kommisjonen vil forfølge gransking av den uavhengige vitenskapelige bevis som er tilgjengelig for å sikre den høyeste helse-beskyttelse av egne borgere."
EF-respons brevet ble sendt elektronisk til forfatterne av erklæringen, Professor Rainer Nyberg og Lennart Hardell. Brevet var signert av John F. Ryan, the director of public health, land, kunnskap, krisehåndtering i EU generaldirektoratet for Helse og matsikkerhet.
---
WHO and WHAT is behind it all ? : >
---
The bottom line is for the people to regain their original, moral principles, which have intentionally been watered out over the past generations by our press, TV, and other media owned by the Illuminati/Bilderberger Group, corrupting our morals by making misbehavior acceptable to our society. Only in this way shall we conquer this oncoming wave of evil.
Commentary:
Administrator
HUMAN SYNTHESIS
All articles contained in Human-Synthesis are freely available and collected from the Internet. The interpretation of the contents is left to the readers and do not necessarily represent the views of the Administrator. Disclaimer: The contents of this article are of sole responsibility of the author(s). Human-Synthesis will not be responsible for any inaccurate or incorrect statement in this article. Human-Synthesis grants permission to cross-post original Human-Synthesis articles on community internet sites as long as the text & title are not modified.
The source and the author's copyright must be displayed. For publication of Human-Synthesis articles in print or other forms including commercial internet sites. Human-Synthesis contains copyrighted material the use of which has not always been specifically authorized by the copyright owner. We are making such material available to our readers under the provisions of "fair use" in an effort to advance a better understanding of political, economic and social issues. The material on this site is distributed without profit to those who have expressed a prior interest in receiving it for research and educational purposes. If you wish to use copyrighted material for purposes other than "fair use" you must request permission from the copyright owner.