Skal halvannen million nordmenn forsvinne iløpet av fem år?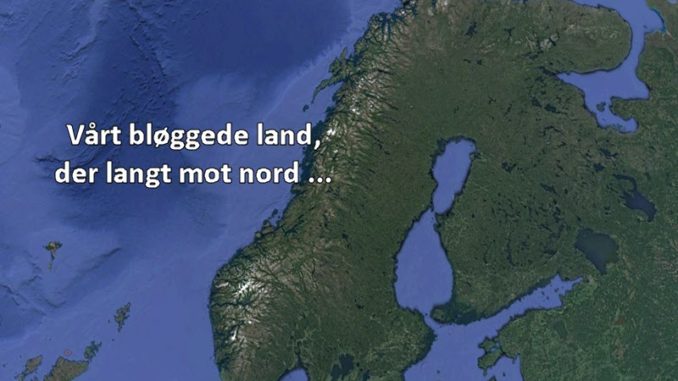 Skal halvannen million nordmenn forsvinne iløpet av fem år?
Disse forferdelige prediksjonene fra de som står bak nettsiden Deagel.com, har plaget mange av de som har visst om dem i flere år nå. De forklarer ikke til fulle hvorfor de gir et slikt dramatisk estimat over befolkningsutviklingen i Norge og mange andre land, og derfor er det kun en påstand, selv om de mener å ha sitt på det tørre. Det skal visstnok bli halvannen million færre av oss iløpet av de neste snaue fem årene. I 2025 vil det være 3,8 millioner igjen av oss.
Blind skremsel eller realistiske betraktninger?
Den store svakheten med påstanden, eller svakhetene, det finnes flere, er at de ikke forteller om årsaken til dette grusomme fallet i antall innbyggere i vårt land. Nullius in Verba osv. Deagel har holdt stand lenge, og de har etter hvert som årene har gått, redusert sine dystre spådommer med ganske mange mennesker. Første gang jeg selv nevnte dem offentlig, påsto de som står bak disse estimatene at det kun ville være 2,4 millioner igjen av oss innen 2025. Dette var deres rapport fra 2012. Også ettersom årene har gått, har de fått med seg at svært mange har bedt dem forklare denne troen på en fullstendig kollaps i den vestlige verdens befolkning. De har på en måte svart på dette, men dere må selv lese og tolke disse svarene. Dere finner disse svarene under lista med nasjoner her. Ønsker dere å gå rett til siden om Norge, kan dere gjøre det her.
Den gangen for 8 – 10 år siden, var nettsiden nevnt av den stadig voksende skaren av profesjonelle debunkere som svindel, tull og pølsevev. Men nettsiden er still going strong, og er det virkelig ei nettside vi bør avfeie sånn uten videre? Alt tyder nemlig på at det er snakk om ei profesjonell nettside som tilbyr etterretningstjeneste til den amerikanske regjeringen.
Her er fra et av dokumentene i Wikileaks:
DPRK NAVY 2011 ASSESSMENT 110216
Taepo Dong-X
Variant with solid-propellant missile engine. A Deagel.com report, dated Sept. 17, 2010, provides an estimated range of 1,553 mi to 2,485 mi (2,500 to 4,000 km) for the Taepo Dong-X, sufficient to target Japan and Guam. However, an Oct. 1, 2003, U.S. Congressional Research Service report puts the r ange as up to 9,400 mi (15,040 km). As of 2009, it was reportedly still in development.
Tallenes dystre tale
Norge vil ikke akkurat etterlates som noen økonomisk supermakt etter det Ragnarok som er spådd å slå nedover oss de neste få årene. Vi blir små og puslete på alle måter. Og vi deler dette med svært mange andre nasjoner i den vestlige delen av verden. Mer om det senere.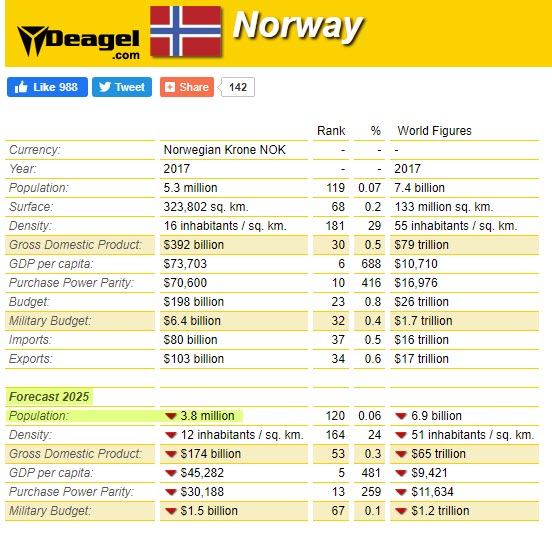 Prognosen over ble lagt ut i 2017. Jeg nevnte over at de i 2012-rapporten spådde en enda større befolkningsreduksjon i Norge. Denne har jeg hentet fra archive.org, og dere finner fram dit ved å klikke her.
En av årsakene de selv nevner
Det er litt selvmotsigende dette her, for Deagel.com skriver mye om SARS og virus-pandemier, men forsikrer til slutt at selv om disse kan slå ut over halvparten av befolkningen, er slike scenarioer ikke lagt til grunn for deres estimater over befolkningsutviklingen.
Despite the numeric data "quantity" there is a "quality" model which has not a direct translation into numeric data. The 2014 strain of Ebola has a death rate of 50-60% but try to imagine what would happen if there is a pandemic of Ebola with hundreds of thousands or millions infected with the virus. So far the few cases of Ebola-infected people have "enjoyed" intensive healthcare with anti-viral and breathing assistance but above all with abundant human support by Physicians and nurses.
In a pandemic scenario that kind of healthcare won't be available for the overwhelming number of infected leading to a dramatic increase of the death rate due to the lack of proper healthcare. The "quality" factor is that the death rate could increase to 80-90% in a pandemic scenario from the stated 50-60% rate. The figure itself is not important what is relevant is the fact that the scenario can evolve beyond the initial conditions from a 50% death toll to more than 90%. By the way, no pandemic or nuclear war is included in the forecast.
Dere får titte på de forskjellige landene selv, jeg nevner bare kort at Vest-Europa, USA og Israel ser ut til å bli rammet hardest, mens de mest østlige landene i Europa, inkludert Russland, samt Asia og mange muslimske land, vil slippe mer eller mindre unna. Dette får meg til å tenke på ren fryktpropaganda. Skremme de forskjellige nasjoner til lydighet, på samme måte som vår egen regjering nå skremmer landets innbyggere til lydighet.
Hauk over hauk, og de hemmelige tjenestene og verdens toppolitikere er generelt sett stappfulle av dritt. Så fulle at det høyst sannsynlig var de som hamstret dasspapir i butikkene våre. E-tjenestene skremmer politikerne, politikerne skremmer befolkningen, rikspressen skremmer seg selv. Same old shit. Men vi bør kanskje stille oss spørsmålet om hvem som kontrollerer E-tjenestene?
---
WHO and WHAT is behind it all ? : >
---
The bottom line is for the people to regain their original, moral principles, which have intentionally been watered out over the past generations by our press, TV, and other media owned by the Illuminati/Bilderberger Group, corrupting our morals by making misbehavior acceptable to our society. Only in this way shall we conquer this oncoming wave of evil.
Commentary:
Administrator
HUMAN SYNTHESIS
All articles contained in Human-Synthesis are freely available and collected from the Internet. The interpretation of the contents is left to the readers and do not necessarily represent the views of the Administrator. Disclaimer: The contents of this article are of sole responsibility of the author(s). Human-Synthesis will not be responsible for any inaccurate or incorrect statement in this article. Human-Synthesis grants permission to cross-post original Human-Synthesis articles on community internet sites as long as the text & title are not modified.
The source and the author's copyright must be displayed. For publication of Human-Synthesis articles in print or other forms including commercial internet sites. Human-Synthesis contains copyrighted material the use of which has not always been specifically authorized by the copyright owner. We are making such material available to our readers under the provisions of "fair use" in an effort to advance a better understanding of political, economic and social issues. The material on this site is distributed without profit to those who have expressed a prior interest in receiving it for research and educational purposes. If you wish to use copyrighted material for purposes other than "fair use" you must request permission from the copyright owner.