Det skulle bli et åpnere samfunn, sa Jens Stoltenberg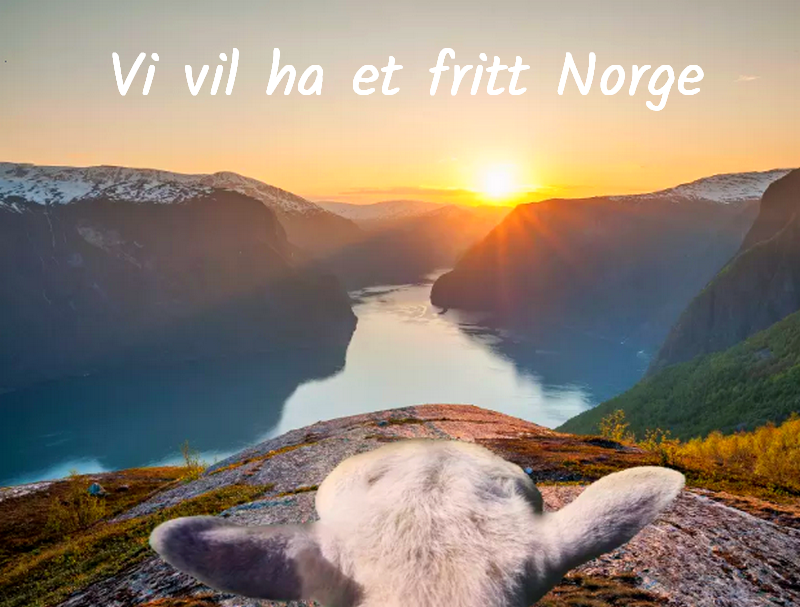 Av Stein Lohrmann - 13 april 2020
Litt om vår ytringsfrihet, vårt kjære Norge og våre politikere og medienissene.
Det skulle bli et åpnere samfunn, sa Jens Stoltenberg, men det motsatte har skjedd. Snakker man om innvandring eller is/am, blir man straks puttet inn i den høyreekstreme båsen og stemplet som rasist og utestengt her på facebook
Politikerne har sluttet å kjempe for Norge og Nordmenn - isteden blir det makt og posisjoner som faller som et slør over øynene deres. Alt våre forfedre sloss for, var verdt å dø for.

Vi må fortsette å kjempe for ytringsfriheten.

For forsvinner ytringsfriheten, da forsvinner Norge slik Norge var ment å være.
Norge er på vei til å tilpasse seg EU og FN systemet. Alle som har satt seg inn i hva EU og FN systemet nå står for, burde se galskapen. De som bor i EU, har nå problemer på flere områder. Skattene og avgiften til vanlige folk øker for hvert år, og politikerne gir selv seg hundretusener i lønnstillegg . Globallistene vil forvandle Vesten til Nord-Korea / Kina via mobiltelefoner og elektronikk til et liv i elektroniske slavelenker.

I den demokratiske dannelsen har vi alle et ansvar, men det er ikke lett når mange av våre rikspolitikere går foran i demoniseringen av sine meningsmotstandere på det verste og vi har folkevalgte som synes det er bra at Facebook og Youtube sensurerer! Vi har allerede betydelig sensur. Det vi kjemper for er at ytringsfriheten og ytringsmulighetene ikke skal knebles helt, for da vil formidling av uønskede tankermåter gå under jorden og HRS, Resett og Dokument vil forsvinne og da er slaget fullstendig tapt. Vi må være mentalt forberedt på dramatiske hendelser som coronaepidemien eller en ny 9/11 - som legitimerer at overvåknings- og sensurtyranniet reiser seg nesten over natten.

Vi har nå fått nesten 169 globalister på Stortinget som gjør alt for å hindre meningsmotstandere i å komme ut til folket. FNs migrasjonsavtale som ble vedtatt legaliserer sensuren. Det har blitt dyrket frem hat og forakt mot den tidligere så frie, fredelige og tillitsbaserte norske kulturarven. Det er vel dokumentert at vår forrige konge trygt kunne ta seg en tur med trikken på egenhånd. Det er blitt en utenkelighet og utopi i dag. Nordmenn har nå delvis mistet sin trygghet og frihet. Nordmenn risikerer nå å bli møtt med vold og hat overalt i det offentlige rom. Selv ikke på kirkegården i Oslo er man trygg. Våre barn vokser opp med den samme utryggheten på enkelte skoler. Det er heller ikke bare vår fysiske trygghet som blir truet. Også våre ytringer blir møtt med trusler og straff.

Det var ikke sånn i de tider Kong Olav tok seg en tur med trikken. Vi hadde friheten til å ferdes hvor vi ville, vi hadde friheten til å si hva vi ville. Friheten til å diskutere og dele tanker og meninger. Et drømmesamfunn som resten av den frie verden beundret oss for. Det var ikke en eneste korankloss i våre gater. Nå kjøres våre styresmakter rundt i sorte og skuddsikre biler - i det som for 40-50 år siden var verdens tryggeste samfunn. Dette fordi politikerne selv har styrt skuta.
Vi som heller likte at Kongen tok seg en tur med trikken derimot, ville ikke ha det sånn. Men det er tydeligvis ikke vi som bestemmer, det er blitt politikerne, biskopene og medienissene som nå har tatt seg til rette.De styrer skuta MS Norge.
Det er først når folket fritt kan både utnevne og avsette sine politikere, biskoper og medienisser at vi atter kan bli et trygt og fredelig land med en tillits-basert fellesskapskultur i bunn.

Politikerne, biskopene og medienissene har ikke lenger tillit til sitt folk, og de vil heller ikke ha tillit til den ukulturen folket fører med seg. Men vi – folket - har ingen mulighet til å bli kvitt ukulturen på demokratisk vis. Det er også særdeles vanskelig å se for seg at politikerne, biskopene og medienissene kommer til å ta et oppgjør med sin egen ukultur. Men et skritt på veien vil være at politikerne, biskopene og medienissene tok seg en tur med trikken i blant , og en tur til Saudi-Arabia med varighet på 1 års tid. Den vanlige folkemengden – med Ola og Kari Dunk - tror dessverre hva politikerne, biskopene og medienissene sier/står for.
Men folkemengdens fornemmelse av utstrakt misbruk av makt vil forhåpentlig føre til forståelse for galskapen som nå finner sted og sette en stopper før det hele er for sent.

Tillit og tradisjoner er i ferd med å forsvinne fra vårt land. Smak på ordet tillit! Vi vil tilbake til det landet hvor vi kunne legge oss om kvelden uten å låse dørene. Det landet hvor vi fritt kunne si vår mening uten å risikere å bli kategorisert som høyreekstrem og farlig. Det landet hvor vi ikke var redde for våre barn og barne-barns fremtid i eget land. Begrensning av ytringsfriheten ødelegger demokratiet.
De politikerne som har sviktet folket i Europa med den sinnssyke innvandringen, ønsker dessverre ikke bli straffet for å ha ødelagt de europeiske land! Derfor vil de nå skjule dette ved å sensurere folks meninger om det samme!

Dette er helt absurd, og det er mot de fleste lands grunnlover! Dette bør få konsekvenser for de politikerne som støtter sensur og er imot ytringsfrihet!
Hva angår ytringsfriheten er det krise i horisonten. Mange har mistet jobben ved å stå fram under fullt navn.

Winston Churchill har sagt:
"Har du fiender? Bra. Det viser at du står for noe".
Har du lyst til å dele , de ivei . Har du lyst til å diskutere, fyr løs. Har du lyst til å kommentere, fyr løs...
---
WHO and WHAT is behind it all ? : >
---
The bottom line is for the people to regain their original, moral principles, which have intentionally been watered out over the past generations by our press, TV, and other media owned by the Illuminati/Bilderberger Group, corrupting our morals by making misbehavior acceptable to our society. Only in this way shall we conquer this oncoming wave of evil.
Commentary:
Administrator
HUMAN SYNTHESIS
All articles contained in Human-Synthesis are freely available and collected from the Internet. The interpretation of the contents is left to the readers and do not necessarily represent the views of the Administrator. Disclaimer: The contents of this article are of sole responsibility of the author(s). Human-Synthesis will not be responsible for any inaccurate or incorrect statement in this article. Human-Synthesis grants permission to cross-post original Human-Synthesis articles on community internet sites as long as the text & title are not modified.
The source and the author's copyright must be displayed. For publication of Human-Synthesis articles in print or other forms including commercial internet sites. Human-Synthesis contains copyrighted material the use of which has not always been specifically authorized by the copyright owner. We are making such material available to our readers under the provisions of "fair use" in an effort to advance a better understanding of political, economic and social issues. The material on this site is distributed without profit to those who have expressed a prior interest in receiving it for research and educational purposes. If you wish to use copyrighted material for purposes other than "fair use" you must request permission from the copyright owner.