COVID-19 TRACKING BRACELETS
Kelen McBreen - Infowars.com - MARCH 17, 2020
COVID-19 TRACKING BRACELETS & INVISIBLE TATTOOS TO MONITOR AMERICANS?
A cybersecurity "white hat" government contractor sent David Knight a warning about a color-coded wristband that will be used for traveling Americans during an impending COVID-19 lockdown.
Individuals traveling will reportedly be stopped at checkpoints where they will have their mouths swabbed and once cleared of coronavirus be issued a bracelet that changes color daily.
The following image is allegedly an example of a temporary bracelet, which will be used until the final products are prepared.
Also, as government officials scramble to procure a COVID-19 vaccination, Bill Gates and MIT have the technology to track vaccination records via an invisible tattoo.
Together, MIT and Gates have "created an ink that can be safely embedded in the skin alongside the vaccine itself, and it's only visible using a special smartphone camera app and filter," according to Futurism.
Futurism explains, "The invisible 'tattoo' accompanying the vaccine is a pattern made up of minuscule quantum dots — tiny semiconducting crystals that reflect light — that glows under infrared light. The pattern — and vaccine — gets delivered into the skin using hi-tech dissolvable microneedles made of a mixture of polymers and sugar."
The journal Science Translational Medicine explains the technology as "a covert way to embed the record of a vaccination directly in a patient's skin rather than documenting it electronically or on paper."
In the face of COVID-19 panic and Democrat politicians pushing mandatory vaccinations, this technology could be used to track Americans who opt-out of a forced inoculation.
For example, even before the coronavirus outbreak MIT researcher Kevin McHugh, who worked on the project, said, "In areas where paper vaccination cards are often lost or do not exist at all, and electronic databases are unheard of, this technology could enable the rapid and anonymous detection of patient vaccination history to ensure that every child is vaccinated."
As for Gates' involvement in the program, he wasn't just funding it, as Scientific American reports, but "the project came about following a direct request from Microsoft founder Bill Gates himself."
Gates announced Friday he'd be stepping down from the board of Microsoft to focus more on philanthropic work during this worldwide pandemic.
---
Invisible Ink Could Reveal whether Kids Have Been Vaccinated

By Karen Weintraub on December 18, 2019
The technology embeds immunization records into a child's skin

Keeping track of vaccinations remains a major challenge in the developing world, and even in many developed countries, paperwork gets lost, and parents forget whether their child is up to date. Now a group of Massachusetts Institute of Technology researchers has developed a novel way to address this problem: embedding the record directly into the skin.
Along with the vaccine, a child would be injected with a bit of dye that is invisible to the naked eye but easily seen with a special cell-phone filter, combined with an app that shines near-infrared light onto the skin. The dye would be expected to last up to five years, according to tests on pig and rat skin and human skin in a dish.
The system—which has not yet been tested in children—would provide quick and easy access to vaccination history, avoid the risk of clerical errors, and add little to the cost or risk of the procedure, according to the study, published Wednesday in Science Translational Medicine.
"Especially in developing countries where medical records may not be as complete or as accessible, there can be value in having medical information directly associated with a person," says Mark Prausnitz, a bioengineering professor at the Georgia Institute of Technology, who was not involved in the new study. Such a system of recording medical information must be extremely discreet and acceptable to the person whose health information is being recorded and his or her family, he says. "This, I think, is a pretty interesting way to accomplish those goals."
The research, conducted by M.I.T. bioengineers Robert Langer and Ana Jaklenec and their colleagues, uses a patch of tiny needles called microneedles to provide an effective vaccination without a teeth-clenching jab. Microneedles are embedded in a Band-Aid-like device that is placed on the skin; a skilled nurse or technician is not required. Vaccines delivered with microneedles also may not need to be refrigerated, reducing both the cost and difficulty of delivery, Langer and Jaklenec say.
Delivering the dye required the researchers to find something that was safe and would last long enough to be useful. "That's really the biggest challenge that we overcame in the project," Jaklenec says, adding that the team tested a number of off-the-shelf dyes that could be used in the body but could not find any that endured when exposed to sunlight. The team ended up using a technology called quantum dots, tiny semiconducting crystals that reflect light and were originally developed to label cells during research. The dye has been shown to be safe in humans.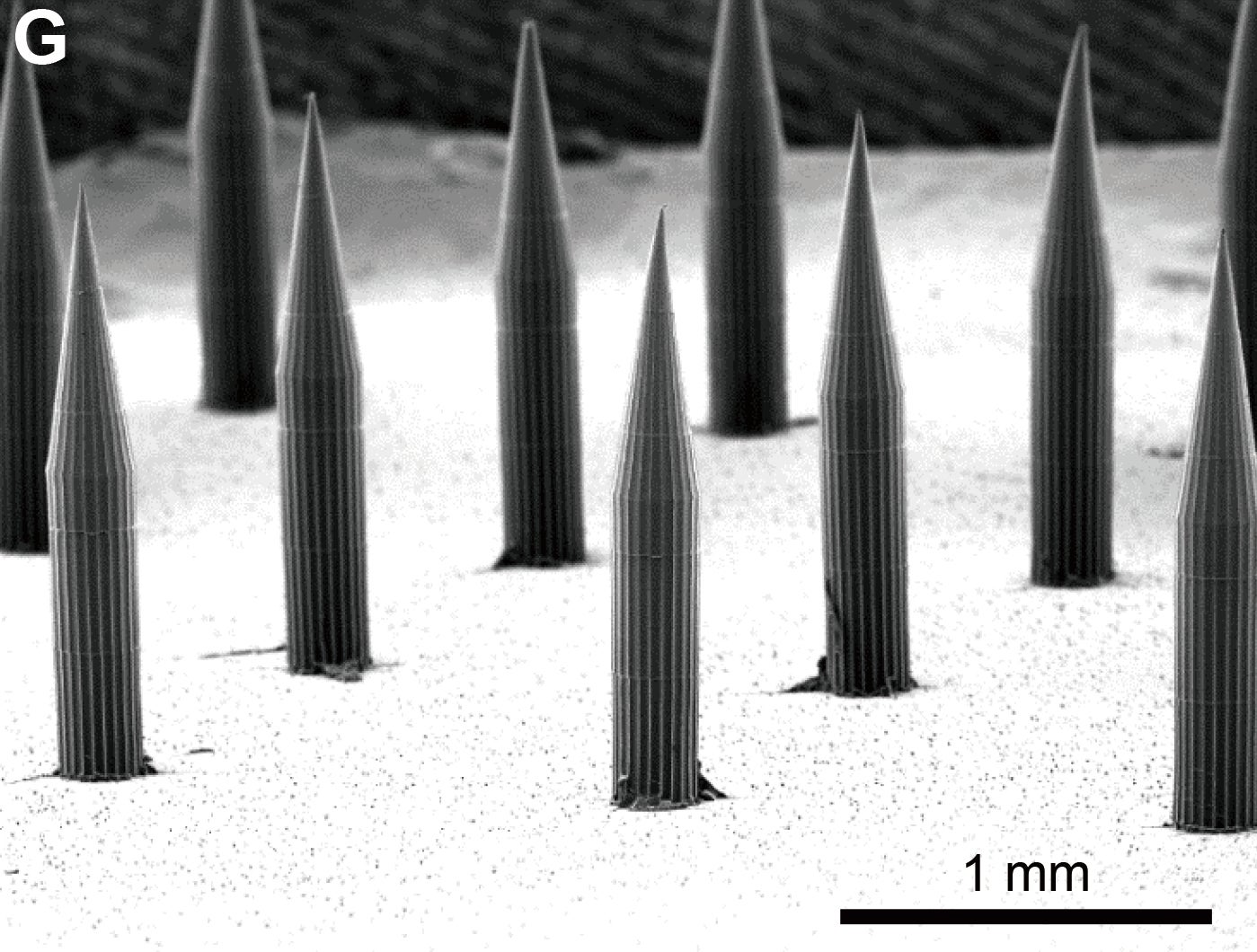 The approach raises some privacy concerns, says Prausnitz, who helped invent microneedle technology and directs Georgia Tech's Center for Drug Design, Development and Delivery. "There may be other concerns that patients have about being 'tattooed,' carrying around personal medical information on their bodies or other aspects of this unfamiliar approach to storing medical records," he says. "Different people and different cultures will probably feel differently about having an invisible medical tattoo."
When people were still getting vaccinated for smallpox, which has since been eradicated worldwide, they got a visible scar on their arm from the shot that made it easy to identify who had been vaccinated and who had not, Jaklenec says. "But obviously, we didn't want to give people a scar," she says, noting that her team was looking for an identifier that would be invisible to the naked eye. The researchers also wanted to avoid technologies that would raise even more privacy concerns, such as iris scans and databases with names and identifiable data, she says.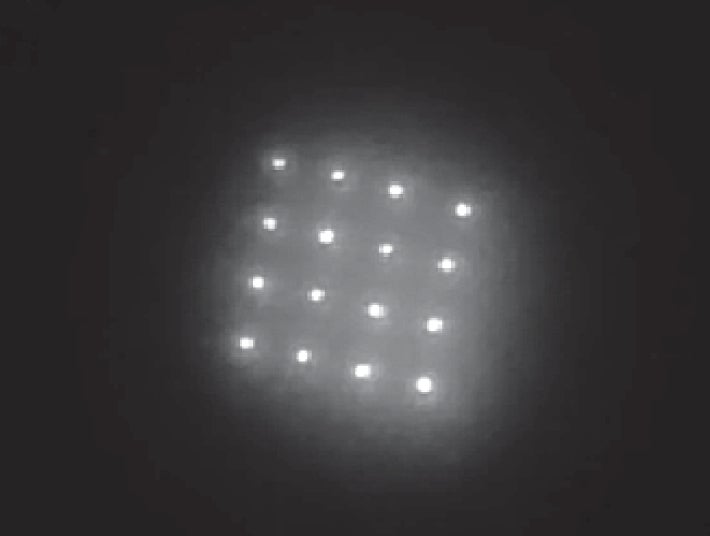 The work was funded by the Bill & Melinda Gates Foundation and came about because of a direct request from Microsoft founder and philanthropist Bill Gates himself, who has been supporting efforts to wipe out diseases such as polio and measles across the world, Jaklenec says. "If we don't have good data, it's really difficult to eradicate disease," she says.
The researchers hope to add more detailed information to the dots, such as the date of vaccination. Along with them, the team eventually wants to inject sensors that could also potentially be used to track aspects of health such as insulin levels in diabetics, Jaklenec says.
This approach is likely to be one of many trying to solve the problem of storing individuals' medical information, says Ruchit Nagar, a fourth-year student at Harvard Medical School, who also was not involved in the new study. He runs a company, called Khushi Baby, that is also trying to create a system for tracking such information, including vaccination history, in the developing world.
Working in the northern Indian state of Rajasthan, Nagar and his team have devised a necklace, resembling one worn locally, which compresses, encrypts and password protects medical information. The necklace uses the same technology as radio-frequency identification (RFID) chips—such as those employed in retail clothing or athletes' race bibs—and provides health care workers access to a mother's pregnancy history, her child's growth chart and vaccination history, and suggestions on what vaccinations and other treatments may be needed, he says. But Nagar acknowledges the possible concerns all such technology poses. "Messaging and cultural appropriateness need to be considered," he says.
---
Lab in Wuhan Warned in Early 2019 about Bat-Transmitted Coronaviruses
by Stephen Silver
Should we have seen coronavirus coming? Many people, from various scientists to philanthropists like Bill Gates, have been saying for years that a global pandemic is inevitable, with others making more exact predictions about a specific type of virus that could strike the human race. It turns out, there was a study released in early 2019, warning specifically about bat-based coronaviruses originating from China.
Should we have seen coronavirus coming? Many people, from various scientists to philanthropists like Bill Gates, have been saying for years that a global pandemic is inevitable, with others making more exact predictions about a specific type of virus that could strike the human race.
It turns out, there was a study released in early 2019, warning specifically about bat-based coronaviruses originating from China. And the paper itself originated from the Wuhan Institute of Virology-in the same region of China where the novel coronavirus is widely believed to have originated, likely by the same method the scientists predicted.
The study is called "Bat Coronaviruses in China," and it originated from the CAS Key Laboratory of Special Pathogens and Biosafety at the Wuhan Institute of Virology. Published in March of 2019, the peer-reviewed study argues that following Severe Acute Respiratory Syndrome (SARS), Middle East Respiratory Syndrome (MERS), and Swine Acute Diarrhea Syndrome (SADS), future pandemics may have similar origins, as all three originated in bats and two of them started in China.
The authors of the study are Yi Fan, Kai Zhao, Zheng-Li Shi and Peng Zhou, and while many other studies in recent years had predicted the likelihood of a pandemic, this one was unique in that it found a connection of diseases between bats and humans. Also, the scientists concluded that diseases from bats could spread easily among humans, even after other diseases did not.
"It is highly likely that future SARS-or MERS-like coronavirus outbreaks will originate from bats, and there is an increased probability that this will occur in China," the study's abstract says. "Therefore, the investigation of bat coronaviruses becomes an urgent issue for the detection of early warning signs, which in turn minimizes the impact of such future outbreaks in China."
It's important to make clear what this study is and what it's not. It appears to be an example of scientists being exactly right about what would happen in the future.
But it's not is any type of proof of a conspiracy theory. Contrary to what various social media reactions to the study have interpreted, the study does not show or come close to showing that China accidentally (or intentionally) created or released the virus, nor does it establish that the Wuhan scientists had a sample of what would become COVID-19 in their lab.
Tombs containing bamboo slips, among them Sun Tzu's Art of War and Sun Bin's lost military treatise, are accidentally discovered by construction workers in Shandong.
There have been earlier reports about possibly contaminated samples escaping from research labs in or near Wuhan, but such reports are both far-from-proven conjecture and have nothing to do with the "Bat Coronaviruses in China" study. Others have read nefarious motives into job postings posted by the institute last December "asking for scientists to come to research the relationship between the coronavirus and bats," but clearly the scientists were upfront about studying that connection beforehand.
Some have interpreted the inclusion of the word "coronavirus" in the study as evidence that the researchers knew specifically about COVID-19 nearly a year in advance. In fact, the word "coronavirus" means a specific family of viruses, not necessarily COVID-19 itself.
There's also no indication that the Chinese government did anything to suppress or censor the study; for all of China's notoriety about Internet censorship and other coverups specifically related to COVID-19, the study remains online and free for anyone to read.
China, undoubtedly, did many things wrong when it came to the spread of COVID-19. That they failed to adequately heed the advice of scientists who happened to be located right near where the pandemic ultimately originated, can be added to that list. But at the same time, it's important not to see things in the study that aren't there.

---
WHO and WHAT is behind it all ? : >
---
The bottom line is for the people to regain their original, moral principles, which have intentionally been watered out over the past generations by our press, TV, and other media owned by the Illuminati/Bilderberger Group, corrupting our morals by making misbehavior acceptable to our society. Only in this way shall we conquer this oncoming wave of evil.
Commentary:
Administrator
HUMAN SYNTHESIS
All articles contained in Human-Synthesis are freely available and collected from the Internet. The interpretation of the contents is left to the readers and do not necessarily represent the views of the Administrator. Disclaimer: The contents of this article are of sole responsibility of the author(s). Human-Synthesis will not be responsible for any inaccurate or incorrect statement in this article. Human-Synthesis grants permission to cross-post original Human-Synthesis articles on community internet sites as long as the text & title are not modified.
The source and the author's copyright must be displayed. For publication of Human-Synthesis articles in print or other forms including commercial internet sites. Human-Synthesis contains copyrighted material the use of which has not always been specifically authorized by the copyright owner. We are making such material available to our readers under the provisions of "fair use" in an effort to advance a better understanding of political, economic and social issues. The material on this site is distributed without profit to those who have expressed a prior interest in receiving it for research and educational purposes. If you wish to use copyrighted material for purposes other than "fair use" you must request permission from the copyright owner.