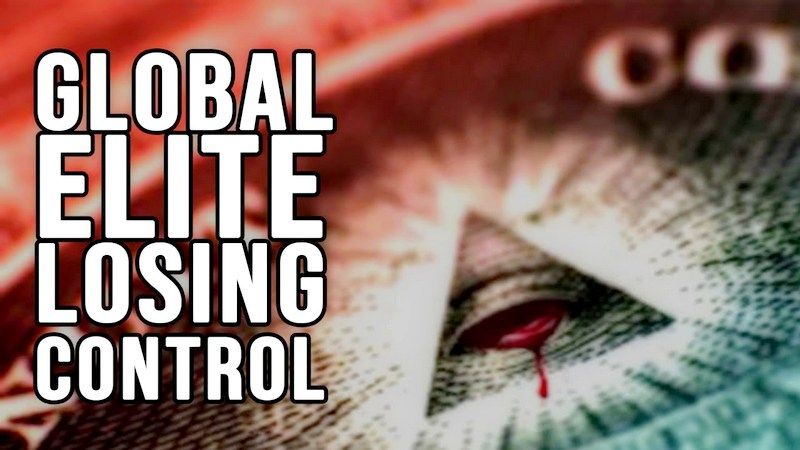 Eric Blair, Activist Post, Sept. 8, 2013

Karma is coming for the elite in a big way. As the Powers That Be head toward a devastating defeat in their war plans for Syria, signs are emerging that their rule over humanity is rapidly diminishing.
Over the last decade the global elite have been on a mad dash to consolidate power over the world. It's always been their plan like some evil villain in a comic book, but after 9/11 the plan went into overdrive and then turbo charged during the financial crisis of 2008.
Yet it's doomed to fail because humans are meant to be guided by their own free will, not controlled like livestock. The more the elite try to control humanity, the more entropy occurs. Entropy, for those who don't know, is the lack of order or predictability; a gradual decline into disorder.
Although the elite still enjoy a huge wealth advantage over the masses, they are now resigned to behaving like tyrants to maintain control. This, in turn, exposes their dark side which has been cleverly concealed for ages. Not anymore.
People are waking up in droves, at least as fast as the elite can build their full-spectrum prison matrix. Let them try. To paraphrase Victor Hugo, "No army can stop an idea whose time has come."
Here are ten signs that the elite are losing control over the people:
1. Official lies no longer effective: The lies they tell simply don't work anymore. There was a time when official lies, especially about war and peace, were believed. Because, after all, how evil would it be to lie about such things? Generally people want to believe they are being told the truth when life and death is at stake. The boy who cried wolf has cried one too many times. Even if they told the truth at this point, very few would believe them.
2. No confidence in politics: US politicians have a paltry approval rating. The trust in government is at all-time lows here and around the world. Mainstream polls show only 10% of the public has confidence in Congress. In other words, 90% don't believe in them to be competent to govern.
Watch this Town Hall exchange below where a man threatens US Senator John McCain with arrest for treason to his face. This would have never happened just a year or two ago:
3. No confidence in media: The most recent polls show that 77% of the population no longer trusts corporate TV news. Is it any wonder why the establishment media failed to sell the lies about the alleged Syria chemical event? With all their monopoly might over the airwaves, they can no longer claim that black is white simply because officialdom says so.
4. Bankers rejected: Hungary recently became the first country to follow Iceland's lead by shedding international bankers (IMF) and is considering pursuing prosecution of past prime ministers who enslaved the people with debt.
Look for this trend to continue even if nations decide to default to break free.
5. Vatican abruptly cleaning up its act: Under the previous Pope, Pope Benedict, scandals erupted from the Vatican ranging from covering up pedophile priests to money laundering and fraud. Benedict, in an unprecedented move, abruptly retired to make way for a seemingly much more likable Pope Francis. Pope Francis by all measures is working furiously to reclaim the church's peaceful and humble reputation. Whether this is genuine or a PR move, it's telling that the church was forced into such a drastic turnaround to save itself from losing all credibility.
6. Mutiny among soldiers: Finally. Soldiers, who are outlawed from making political statements, are steadily speaking out against US military adventurism. As Einstein famously said "The pioneers of a warless world are the young men (and women) who refuse military service."
7. Militarized police state: One of the darkest signs that the elite are losing their grip on power is the construction of the militarized police state specifically trained to combat domestic civil unrest. Local cops with tanks and other combat gear are working with Feds at Fusion centers, active Army units are on American soil for the first time in history, the NSA spy grid is being used by the IRS and DEA, and the elimination of due process for Americans under the NDAA are just some of the tyrannical moves made to secure the elite criminals from public backlash. They're clearly scared, and they should be given what they've done to the American people and the Constitution.
8. Serious secession movements everywhere: A state seceding from a larger political entity used to be an ultra-fringe concept, until now. In America, secession movements are winning over the public in parts of Colorado and California. In Europe, serious secession movements are happening in Spain and Scotland, as well as several EU nations flirting with the idea of dropping out the the euro. Decentralization = Entropy!
9. GMO food being rejected everywhere: Control the food and you control the people. True in theory, but much more difficult in practice. GMO leaders like Monsanto are being exposed. All of their economic and political strength cannot defeat the spread of knowledge about the dangers of pesticide-soaked Frankenfoods. GMO fields are being burned in protest in America and around the world, informed nations continue to reject their products, and labeling laws are gaining traction.
10. Cannabis liberation: Many reading this will think marijuana legalization is a superficial development. However, it is a major signpost that the elite's grip is fading. Enormous resources have been spent to keep cannabis illegal. Cannabis has been a powerful medicine for physical, mental, and spiritual health throughout the ages. This single plant represents a huge threat to the power structures and their industries, hence its seemingly senseless illegality. The approaching global reversal of the tyrannical policy of prohibition is the first of many concessions to come.
THE GLOBAL ELITE IS LOSING CONTROL Video
---
---
The Brexit Vote Is a New Milestone in the Global War on Elites
BY SIMON SHUSTER / LONDON JUNE 24, 2016
Brexit Vote Passes
The U.K. has voted to leave the European Union, a surprise result that has stunned the political establishment and sent shock waves around the global economy.
In a stunning victory for the anti-establishment forces that have upended mainstream politics across the Western world, British voters chose on Thursday to pull their country out of the European Union, sending global markets into a tailspin and encouraging anti-E.U. forces across the continent to push for their own referenda on whether to break away.
"The E.U. is failing, the E.U. is dying," declared the leader of the U.K. Independence Party, Nigel Farage, one of the leaders of the campaign for the British exit, or Brexit, from the union formed from the ruins of Europe after World War II. "It's a victory against big business…against big politics," he told reporters early on Friday morning, as the results showed 52% of the votes had been cast in favor of leaving and 48% against.
That margin of victory – amounting to around 1.3 million votes – did not simply repudiate the British government's calls for openness and unity with Europe. It also offered a blueprint for how ballot-box insurgencies across the West could, in the course of a single campaign, shatter the legitimacy of the ruling elites.
This formula is a familiar one, drawing fuel from a potent mix of xenophobia and angst over the loss of sovereignty and national identity. In the last couple of years, it has been deployed with explosive effects across Europe — and looks set to define the race for the U.S. presidency.
Donald Trump, the Republican presidential candidate, just happened to arrive in the U.K. to open a golf resort as the final results were announced, and wasted no time in linking them to his own insurgent campaign. British voters had "taken their country back," he said, echoing a slogan that has helped him win over the base, if not always the old guard, of the Republican Party.
"In a sense, the result of this referendum is a victory for Trumpism the world over," says Tony Travers, a noted political scientist in London and adviser to the British parliament. "It definitely has the same roots." Trump supporters, much like backers of Brexit, tend to feel that traditional parties have ignored their concerns over migration and economic inequality for too long. Their response has been a wide-ranging revolt against the status quo that has opened the political arena to a variety of upstart candidates for the first time in a generation or more.
In France, Denmark, Sweden, Austria and the Netherlands, among other E.U. members, right wing and Eurosceptic parties have made enormous gains in popularity, especially after more than a million asylum seekers poured into Europe last year from across the Middle East and North Africa. Many of these parties have reacted to the U.K. referendum by urging their countries to follow suit. "Now it's our turn," the far-right leader of the Dutch Party for Freedom, Geert Wilders, told a local radio station on Friday.
For populists like Trump and Wilders, who have both referred to Islam as a threat to national security, the U.K. referendum has shown how hard it is for established parties to contain public resentments over mass migration and a perceived loss of national control. In the end, the most convincing argument for British voters to stay in the E.U. was, "better the devil you know than the devil you don't," says Simon Hix, a professor of political science at the London School of Economics.
It didn't work. Weighed against the prideful nativism that fueled the opposing camp, such appeals proved ineffective in convincing a majority of British voters to stick with the devil they knew. Now, the British government will need to renegotiate its trade and political relationship with the European Union over a number of years, amending or repealing many of the laws and regulations that bind its state institutions with those of other members states.
It will be a gargantuan effort that Prime Minister David Cameron, for one, will not be involved in. He said Friday he would not lead the country beyond September, as the voters had rejected his pleas for the U.K. to stay in the E.U. "I do not think it would be right for me to be the captain that steers our country to its next destination," Cameron said.
That destination looked so uncertain to financial markets on Friday that the British pound lost about 12% of its value against the dollar in the course of six hours, marking the steepest plunge on record. The Bank of England, the country's central bank, tried to reassure the markets that it would "take all necessary steps" to maintain financial stability. But stock markets around the world still went into freefall, with Europe's main indexes losing 8% in morning trading.
---
---
WHO and WHAT is behind it all ? : >
---
The bottom line is for the people to regain their original, moral principles, which have intentionally been watered out over the past generations by our press, TV, and other media owned by the Illuminati/Bilderberger Group, corrupting our morals by making misbehavior acceptable to our society. Only in this way shall we conquer this oncoming wave of evil.
Commentary:
Administrator
HUMAN SYNTHESIS
All articles contained in Human-Synthesis are freely available and collected from the Internet. The interpretation of the contents is left to the readers and do not necessarily represent the views of the Administrator. Disclaimer: The contents of this article are of sole responsibility of the author(s). Human-Synthesis will not be responsible for any inaccurate or incorrect statement in this article. Human-Synthesis grants permission to cross-post original Human-Synthesis articles on community internet sites as long as the text & title are not modified.
The source and the author's copyright must be displayed. For publication of Human-Synthesis articles in print or other forms including commercial internet sites. Human-Synthesis contains copyrighted material the use of which has not always been specifically authorized by the copyright owner. We are making such material available to our readers under the provisions of "fair use" in an effort to advance a better understanding of political, economic and social issues. The material on this site is distributed without profit to those who have expressed a prior interest in receiving it for research and educational purposes. If you wish to use copyrighted material for purposes other than "fair use" you must request permission from the copyright owner.