DOCUMENTING EARTH CHANGES DURING THE NEXT GSM AND POLE SHIFT
According to Inuit Elders, the earth has shifted. Could this be first-hand observations of the ongoing Magnetic Pole Shift, and a harbinger of the coming crustal displacement hypothesized by Chan Thomas in his 1965 book 'The Adam and Eve Story'?
Furthermore, the UNFCCC received a budget of $41.8m in 2018-2019, of which $31.8m went on staffing and running costs, with only $4.1m reaching actual environmental projects…
The MSM is obsessed with heat and wildfires, and has blinded itself to the real threat — the ever-descending COLD brought on by historically low solar activity…
If all the historical data PROVES that atmospheric CO2 concentration has no impact on global temperature fluctuations, then why is the UN in such a panic?
"The nuclear reaction that takes place in the Sun is not a thermonuclear reaction, but rather a condensed matter nuclear reaction. It is an absolutely peaceful nuclear energy source and without radioactive waste or harmful byproducts."
UCT's Dr Johnston: "All we are asking for is some communication. … When that record came out it was all over twitter, all over the internet, the media got hold of it, but when we looked at the data we became suspicious. … The question is, how reliable is the data?"
Despite decades of doom-and-gloom prophecies, Greenland's Ice Sheet is currently GAINING monster amounts of snow…
The website says its mission is to "deconstruct" climate change theories "propagated" by former U.S. vice president Al Gore and "the highly politicized" International Panel on Climate Change…
Furthermore, Great Falls has now received 119.3 inches of snow since January 01, 2019 — which has surpassed the previous calendar year snowfall record of 116.5 set back in 1989….
Many Aussie ski resorts have reported large accumulations of summer snow over the weekend and into Monday, as the Grand Solar Minimum continues its intensification…
Was this "1980's Game Show"-styled debate really about climate change and its causes, or rather a "Weakest-Link" power-play for control?
IPCC, 2001: "Milder winter temperatures will decrease heavy snowstorms
Four firefighters operating in Alter do Chao are suspected of setting the fires that were so widely publicized across global media in September of this year…
And SF wasn't alone in dealing with below-average temperatures. According to the NWS, most of the interior North Bay suffered sub-zero readings late last week…
Concealed NOAA temperature data reveals that 6 of the 9 months leading up to July, last, were colder than normal in the USA…
"You've never seen a Thanksgiving like that before," reads the opening line of an Albuquerque Journal article dated Nov 28…
In a scathing attack upon the IPCC 's latest alarmist predictions, Dr. khadekar lambasted their report for its total lack of scientific backing…
Could this be the REAL reason for the urgency over climate change and the proposed Global Carbon Tax?
However, are their opinions based on provable scientific facts, or rather on the political rhetoric and propaganda endlessly spouted by the media, large Corporations and the Alphabet agencies?
The 19.8 inches (50.3 cm) Loveland received on Tuesday broke the municipality's all-time record for the largest daily snowfall in the month of November, more than doubling the previous record…
---
THE INCREASING GALACTIC COSMIC RAY SITUATION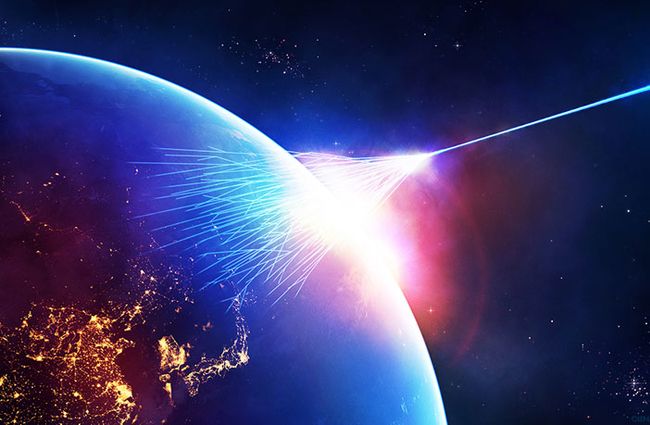 ELECTROVERSE - 2018
The sun has been without sunspots for 32 of the past 33 days.
To find a similar stretch of blank suns, you have to go back to 2009 when the sun was experiencing the DEEPEST SOLAR MINIMUM IN A CENTURY.
During solar minimum, the sun's magnetic field weakens and the outward pressure of the solar wind decreases.
This allows more cosmic rays from deep space to penetrate the inner solar system and our planet's atmosphere.
Solar minimum has returned, bringing with it extra Galactic Cosmic Rays.
Every USA weather balloon launch has exhibited the same pattern.
The Cosmic Ray upward trend is coast to coast:
Cosmic Rays come from outside the solar system.
They are a mixture of high-energy photons and sub-atomic particles accelerated toward Earth by supernova explosions and other violent events in the cosmos.
Here on Earth, we have two additional lines of defence: the magnetic field and atmosphere of our planet.
Earth's current magnetic excursion is further amplifying the GCR situation.
Our magnetosphere is waning at an increasing rate as north and south magnetic poles continue their wander, with some predictions putting a meeting point over Indonesia within the next few years.
Previous magnetic excursions and reversals have led to increased cosmic rays, volcanic and seismic activity and the onset of ice ages.
When ice ages begin, they begin incredibly fast.
At the end of the Eemian, for example, the climate descended from a period of warmth such as today's into full-blown glacial severity in less than twenty years.
EXACTLY WHAT AFFECT DO COSMIC RAYS HAVE?
Cosmic rays penetrate commercial airlines, dosing passengers and flight crews so much that pilots are classified as occupational radiation workers by the ICRP.
The time astronauts can 'safely' spend in space has been cut over the years, from 1000 days in 1990 to 700 days in 2010 (N. A. Schwadron et al.) — making any ideas of manned missions to Mars non-starters.
More crucially, however, the work of H. Svensmark, M.B. Enghoff, N. Shaviv and J. Svensmark attributes Cosmic Rays to cloud nucleation here on earth.
"Clouds are the Earth's sunshade, and if cloud cover changes for any reason, you have global warming — or global cooling," Dr. Roy Spencer.
The implications of Svensmark's study suggests that the mechanism have affected:
The climate changes observed during the 20th century
The coolings and warmings of around 2°C that have occurred repeatedly over the past 10,000 years, as the Sun's activity and the cosmic ray influx have varied.
The much larger variations of up to 10°C occurring as the Sun and Earth travel through the Galaxy visiting regions with varying numbers of exploding stars.
These two independent factors occurring simultaneously — Solar Minimum and Magnetic Excursion — will have a dramatic impact on the Cosmic Ray count here on earth.
Cloud nucleation, or Earth's Sunshade, will increase and the upshot is a cooling of the planet.
The addition of a magnetic excursion during a Grand Solar Minimum is throwing us something of a curve ball.
---
WHO and WHAT is behind it all ? : >
---
The bottom line is for the people to regain their original, moral principles, which have intentionally been watered out over the past generations by our press, TV, and other media owned by the Illuminati/Bilderberger Group, corrupting our morals by making misbehavior acceptable to our society. Only in this way shall we conquer this oncoming wave of evil.
Commentary:
Administrator
All articles contained in Human-Synthesis are freely available and collected from the Internet. The interpretation of the contents is left to the readers and do not necessarily represent the views of the Administrator. Disclaimer: The contents of this article are of sole responsibility of the author(s). Human-Synthesis will not be responsible for any inaccurate or incorrect statement in this article. Human-Synthesis grants permission to cross-post original Human-Synthesis articles on community internet sites as long as the text & title are not modified.
The source and the author's copyright must be displayed. For publication of Human-Synthesis articles in print or other forms including commercial internet sites. Human-Synthesis contains copyrighted material the use of which has not always been specifically authorized by the copyright owner. We are making such material available to our readers under the provisions of "fair use" in an effort to advance a better understanding of political, economic and social issues. The material on this site is distributed without profit to those who have expressed a prior interest in receiving it for research and educational purposes. If you wish to use copyrighted material for purposes other than "fair use" you must request permission from the copyright owner.
---