TAR VI FLERE OMBORD, OMKOMMER VI ALLE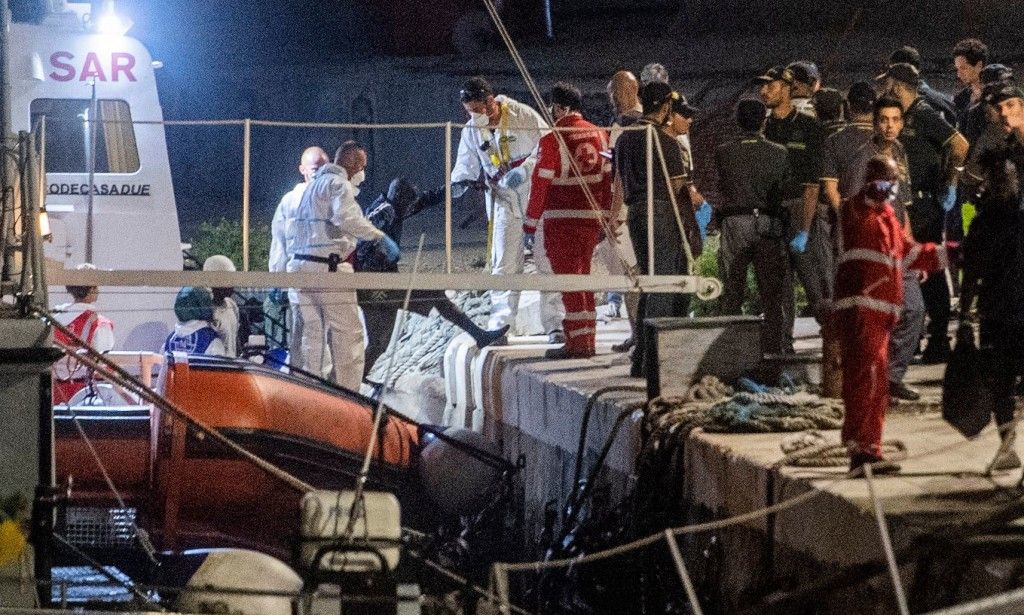 Foto: Alessandro Serrano / AFP) / NTB Scanpix
MENINGER 24. OKTOBER 2019 KL. 6.00 Une Bastholm, stortingsrepresentant og nasjonal talsperson for Miljøpartiet De Grønne
Debatt: Båtflyktninger

Norge må ta ansvar for flyktninger. Det er uforståelig at regjeringen ikke vil være med på en fordeling av ansvaret for båtflyktninger i Middelhavet.
FORDELING AV FLYKTNINGER: Om Norge hadde vært villige til å melde inn en kvote vi selv fastsatte størrelsen på, ville det vært lettere å be andre om å gjøre det samme, skriver innsender.
Europeiske land forsøker nå å komme til enighet om en fordeling av ansvaret for flyktninger som kommer over Middelhavet. Over tusen flyktninger har druknet i Middelhavet bare i år. Trykket på Sør-Europa er stort. Men den norske regjeringen sier likevel nei til å delta i dugnaden.
Justisminister Jøran Kallmyr begrunner regjeringens nei med at avtaleutkastet mangler en «hurtigprosedyre som sikrer at migranter som åpenbart ikke vil få innvilget asylsøknad i europeiske land, ikke vil bli fordelt til andre europeiske land.»
Regjeringen vil altså ikke bidra før Hellas, Italia og andre ankomstland har gjennomført en siling av de ankomne.
Bare flyktninger med beskyttelsesbehov kan få innvilget asyl, men å kunne søke om asyl er en menneskerettighet. Det er derfor uforståelig at regjeringen sier nei.
Mennesker på flukt, uansett hva grunnen er, fortjener å bli anstendig behandlet og få rask avklaring på om de får bli eller om de må returnere. Tydeligere ansvarsdeling, effektivisering og koordinering er i Norges interesse også fordi det bidrar til europeisk stabilitet.
Økonomiske migranter på vei til Nord Europa 16 oktober 2019
Et viktig punkt i diskusjonene har vært å innføre en maksgrense på fire uker for hvor lenge båtflyktninger blir værende på ankomststedet, slik at vi skal slippe det kaoset vi har nå: Redningsbåter som ikke får legge til kai, overfylte teltleirer og kaotiske, uverdige forhold.
Hvis en tydelig ansvarsfordeling mellom landene kommer på plass vil flyktningene raskt kunne sendes til andre europeiske land; få asylsøknadene behandlet etter det vanlige asylregelverket, og bli returnert derfra hvis søknadene avslås.
Å fordele ansvar for flyktningene løser selvsagt ikke det grunnleggende problemet. Det hindrer ingen i å sette seg og barna sine i en gummibåt med livet som innsats fordi alternativet til flukt er enda verre. Men det ville kunnet bidra til raskere asylbehandling, og til å unngå situasjoner som den vi har i den greske flyktningleiren Moria, der kapasiteten er sprengt og forholdene uakseptable.
I fravær av en avtale som gjør det tryggere og enklere å søke asyl, er dette et skritt i riktig retning. Om Norge hadde vært villige til å melde inn en kvote vi selv fastsatte størrelsen på, ville det vært lettere å be andre om å gjøre det samme.
---
KOMMENTARER
Det som er uforståelig er hvorfor velgere stemmer MDG, som så tydelig vil fylle landet med økonomiske migranter.
Utgiftene Norge har med migrasjon er på mellom 65 til 100 milliarder pr år, og da er ikke utgifter ved betydelig økt kriminalitet tatt med.
Den kollosale innvandringen av muslimer vil bestemt forårsake nasjonal utslettelse om ikke så mange år da anntallet overstiger det etnisk norske og vi blir utsatt for Sharialov.
Kostnadene av migrantene i løpet av de neste 10 årene blir annslagsvis 2.5 TRILLIONER. D.v.s. nesten 30% av Pensjons/Oljefondet  som i dag er på 9.9 TRILLIONER.
I tillegg har migrantene ORDRE fra Koranen til maks barnefødsler per år som ligger rundt 6 sammenliknet med etniske 1.4, så kostnadene kan bli enda høyere enn anntatt.
Vi kan sammenlikne vår situasjon med ett scenario hvor et skip nettopp har sunket langt til sjøss. Kun én livbåt er tilgjengelig og den er allerede full til over den tillatte kapasitet. Rund om i sjøen ligger det dusinvis med mennesker som skriker og kaver for å komme ombord.  Hva gjør kommanderende offiser ombord?  Tar han flere ombord, omkommer ALLE.  En tung avgjørelse må tas, men REALITETEN er det ikke tvil om.
Dette er ett FAKTUM som ikke kan unngås, med mindre de alle sendes tilbake for å gjenoppbygge sine land, gjerne med vår økonomiske hjelp. Bedre DER enn HER.
Det er jo vannvidd å la uerfarne ungdommer med tildels lite utdanning, hjernevasket fra de politiske leirene, ta annsvar for den aller største bedriften som finnes i landet. Både stortingsrepresentantene samt regjeringsmedlemmene burde ha både utdanning og arbeidserfaring. Derfor må vi velge/annsette VOKSNE mennesker som gjøres i andre land.
Som følge av uerfarne regjeringsmedlemmer må vi betale i millioner for rågivere utenifra.
Dessverre har vi en skyggeregjering som ønsker total utslettelse av nasjonal tilhørighet og demokrati. Det spiller derfor ingen rolle hvilket parti du stemmer på.
---
Av Helge Lurås -19. mai 2019 | 08:0
---
Niall Ferguson - Published: 2:30pm, 18 Jun, 2018
---
WHO and WHAT is behind it all ? : >
---
The bottom line is for the people to regain their original, moral principles, which have intentionally been watered out over the past generations by our press, TV, and other media owned by the Illuminati/Bilderberger Group, corrupting our morals by making misbehavior acceptable to our society. Only in this way shall we conquer this oncoming wave of evil.
Commentary:
Administrator
All articles contained in Human-Synthesis are freely available and collected from the Internet. The interpretation of the contents is left to the readers and do not necessarily represent the views of the Administrator. Disclaimer: The contents of this article are of sole responsibility of the author(s). Human-Synthesis will not be responsible for any inaccurate or incorrect statement in this article. Human-Synthesis grants permission to cross-post original Human-Synthesis articles on community internet sites as long as the text & title are not modified.
The source and the author's copyright must be displayed. For publication of Human-Synthesis articles in print or other forms including commercial internet sites. Human-Synthesis contains copyrighted material the use of which has not always been specifically authorized by the copyright owner. We are making such material available to our readers under the provisions of "fair use" in an effort to advance a better understanding of political, economic and social issues. The material on this site is distributed without profit to those who have expressed a prior interest in receiving it for research and educational purposes. If you wish to use copyrighted material for purposes other than "fair use" you must request permission from the copyright owner.