Brexit vote result: MPs vote to delay UK's exit AGAIN - Letwin plot sabotages new EU deal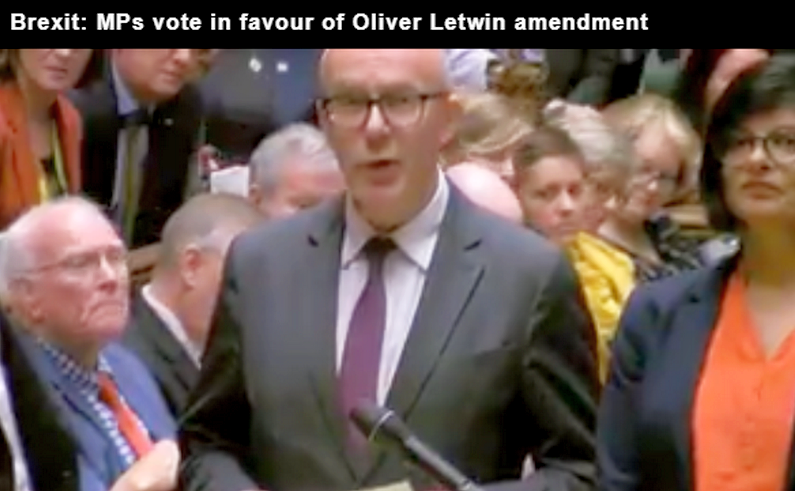 DAILY EXPRESS - By CIARAN MCGRATH : 14:50, Sat, Oct 19, 2019 |

BORIS Johnson's hopes of taking the UK out of the EU on October 31 have been dealt a huge blow with MPs supporting an amendment tabled by Sir Oliver Letwin, which will force the Prime Minister to seek a delay to Article 50 from the bloc - with Mr Johnson defiantly insisting he would not negotiate one.

ITV's political editor Robert Peston, citing Government's own whips, earlier suggested Sir Oliver's proposal, Amendment A, would scrape through by just five votes, with the Government scrambling frantically to respond to the surprise intervention - but in the event the Commons defeated Mr Johnson a 16-vote defeat. Christopher Hope, The Daily Telegraph's chief political correspondent, suggested between 12 and 15 Labour MPs were considering voting AGAINST Amendment A, while acknowleding the number may fall under pressure from Labour whips. Mr Hope also suggested the DUP may be considering abstaining on the matter, although the party's Brexit spokesman dropped a strong hint that this was not the case, telling the Commons he and his colleagues were ready to use every strategy possible to stop Mr Johnson's deal in its current form.
RELATED ARTICLES
Boris demands MPs 'overwhelmingly' vote for Brexit deal next week
Brexit news: Which MPs voted to delay approval of Brexit deal?
The question MPs were voting on was phrased: "This House will not approve a deal until the related legislation has been passed so Prime Minister Boris Johnson must still seek an extension."
322 MPs voted yes for the Letwin amendment compared to 306 MPs voting no meaning Letwin has a majority of 16.PROMOTED STORY
Prime Minister Boris Johnson immediately responded by saying the legislation taking the UK out of the bloc will be tabled next week, saying he "strongly believed" it was in the best interests of the UK to leave on October 31.
Michael Gove: Democracy more important than Leave or
RemainPlay Video
He said he was not "daunted or dismayed" by the result and remained committed to taking Britain out by October 31.
He added: "I will not negotiate a delay with the EU, neither does the law compel me to do so."
Labour leader Jeremy Corbyn responded by saying he "welcomed" the "emphatic" decision, adding: "The Prime Minister must now comply with the law.
"He can no longer use the threat of a No Deal crash out to blackmail members to support his sell-out deal.
Sir Oliver Letwin and Boris Johnson in the Commons (Image: GETTY/PA)
Brexit: Selous claims MPs 'think they know better' than public
"Labour is not prepared to sell out the communities that we represent.
Two other amendments tabled by Labour MP Peter Kyle and SNP's Westminster leader Ian Blackford were withdrawn, with all eyes on amendment A, which withholds approval of the deal until the legislation enacting it has been passed by Parliament, automatically triggering the "Benn Act" and forcing Mr Johnson to request a further postponement of Brexit until 31 January.
Sir Oliver, a Conservative Party MP until he had the whip suspending for backing the Benn Act, had coming under intense pressure to pull the plug - but refused to do so.
Brexit: Jeremy Corbyn reacts to Letwin amendment result
He said: "The purpose of the amendment is to keep in place the insurance policy provided by the benn act which prevents us crashing out if there is no deal on Ocobeer 31."
He said he would vote for Mr Johnson's plan but stressed: "Votes will be tight."
He added: "The Prime Minister has a strategy, I fully accept that, and I accept that it is rational in its own terms.
JUST IN: Jeremy Corbyn jeered by MPs for refusing to back UK leaving EU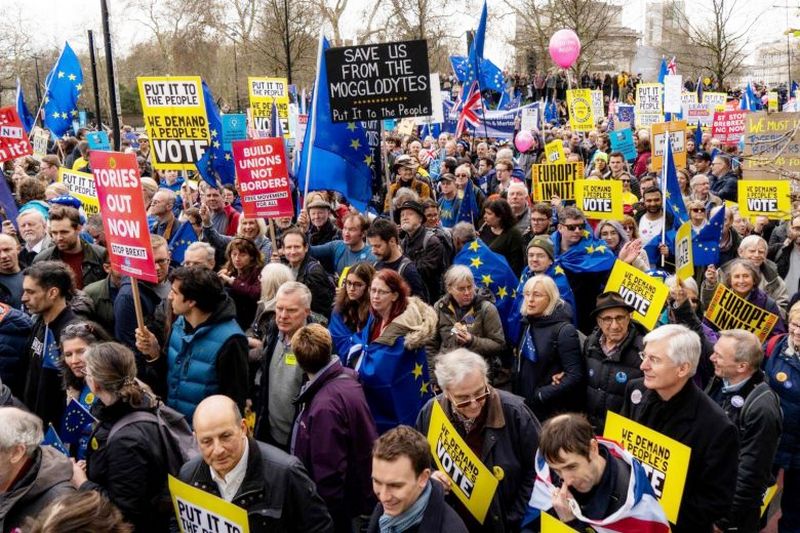 Brexit: Boris Johnson responds to Letwin amendment defeat
Is it that he wants to be able to say to any waverers 'it's my deal or no-deal. Vote for the implementing legislation or we crash out'.
"Now I understand that strategy but we can't be sure that such a threat from the Prime Minister would work."
"I, despite my support for the Prime Minister's deal, do not believe that it's responsible to put the nation at risk by making that threat."
DON'T MISS
Brexit LIVE: Boris Johnson ready to pull historic Brexit vote [LIVE BLOG]

Boris Johnson branded a 'greased piglet' by David Cameron [INSIGHT]
Brexit Party MEP warns EU can 'overturn' fishing agreement under deal [VIDEO]
Steve Barclay also pleaded with Mr Letwin to pull his amendment (Image: Sky News)
Stephen Barclay: The public will be appalled by further delay
On the subject of the amendment, Mr Wilson said: "We would be failing in our duty if we do not use every strategy which is available to try and get guarantees, changes and alternations which will safeguard the interest of the United Kingdom, the interests of our constituents, and the interests we represent."
Sky New's Westminster political reporter Rob Powell tweeted: "Brexiteers say they are making their case to Letwin amendment backers by calling for an end to the "bloody Tory civil war" over Brexit and saying they will "lay down their arms" by voting for this deal. They want those on the other side to "play fair" and do the same."
Prior to the vote, former Tory leader Iain Duncan Smith launched a stinging attack on Sir Oliver as he urged MPs to reject the idea.
He said: "I beg my colleagues: we have got to vote down the Letwin amendment.
"This vote has to be clear to our partners in Europe and clear to the country that we are now on a track to leave under this deal.
Brexit: Wilson says DUP will use 'every strategy to safeguard UK'
I just wish Oliver Letwin, for once, would stow it now
Iain Duncan Smith
"I just wish Oliver Letwin, for once, would stow it now."
Brexit Secretary Steve Barclay added: "This house called for a meaningful vote. But today, some who champion that now suggest we should delay longer still.
"I respect the intention of my right honourable friend, the member for West Dorset, who indeed is someone who has supported the vote three times, and has indicated his support today.
"But his amendment would render today's vote meaningless. It would cause further delay when our constituents and our businesses want an end to uncertainty and are calling on us to get this done.
Keir Starmer says Letwin amendment doesn't cause delay
"The public will be appalled by pointless further delay. We need to get this Brexit done by October 31 and I ask the right honourable gentleman in that spirit to withdraw this amendment."
Tory MP for Rayleigh and Wickford Mark Francois added: "The aim of amendment A is clear. The emperor has no clothes.
"It is to stop us leaving the European Union at any cost."
He added: "I beg my colleagues, it's for the country now, we have to get this over the line."
DON'T MISS
Boris Johnson ready to pull historic Brexit vote [LIVE]
Brexit Party supporter hits out at Remain politicians over democracy [INSIGHT]

Brexit march London October 2019 details - The Final Say march route and time today [ANALYSIS]
Sir Oliver Letwin in the House of Commons earlier (Image: Sky News)
Brexit: Oliver Letwin explains 'purpose' of his amendment
Fellow Tory Andrew Brigden, MP for North West Leicestershire, added: "It's a wrecking amendment, hiding behind the transparent veneer of opposing a no-deal outcome in the hope of giving the Remain Parliament an opportunity to force through a second referendum."
Fellow Tory MP Tory MP Damian Collins tweeted: "The Letwin amendment is another of those Brexit ideas which is too clever by half.
"If it passes it effectively renders today's Saturday sitting of parliament meaningless, at a time when the country and the EU needs to know whether parliament accepts the new withdrawal deal or not."
Amid reports that Number 10 would suspend the vote on the deal should the Letwin amendment pass, Labour MP Lisa Nandy tweeted: "News just breaking as we start just half a day of debate on an agreement that will have consequences for decades and all so the PM can say he 'got Brexit done'."
Iain Duncan Smith asked Sir Oliver to "stow it" (Image: Parliament TV)
Brexit: Iain Duncan Smith urges Letwin to withdraw amendment
"It's a joke. This is no way to make major decisions about the future of this country."
The Letwin amendment would deprive the PM from being able to make meaningful steps with Mr Johnson's Brexit vote today and would essentially force the Prime Minister's hand in asking for an extension from the EU.
Suggestions that Mr Letwin might be persuaded to withdraw his amendment were scotched by former Tory MP-turned-independent Nick Boles, who tweeted:"Some mischievous speculation that Oliver Letwin might be persuaded to pull his amendment.
"He will forgive me for observing that there is more chance of him being called up to the England rugby team."
Boris Johnson said a further delay was "pointless" (Image: GETTY)
In his opening statement to the Commons, Mr Johnson urged MPs to abandon the
"delusion" that they could simply delay Brexit yet again.
"Whatever letters they may seek to force the Government to write, it cannot change my judgment that further delay is pointless, expensive and deeply corrosive of public trust," he said.
"And people simply will not understand how politicians can say with one breath that they want delay to avoid no deal and then with the next breath that they still want delay when a great deal is there to be done."
BBC's political editor Laura Kuenssberg said Downing Street was suggesting Mr Letwin's amendment would increase the chances of a no deal Brexit if passed.
She tweeted: "No 10 claims chances of no deal go up if Letwin passes - 'the govt will step up no deal preparations immediately as the risks will have increased substantially - if Letwin defeated + deal approved, no deal preparations will start being turned off immediately'."
(More to follow)
RELATED ARTICLES
---
WHO and WHAT is behind it all ? : >
---
The bottom line is for the people to regain their original, moral principles, which have intentionally been watered out over the past generations by our press, TV, and other media owned by the Illuminati/Bilderberger Group, corrupting our morals by making misbehavior acceptable to our society. Only in this way shall we conquer this oncoming wave of evil.
Commentary:
Administrator
All articles contained in Human-Synthesis are freely available and collected from the Internet. The interpretation of the contents is left to the readers and do not necessarily represent the views of the Administrator. Disclaimer: The contents of this article are of sole responsibility of the author(s). Human-Synthesis will not be responsible for any inaccurate or incorrect statement in this article. Human-Synthesis grants permission to cross-post original Human-Synthesis articles on community internet sites as long as the text & title are not modified.
The source and the author's copyright must be displayed. For publication of Human-Synthesis articles in print or other forms including commercial internet sites. Human-Synthesis contains copyrighted material the use of which has not always been specifically authorized by the copyright owner. We are making such material available to our readers under the provisions of "fair use" in an effort to advance a better understanding of political, economic and social issues. The material on this site is distributed without profit to those who have expressed a prior interest in receiving it for research and educational purposes. If you wish to use copyrighted material for purposes other than "fair use" you must request permission from the copyright owner.