David Starkey issues brutal analysis of 'bizarre' Supreme Court ruling against Johnson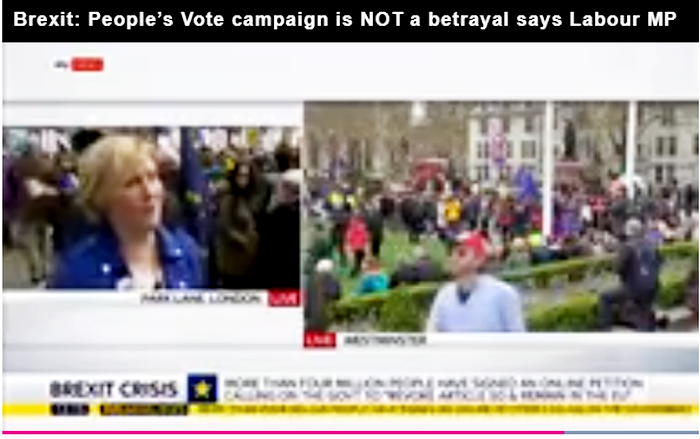 Daily Express - By AURORA BOSOTTI - PUBLISHED: 00:01, Fri, Sep 27, 2019
CONSTITUTIONAL expert David Starkey insisted the Supreme Court's decision to rule against Boris Johnson was based on political motivations which will change "the way we do politics" in years to come.
David Starkey insisted the speech Lady Hale delivered ahead of the ruling appeared closer to one given at "hustings" rather than a judicial debate. The Supreme Court on Tuesday found Boris Johnson misled the Queen when offering advice to the monarch to secure permission for the prorogation of Parliament until mid-October in the run-up to Brexit. Speaking to LBC, Dr Starkey said: "Not only did the language of the judgment verge on the political but it wasn't verging, it was political.
RELATED ARTICLES
Brexit Party MEPs boast higher earnings than Guy Verhofstadt
Why Europe is behind Supreme Court ruling on Parliament shutdown
"It is not for judges to rule on political truthfulness. We've already had a case thrown out that tried to reverse the result of the referendum on the claims of the leavers, that the £350m a week for the NHS were wrong.
"The judges said then, sensibly, sorry political tactics are political tactics. It is not for the law to intervene on.
"Similarly, if you actually listen to the interventions at the Supreme Court, particularly one of the Scottish council, it was bizarre. It wasn't a legal speech, it was a speech at hustings."
Dr Starkey also insisted the British Government should not have defended the decision to shut down Parliament with a "transparently false reason" as he warned the Supreme Court ruling will change "the way we are governed."PROMOTED STORY
JUST IN: Boris Johnson REFUSED Parliament break for Tory conference – MPs plot to thwart Brexit
Brexit news: David Starkey claimed the Supreme Court acted (Image: BBC•LBC)
Brexit news: Dr Starkey said Boris Johnson should not have relied on a "transparently false reason" to shut down Parliament (Image: LBC)
He continued: "The Government was completely stupid to give a transparently false reason.
"I think Johnson has got much too much of a record of loose language to put it as mildly as possible and this just reinforces it.
"The fact the judges thought 'we'll slap them down'. That is not judicial behavior. This changes the way we are governed.
"This changes the way we do politics. This changes the way in which we thought of ourselves as the English constitution is held up for admiration."
READ MORE: Jeremy Corbyn rocked by shadow minister resignation – defies leader to campaign on Brexit
Brexit: Leave voter worries they are 'losing their voice'
Brexit news: Lady Hale delivered the unanimous ruling of all 11 members of the Supreme Court (Image: BBC)
Dr Starkey added: "The events since the referendum have broken the English constitution. They have broken it, shattered in pieces like a noble statue which has been pushed over and deliberately broken.
"It is an act of utter vandalism. And once it's broken, I don't think it can be put back together again. The last time we were in territory like this, it was settled by civil war."
Following the Supreme Court ruling, which voided the prorogation and found Parliament had never been shut down, Speaker John Bercow reconvened MPs to Westminster on Wednesday to resume the parliamentary session.
Boris Johnson headed back to London from the UN General Assembly 12 hours in advance to deliver a speech in the Commons and address the unanimous decision of the 11 Supreme Court judges.
DON'T MISS:
Boris Johnson has 'angry meltdown' as he confronts Jess Phillips after vote [LIVE]

If Boris fails to get EU deal should he Leave with no deal or extend? [POLL]

Farage unveils radical way to 'call Corbyn's bluff' and leave him red-faced [VIDEO]
RELATED ARTICLES
Andrew Neil grills SNP MP - 'You would be complicit in helping Jeremy
Brexit shock: How Labour leader claimed 'EU made Parliament farcical'
Brexit news: Boris Johnson said he thought the decision of the Supreme Court is "wrong" (Image: PARLIAMENT TV)
Brexit news: Parliament repeatedly attempted to take no deal off the table (Image: EXPRESS.CO.UK)
TRENDING
Piers Morgan stuns Gina Miller with 'fundamental Brexit problem' over Remainer meddling
BBC's Laura Kuenssberg points out massive problem for Remainers in the Commons
Brexit breakthrough: EU 'regretting crazy punitive policy towards UK' as deal hopes surge
The Prime Minister lamented the intervention of the highest court in the land at a time of "great national controversy" due to Brexit.
Mr Johnson said that while he meant "absolutely no disrespect to the judiciary to say I thought the court was wrong" to issue a ruling on a "political question at a time of great national controversy."
Addressing MPs in the Commons, Boris Johnson said: "The people at home know that this Parliament will keep delaying, it will keep sabotaging the negotiations because they don't want a deal.
"The truth is that members opposite are living in a fantasy world.
"That somehow they are going to cancel the first referendum and they are going to legislate for a second referendum and Parliament will promise that this time it really, really will respect that vote."
RELATED ARTICLES
---
Read also latest news:
No deal now INEVITABLE: Brussels kills off Boris hopes of Brexit talks at October summit.
BREXIT talks are on the brink after EU capitals agreed they would block Boris Johnson from holding serious negotiations with leaders at next month's crunch European summit, Brussels sources have revealed.
Daily Express-By JOE BARNES, BRUSSELS -PUBLISHED: 13:35, Fri, Sep 27, 2019 -
---
United Kingdom court says Brexit is matter for MPs not judges
A LEADING court in the United Kingdom today ruled Brexit was a matter for politicians rather than judges. The Belfast High Court rejected an appeal by a campaigner who claimed leaving the EU without a deal would breach the 1998 Good Friday Agreement.
Daily Express-By SIMON OSBORNE PUBLISHED: 11:24, Fri, Sep 27, 2019
---
WHO and WHAT is behind it all ? : >
---
The bottom line is for the people to regain their original, moral principles, which have intentionally been watered out over the past generations by our press, TV, and other media owned by the Illuminati/Bilderberger Group, corrupting our morals by making misbehavior acceptable to our society. Only in this way shall we conquer this oncoming wave of evil.
Commentary:
Administrator
All articles contained in Human-Synthesis are freely available and collected from the Internet. The interpretation of the contents is left to the readers and do not necessarily represent the views of the Administrator. Disclaimer: The contents of this article are of sole responsibility of the author(s). Human-Synthesis will not be responsible for any inaccurate or incorrect statement in this article. Human-Synthesis grants permission to cross-post original Human-Synthesis articles on community internet sites as long as the text & title are not modified.
The source and the author's copyright must be displayed. For publication of Human-Synthesis articles in print or other forms including commercial internet sites. Human-Synthesis contains copyrighted material the use of which has not always been specifically authorized by the copyright owner. We are making such material available to our readers under the provisions of "fair use" in an effort to advance a better understanding of political, economic and social issues. The material on this site is distributed without profit to those who have expressed a prior interest in receiving it for research and educational purposes. If you wish to use copyrighted material for purposes other than "fair use" you must request permission from the copyright owner.