Norge har tapt saken mot EU om hvem som skal ha rett til å eie norske fosser.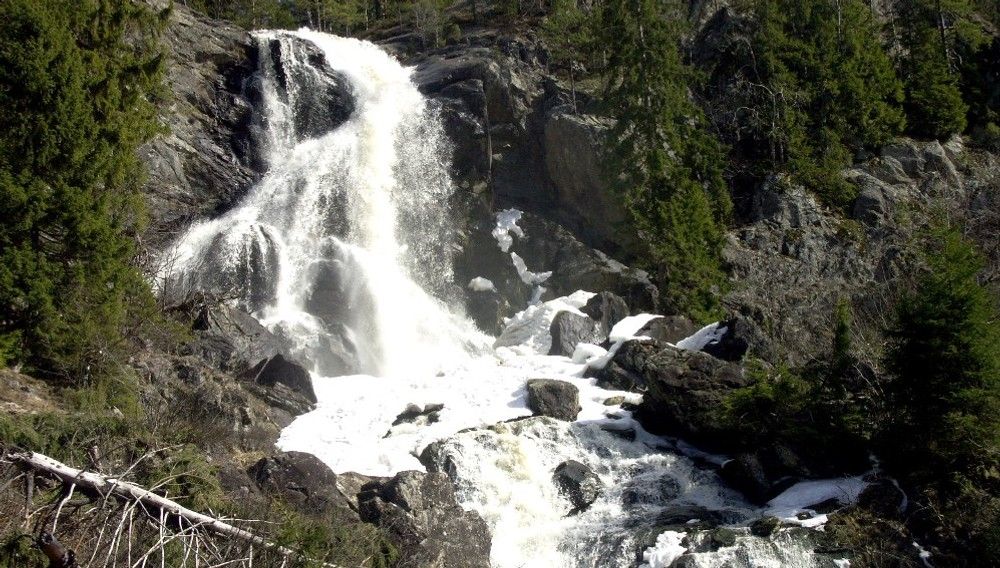 Norge tapte mot EU
Norge har tapt saken om hvem som skal ha rett til å eie norske fosser. I dag eier private selskap fossene i 60 år, offentlige eier dem til evig tid. Dette er i strid med EØS-avtalen.
Martin Giæver@martingiaver - Kilde: NRK-NTB Publisert 26. juni 2007 kl. 05:15
Norge bryter reglene
Efta-domstolen la fram sin vurdering av hjemfallsretten i formiddag og mener at Norge bryter EØS-reglene når de lar offentlige selskap eie fossefall i all evighet, mens private og utenlandske selskap kun eier i 60 år. Deretter går fossene og anleggene gratis tilbake til staten.
Hvem skal eie norske fossefall?
Avgjørelsen innebærer at staten må behandle private og offentlige kraftverk likt.
Efta-domstolens formann Karl Baudenbacher slo fast at domstolen hadde kommet til at Norge har brutt både artikkel 31 og 40 i EØS-avtalen, og ila også Norge saksomkostningene i saken.
Enoksen skuffet
Olje- og energiminister Odd Roger Enoksen er skuffet over dommen.
Offentlig eierskap og kontroll har vært sentralt i norsk vannkraftforvaltning siden 1909 da konsesjonsloven ble innført.
Alle steiner skal snus for å sikre at det offentlige fortsatt har styring og kontroll over vannkraftressursene, uttaler Enoksen i en pressemelding.
Utlendiger vil overta
Styremedlem i Landsforeningen for vannkraftkommuner, Ernst Veum, uttrykteuro før dagens dom i Luxemburg. Han mente vannkraften ville havne i utenlandske hender dersom ESA fikk medhold, slik det altså endte.
På tide å si opp EØS-avtalen
Nei til EU mener Norge må ta kampen om hjemfallsretten videre i EU-systemet. Dommen fra Efta-domstolen kan ikke bli stående. Kampen må føres politisk, inn mot EUs besluttende organer, skriver Nei til EU i en pressemelding.
Det vi nå risikerer, er en privatisering og et utsalg av kommunalt og fylkeskommunalt eierskap av vannkraften. Ungdom mot EU mener avgjørelsen bør få konsekvenser for Norges EØS-medlemskap. Det er på tide å si opp EØS-avtalen, sier Tore Syvert Haga, leder av Ungdom mot EU. Han får støtte fra Senterpartileder og kommunal- og regionalminister Åslaug Haga.
- Nå må vi diskutere om Norge er tjent med EØS-avtalen. Vi er kommet i en meget alvolig situasjon når norske myndigheters kontroll over naturressursene utfordres av EU-systemet. Jeg tror denne dommen vil føre til en diskusjon om vi hvorvidt vi er tjent med en EØS-avtale.
Norge bestemmer
Nå må norske myndigheter avgjøre hvordan loven skal endres. Enten må både statlige og private selskap gi fra seg fossene etter en tid eller så får alle selskap beholde fossene for alltid.Publisert 26. juni 2007 kl. 05:15
---
WHO and WHAT is behind it all ? : >
---
The bottom line is for the people to regain their original, moral principles, which have intentionally been watered out over the past generations by our press, TV, and other media owned by the Illuminati/Bilderberger Group, corrupting our morals by making misbehavior acceptable to our society. Only in this way shall we conquer this oncoming wave of evil.
Commentary:
Administrator
All articles contained in Human-Synthesis are freely available and collected from the Internet. The interpretation of the contents is left to the readers and do not necessarily represent the views of the Administrator. Disclaimer: The contents of this article are of sole responsibility of the author(s). Human-Synthesis will not be responsible for any inaccurate or incorrect statement in this article. Human-Synthesis grants permission to cross-post original Human-Synthesis articles on community internet sites as long as the text & title are not modified.
The source and the author's copyright must be displayed. For publication of Human-Synthesis articles in print or other forms including commercial internet sites. Human-Synthesis contains copyrighted material the use of which has not always been specifically authorized by the copyright owner. We are making such material available to our readers under the provisions of "fair use" in an effort to advance a better understanding of political, economic and social issues. The material on this site is distributed without profit to those who have expressed a prior interest in receiving it for research and educational purposes. If you wish to use copyrighted material for purposes other than "fair use" you must request permission from the copyright owner.