Toget har forlatt stasjonen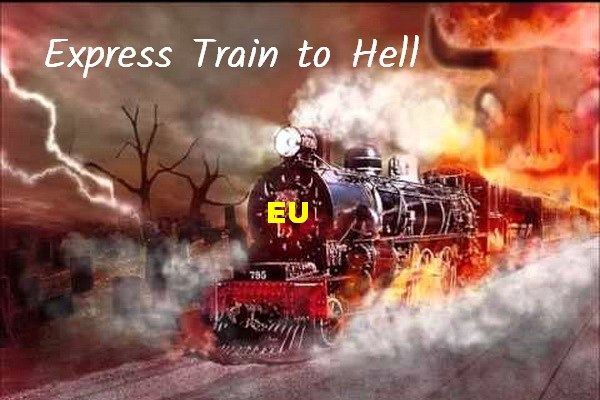 Av: Hans Rustad 6. mai 2019, 21:42
Det Trump og Bannon har satt i gang er et nasjonalt gjenreisingsprosjekt. Hvis Europa ikke får samlet seg vil det bli stående igjen på perrongen, og hvem skal hjelpe dem en tredje gang når det eneste de har til overs for Trump og Bannon er forakt?
Det norske kommentariatet gjør Steve Bannon til et spørsmål om smak og god tone. De aner ikke hva han står for. Bannon og Trump er opptatt av Kina. Uten å forstå sammenhengen mellom økonomi og nasjonale interesser, vil en stat blir underlagt den sterkestes makt.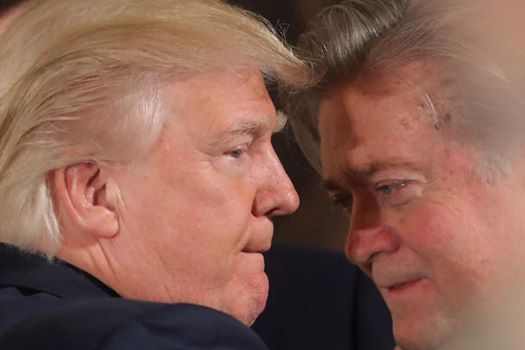 Som en liten, men usedvanlig rik stat, burde Norge være opptatt av Bannon og Trumps tanker. Også Norge kan miste kontrollen over grenser og befolkning. Egentlig har det vært tydelig lenge.

Norge er helt avhengig av at USA forblir sterkt. Ingen andre kan beskytte oss. Men USA var i ferd med å bli svakt. Det var på vei ned og det var ingen naturgitt utvikling, slik både presidenter og eksperter spådde.
Bannon/Trump så at USA hadde gjennomgått det som kalles en «manufactured decline». Nedbygging av industriarbeidsplasser som ble eksportert til Mexico og Kina var en villet utvikling. De store transnasjonale selskapene ble søkkrike og de betalte ikke en gang skatt. De kunne skumme fløten av både de mest kompetente og billig arbeidskraft. Som alibi allierte de seg med Demokratene og begge gikk inn for åpne grenser.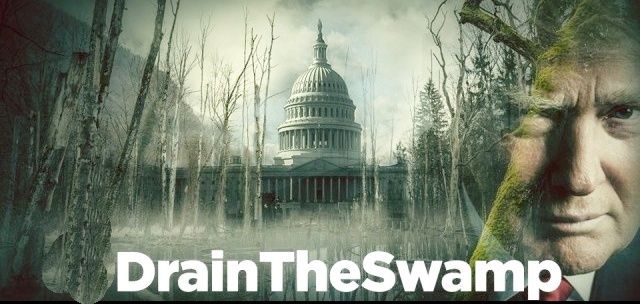 Bannon trekker en parallell til synet på Sovjetunionen på 70 og 80-tallet. Den gang var det en udiskutabel sannhet at Sovjetunionen var en likeverdig motstander som måtte blidgjøres gjennom detente, avspenningspolitikk. Men da Ronald Reagan ble valgt, hadde han med seg et par smarte folk som begynte å regne på Sovjets økonomi og de fant ut at den var bare halvparten av hva CIA hadde anslått. Det forandret hele regnestykket. Reagan startet opprustningen som førte til Sovjetunionens kollaps.
På venstresiden anses dette for å ha vært umoralsk. Det er noe tvilsomt ved at USA vinner.
Obama administrerte en amerikansk nedgang og ga avkall på avskrekking. Det forstår vi først rekkevidden av nå som Trump har gjenreist forsvaret.
Venstresiden som totalt har overtatt definisjonsmakten i Norge, anser amerikansk opprustning for å være krigshissing. Selv klarer de seg uten forsvar.
Dette skjer under en Høyre-ledet regjering.
Norge velger konsekvent feil side i Midtøsten og synet på internasjonale organisasjoner, flerkultur, innvandring og verdier. Norge lar seg frivillig avnasjonalisere.
Denne svakheten finnes i hele Vest-Europa. Den springer ut av synet på makt og maktens rasjonalitet. Vest-Europa synes mer villig til å underkaste seg kinesisk makt enn amerikansk. Europa er blitt svakt fordi det ikke klarer å stå opp mot islam.
Maktbevisste stater og ideologier får blod på tann når de møter svakhet.
Trump er på den helt motsatte pol: Han ser at avskrekking er noe man bygger opp over tid. Når man først treffer noen strategiske valg – økonomisk og militært – er det nesten ikke grenser for hva USA kan utrette.
Trump vil skjerpe sanksjonene mot Iran. Iran er pill råttent, kombinasjonen av teokrati og korrupsjon river bort all legitimitet.
Trump ser at han har mulighet til å velte regimet. Det kan godt være at det skjer. Bolsjevikene satt i 70 år, mullahene har klart seg i 50. Det er ikke lenge.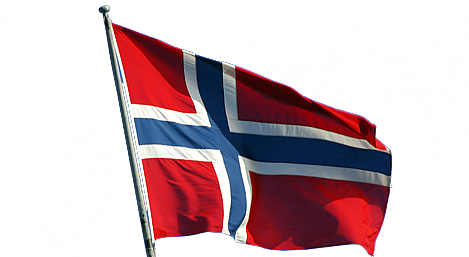 Et frigjort Iran vil kunne revolusjonere Midtøsten.
Trump spiller ikke «dialog». Han lærer å bruke fullbyrdede faktum som kort. Canada har havnet i konflikt med Kina pga Huawei-arrestasjonen og appellerer til USA om å hjelpe dem. Kina nekter å ta canadisk svineeksport og boikotter møter med canadierne. Når man først kommer på kant med kinserne, ser man hva de er i stand til. Slik Norge har opplevd.
Dette er hva autokratiske stater gjør. Den liberale eliten forsøker å klistre Trump til disse statene. Det er deres egen svakhet de demonstrerer.
Trump trakk i bremsen i 11. time. USA var i ferd med å falle så dypt ned at det ville blitt umulig å reise seg. USA var i ferd med å bli en annenrangs nasjon.
I Norge er det ingen forståelse for hvor stort det er som Trump har fått til.
Bannon er en strateg som spiller på lag med presidenten.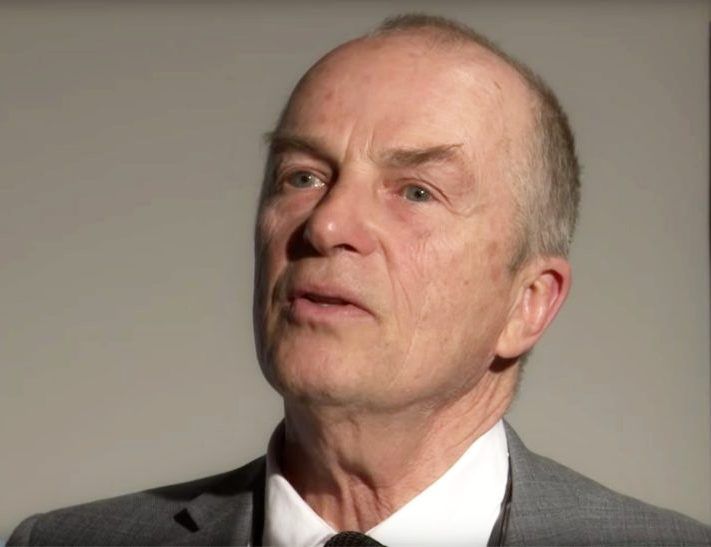 Trump og Bannon er ingen historiske parenteser. De har bidratt til å få USA på skinnene igjen.
Det er Europa og Demokratene som har gått av skinnene.
Spørsmålet er om velgerne har skjønt nok når de skal avgjøre om Trump skal få fire nye år.
Nordmenn har ikke noe parti som oppfyller deres behov og ivaretar deres interesser. De skulle også gjerne stemt på Trump.
Nasjonale interesser er ikke noe man kan ta av og på som ei skjorte. Det krever vedvarende innsats fra en generasjon til en annen.
Den dedikasjonen og lojaliteten er i dag mangelvare.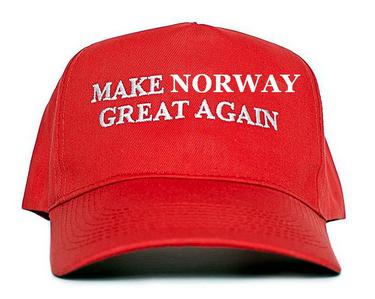 Også Norge trenger et ´Make Norway great again´
---
WHO and WHAT is behind it all ? : >
---
The bottom line is for the people to regain their original, moral principles, which have intentionally been watered out over the past generations by our press, TV, and other media owned by the Illuminati/Bilderberger Group, corrupting our morals by making misbehavior acceptable to our society. Only in this way shall we conquer this oncoming wave of evil.
Commentary:
Administrator
HUMAN SYNTHESIS
All articles contained in Human-Synthesis are freely available and collected from the Internet. The interpretation of the contents is left to the readers and do not necessarily represent the views of the Administrator. Disclaimer: The contents of this article are of sole responsibility of the author(s). Human-Synthesis will not be responsible for any inaccurate or incorrect statement in this article. Human-Synthesis grants permission to cross-post original Human-Synthesis articles on community internet sites as long as the text & title are not modified.
The source and the author's copyright must be displayed. For publication of Human-Synthesis articles in print or other forms including commercial internet sites. Human-Synthesis contains copyrighted material the use of which has not always been specifically authorized by the copyright owner. We are making such material available to our readers under the provisions of "fair use" in an effort to advance a better understanding of political, economic and social issues. The material on this site is distributed without profit to those who have expressed a prior interest in receiving it for research and educational purposes. If you wish to use copyrighted material for purposes other than "fair use" you must request permission from the copyright owner.
TILBAKE TIL HOVEDMENYEN - BACK TO THE MAIN MENU