IS er i gang med terror i Sverige. Hva nå Norge?
Hege Storhaug - Publisert: 13.03.2019 - 10:44
Er det noen vi har lært gjennom tiårene etter innvandringen fra den islamdominerte verden startet, så er det at den utløser de samme problemene i vesteuropeiske land. Er vi i Norge forberedt på hva returnerte IS-terrorister kan begå av kriminalitet og voldshandlinger? Svenske myndigheter fremstår som hjelpeløse og tatt på sengen, melder Doku og Expressen, som står bak avsløringene.
De to mediene har gransket returnerte IS-terrorister fra Syria. Det de fant, vekker sterk bekymring.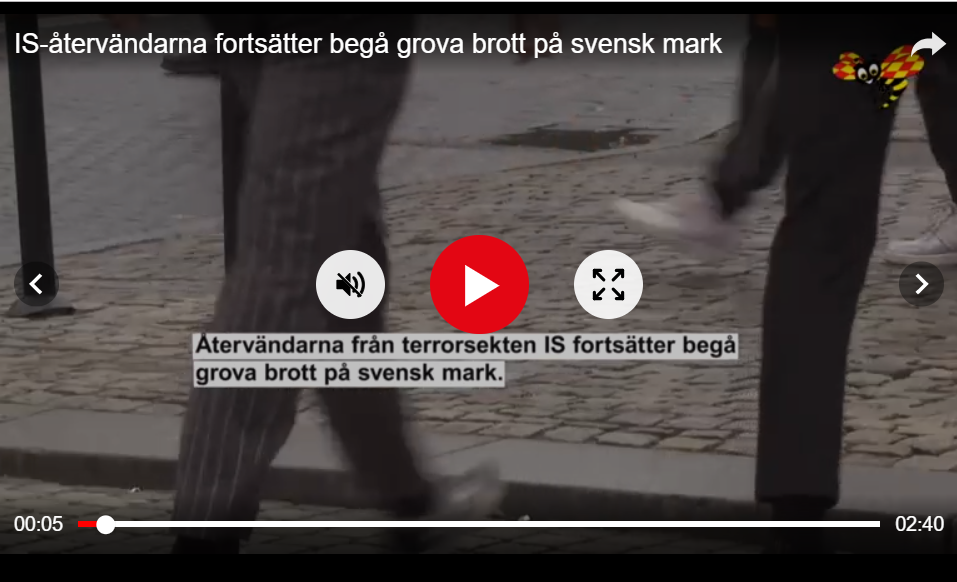 IS-terroristen Mubashir Qadar (31), står tiltalt for et brutalt mord med saks. Bilder viser at han gjentatte ganger hugger offeret i ansiktet. Ifølge politiet treffer han offeret minst sju ganger. Qadar returnerte fra Syria for fem år siden. Mordet ble utført i forstedet Vivalla i Ørebro.
Qadar skal ha returnert til Sverige med omfattende krigsskader, som han har fått behandling for. Han nekter for å ha begått drapet, men medgir at han stakk offeret.
Qadar er langt fra den eneste som har begått lovbrudd etter at han vendte tilbake til Sverige.
Mubashir Qadar var inte ens ensam Syrienåtervändare på platsen för mordet i Vivalla. När polisen kommer fram till den döende, svårt sargade, mannen ser de hur en annan 31-åring tar sig fram och försöker komma åt och sparka offret – gång på gång.
– Jag hinner se att han lyfter ena foten innan kollegan NN tacklar ner honom för att förhindra att (han) sparkar (offret) i huvudet. Efter tacklingen försöker (31-åringen) fortfarande sparka på (offret) fast han ligger på marken, säger en polisman i förhör efteråt.
Mannen som sparketreiste til Syria sammen med Qadar. Han er tiltalt for grov mishandling av et offer som senere døde.
-Bemerkelsesverdig mange
Terrorforsker Magnus Ranstorp ved Försvarshögskolan sier at «det er bemerkelsesverdig mange av individene som har vendt tilbake fra Syria sm har egått alvorlige lovbrudd».
«Denne kategorien personer har en lavere voldsterskel enn normalt. Samtidig er mange av dem fremdeles inne i den småkriminaliteten de holdt på med allerede før de reiste tl Syria.»
Ranstorp peker også på terrorister som ikke er tilbake i Sverige, som Osama Krayem og Mohamed Belkaid, begge mistenkt for å deltatt i terrorangrepene i Paris og Brussel. I tillegg soner en tredje terrorist en dom i Hellas. Mirsad Bektasevic ble tatt da han var på vei til Syria for andre gang med våpen og kontanter.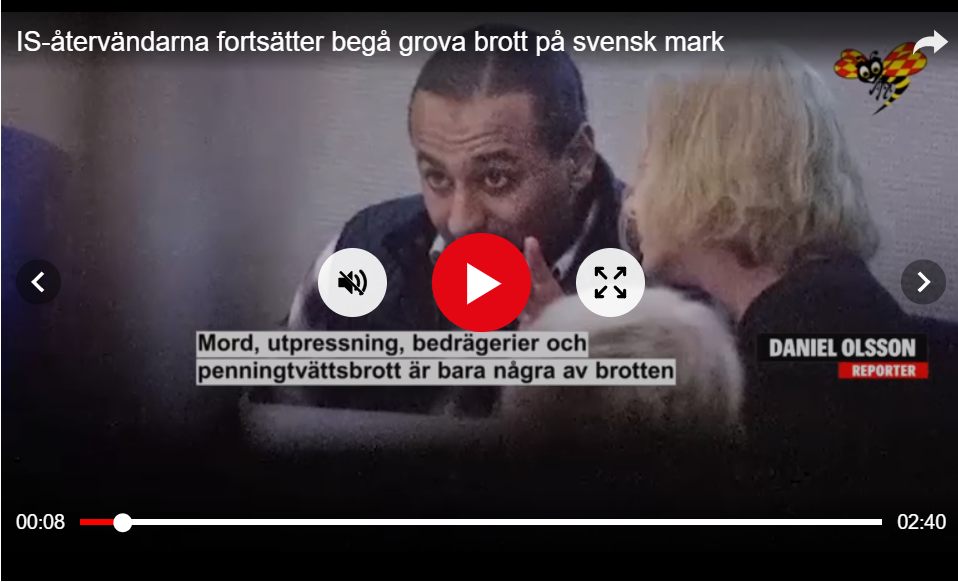 Qadar ble også dømt før julen 2018 for at annet voldelig knivangrep i Ørebro. Dommen lød på 3 år og tre måneders fengsel. Ifølge moren til Qadar reiste han for «å hjelpe» med mat og drikke.
Ranstorp etterlyser handling fra svenske myndigheters side, de må være mer offensive overfor tilbakevendte terrorister, mener han.
– Omedelbart efter att de kommit hem så bör det inledas en förundersökning. Det är viktigt att myndigheterna har koll på den här kategorin så att inte deras brottsliga verksamhet eskalerar. Det är också viktigt att ta ett helhetsgrepp. Många av dem som kommer hem har ett batteri av sociala problem.
Magnus Ranstorp efterlyser ett avhopparprogram för de här personerna.
– Det är bara att bygga på det program som tas fram för kriminella gäng. Det är samma typ av insatser, säger han.
Listen over IS-terroristers forbrytelse er lang
Et annet eksempel er en ansatt hos Volvo, Al Amin Sultran fra Gøteborg. Han sluttet seg tl en terrorgruppe i Syria, for så å ende opp i IS. Ifølge ham selv, arbeidet han bare som «ambulansesjåfør», han drev med «humanitær hjelp». Men da politiet foretok en razzia i leiligheten hans, fant de dette: bevis for grov utpressing i en omfattende narkosak med forgreininger til gjengmiljø, pluss en USB-minnebrikke med foto og filmer fra Syria.
En av filmerna visade hur två män fick halsarna avskurna i ett industriområde utanför Aleppo tidigt under sommaren 2015.
Her er noen andre eksempler på hva tilbakevendte IS-terrorister har begått av lovbrudd:
• En 30-årig IS-terrorist som återvände 2015 har ertappats flera gånger med både kniv och gatustridsvapen. I ett förhör berättar 30-åringen att han "alltid bär kniv" och att han hade ett knogjärn med sig som försvar då han kör taxi.
• En 27-åring som var med tidigt under kriget har senare dömts för bland annat stöld och ingår i en stor hälerihärva där också en framstående IS-propagandist och återvändare ingår.
• En 32-årig tjetjen som levt i Sverige under många år. Återkom 2014 från Syrien. Han åtalades nyligen för en serie organiserade stöldkupper mot varuhus i norra Sverige. Han pekas ut som ingående i ett tjetjenskt islamistiskt nätverk.
• En 24-årig stockholmare med flera kopplingar till jihadistmiljön åkte ner till Syrien 2013 för att återvända senare samma år. Året därpå fälldes han för att ha snattat en parfym på Åhlens i Stockholm och för att ha kört bil utan körkort.
27-årig man, Stockholm
Reste ner till Syrien i juli 2014, efter att IS utropat sitt kalifat. Återvände till Sverige någon gång senare samma år. Efter hemkomsten har han regelbundet dömts till böter för att bära kniv på allmän plats. Men även för snatteri.
28-årig man, Halmstad
Reste till Syrien i april 2013 och återkom till Sverige senare samma år. Har kopplingar till radikaliserade personer i Västsverige. Är bland annat dömd för grov misshandel, ringa narkotikabrott och ofredande. Själv uppger han sig ha arbetat i ett flyktingläger.
Eksemplene er flere, viser Expressen og Docu.
Kan vi få se en liknende granskning her i Norge? NRK, TV2, VG, hvor er dere?
Og hva sier våre politikere? Er Norge forberedt – i motsetning til Sverige?
Hovedillustrasjon: HRS
---
WHO and WHAT is behind it all ? : >
---
The bottom line is for the people to regain their original, moral principles, which have intentionally been watered out over the past generations by our press, TV, and other media owned by the Illuminati/Bilderberger Group, corrupting our morals by making misbehavior acceptable to our society. Only in this way shall we conquer this oncoming wave of evil.
Commentary:
Administrator
HUMAN SYNTHESIS
All articles contained in Human-Synthesis are freely available and collected from the Internet. The interpretation of the contents is left to the readers and do not necessarily represent the views of the Administrator. Disclaimer: The contents of this article are of sole responsibility of the author(s). Human-Synthesis will not be responsible for any inaccurate or incorrect statement in this article. Human-Synthesis grants permission to cross-post original Human-Synthesis articles on community internet sites as long as the text & title are not modified.
The source and the author's copyright must be displayed. For publication of Human-Synthesis articles in print or other forms including commercial internet sites. Human-Synthesis contains copyrighted material the use of which has not always been specifically authorized by the copyright owner. We are making such material available to our readers under the provisions of "fair use" in an effort to advance a better understanding of political, economic and social issues. The material on this site is distributed without profit to those who have expressed a prior interest in receiving it for research and educational purposes. If you wish to use copyrighted material for purposes other than "fair use" you must request permission from the copyright owner.
TILBAKE TIL HOVEDMENYEN - BACK TO THE MAIN MENU