R.I.P. BREXIT - THE GREAT BETRAYAL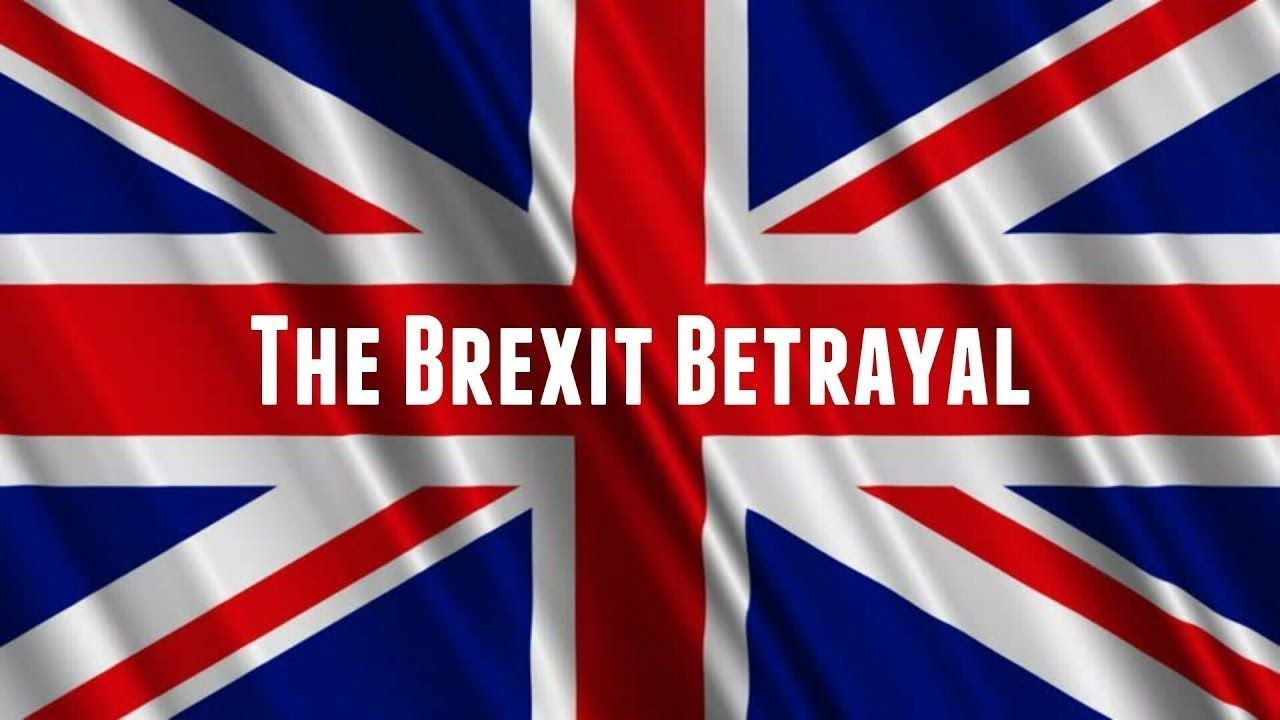 Brexit LIVE: Westminster gates SEALED OFF - thousands of Brexiteers protest for democracy.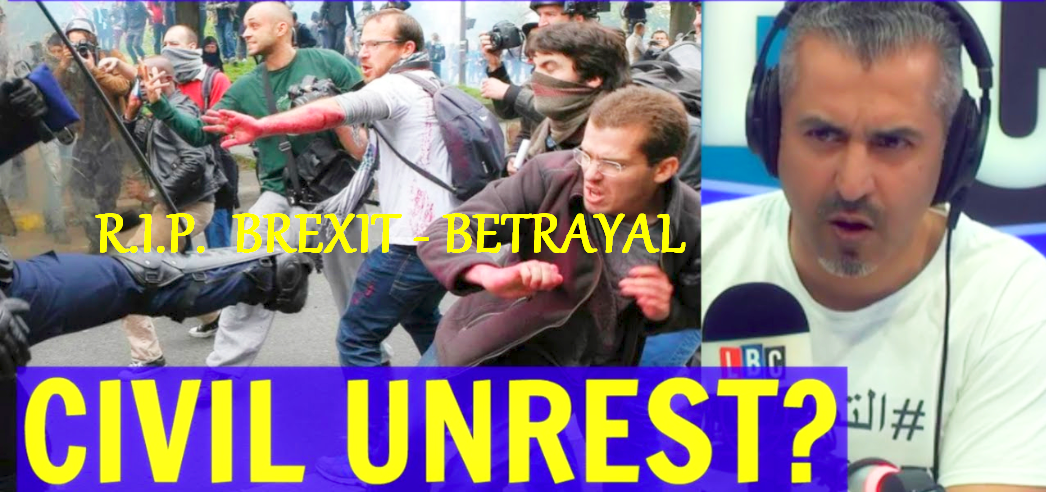 POLICE are braced for possible disorder at Brexit rallies in London as thousands protested in the capital - at the same time as MPs voted against Theresa May's Withdrawal Agreement.
DAILY EXPRESS - By RACHEL RUSSELLPUBLISHED: 07:38, Fri, Mar 29, 2019 | UPDATED: 15:56, Fri, Mar 29, 2019
Brexit: Theresa May's deal rejected for third time by MPs
MPs voted 344 against and 286 for Mrs May's agreement in this afternoon's vote. Later today, ex-EDL founder and far-right extremist Tommy Robinson is due to speak at a UKIP rally in the capital. Pro-Brexit 'Yellow Vest' protesters have assembled in Westminster, with some extremists reportedly sharing a meme threatening to riot. Nigel Farage is also urging Brexit supporters to join a Parliament Square Leave Means Leave demo to mark the end of the 270-mile March to Leave from Sunderland. And the far-right Democratic Football Lads Alliance is holding a demonstration at Parliament Square from 4pm, with counter demonstrations also planned.
Pro-Brexit marchers gather in London with police set for potential disorder ahead of rallies (Image: Getty )
The rallies come as the Prime Minister mounted a failed last-ditch bid for the Commons to back her Withdrawal Agreement, which covers payment of the £39 billion to the EU, the Northern Ireland backstop and citizens' rights, in today's vote.
The DUP and ERG were both set to vote against Mrs May today, torpedoing her already remote chances, with her Brexit deal rejected for a third time in today's vote.
Following this afternoon's Commons defeat for Mrs May, Britain is set to leave the EU on April 12 with no deal.
Last night, EU chiefs insisted Britain must reopen negotiations to stop leaving without a deal, as reported by Express.co.uk yesterday.
Third time lucky? MPs to vote on Theresa May's Withdrawal Agreement today (Image: Getty)
And the price of another defeat today for Mrs May today would be the settling of Britain's £39billion Brexit divorce deal and the implementation of the controversial backstop to avoid a hard Irish border, according to senior EU diplomats.
Mrs May could now call a general election as soon as next week.
Today's vote does not cover the political declaration on Britain's future relationship with the EU.
Last night, BBC Newsnight's Political Editor Nick Watt quoted colourful language from one Cabinet minister who was asked why Mrs May is holding today's vote if she is pretty sure she will lose.
Brexit: Watt reveals cabinet minister's response to third votePlay Video
The unnamed minister said: "F*** knows. I am past caring. It is like the living dead in here."
Meanwhile, the EU's chief negotiator Michel Barnier is believed to have told ambassadors a no-deal Brexit is "the most plausible outcome".
Mr Barnier said: "We are working and we are ready. Yesterday, we had many nos and now we are waiting for a yes."
See below for live Brexit updates:
Commons Speaker John Bercow announced the result of today's vote on Mrs May's deal (Image: PA)
3.30pm: Theresa May reacts to her Withdrawal Agreement being voted down
Here is what Mrs May said after the results of the vote came in this afternoon.
She said: "I think it should be a matter of profound regret to every member of this House that once again we have been unable to support leaving the European Union in an orderly fashion.
"The implications of the House's decision are grave. The legal default now is that the United Kingdom is due to leave the European Union on 12 April, in just 14 days' time. This is not enough time to agree, legislate for and ratify a deal, and yet the House has been clear it will not permit leaving without a deal.
"And so we will have to agree an alternative way forward.
"The European Union has been clear that any further extension will need to have a clear purpose and will need to be agreed unanimously by the heads of the other 27 Member States ahead of 12 April.
"It is also almost certain to involve the UK being required to hold European Parliamentary elections.
"On Monday, this House will continue the process to see if there is a stable majority for a particular alternative version of our future relationship with the EU.
"Of course, all of the options will require the Withdrawal Agreement.
"Mr Speaker, I fear we are reaching the limits of this process in this House.
"This House has rejected no deal. It has rejected no Brexit. On Wednesday it rejected all the variations of the deal on the table.
"And today it has rejected approving the Withdrawal Agreement alone and continuing a process on the future.
"This Government will continue to press the case for the orderly Brexit that the result of the referendum demands."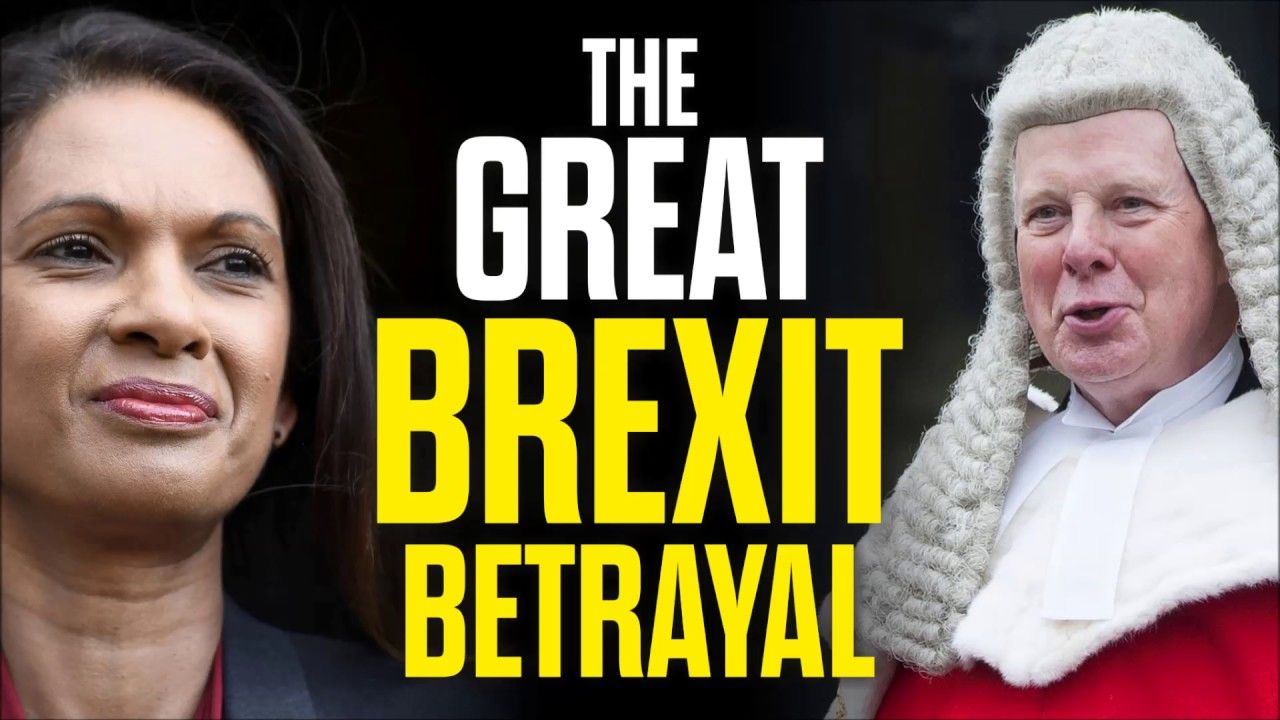 3.07pm: Businesses left uncertain about what happens next after vote defeat
Speaking after today's vote on the Withdrawal Agreement, National Chairman of the Federation of Small Businesses Mike Cherry expressed his concern over the UK and EU's uncertain future.
He said: "On the day that we were supposed to be leaving the European Union, all we have is yet another political failure to chalk up.
"Responsibility for this deepening political crisis lies squarely at the feet of politicians who have clearly stopped listening to the business community. Our small businesses have been crying out about the significant damage that uncertainty is causing them. These cries have been drowned out by those seeking to play political games.
"Planning has stalled, investment is handcuffed and growth has flatlined. The only question now is what happens next? Small businesses message is simple, stop playing politics, come together and get on with delivering a pro-business deal that secures a transition period, guarantees as frictionless trade as possible and most importantly, avoids a disastrous no deal Brexit.
"Our small firms are sick and tired of politicians debating and dithering over Brexit. They are trying to get on with their jobs and it's time that politicians get on and do the same."
2.42pm update: MPs vote AGAINST May's deal for third time
MPs have rejected Theresa May's Brexit Withdrawal Agreement deal again.
The Commons voted 344 against and 286 for the motion to approve the Withdrawal Agreement and leave the EU on May 22.
The result means Britain is set to leave the EU on April 12 without a deal.
It is the third time Mrs May's Withdrawal Agreement has been voted down in the Commons.
The Prime Minister described the result as a "matter of profound regret".
Theresa May calls on MPs to support her deal or risk wrecking Brexit (Image: Getty)
Theresa May called on MPs to back her deal in last-gasp plea to Commons (Image: Parliament TV)
2.19pm update: May makes last-ditch plea to MPs for Brexit backing
Theresa May is making an 11th hour plea to MPs to back her Withdrawal Agreement before the vote at 2.30pm
The Prime Minister told The Commons: "This is the last opportunity to guarantee Brexit.
"I say to all those who campaigned to leave, who voted to leave, who represent constituencies who voted to leave  - if we do not vote for this motion today people will ask, "Why did you not vote for Brexit?"
She warned that failing to back her Withdrawal Agreement today "could destroy Brexit".
Jeremy Corbyn attacks Theresa May for 'blind Brexit' deal (Image: BBC)
2.11pm update: Corbyn BLASTS May's 'blind Brexit'
Jeremy Corbyn insists the government is "blackmailing" MPs to back Theres May's Brexit Withdrawal Agreement in today's vote.
Speaking in the Commons, the Labour leader accused the PM pf splitting her Brexit deal in two "It's not good enough, the two are linked."
Mr Corbyn added: "Labour will not vote for a blindfold Brexit, and passing a withdrawal agreement without the political declaration would be to do just that."
One of interesting things today is split btw DUP and Brexiteers as more and more ERG come in behind deal - but is it permanent? One source jokes - 'they're only getting behind her today so they can stab her in the back'.
2.05pm update: ERG and DUP 'split' over May's deal
A rift between the ERG and the DUP appears to have opened up over the vote for Theresa May's deal.
The BBC's Laura Kuennnsberg is reporting more ERG members are set to vote for the Withdrawal Agreement today.
And her colleague Nicholas Watt claims "DUP would countenance long extension / customs union over PM's deal while ERG will support PM's deal over long extension / customs union
Leave supporters march through London towards Westminster for rally (Image: Getty)
Pipe band marches around Westminster ahead of Brexit vote (Image: Express)
1.34pm: Unionist marching band circles Westminster as Brexit protesters rally and Parliament SEALED OF
A Unionist marching band has joined pro-Brexit supporters in Parliament Square as police sealed off Parliament.
The pipe band circled Westminster after protesters blocked off a street outside the House of Commons.
Demonstrators chanted Rule Britannia, "we shall not be moved", "Brexit now" and "Bye bye EU" as the traffic piled up to a standstill.
Chants of "Oh Tommy Robinson" were also heard ahead of a UKIP rally the ex-EDL founder is speaking at.
Mounted police are patrolling the area with MPs due to vote on Mrs May's deal at 2.30pm.
Officers sealed off main gates to Parliament as pro-Brexit demonstrators gathered.
Commons set to vote on Withdrawal Agreement at 2.30pm, but May looks set to lose (Image: PA)
1.24pm update: May set to fail in attempt to woo Labour MPs to deal
Only a handful of Labour MPs are expected to throw Theresa May a lifeline by voting for her Brexit agreement.
The Prime Minister must reverse two huge previous defeats in the Commons if she is to pass her Withdrawal Agreement on Friday.
With the DUP ruling out support, Mrs May needs members from the Labour benches to defy their party.
But only a small number are expected to break rank and support the legally binding "divorce deal", which has been separated from the Political Declaration on the future relationship with the EU for this afternoon's vote.
Polish PM Mateusz Morawiecki says EU may offer Britain one-year Brexit extension to (Image: Getty)
12.57pm update: EU could extend UK's Brexit date by ONE YEAR, says Polish PM
Poland's Prime Minister Mateusz Morawiecki believes the EU could extend Britain's EU withdrawal date by up to one year.
Speaking after talks with EU chief negotiator Michel Barnier, the Polish leader said Brussels want the UK to remain in the single bloc and, if not, to have an "orderly Brexit".
Mr Morawiecki said: "We are open to consider a motion to extend the process of Britain's withdrawal from the European Union by 6, 9 or 12 months.
"For us the basic thing would be to have the UK stay in the EU.
"We have always wanted that and I personally have been persuading PM May to that (option), but these are obviously internal affairs of the UK, and three years ago they made their decision".
Leave supporters begin to pour into Westminster for day of Brexit protests (Image: Getty )
12.19pm update: Crowds gather in Westminster for up to 13 Brexit protests
Crowds are massing in Westminster for up to 13 Brexit rallies in Westminster today.
Ukip and Leave supporters gathered outside the Commons on Friday as MPs debated today's Withdrawal Agreement vote.
Extra security barriers were erected around parliament, but Scotland Yard dismissed claims from Ukip leader Gerard Batten that water cannon could be fired at protesters to "provoke Brexiteers".
The Metropolitan Police, which does not own any of the machines, said reports it could use them at Brexit rallies were "baseless and false".
Mr Batten is due to speak at a rally alongside ex-English Defence League chief Tommy Robinson against "Theresa May and her traitorous Tories" on Whitehall on Friday afternoon.
Westminster is expected to see mass protests and counter-protests on the day that Britain was scheduled to leave the EU.
Road closures may be enforced around the area, Transport for London warned.
TIG to register as Change UK in time for European elections (Image: Getty)
11.58am update: Independent Group to sign up for EU elections as Brexit date looms
The Independent Group (TIG) will register as an official political party for the European elections.
TIG will be called Change UK - The Independent Group from April 1, with Heidi Allen the new party's interim leader.
A deadline to register for the European Parliament elections passes on April 1.
TIG was set up by 10 ex-Labour and Conservative Party MPs disgruntled with their parties' stances on Brexit.
DUP's Nigel Dodds and Arlene Foster say their party's 10 MPs won't back Theresa May's Brexit deal (Image: Getty )
11.52am update: DUP rejection of May deal 'still stands'
The DUP insists its refusal to back a Brexit deal that doesn't protect the Union "still stands and is our position", according to a spokesman.
Northern Ireland's main party is refusing to back Theresa May's Withdrawal Agreement in today's vote.
Mrs May relies on the DUP's 10 MPs for her government majority, but has been unable to persuade them to vote for her Brexit deal.
And with the DUP adamant they won't back the agreement, up to 40 ERG Tory MPs will not support it either, almost certainly ruling out Mrs May's hopes of success in today's vote at around 2.30pm.
Dominic Raab to announce his backing for May's deal, it is claimed (Image: Getty)
11.30am update: Raab 'to back May's deal'.
Dominic Raab is planing to vote for Theresa May's Withdrawal Agreement today.
According to The Sun's Tom Newton Dunn, Mr Raab is now set to announce his backing for the deal.
It would mark a dramatic reversal in position for the ex-Brexit Secretary, who had asked Mrs May to return to the EU and ask for a better deal.
Tommy Robinson to speak at UKIP rally as police prepare for potential disorder in London (Image: Getty)
10.38am update: Police braced for 'disorder' ahead of Tommy Robinson and 'Yellow Vests' Brexit rallies
Tommy Robinson, Ukip, pro-Brexit "yellow vests and the Leave Means Leave campaign are holding pro-Brexit rallies in London.
Police are braced to deal with any "disorder" with counter protests, incuding a Stand Up To Racism rally, also due this afternoon.
There are fears far-right extremists will try to provoke trouble, ex-EDL leader Robinson to speak at a Ukip's Make Brexit Happen rally, which starts at 4pm in Whitehall.
A police spokesman said "appropriate policing plans are in place" to handle "a number of demonstrations and protests" .
The Met said: "The MPS plans ensure that protest activity is managed proportionally alongside the other policing activity we must deliver across London.
"We would like to reassure the public that officers will be ready to respond should any incidents or other spontaneous protests arise.
"We will always provide a proportionate policing plan to balance the right to peaceful protest, while ensuring that disruption to communities is kept to a minimum.
"To date, protests have been largely peaceful and we have no intelligence at this time to suggest that will change.
"Our officers are well trained to maintain public order and we have been involved in planning across the UK to ensure that police forces are able to respond effectively.
"We will not hesitate to take necessary action against anyone who deliberately chooses to act outside the law."
Boris Johnson admits he will vote for Theresa May's Withdrawal Agreement today (Image: Getty )
10.22am update: Johnson to vote for May's deal despite Brexit 'regret'
Boris Johnson will vote for Theresa May's deal today despite being "intensely critical" of it.
The ex-Foreign Secretary admitted he "bitterly regretted" Britain hadn't left the EU on March 29.
But he warned Britain faced no Brexit at all if Mrs May's Withdrawal Agreement wasn't voted through today.
Mr Johnson said: "I have come to the sad conclusion that neither this government nor this parliament is willing to leave with no deal.
"We therefore run the risk of being forced to accept an even worse version of Brexit or losing Brexit altogether.
"A bad deal that we have a chance to improve in the next stage of negotiations must be better than those alternatives.
"It is very painful to vote for this deal. But I hope we can now work together to remedy its defects, avoid the backstop trap and strive to deliver the Brexit people voted for."
Geoffrey Cox urges MPs to back Theresa May's Brexit deal (Image: Getty )
10.10am update: Cox warns House rejecting WA would force UK into European elections.
Backing today's Withdrawal Agreement would guarantee an extension on the Article 50 leaving date until May 22, Mr Cox told MPs.
But failing to do so would mean the UK was forced to participate in European elections in May.
Mr Cox urged MPs to vote for Mrs May's motion before ending his Commons speech.
9.54am update: Geoffrey Cox warns MPs against rejecting May's deal
Geoffrey Cox opened the Commons debate on today's Withdrawal Agreement vote by warning MPs to back Theresa May's deal and bring "certainty".
Today is the "last opportunity" to trigger an extension on leaving the EU until May 22, the Attorney General told MPs.
Mr Cox told the chamber: "The minimum necessary to secure our legal right to an extension is that this withdrawal agreement is approved."
He added: "The country looking on must judge us."
If MPs pass the Withdrawal Agreement today the government will introduce the withdrawal bill in the next few days, he said.
Mr Cox accused Labour of "cynicism" in voting against Mrs May's agreement without objecting to a clause or article in its text.
Lord Mervyn King attacks MPs 'incompetence' over Brexit (Image: Getty)
9.40am update: Ex-Bank of England chief Melvyn King attacks MPs' Brexit 'INCOMPETENCE'
Former Bank of England governor Lord King launched a withering attack on MPs' "incompetence" over Brexit.
Lord King said: "The incompetence has spread to parliament as a whole.
"I wonder whether the political class has suffered a collective nervous breakdown and lost confidence in the country."
He added he didn't "think it is obvious there would be jobs lost at all" after a no-deal Brexit.
Donald Trump backs Boris Johnson as next Prime Minister once Theresa May leaves No. 10 (Image: Getty )
9.25am update: Trump supports 'friend of mine' Johnson as UK's next PM
Donald Trump is backing Boris Johnson as Britain's next Prime Minister, describing the Brexiteer former foreign secretary as "a friend of mine".
Mr Johnson is likely to be in the running in a new leadership contest when Theresa May leaves office and has never denied his ambitions to get to Number 10.
When asked whether he would make a good successor to Mrs May, Mr Trump said: "I like Boris Johnson a lot. He's a friend of mine."
The US President has earlier praised Mrs May, calling her "tough" after she pledged to resign to get her Brexit deal through.
He told reporters in the White House: "She's a very nice lady. She's a friend of mine."
German Health Minister warns of post-Brexit shortage of key medical supplies, including blood (Image: Getty )
9.12am update: German health minister warns of Brexit blood shortages 'IN DAYS'
Germany's Health Minister fears a shortage of vital medical supplies within days of a no-deal Brexit.
Jens Spahn warned it would not be legal for EU hospitals to buy medicines and technologies that are tested in the UK if Britain leaves the bloc without a deal.
In a letter to the European Commission obtained by Handelsblatt, a German business newspaper, Mr Spahn said:"I fear that the supply of blood products for patients in Germany could be jeopardised by the middle of April at the latest."
Britain is set to leave the EU without a deal on April 12 if - as expected - Theresa May loses today's Commons' vote on part of her Brexit deal.
Dominic Raab urges Theresa May to demand better Brexit deal from the EU (Image: Getty )
9.02am update: Brexit no deal ALTERNATIVE: Dominic Raab woos Brexiteers in race for next PM
Ex-Brexit secretary Dominic Raab has positioned himself as the no deal Conservative Party leadership candidate of choice once Theresa May resigns.
Mr Raab said he would "go back to the EU again" to seek changes to the hated backstop, the insurance mechanism to avoid a hard Irish border.
The Esher and Walton MP added Britain should be prepared to leave the EU without a deal if Brussels doesn't grant legally binding changes demanded by hardline Brexiteers and Northern Ireland's Democratic Unionist Party.
Mr Raab could have significant support among dozens of hardline backbenchers and a social media campaign called 'Ready for Raab' is already pushing an unofficial leadership campaign.
No surrender: Francois fires Brexit blast at EU ahead of today's Commons' vote on part of May's deal (Image: Getty)
8.44am update: Francois: May's deal is "SURRENDERING" to EU
Mark Francois is adamant he won't vote for Mrs May's Withdrawal Agreement today as it means "surrendering" to Brussels and staying in the EU.
The arch-Brexiteer Conservative MP urged MPs to vote down part of Mrs May's deal when it goes to the Commons today.
Mr Francois told LBC Radio: "You can't hold your nose when you are holding your hands up in the air and surrendering.
"What (the Withdrawal Agreement) means is that we remain in the European Union."
Brexit: Liam Fox AVOIDS question about Theresa May resigningPlay Video
Liam Fox warns MPs today is "last chance" for Brexit (Image: Getty )
8.35am update: Fox tells MPs: 'LAST CHANCE' saloon for Brexit
Liam Fox has ratcheted up the pressure on MPs ahead of today's Commons vote warning today is "the last chance to vote for Brexit".
The Trade Secretary told BBC Radio 4's Today programme Britain's political structures are at risk if MPs fail to back Mrs May's deal.
The UK would face a "cliff edge" on April 12 - the new withdrawal date given by MPs - if the Commons doesn't vote for the Withdrawal Agreement, he claimed.
Mr Fox said: "It is the last chance to vote for Brexit as we understood it, today.
"This is a great historic moment for our country, this is about whether Parliament does what Parliament wants or whether Parliament does what the people want.
"I fear for the consequences if Parliament chooses to utterly ignore a promise that they made directly to the voters."
Sir Keir Starmer attacks Mrs May for attempting to lead the UK into a 'blind" Brexit (Image: Getty)
8.22am update: Starmer BLASTS May's 'blind Brexit'
Sir Keir Starmer has lashed out at Theresa May for leading Britain into a "blind Brexit".
The Shadow Brexit secretary ridiculed the Prime Minister's offer to resign if her deal is approved, as MPs prepare to vote today on Mrs May's Withdrawal Agreement.
Today's Commons' vote does not include the Political Declaration on Britain's future relationship with the EU.
Sir Keir said: "Not only is uncoupling the Political Declaration making Brexit more blind because you don't know where you are going, now the Prime Minister has said she is stepping down.
"So, the Political Declaration, the future relationship, is going now to be determined in a Tory leadership exercise.
"Even if this Prime Minister gave us assurances about what she's going to do in the future, they don't mean anything any more."
Iain Duncan Smith set to back Theresa May's Brexit deal to install new leader (Image: Getty )
8.00am update: Duncan Smith to BACK part of May's Brexit deal
Iain Duncan Smith is ready to back Theresa May's Brexit deal and elect a new Brexiteer Tory leader.
This week, Mrs May promised to resign as Prime Minister if MPs vote through her deal.
Mr Duncan Smith told BBC Radio 4's Today programme: "I recognise, like many of my colleagues, that there are some fundamental flaws with this process.
"But, that notwithstanding, I think that what we face is a Parliament made up substantially now of people who simply just do not want Brexit to take place.
"That majority now makes it almost impossible for us to do anything other than essentially to get what we have on the table."
He added: "I think it's time for us to take a decision, which is we want to leave, we want to be able to say to our constituents 'we have left, there is more that has to be done'.
"A new leader can therefore take that forward and a leader who really believes in Brexit, because the problem has been that the negotiations have been conducted under the idea that this is a damage limitation exercise."
---
WHO and WHAT is behind it all ? : >
---
The bottom line is for the people to regain their original, moral principles, which have intentionally been watered out over the past generations by our press, TV, and other media owned by the Illuminati/Bilderberger Group, corrupting our morals by making misbehavior acceptable to our society. Only in this way shall we conquer this oncoming wave of evil.
Commentary:
Administrator
HUMAN SYNTHESIS
All articles contained in Human-Synthesis are freely available and collected from the Internet. The interpretation of the contents is left to the readers and do not necessarily represent the views of the Administrator.
Disclaimer: The contents of this article are of sole responsibility of the author(s). Human-Synthesis will not be responsible for any inaccurate or incorrect statement in this article. Human-Synthesis grants permission to cross-post original Human-Synthesis articles on community internet sites as long as the text & title are not modified. The source and the author's copyright must be displayed. For publication of Human-Synthesis articles in print or other forms including commercial internet sites.
Human-Synthesis contains copyrighted material the use of which has not always been specifically authorized by the copyright owner. We are making such material available to our readers under the provisions of "fair use" in an effort to advance a better understanding of political, economic and social issues. The material on this site is distributed without profit to those who have expressed a prior interest in receiving it for research and educational purposes. If you wish to use copyrighted material for purposes other than "fair use" you must request permission from the copyright owner.