HISTORIEN OM ELLINOR HAMSUN´S ULYKKELIGE KJÆRLIGHET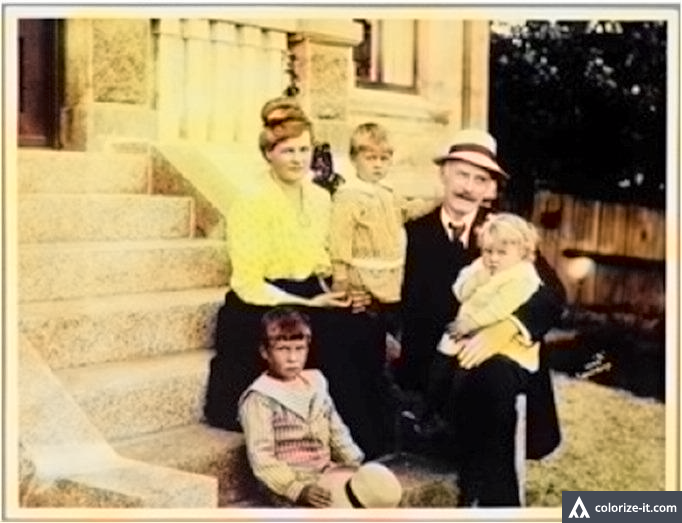 The Hamsun family in 1917. From left to right: Tore, Marie, Arild, Knut and Ellinor.Photo: Anders Beer Wilse. The Norwegian National Library.

For mange mange år siden skrev jeg et memoar for bestefar til Espen Albert som drev Dampbageriet i Kristiansand.  Han hadde et stort kjærlighetsforhold til forfatteren Hamsun's datter Ellinor,og besøkte ofte deres hjem på Nørholm.
De traff hverandre første gang på brygga i Grimstad,hvor min venn lå med sin lille seilbåt. Ellinor var også der,sammen med en vennegjeng og kom bort til ham. Hun spurte om hun kunne være med en tur,og dermed var det gjort.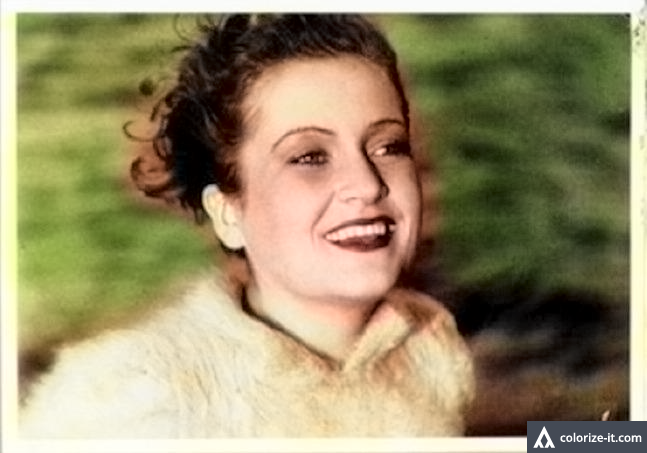 Han fortalte også om Hamsun's besøk til Hitler i Berlin og at han ved en anledning hadde uttalt til Hitler, "De må slutte å marsjere,Herr Hitler,og begynne å regjere!" Etter dette fikk Hitler vistnok et apopleksisk annfall. Da Hamsun kom hjem etter besøket skal han ha uttalt "Denne mannen lyder ikke godt for Norge"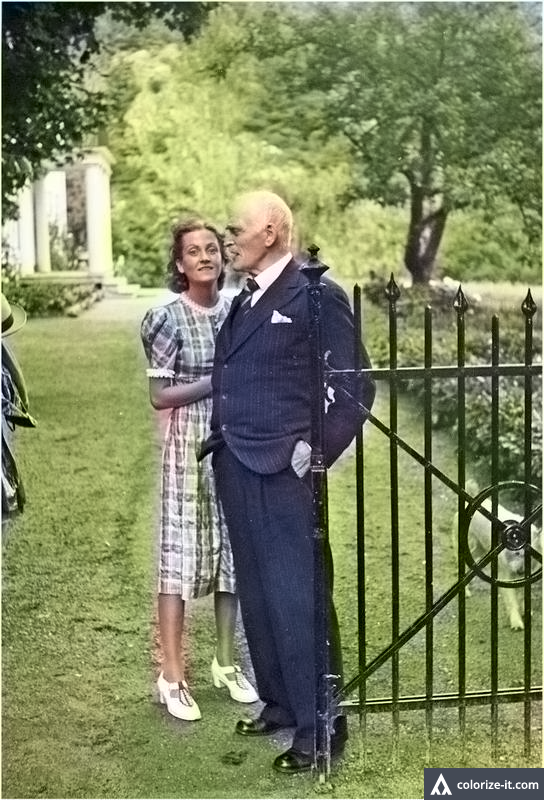 Herr Albert kranglet en del med Ellinor,og en kveld paa biltur,dyttet han henne ut av bilen og ba henne spasere hjem. Det var lang vei og hun kom hjem på morgen-kvisten gråtene til sin mor Marie som satt oppe for å vente på henne. For å rette på skaden rådet hennes mor henne til å kle av seg, og liste seg inn på hans soverum i mørket. Det gikk vistnokk ganske bra.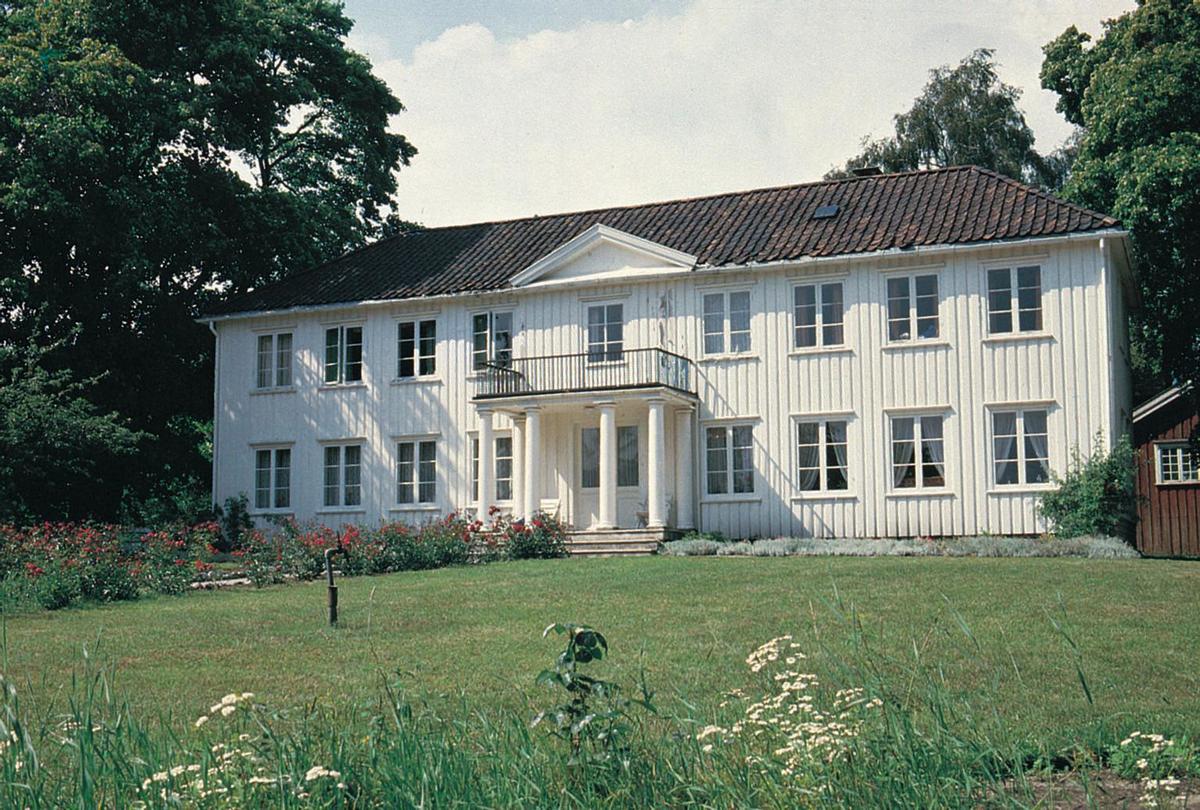 Ellinor Hamsun studerte og var skuespiller i Berlin fra 1936, var med i flere filmer,og var gift med den tyske filmregissøren Richard Schneider-Edenkoben fra 1938 til 1943 . Ellinor spillte en prostituert, Lucy, Freudenmädchen i en tysk film fra 1939. (finner dessverre ikke lenger filmen paa Youtube)
Herr Albert ble inrullert i flyvåpenet og ble beordret til å bryte sin forbindelse med Ellinor ved krigens utbrudd da hun hadde tilbrakt mye av sin tid med studier i Berlin. Dette var meget tungt for ham men innså også nødvendigheten.
Hvis det ikke var for det faktum at Ellinor Hamsun (1916-1987) var datteren til den berømte Nobelprisvinnende norske forfatteren Knut Hamsun, ville hennes lobotomihistorie og den etterfølgende iatrogenepilepsien nok vært ukjent. Hvorfor de danske leger valgte lobotomi i hennes tilfelle er vanskelig å forstå. I ettertid var hennes symptomer aldri så alvorlige som å berettige en så radikal prosedyre.
Ellinor Hamsun levde nesten halvparten av sitt liv på pleieinstitusjoner i Danmarkr krigens slutt og kom senere syk hjem til Norge og levde en tilbaketrukket tilværelse. Hun glemte aldri sin kjærlighet til Herr Albert, som i mellomtiden hadde giftet seg. Hun skjulte seg ofte i hans nærhet for å få ett blikk av ham men lot seg aldri tilsyne. Herr Albert visste ikke at hun var kommet hjem,og da han fløy med de allierte over Berlin etter krigen antok han med stor sorg at hun lå et sted under ruinene. Hun døde imidlertid i 1987 i Danmark 71 år gammel, og ble begravet i Norge ved Eide Kirke,Grimstad.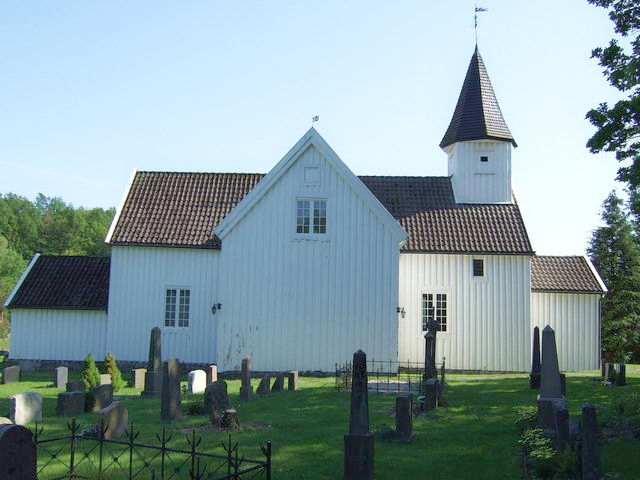 Eide Kirke - Grimstad
Han besøkte siden regelmessig hennes grav som han pyntet med blomster. En dag da han var på besøk, ble han kontaktet av en tidligere hushjelp som hadde vært hos Ellinor da hun sovnet stille inn,og fortalte at Ellinor mange ganger hadde vært i hans nærhet,uten å tørre å gi seg til kjenne. Min bekjent/venn ble ute av seg av sorg over dette,og fortalte meg at etter hans kones bortgang, tenner han hver kveld et lite lys på bokhyllen mens han minnes sin første store kjærlighet,Ellinor.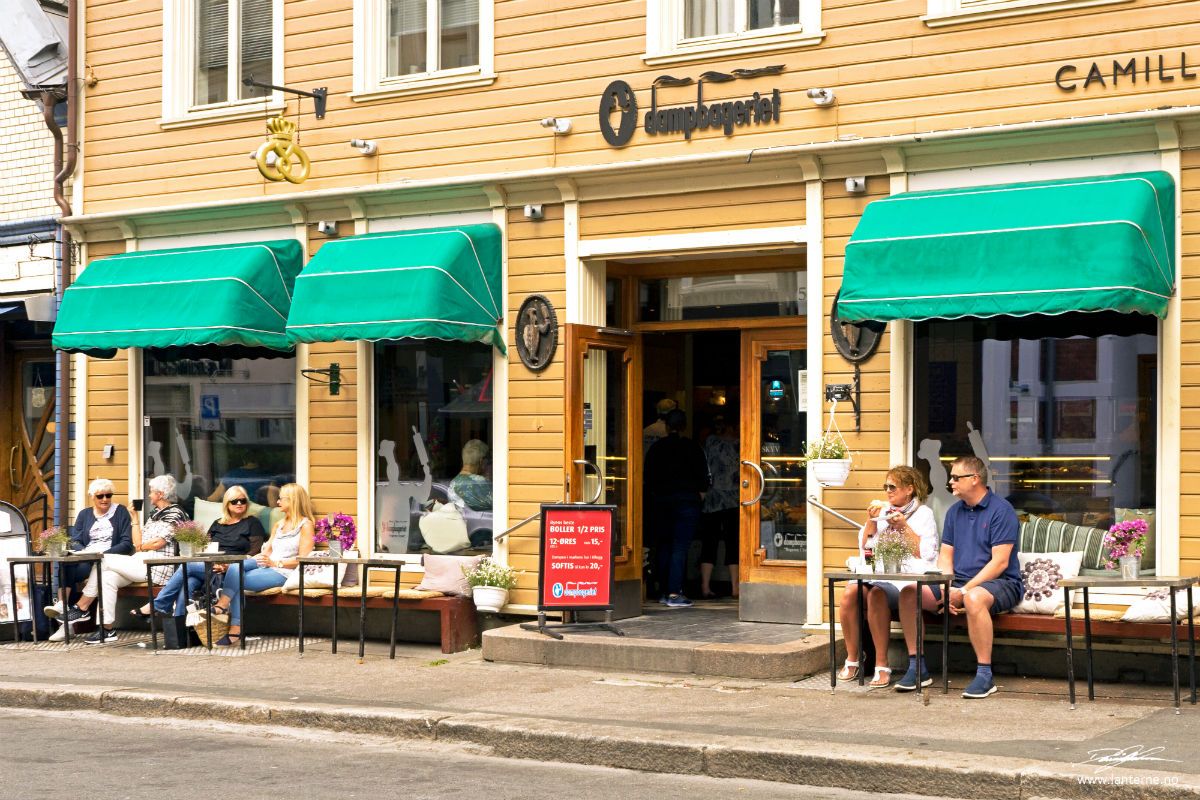 ---
Ellinor Hamsun

Hennes far hevdet at kvinner var som blomster; de skal dyrkes og tilbedes og ikke bli plaget av eksamener. De skal reise utenlands, lære språk, bli vakre damer og sosialisere seg i de høyere sosiale kretsene. Selv om han var skuffet, fortsatte hun med å elske og beundre sin far; "Det er mange slags kjærlighet", kommenterte hun.
Da hennes mor giftet seg med Knut Hamsun, måtte hun gi opp karrieren som skuespillerinne. Bitterheten hennes hadde sannsynligvis en negativ innvirkning på familiens atmosfære. Fra begynnelsen sliter Ellinor å leve opp til foreldrenes forventninger. Ved en anledning ba moren henne om ikke å spise så mye om hun senere skulle bli skuespillerinne. Dette kan ha vært starten på hennes livslang spiseforstyrrelse.

3.1. Hennes år i Berlin

Ellinor fortalte en venn at "når jeg spiser blir det alt for mye, og for å unngå vektøkning setter jeg fingeren min i halsen og kaster det opp igjen" . Hun fikk aldri skikkelig hjelp til hennes spiseforstyrrelse. I 1939 rådde en jødisk lege, Dr. Silberstein, henne til å reise hjem til Norge for å få profesjonell hjelp til bulimi. Til tross for rådet valgte hun å fortsette sin skuespillerskole, og håpet å få roller i tyske filmer.
3.2. Psykiatrisk terapi i Danmark
Etter hennes skilsmisse i etterkrigstiden flyttet hun tilbake til Norge. I tillegg til henne spiseforstyrrelsen følte hun seg nu deprimert. I 1952 var vekten hennes nesten 40 kg, og ifølge moren var hun "ulykkelig, venneløs og så ut som levende død". Dermed ble hun sendt til Danmark for å få profesjonell psykiatrisk hjelp. Under hennes opphold på danske sykehus ble hun beskrevet som rolig og rolig, og hennes depresjon ble ikke ansett som alvorlig. Likevel ble hun lobotomert to ganger i Danmark. Etter den andre operasjonen ble hennes drøm om å gå tilbake til å bli en filmskuespiller, ødelagt for alltid.

Hennes norske familie holdt ikke sitt løfte om å la henne flytte tilbake til Nørholm, og hun tilbrakte resten av hennes liv, 34 år, på et dansk sykehus i Jylland. Hun fortsatte å få tilbake epileptiske anfall, og en venn bemerket at hun hadde en "total mangel på initiativ". Ellinor Hamsun gjennomgikk to lobotomier til tross for å ha en spiseforstyrrelse og mindre psykiatriske problemer. Hun ble offer for Danmarks liberale psykosurgery praksis. Konsekvensene var nedslående; hun ble institusjonalisert mesteparten av hennes voksne liv som lider av gjentatte epileptiske anfall og alvorlige personlighetsendringer. Hennes skjebne var på mange måter lik Rosemary Kennedy, den yngre søsteren til John F. Kennedy.
---
Forfatteren Knut Hamsun

Knut Hamsun (1859-1952) var en norsk forfatter tildelt Nobelprisen i litteratur i 1920. Han publiserte mer enn 20 romaner, blant de mest berømte er "Hunger" (1890), "Mysterier" (1892) og "Victoria" (1898). Hans ros av det enkle landsbygdslivet i "Jordens vekst" (1917) betraktes som et evangelium om jordbruk og var hovedårsaken til at han vant Nobelprisen.

Han var en berømt litterær stylist, og ble banebrytende for psykologisk litteratur med teknikker for bevissthetsstrøm og interiørmonolog. Isaac Bashevis Singer hevdet hele moderne skoleskole i det tjuende århundre stammer fra Knut Hamsun.
Knut Hamsun påvirket forfattere som Ernest Hemingway, Franz Kafka, Maxim Gorky, Henry Miller og Hermann Hesse. Knut Hamsun selv ble påvirket av forfattere som Jean-Jacque Rousseau
I hans alder var hans rykte betydelig svekket på grunn av hans nazi-sympatier før og under andre verdenskrig
---
---