Globalisering - Et slags verdensherredømme?/amp
HUMAN SYNTHESIS
####Globalisering - hva menes egentlig? Ordet må jo forstås som et slags verdensherredømme.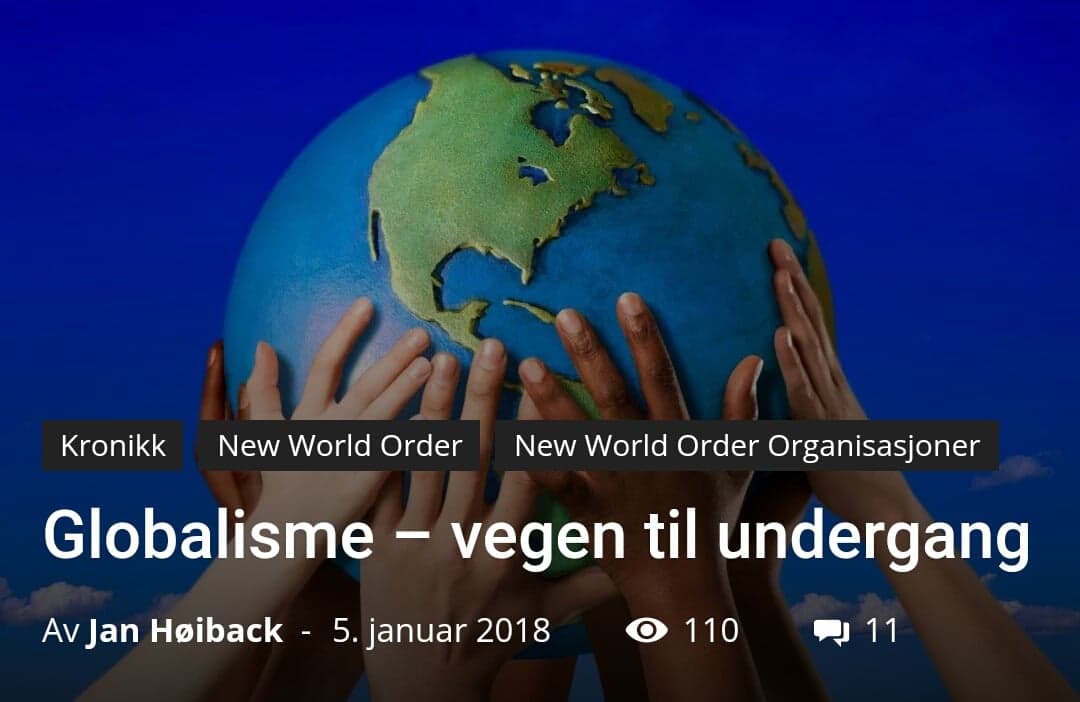 I den vestlige verden kamufleres dette som en form for økonomisk avhengighet som medfører at alle land må tilpasse seg bestemte kriterier for produksjon og forbruk av varer og tjenester. I denne prosessen må det settes en stopper for det enkelte lands selvbestemmelsesrett og avgjørelser skal fattes sentralt uavhengig av det enkelte lands politiske styre. Hvis man ønsker å se nærmere på hvordan globalisering organiseres er det jo bare å se på hvordan EU fungerer.
Suverenitet skal avgis til byråkratene i Brüssel. Dette er bare begynnelsen og det er en villet utvikling som i norges tilfelle bryter mot grunnlovens paragraf 1 som slår fast at "Kongeriket Noreg er eit fritt, sjølvstendig, udeleleg og uavhendeleg rike."
Norge kan i følge grunnloven hverken selges eller gis bort, og det skal være et fritt og udelelig rike. Ved å overføre suverenitet til byråkratene i Brüssel, bryter man etter min forståelse med grunnloven, og det gjøres med et stort flertall av stortingsrepresentantene. Det var noe av bakgrunnen for at jeg i går spurte "Kan vi stole på norske politikere?"
Det store flertall av norske politikere burde vært stilt for riksrett for landsforræderi ved at de med åpne øyne bryter norges grunnlov og gir fra seg suverenitet til byråkratene i Brüssel.
Men det mest alvorlige ved denne globaliseringen er at man ikke åpner øynene nok til å se at også andre grupperinger og land har startet sin globalisering. En langt mer aggressiv globalisering som ikke tar utgangspunkt i økonomisk fellesskap og styring som tross alt er basisen i EU.
Vi har i dag 4 hovedkrefter som driver sine forsøk på globalisering, eller verdensherredømme for sin politikk basert på at noen få skal utnytte massene til økonomisk vinning. EU er nevnt, men også USA har helt siden annen verdenskrig bedrevet denne politikken, og nå er Asia på sterk framgang under ledelse av Kina.
Men den absolutt farligste form for globalisering kommer fra et helt annet hold. Islam er i ferd med å spre sine fangarmer over Europa, kamuflert som flyktninger kommer de til Europa i store mengder og begynner sin snikende endring av lokalsamfunn. De hevder å flykte fra et umenneskelig system, men det første de gjør er å søke å danne samme system der de kommer.
Blåøyde, naive og "snille" politikere tror på løgnene og tar i mot med åpne armer. Integrering er blitt et moteord. Men hvem skal integreres? Hvis meningen er at disse "flyktningene" skal integreres må jo de tilpasse seg det samfunn og den kultur de kommer til. Det kan da ikke være slik at et samfunn som i dumsnillhet tar i mot disse "flyktningene" skal endre seg slik at det blir likt det "flyktningene" rømmer fra.
EU har blitt et paradis for disse "flyktningene" Har de bare fått en tå på innsiden av EU systemet så sørger Schengen avtalen at de fritt kan bevege seg i mesteparten av Europa. Ingen myndigheter har full oversikt over hvem som er hvor.
Norske myndigheter innbiller seg at de fører en streng asylpolitikk. Det er nok riktig når det gjelder de som kommer direkte til Norge, men alle de som kommer over grensene og bosetter seg hos kamerater eller skal vi si trosfeller har vi ingen kontroll med.
Siden disse ikke registrerer seg hos myndighetene får de ingen økonomiske gavepakker og da blir inntektsbehovet dekket ved kriminalitet viser en tysk rapport.
Tysk studie-Sammenheng mellom økt kriminalitet og flyktninger
Eneste veg ut av dette uføret som norske globalister har ført oss inn i er en utmeldelse av Schengenavtalen og innføre streng kontroll på grensene. EØS avtalen som mer eller mindre tvinger oss til å avgi suverenitet på flere områder må også skrotes og erstattes med en handelsavtale.
Nå må norske politikere være seg sitt ansvar bevisst før de raserer hele vårt norske samfunn.
Disse som bare kommer ubemerket inn over grensene lever skjult for myndighetene mens norske borgere blir overvåket nær sagt hvor enn de beveger seg, enten via mobiltelefon, elektroniske spor etter bruk av bankort, bomstasjoner hvis de bruker bil, IP adresser ved bruk av PC eller overvåkingskameraer på offentlige plasser.
Skribent: Jan Høiback | Image: Free Clip Art
---
(English translation by Google)
Globalization - what is it meant to be? The word must be understood as a kind of world rule of everything.
In the western world, this is combated as a form of economic dependence which means that all countries must adapt to certain criteria for the production and consumption of goods and services. In this process, it is necessary to put an end to each country's self-determination and decisions must be made centrally regardless of the country's political rule. If you want to look into how globalization is organized, it's just a matter of how the EU works.
The Sovereignty has been handed over to the bureaucrats in Brussels. This is just the beginning and it is a desirable development that in Norway's case violates section 1 of the Constitution, which states that "The Kingdom of Norway is a free, self-contained, indivisible and inseparable kingdom."
Norway cannot be sold or given away according to the Constitution, and it must be a free and indivisible Kingdom. By transferring sovereignty to the bureaucrats in Brussels, I break into my understanding of the Constitution and it is done by a large majority of parliamentary representatives. That was one of the reasons why I asked yesterday, "Can we trust Norwegian politicians?"
The vast majority of Norwegian politicians should have been appointed to the national court for the treason by breaking openly Norway's constitution and renouncing sovereignty to the bureaucrats in Brussels.
But the most serious thing about this globalization is that you do not open your eyes enough to see that other groups and countries have started their globalization. A far more aggressive globalization that is not based on economic fellowship and governance, which is the foundation of the EU after all.
Today, we have 4 main forces that pursue their attempts at globalization, or world domination for their policies based on the fact that a few will exploit the masses for economic gain. The EU has been mentioned, but the United States has been pursuing this policy ever since World War II, and Asia is now under strong leadership under China.
But the most dangerous form of globalization comes from a completely different team. Islam is spreading its prisoners of arms across Europe, camouflaged as refugees, they come to Europe in large quantities and begin their fragile change of communities. They claim to escape from an inhuman system, but the first thing they do is to try to form the same system where they come.
Blue-eyed, naive and "kind" politicians believe in the lies and oppose open arms. Integration has become a word of mouth. But who should be integrated? If the intention is that these "refugees" should be integrated, they must adapt to the society and culture they come to. It may not be that a society that foolishly opposes these "refugees" will change so that it is similar to the "refugees" escaping.
The EU has become a paradise for these "refugees" Have they only got a toe on the inside of the EU system, the Schengen agreement makes them free to move in most of Europe. No government has a full overview of who's where.
The Norwegian authorities claim that they pursue strict asylum policy. It is probably right when it comes to those who come directly to Norway, but all those who cross the borders and settle with comrades or if we say trosfeller we have no control.
Since these do not register with the authorities, they do not receive any financial gift packages, when the income requirement is covered by crime, the German report shows.
German study-Relationship between increased crime and refugees
The only way out of this disability that Norwegian globalists have led us into is a declaration of the Schengen Agreement and impose strict control on the boundaries. The EEA agreement, which more or less forces us to grant sovereignty in several areas, must also be scrapped and replaced by a trade agreement.
Now, Norwegian politicians must be aware of their responsibilities before they are ravaging our entire Norwegian society.
Those who only come unnoticed over the borders live hidden for the authorities while Norwegian citizens are being monitored virtually wherever they move, either via mobile phones, electronic traces of bank use, carriers if they use a car, IP addresses using PC or surveillance cameras in public places.
Writer: Jan Høiback | Image: Free Clip Art
---
Man was created to be free and independent - Thomas Paine
Of Constitutions
That men mean distinct and separate things when they speak of constitutions and of governments, is evident; or why are those terms distinctly and separately used? A constitution is not the act of a government, but of a people constituting a government, and government without a constitution is power without a right.
All power exercised over a nation must have some beginning. It must either be delegated or assumed. There are no other sources. All delegated power is trust, and all assumed power is a usurpation. Time does not alter the nature and quality of either.
---
WHO and WHAT is behind it all ? : >
---
Commentary:
Administrator
HUMAN SYNTHESIS