Tourism riot in Southern Europe, another Soros intervention?/amp
HUMAN SYNTHESIS
#Tourism riot in Southern Europe, another Soros intervention?
TOURISTS GO HOME! More holidaymakers targeted as FURIOUS protests spread across Europe
Europe anti-tourism protests. All happening at the same time, too much of a coincident?
DAILY EXPRESS - By WILL KIRBY
PUBLISHED: 06:48, Wed, Aug 16, 2017
_GETTY/TWITTER_ ( start video and select full screen )
Anti-tourism protests have been seen across the continent as locals hit back at unchecked tourism. FURIOUS anti-tourism demonstrations in Spain are spreading across Europe and threatening thousands of summer holidays as outraged locals demand holidaymakers stop "invading" their cities.
Spain has felt the brunt of the anti-tourism anger, with protests seen in holiday hotspots across the country including Barcelona, Palma and Bilbao.
Hooded protestors vandalised the Basque country tourist board's headquarters in Bilbao last week, covering it in bright red paint and anti-tourism slogans - while furious Barcelona residents descended on a local beach at the weekend, armed with banners and placards designed to intimidate tourists who they claim are taking over the city.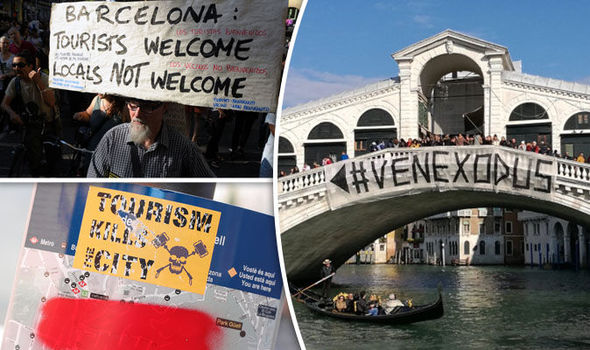 Last week, radicals carrying flare guns were seen targeting diners at a Marina restaurant in Palma, screaming "go home" and a number of public spaces have also been defaced with stickers carrying the slogans "tourism kills the city" and "tourists go home".
However, the protests have not been confined to Spain and there are growing calls from locals on holiday destinations across the continent to bring an end to uncontrolled tourism.
In the seaside Croatian city of Dubrovnik, locals are leaving the city in droves as a growing number of tourists descend on the Unesco World Heritage Site every year.
Just 1,157 people live in Dubrovnik's Old Town today, compared with 5,000 in 1991, and last year 529 cruise ships brought 799,916 passengers to the city, up from 475 ships in 2015.
Marc van Bloemen, who has lived in the city since the 1970s, said: "The crowds and the noise are forcing people out."
He claims to have overheard comments including "Excuse me, what country are we in?" and "What do you mean, you don't take Euros? The whole of Italy takes Euros".
In response to the growing unrest among locals, Dubrovnik's former mayor Andro Vlahusić decided to limit the number of daily entrants to the old town to 8,000 and set up more than 100 surveillance cameras to monitor those entering and leaving the walled city.
Protests have been seen in Italy too, with residents in Venice demonstrating against rising rental costs and increasing pollution levels from cruise ships.
Venetians held placards reading "I'm not going", referring to how discontent with tourists is prompting thousands of young people to leave the stunning city.
Valeria Duflot, co-founder of Venezia Autentica (Authentic Venice), told local media: "Venice is being turned into a theme park and locals and visitors alike resent this fact."
Being used as a setting for Game of Thrones & Robin Hood has caused Dubrovnik's tourism to soar.
Marco Gasparinetti, of the Veneziamiofuturo, (Venice my Future) campaign, added: "In coming years there will be 40 million Chinese who will want to visit Venice.
"Where will we put them?"
Meanwhile, the city of Florence has launched a launched a public awareness campaign this week, #EnjoyRespectFirenze, aimed at maintaining decorum and civility on city streets.
Anna Paola Concia, a spokesperson for the local tourism office, said: "Those who come to visit our city must behave in such a way as to preserve it, respect its heritage and its inhabitants.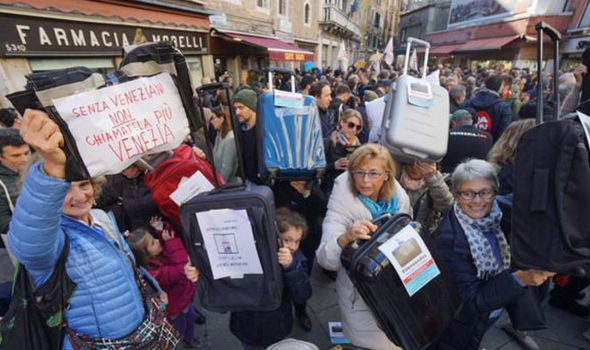 A protest banner reads 'Without Venetians, don't call it Venice anymore'
"We want to defeat the widespread sentiment that those who come to Italy can afford to do what they want. It is time to make it happen...Florence is one of the most beautiful cities in the world and should be preserved, and that this is a responsibility that also belongs to the tourist."
Hotel stays in Italy were up 4.8 per cent in the first half of 2017 as holidaymakers avoid other Mediterranean destinations, including Egypt and Turkey, over security fears.
In Rome, the increasing tourist presence has led the mayor to ban drinking alcohol on the streets at night, while supermarkets cannot see alcohol after 10 pm and bars must stop serving indoors after 2 am.
In Milan, selfie sticks, glass bottles and food trucks have all been banned as authorities try to curb littering and anti-social behaviour.
---
_The history of Soros, Lord of Chaos_
How did George Soros become the favourite bogeyman?
Soro's THUGS injure 100 cops in Germany!
_Soros and his foundations are specialists in creating riots ANYWHERE in the World_
---
WHO and WHAT is behind it all ? : >
---
Commentary:
Speaking of migration, Spain has recently faced a surge of migrants from Morocco and beyond. Borders have been closed at Spain's African outposts of Ceuta and Melilla, but this hasn't prevented some slipping through, and many more crossing the Mediterranean – in many cases, as in other situations like this, helped by charities, effectively giving these migrants a taxi-ride into the EU. Over 600 were 'rescued' in just one day on the way, many travelling in children's paddle boats and jet-skis. This has to be stopped. If this trend continues, Spain will take over three times more migrants than last year. We should remember - Morocco is a perfectly safe country. The sham of the migration crisis grinds on.
Spaniards have held public protests against foreigners in their country, but these have bizarrely focussed on attacking tourists - rather than attacking the people who are taking advantage of their country's already overstretched safety net. Left-wing protestors are attacking people who bring almost £10billion into the Spanish economy every year. This is all while Spanish unemployment already stands at 17.8%. Perhaps the protestors would like this to be higher.
This is obviously a Soros Foundation manipulation for financial gains. Just watch the share index.
REMEMBER: Thesis - AntiThesis - Synthesis
Administrator
HUMAN SYNTHESIS