INTELLIGENCE AGENCY CAUGHT MCMASTER BRIEFING SOROS ON WHITE HOUSE TAKEOVER/amp
HUMAN SYNTHESIS
##BOMBSHELL EXCLUSIVE: INTELLIGENCE AGENCY CAUGHT MCMASTER BRIEFING SOROS ON WHITE HOUSE TAKEOVER _Kit Daniels | **Infowars.com** - AUGUST 8, 2017 1461 Comments_
Bombshell Exclusive: Intelligence Agency Caught McMaster Briefing Soros on White House Takeover. McMaster leaking intel to Soros almost daily, says high-level Israeli intelligence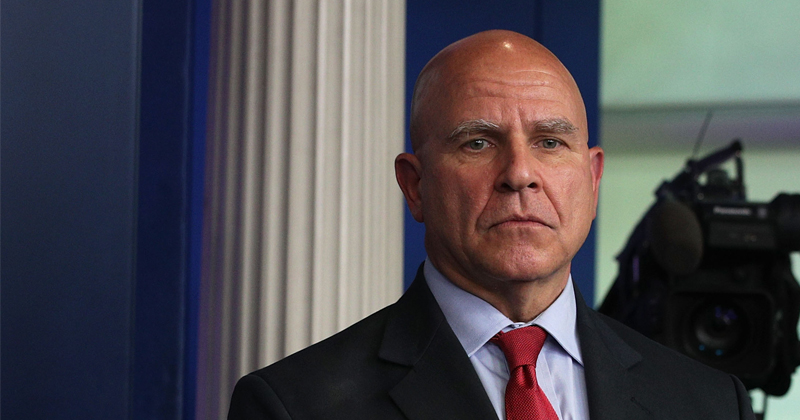 IMAGE CREDITS: ALEX WONG / GETTY.
National Security Advisor H.R. McMaster is an active operative of globalist billionaire George Soros, according to three separate domestic and foreign intelligence sources.
McMaster is a foreign intelligence agent for the multi-national combine controlled by Soros, which explains why he's constantly running interference to President Trump's agenda.
"I have confirmed from sources from inside the White House, the Israeli government and Israeli intelligence that the Israelis have intercepted email communications from General McMaster to George Soros, informing him of everything that's going on inside the White House," reported Infowars correspondent Roger Stone. "…I have double checked this with two different sources very high up in Israeli intelligence, and I actually expect the Israeli ambassador to the US to confirm this."
This means, by implication, that McMaster is one of the primary leakers given that Soros has vast ties to the mainstream media.
It is already known that McMaster was a member of International Institute for Strategic Studies which was funded by Soros' Open Society Foundation and another Soros-financed group. Also, last month Israel publicly accused Soros of continuously undermining democratically-elected governments.
Israel's Ministry of Foreign Affairs took the opportunity to criticize Soros when it spoke out against the vandalism of anti-Soros posters in Hungary which were defaced with anti-Semitic graffiti.
"Israel deplores any expression of anti-Semitism in any country and stands with Jewish communities everywhere in confronting this hatred," stated Foreign Affairs Ministry spokesperson Emmanuel Nahshon. "In no way was the statement meant to delegitimize criticism of George Soros, who continuously undermines Israel's democratically elected governments by funding organizations that defame the Jewish state and seek to deny it the right to defend itself."
Soros began infiltrating the National Security Council as early as May when his operative Fiona Hill, a member of the Council on Foreign Relations and the Soros-funded Eurasia Foundation, joined its staff.
"George Soros has penetrated the Trump White House," Stone reported. "Soros has planted a mole infiltrating the National Security apparatus: a woman named Fiona Hill, who has a Harvard background, and has been on the Soros payroll and the payroll of the Open Society Institute."
Hill had previously helped the Soros-founded Central European University in Hungary which has tried to influence the Hungarian government which has defiantly refused EU migrant quotas and Soros' meddling in its affairs.
"We got unequivocal support [from Fiona Hill's team at the National Security Council]," said CEU's rector Michael Ignatieff. "I went up to the Hill and spoke to Republican senators and staff." "There is a tiny ledge of commonality between Republicans and Democrats, and academic freedom is one issue that unites them both."
But it's unlikely that "academic freedom" exists at CEU since it was founded by Soros, a globalist socialist well-known for bankrolling institutions that promote his political agenda – and it's also no secret that academic institutions are routinely used to steer government policies as part of the interconnected, globalist network of academia, technology, government and media.
---
George Soros White House plant:
---
WHO and WHAT is behind it all ? : >
---
Commentary:
Administrator
HUMAN SYNTHESIS