Brexit: Theresa May wants 'deep and special' partnership with EU as UK triggers article 50/amp
Brexit: Theresa May wants 'deep and special' partnership with EU as UK triggers article 50
Rolling coverage of the triggering of article 50, starting the process taking the UK out of the EU, including Theresa May's statement to MPs, the article 50 letter, and reaction and analysis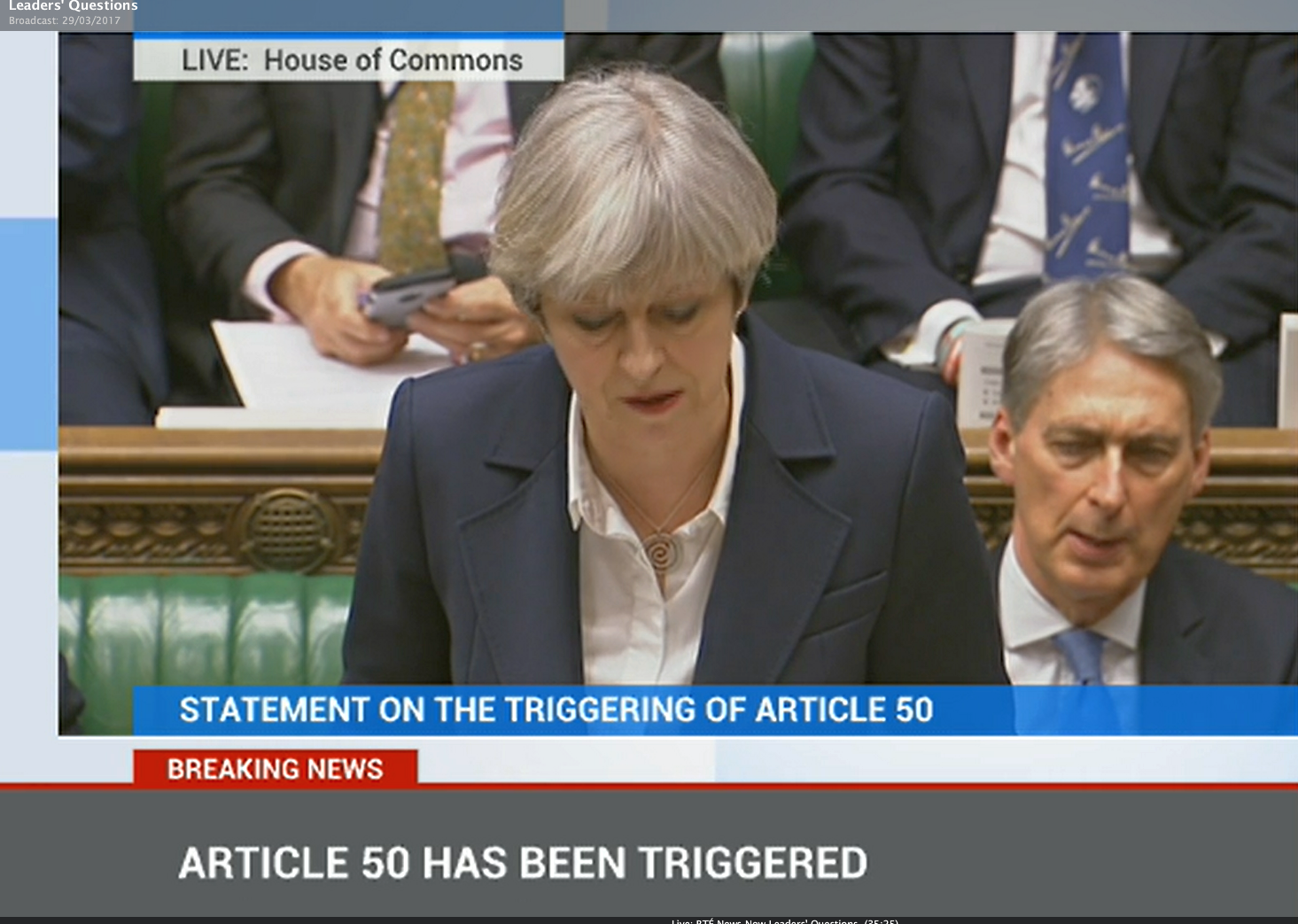 Philip Hammond's Today interview - Summary and analysis
Article 50: Theresa May to call on UK to unite after letter triggers Brexit

LIVE Updated 3m ago
Live from the House of Commons
DAILY EXPRESS - Andrew Sparrow and Jon Henley
Wednesday 29 March 2017 12.54 BST
First published on Wednesday 29 March 2017 08.09 BST
Show
3m ago May's statement - Snap verdict
12m ago May confirms that UK will not try to 'cherry pick' in Brexit talks.
15m ago May says she wants 'new, special and deep partnership with EU'
24m ago PMQs - Snap verdict
29m ago Donald Tusk receives UK's article 50 letter
1h ago PMQs
2h ago European parliament sets out tough conditions for Brexit talks

Show
1m ago 12:56
Donald Tusk is expected to give his reaction to Britain's triggering of article 50 shortly, reports Jennifer Rankin in Brussels.
The European council president confirmed he had received Britain's letter announcing its intention to quit the EU in a tweet: "After nine months, the UK has delivered."
Sir Tim Barrow, the UK's ambassador to the EU, delivered the letter in a short meeting this lunchtime. The letter was brought to Brussels by a British official accompanied by a security guard on the Eurostar on Tuesday.
3m ago 12:54
May's statement - Snap verdict
May's statement is over. For detail, we are going to have to wait until we see the text of the letter. But the tone of her statement was quite striking; it was probably the most pro-European speech she has given as prime minister, and at times it could have sounded like the speech of a PM who was proposing joining. As Philip Hammond signalled in his Today interview this morning (see 9.41am), the government does seem to be trying to reset Brexit expectations.
7m ago 12:50
May says in the months ahead she will represent every person in the U K, including EU nationals.
And it is her fierce determination to get the right deal for everyone.
When I sit around the negotiating table in the months ahead, I will represent every person in the whole United Kingdom – young and old, rich and poor, city, town, country and all the villages and hamlets in between.

And yes, those EU nationals who have made this country their home. It is my fierce determination to get the right deal for every single person in this country.

For, as we face the opportunities ahead of us on this momentous journey, our shared values, interests and ambitions can – and must – bring us together.

We all want to see a Britain that is stronger than it is today. We all want a country that is fairer so that everyone has the chance to succeed.

We all want a nation that is safe and secure for our children and grandchildren.

We all want to live in a truly global Britain that gets out and builds relationships with old friends and new allies around the world.

These are the ambitions of this government's plan for Britain. Ambitions that unite us, so that we are no longer defined by the vote we cast, but by our determination to make a success of the result.

We are one great union of people and nations with a proud history and a bright future.

And, now that the decision has been made to leave the EU, it is time to come together.

Updated at 12.53pm BST
9m ago 12:48
May says she wants to continue to trade with the EU.
In an increasingly unstable world, we must have "the closest possible security cooperation to keep our people safe".
10m ago 12:47
She says she wants to deliver a smooth and orderly Brexit.
Then there will be a phased process of implementation.
There will be "consequences" to leaving, she says.
She says it is in the interests of both the UK and the EU that there is as little disruption as possible.
When protectionist instincts are on the rise, Europe has a responsibility to stand up for free trade.
Failing to stand up for European values would be a costly mistake.

12m ago 12:45
May confirms that UK will not try to 'cherry pick' in Brexit talks.
She confirms that the rights of EU nationals will be an early priority.
She says she wants to not just protect the rights of workers, but build on them.
She says EU leaders have said we cannot cherry pick, and stay in the single market without accepting free movement.
We respect that, she says.
May confirms that UK will not try to "cherry pick" in Brexit talks.

14m ago 12:43
May says leaving the EU means laws will be made in the UK.
She says she will negotiate as one UK, taking account the interests of all regions.
She will consider which repatriated powers to devolve, and which to keep at London. But now powers will be taken away from the devolved administrations. And she expects to see them get a significant increase in their powers. CONTINUED LIVE...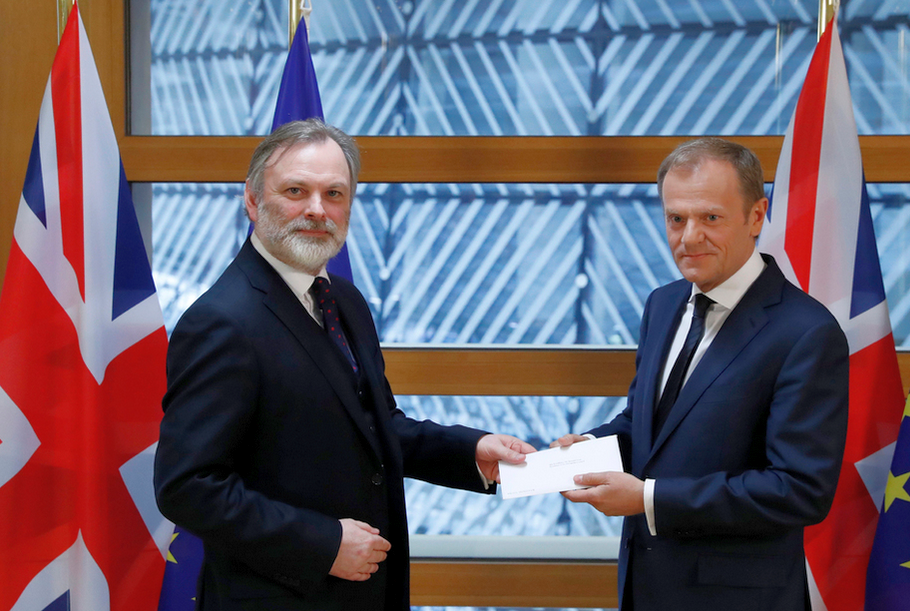 Official hand over from the UK Ambassador Tim Barrow to the EU President Donald Tusk of the UK´s intention to leave the European Union.
---
**WHO and WHAT is behind it all ? : >**
---
Commentary:
The Brexit Art. 50 has been triggered. A historic moment for the UK.
Administrator
THE OTIUM POST