There is a "huge problem" when it comes to Muslim communities integrating in Britain.
HUMAN SYNTHESIS
_'Let's not pretend!' LBC host says Muslim communities are NOT integrating in Britain LBC host Maajid Nawaz has insisted there is a "huge problem" when it comes to Muslim communities integrating in Britain._
DAILY EXPRESS - By Chris Campbell
PUBLISHED: 11:56, Mon, Feb 27, 2017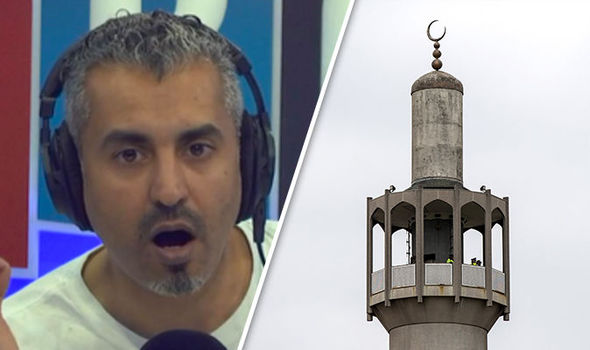 Nawaz and British MuslimsLBC•GETTY
The founder of counter-extremist think tank Quilliam Foundation claimed it did not serve British Muslims for the country to pretend there was not a problem for fear of being labelled racist or xenophobic.
Speaking on his LBC show, the radio host underlined problems with integration could not be ignored and cited employment, education and prison rate issues.
The 38-year-old said: "The problem we've had in this country is that for so long we've been pretty paralysed from being able to speak about it.
"Those who have spoken about integration, those who have questioned the multiculturalism policies of the 90s have been usually tarnished, by either being racists, or bigots, or xenophobes, and the truth is that the very communities that those people, who are using words, who are deploying words such as racists, bigots, and xenophobes, are the very communities they were trying to defend, minority communities.
Maajid Nawaz said British Muslim integration problems could not be ignored
There is a huge problem and it doesn't serve British Muslim communities to pretend that there's not.
Maajid Nawaz
"And in this case, for this question, Britain's Muslim communities, were the same communities that were falling behind due to those policies, the multiculturalism policies of the 90s. On every conceivable metric.
"Whether it's being disproportionately represented in prisons, whether it's being under employed, whether it's being disproportionately represented in our country's higher education institutions.
"Whether it is looking at the level of English language qualifications in this country, whether it's looking at female and gender rights, whether it's looking at opinions toward sexuality, and gay marriage in particular, or blasphemy and free speech.
"Whether it's a values based metric, or an economic success based metric, any possible metric you could come up with, British Muslims are disproportionately falling behind.
"Nobody, whether Muslim or otherwise, can come up with statistics or facts to show, because they don't exist, to show that this country is...succeeding when it comes to integrating my own Muslim communities."
Nawaz added other migrant communities had experienced more "success" in thriving in Britain and referred to education statistics as a major indication of how far behind Muslims in Britain were.
"There is a huge problem and it doesn't serve British Muslim communities to pretend that there's not a problem from fear of being considered racist, or bigoted, or xenophobic," he said.
"Indeed the true bigotry is the bigotry of low expectations that doesn't wish for the same success within those communities that other migrant communities have enjoyed.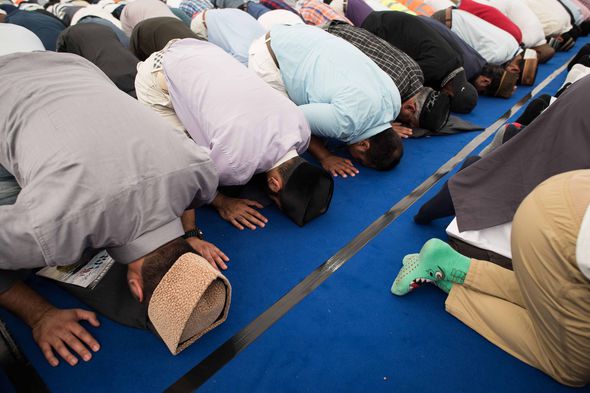 Muslims prayingGETTY
Members of the Ahmadiyya Muslim community in Hampshire praying
Sadiq Khan sparks row as he compares nationalism to racism
'Nothing to do with religion' Caller stuns Hopkins in emotional plea.
"Whether it's those who are of a Chinese British background, or an Indian non-Muslim British background. They have succeeded in higher education where British Muslims have fallen behind.
"We aren't where we need to be, and I want us to be better because I genuinely care for my fellow British Muslims in this country. I want them to be better because I care for them.
"Not because I want to disparage them, or us, or make us look bad. So with that said, there's another problem.
"That if you look at the issue of schools in particular. This is shocking. This is shocking. In more than 500 schools in England, the pupils are either 100 per cent from ethnic minority families, or 100 per cent from white families, that, dear listeners, is a disaster. It is a tragedy.
Could this be the hijab collection Debenhams plans to sell?
Mon, February 13, 2017
Hijabs will be sold in UK department stores after retailer Debenhams announced it would become the first to stock the Islamic dress as part of a new range of Muslim clothing. London-based clothing brand Aab, which is behind the line, describes itself as selling 'contemporary modest wear' for women.
"You cannot convince me that this country has successfully integrated our communities with that fact staring at us in the face."
A recent opinion poll revealed more than four in ten British Muslims want to see at least some aspects of Sharia Law in the UK.
Forty-three per cent of followers of the religion living in the country believed that parts of the Islamic legal system should replace British law while only 22 per cent opposed the idea.
But data from the polling firm ICM in December showed very similar views to the rest of the UK population on a range of key issues including the NHS, unemployment and immigration.
It was one of the biggest surveys of opinion among Muslims ever carried out in the UK.
---
WHO and WHAT is behind it all ? : >
---
Commentary:
Administrator
HUMAN SYNTHESIS